This outfit was one of my favorites from last summer! I just can't believe I forgot to post it. I was looking around on my blog and I found this post not yet published. One year later this outfit is finally posted and no longer hiding in my drafts! I'm not sure why I love this outfit so much, I think it's the teal stripes with the neon pumps. It also may have to do with the fact I can see my waist!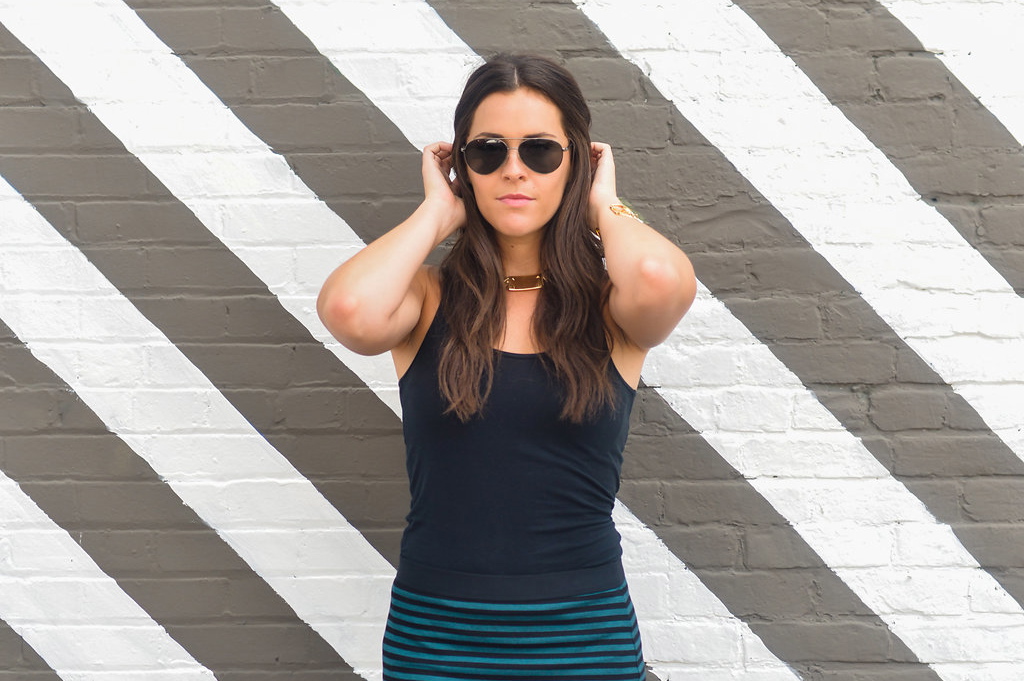 Isn't this choker amazing?!
The Breakdown:
I knew I was going to wear these shoes and skirt together. I love a teal and neon combo. A black tank seemed like the perfect top. Although I do remember trying on quite a few black tops trying to figure out which looked best. I tried on a tee with leather sleeves and had a higher neck (which I thought would be the perfect complement to this skirt) as well as a v-neck tank top. This James Perse scoop neck tank looked the best. Remember to always try your outfits on, what may look good on the hanger or in your mind might not look that good once it's on your body.
pumps | Jimmy Choo "Anouk Neon Yellow Pump"
Live votre rêve!

While looking back at these pictures from a year ago I started to look back at my pregnancy. I have had an amazing journey so far and I feel so lucky that our little one will be here soon. I have received some questions about my pregnancy and pregnancy style and I have answered those people directly. With that said, I have decided to do a little Q&A. I will post the answers in my next post, please comment below or message me on instagram or Facebook with any questions!