Living in Memphis has many perks, one of them being that I can go to The Peabody Hotel any day. To be honest I have only been there a couple of times and it has always been to show family and friends who were visiting.
Megan
,
Alex
,
Collins
and I decided to take on The Peabody and have a Bluff City Lights weekend. We all had an amazing time, I laughed so hard I cried on numerous occasions. Having a sleepover with your girlfriends is pretty much the ultimate giggle fest. Not only did we have a sleepover, we started with afternoon tea at
Chez Philippe
, dinner at
Capriccio Grille
and drinks at
The Lobby Bar
and that wasn't all. You will have to stay tuned for Part II! Along with part II will come a giveaway! I really hope some of you are able to do some of the things we did, all of the food and drinks were amazing, and the hospitality is on another level, I could not have felt more welcomed.
Cheers to blogging!
This was my first time being served traditional English afternoon tea which consists of a three-course menu of sandwiches, fresh scones and a variety of desserts. Did you know The Peabody is the only place in Memphis that serves a traditional English tea? I didn't but I do now and it is something I definitely want to do more often. Getting dressed up during the day and hanging out with my girlfriends is a rare occasion but it felt so good.
After walking through the beautiful restaurant, our chairs were pulled out for us, darling china was set on our table and we were offered to start with champagne. We immediately started talking and had to remind one another to pick a tea, we were so excited about having afternoon tea we kept forgetting to look at the menu! I chose the peach ginger tea and was really happy with my choice. I am a tea drinker, especially in the colder months and this peach ginger hit the spot!
The top sandwiches were chicken salad and they were very very tasty. My favorite was the crab, I'm not exactly sure what it was but it was the perfect bite size topped off with a bit of orange. Delicious.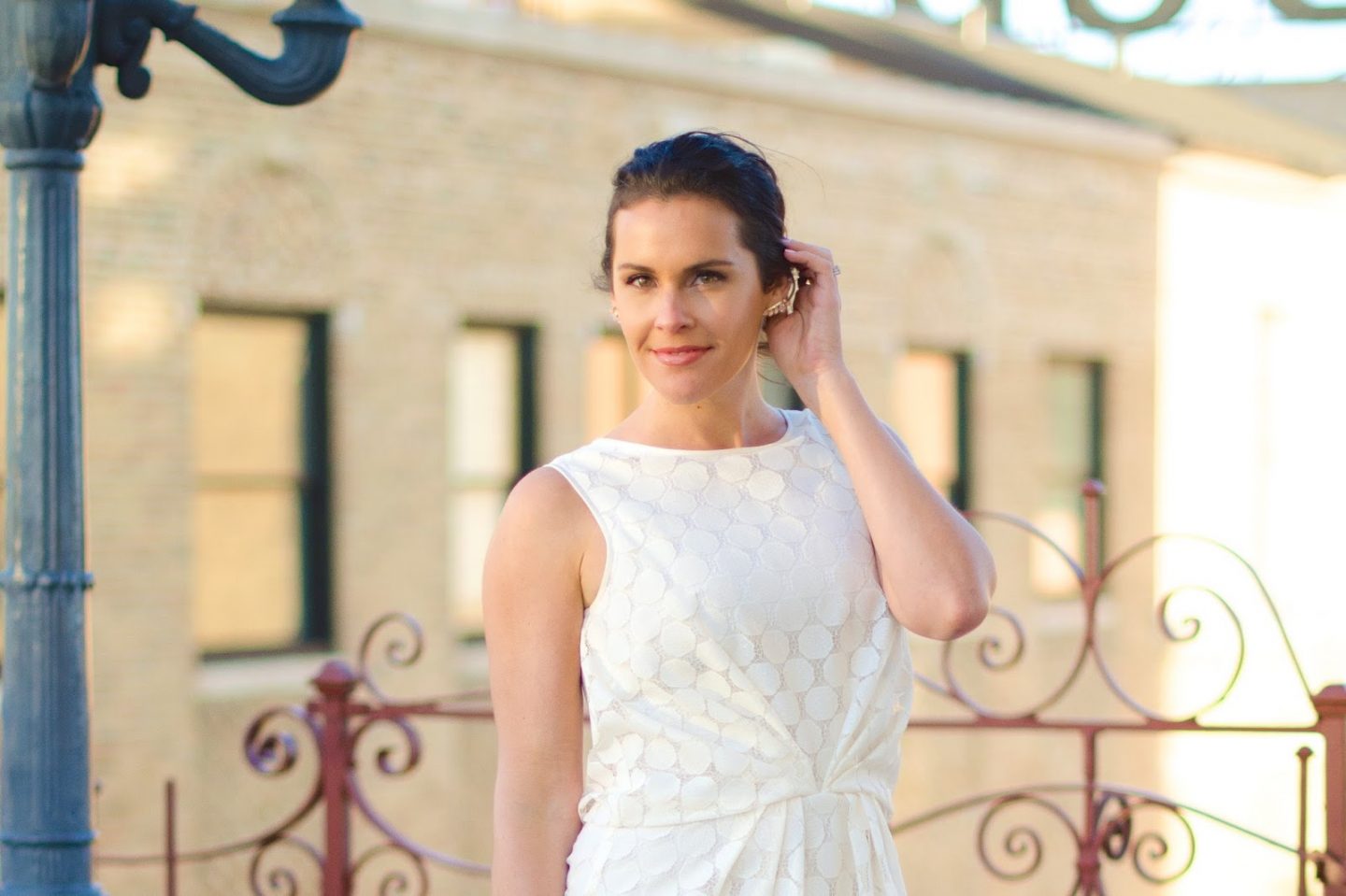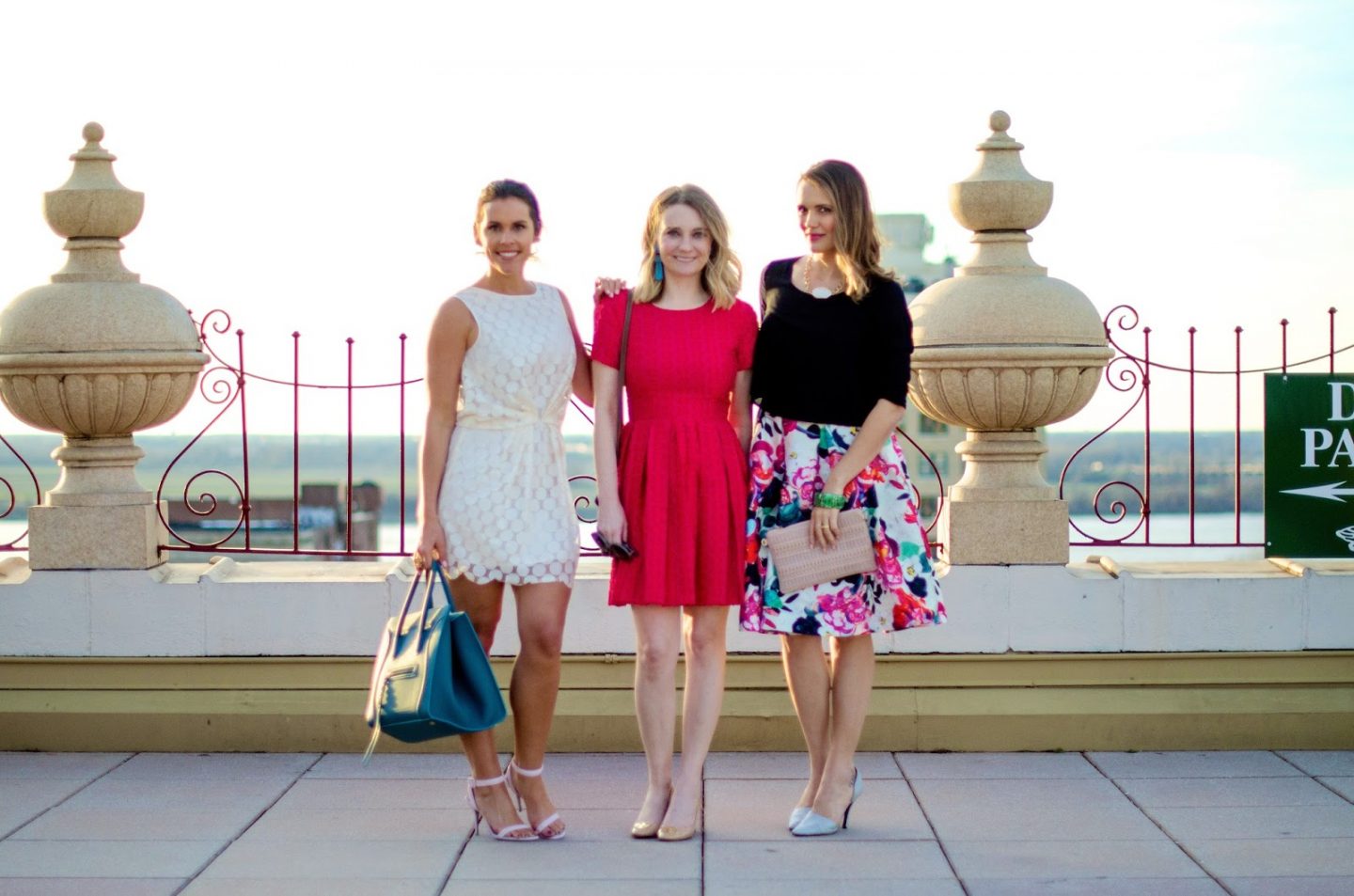 Unfortunately I had to miss dinner due to a prior obligation. I was able to make it for the end and I planned on ordering dessert but something unexpected happened. The fire alarm went off! It was one of those situations where everyone looks at one another to see if it is real, sure enough we had to go outside and minutes later the fire department showed up. Thank goodness it was a warm night. I had Myles with me too and was very fortunate I hadn't put him to bed yet!
Once everything was clear and we went back inside and decided to skip dessert. I did get to enjoy the lobby and a yummy mojito from The Lobby Bar. Here we stayed till 1am! Myles was a champ and fell asleep in Collins arms until we were ready to head up to our room and enjoy our staycation. Stay tuned for part II to learn more about our slumber party.
The Breakdown:
When I heard we were going to tea I was excited to dress up. I had bought this cream lacey dress for one of my wedding showers so it is a couple for years old. It is very feminine which seemed perfect for tea! The bag I used is larger than I would prefer for tea but since I was packing to stay the night I threw all of my stuff in it and forgot to throw in a clutch. For my second look I just threw something simple together that is my go to. Jeans, a white t-shirt and a leather jacket and of course a pair of statement shoes which I also wore here.
Look 1:
dress | Ali Ro (similar)
shoes | Alexander Wang (similar here and here)
bag | Celine 'Micro Luggage Handbag' in turquoise
earrings | Kendra Scott
Look 2:
t-shirt | Current Elliott
jeans | Gap "Authentic 1969 Embroidered Best Girlfriend" ON SALE
jacket | Joie "Ailey Leather Moto Jacket"
shoes | Gucci "Liberty Colorblock Sandal"
braceletes | Vita Fede
ring | Vita Fede
Live votre rêve!
SaveSaveSaveSaveSaveSave