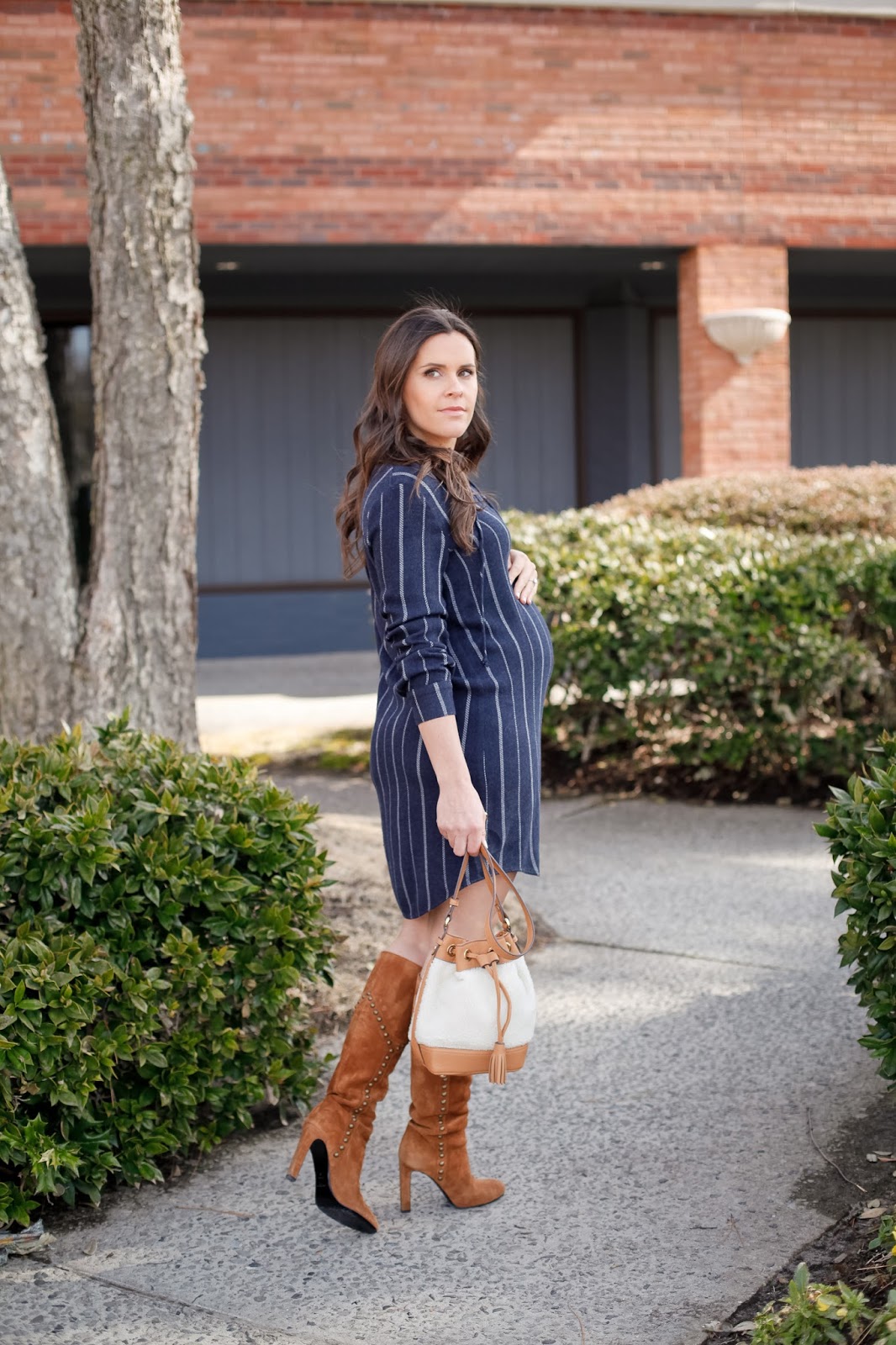 I'm not shy of expressing my love of mixing high and low fashion. I have a really hard time spending money on certain things. I have been such a huge fan of shopping at TJ Maxx and Marshalls that I know most brands that go through those stores which makes it difficult for me to purchase those brands at full price. I'm also a sucker for setting sale alerts on items I love and when it gets marked down I'll buy it if I still want it. It's always a good idea to think on any item you want to buy in life. Go home, sleep on it and if you can't stop thinking about it revisit the idea of purchasing it.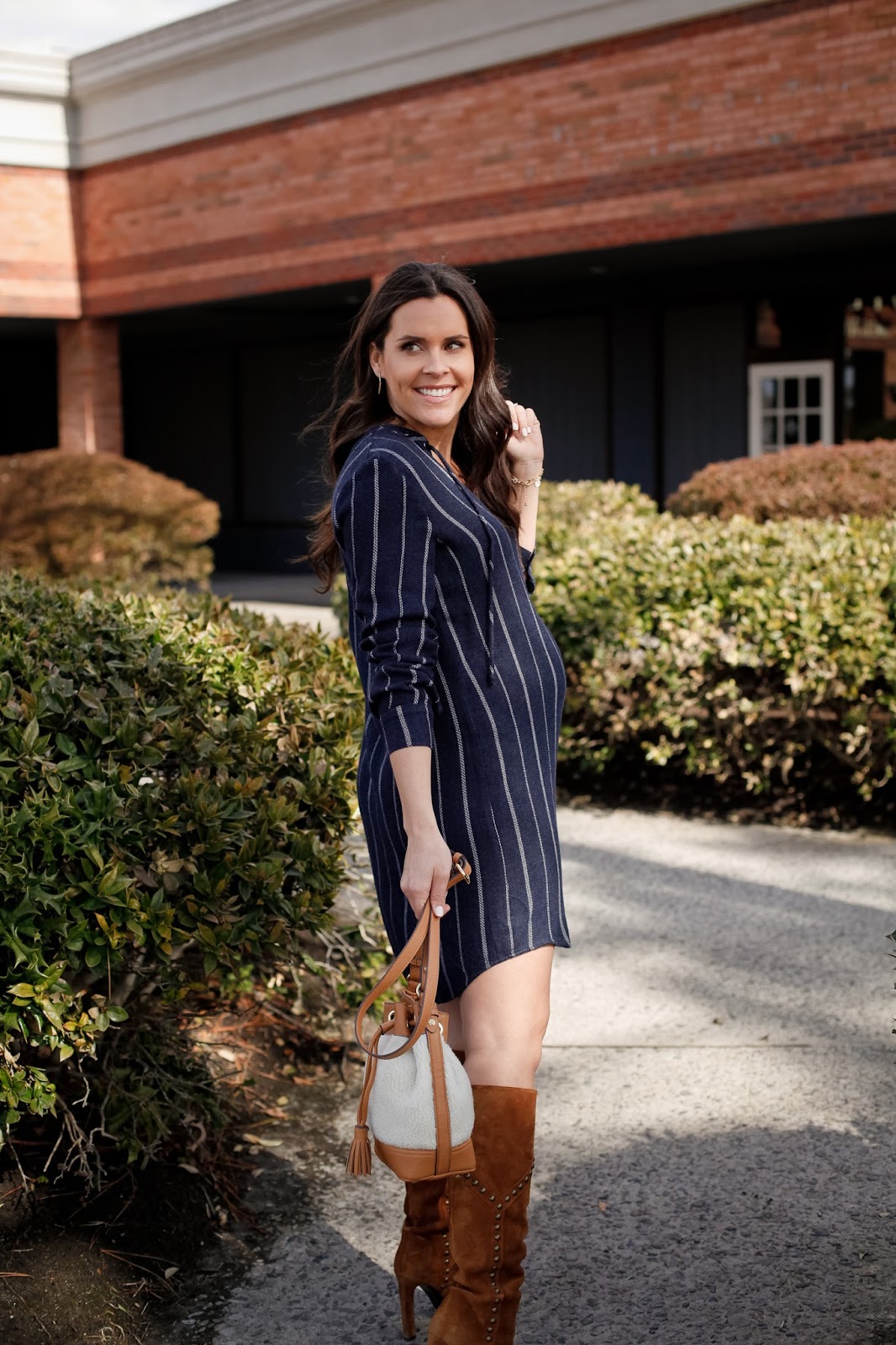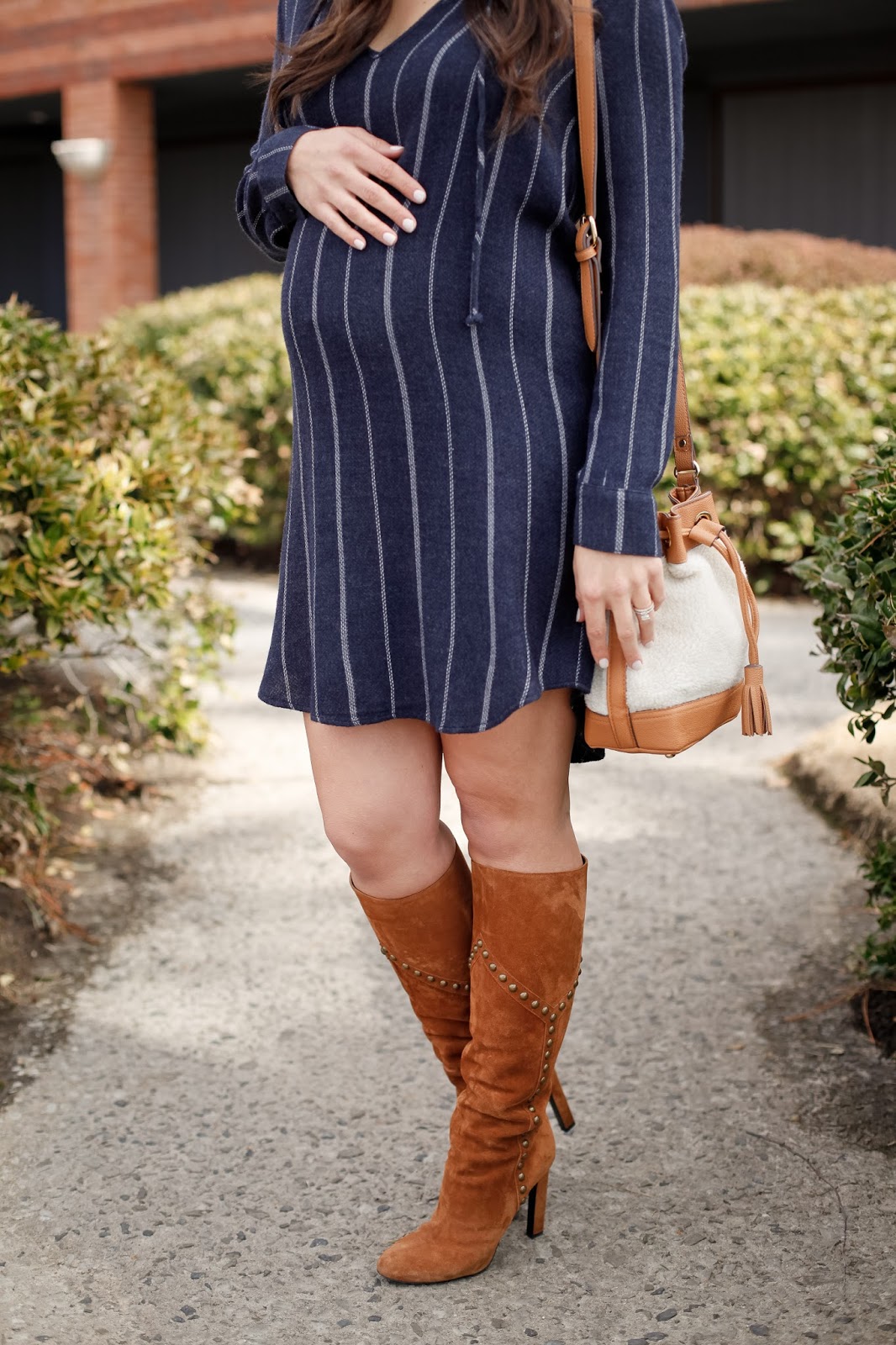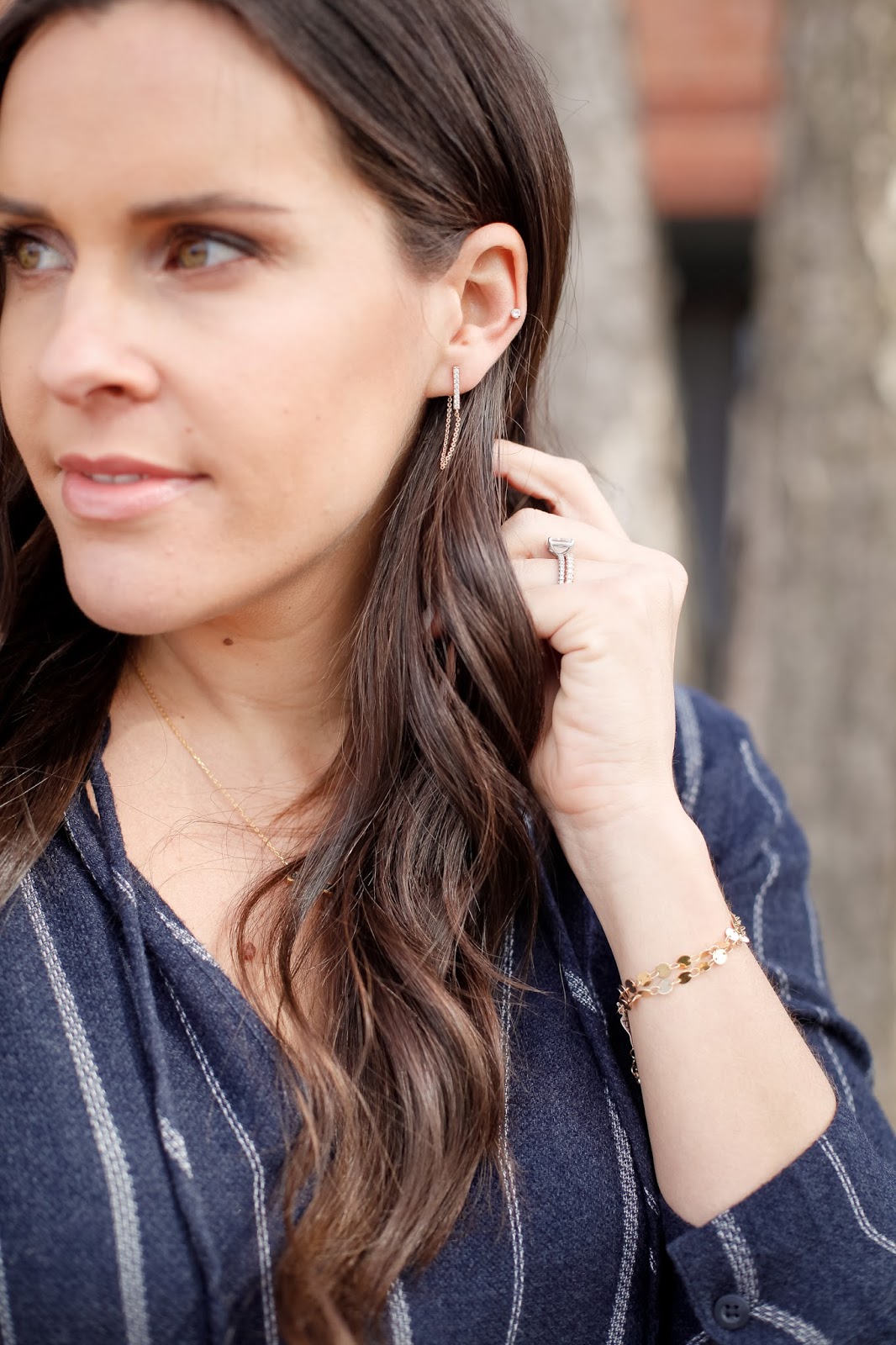 My Sale Shopping Guide
Shopbop is one of my all time favorite online shopping sites. They have free shipping and returns and your box will come with a prepaid mailing label. When you are online shopping you don't always know how the clothing is going to fit and I hate losing money on return shipping. They have every type of clothing and accessory item you could imagine and a few years ago they started a men's site called East Dane that I would often shop at for my male clients. Some brands at Shopbop are Free People and Splendid to Giuseppe Zanotti and Stella McCartney, also a couple maternity lines. The only time Shopbop items are final sale are when they are more than 70% off. That is a pretty good sale price to be able to still return!
Intermix is higher end online boutique that also has stores in a few large cities. Every clothing line they carry is amazing so when I go through the sale racks there is always something I want. The biggest issue with Intermix's sale selections is all sale items are final sale. I may love something on sale for $100 but I can't get myself to purchase it because I need to be able to return it if it doesn't fit like a glove. Whenever I am in NYC or Chicago I try to go to one of the brick and mortar stores so I can try everything on. Getting an additional 40% off an item you get to try on is a great deal even if you can't return it because you should know it fits and you should also think of a couple outfit ideas so you know you'll where that item more than once. Intermix often has pop up sales, currently having their Winter Weather Sale, they are offering 40% off full price and sale winter weather items but they are final sale.
Nordstrom is a go to for everyone and I don't think I need to go into too much detail here. To be honest I never shopped Nordstrom online becuase we have one in Columbus so I would shop there. My son doesn't like to sit in his stroller anymore so shopping in stores has become difficult. Nordstrom also has a great variety of brands, the BP section is perfect to find chunky sweaters and chic tees at an afordable price. When items go on sale there is usually a good amount in stock except during the Nordstrom Anniversary Sale when items sell out so fast! Free shipping and returns all the time, sale items or not. No reason not to shop for deald and steals here.
Lululemon usually has a handful of sale items online. If you wear Lululemon and you know how their stuff fits it's easy to shop online. The sales are final which is a bit annoying but the sale items are final sale in store too. I know what size I am and you can just tell how certain styles will fit. Lululemon is not cheap for workout clothes but Lululemon on sale is a great price for the quality. Unless you are in need of the newest print I suggest checking out the sale styles.
Revolve has started to become a go to of mine the past year. They seem to be very similar to Shopbop, your package comes with a prepaid mailing label to make your free return easy. There are a few sale items that are final sale but that is when they have a huge markdown. Revolve has a beauty section, it isn't part of the sale section but nice to know it's there.
Of course I shop at Neiman Marcus, Dillards, Barneys and all the other department stores but the few a listed above are my favorite for finding designer items for less or a great staple on sale!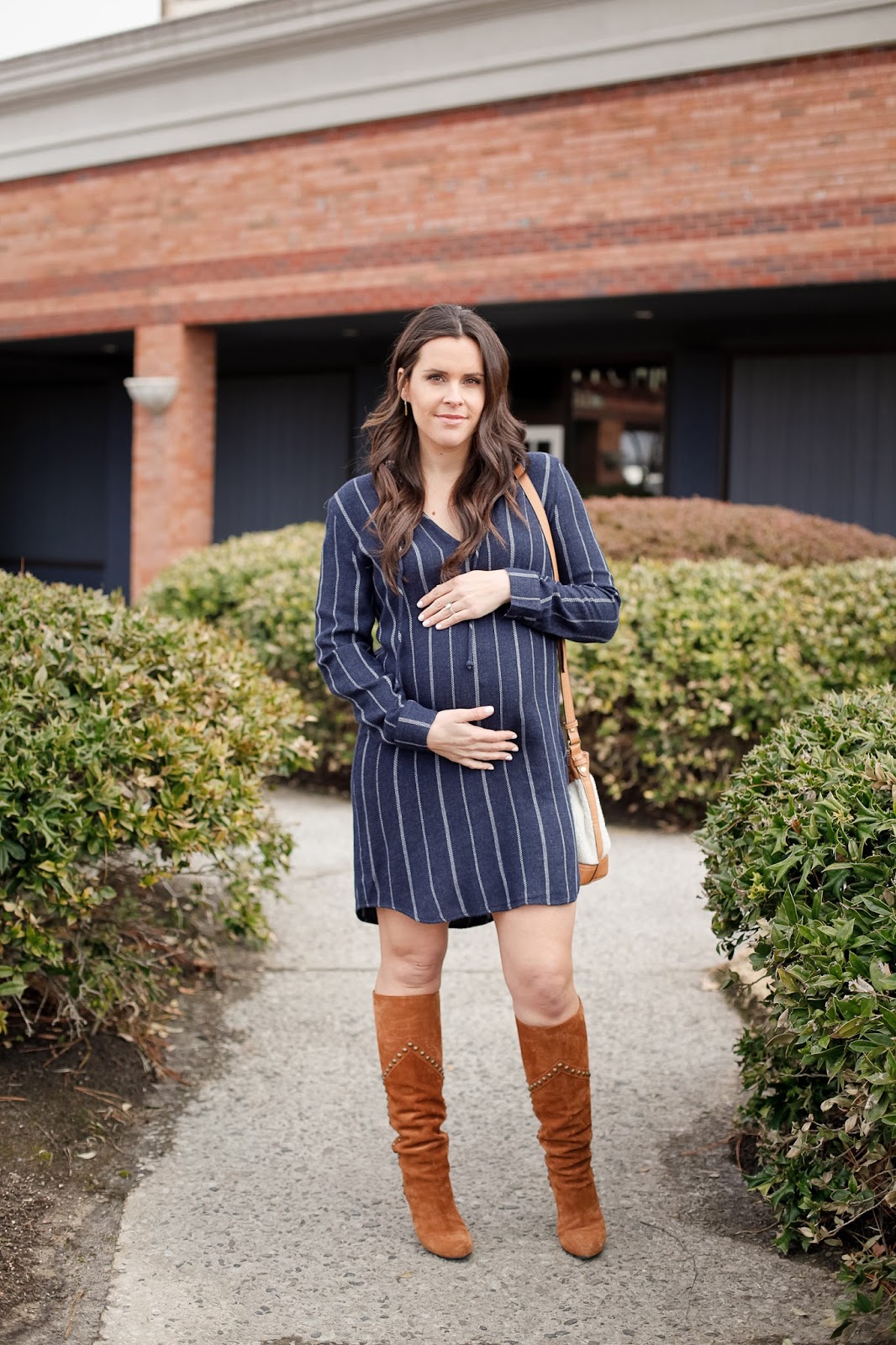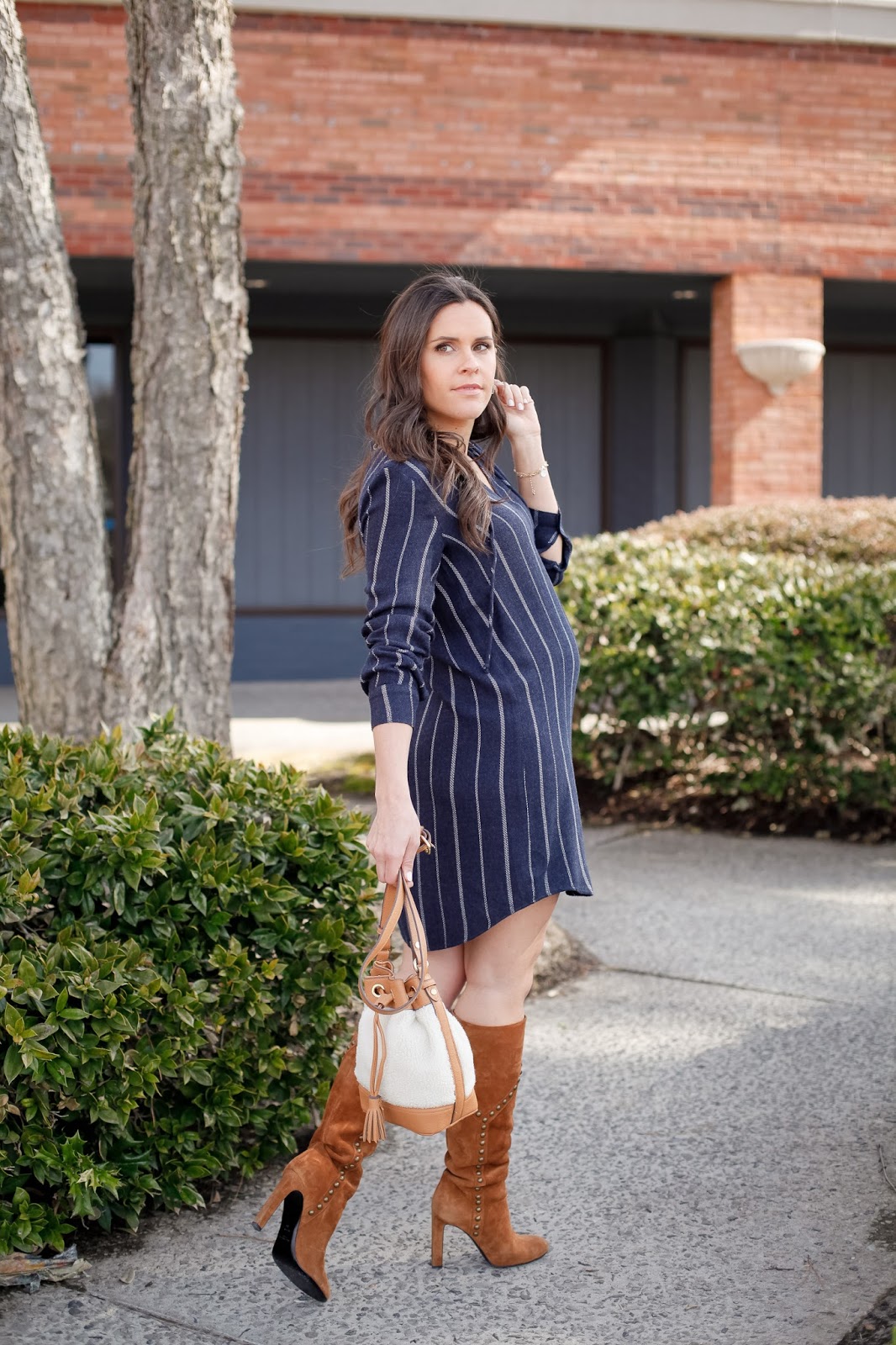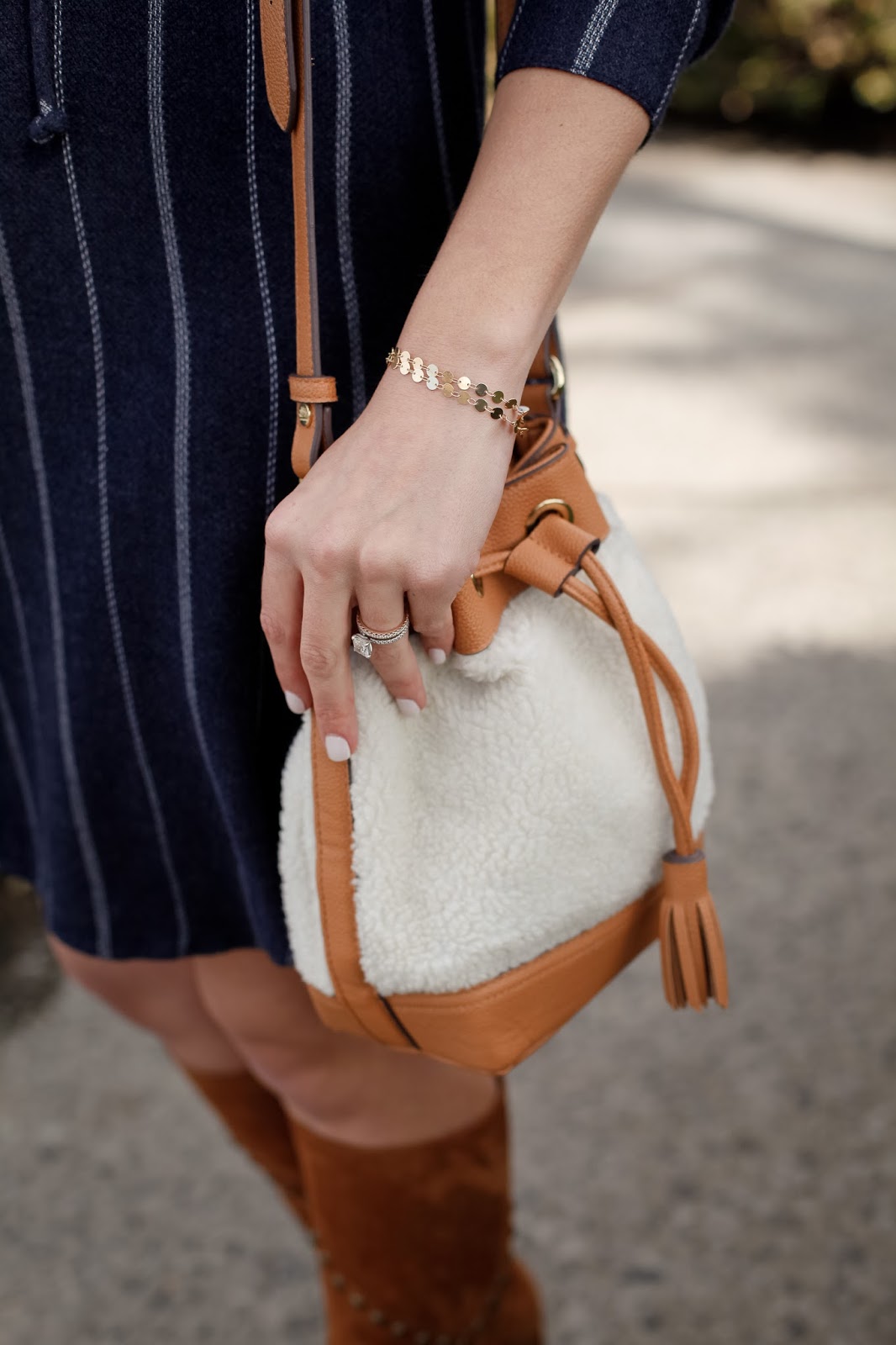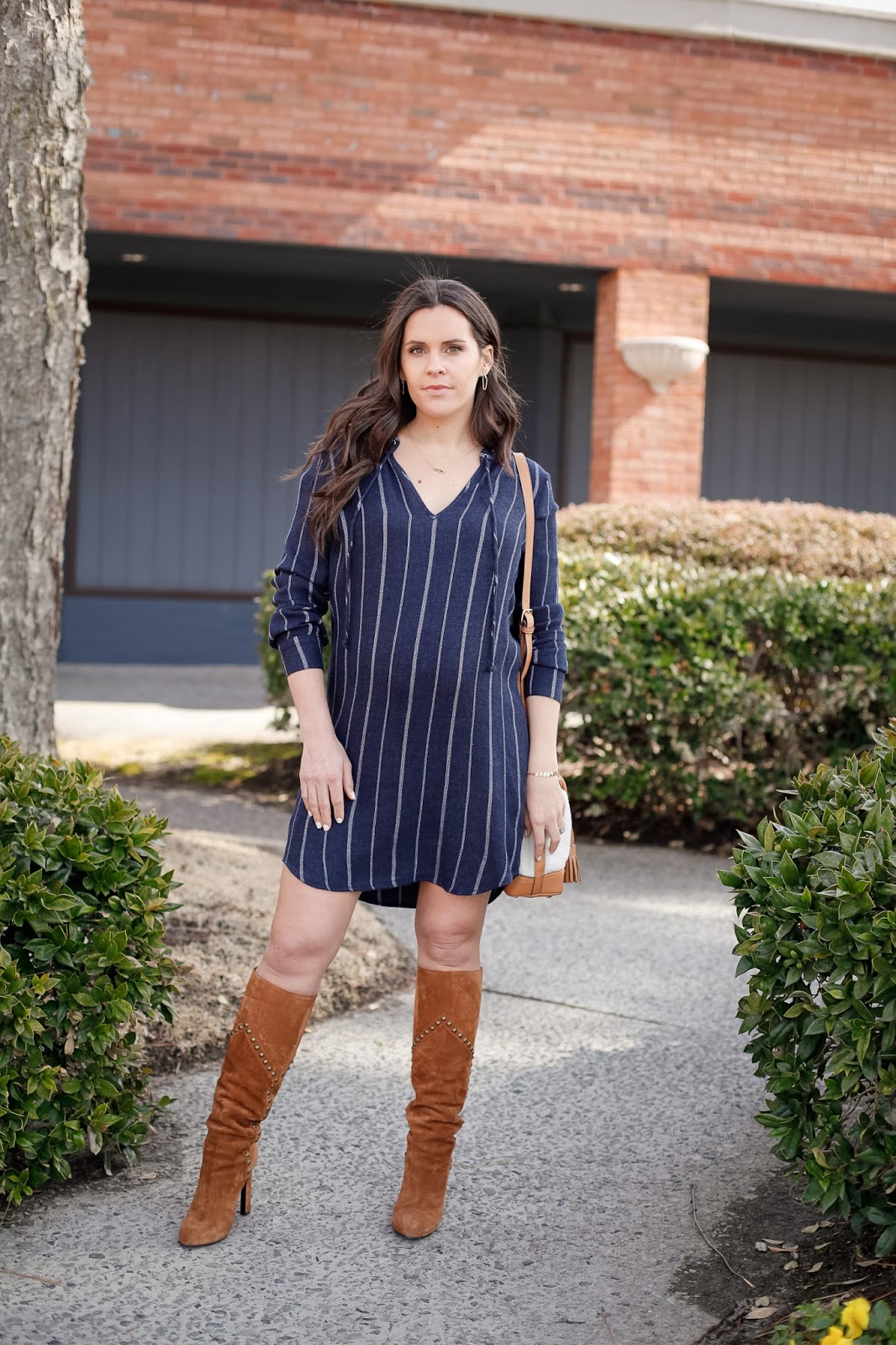 The Breakdown:
I had to return a dress to Anthropolgie that I had ordered online and did a little browsing while I was in there. I always go to the sale selection and it is usually a big hit or a big miss! Major hit this time because I got this amazing Cloth & Stone
tunic dress
 which was an additional 40% off the sale price. It's incredibly soft, can be worn for another month or so until my bump get too big and can be worn after I have the baby because it isn't maternity. I was going to wear this dress with my OTK suede boots but I've worn those quite a bit and forgot about these knee high boots I got last year. I'm really loving this navy and tan color combo also. After pairing the boots and dress together I knew this bag would be the perfect touch.
bag | Target x Adam Lippes
earrings and bracelet | from Mozelle in Germantown
Live votre rêve!

SaveSave