2018 Gift Guides
I put a lot of thought into the gifts I buy for people. That hard part about doing gift guides is that I don't know who the person is exactly for. But I put together some things I think you all will enjoy and hopefully find that perfect gift for someone! I could go on and on about why I chose each item but I don't want to get to wordy so I wrote a brief summary on why the items made my gift guide.
For The Glam Friend //
Gifts for the bougie friend in your life. Buying a silk pillowcase for yourself might not be a priorty but to receive it would be a much wanted gift, they help with wrinkles on your face and kinks in your hair. They can be expensive but I found some really affordable ones. I talk about Hanky Panky all the time, I love them and I don't think it's possible to have too many. I love Minimergency kits to keep in my car and in my purse, can never go wrong giving one of these. I saw this puzzle and fell in love. If your girl is going to do a puzzle, let it be a Monstera leaf. It also comes with a few things so you can frame it when you're done! To be honest I haven't tried jade rolling or any of those things but people swear by them so help a girl out and gift her one of these. My favorite on this list is this turban shower cap. I don't wash my hair everyday and I always wrap it in a towel but a cute little shower cap would be so much easier!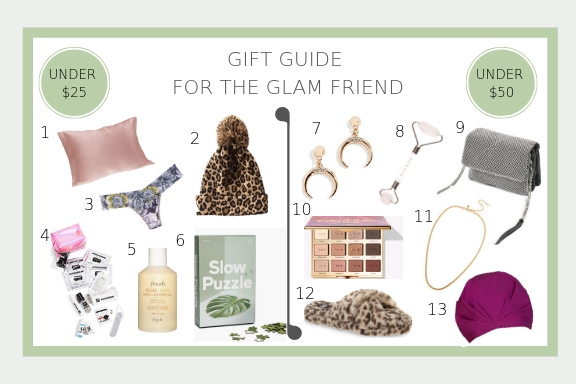 1 | 2 | 3 | 4 | 5 | 6 | 7 | 8 | 9 | 10 | 11 | 12 | 13


For The New Mom //
That's me, a new mom. New moms take naps anytime that works so a sleep mask is very helpful during that afternoon nap. We don't always have time to wash or do our hair like we prefer so dry shampoo and headbands are a must. Jewelry is limited since babies like to grab things so simple studs are the way to go and this "mama" necklace is just darling (I'll be gifting it to myself). There is a good chance the new mama you know isn't getting much sleep so a good eye cream will be a luxurious treat for her and some chic sunglasses can make her feel better during her outings. These fingerless gloves are perfect too, have you ever tried caring for a baby with gloves on?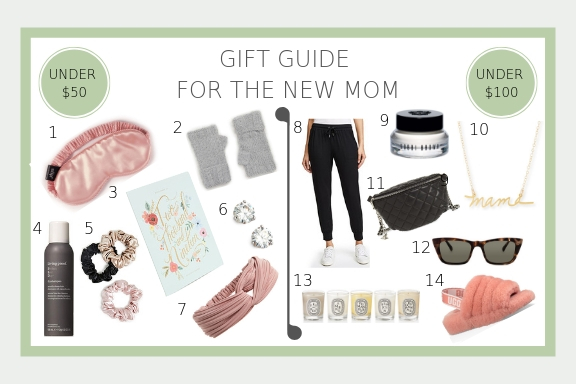 1 | 2 | 3 | 4 | 5 | 6 | 7 | 8 | 9 | 10 | 11 | 12 | 13 | 14

For Him //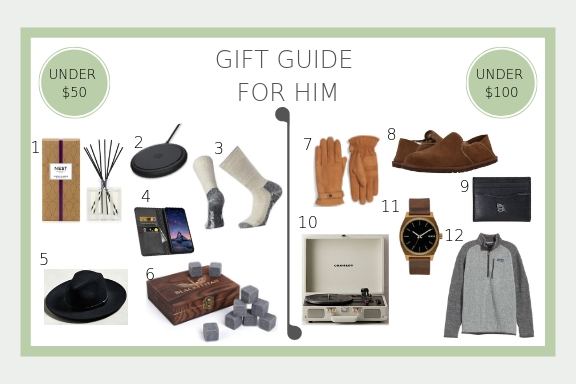 1 | 2 | 3 | 4 | 5 | 6 | 7 | 8 | 9 | 10 | 11 | 12