I count my first Mother's Day to be the one when I was pregnant with my first son. I was already working very hard every single day to make sure I was eating the right foods and being as healthy as possible for my growing baby. My second Mother's Day Myles was 9 months old and my third Mother's Day I had only been home one day since delivering Noah! My Mother's Days have been eventful and busy and has become one of my favorite holidays. I have a new appreciation for parents since having my own children and a gift, small or large, is well deserved.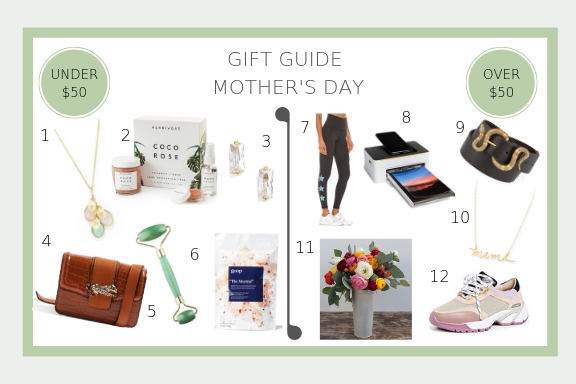 1 | 2 | 3 | 4 | 5 | 6 | 7 | 8 | 9 | 10 | 11 | 12
When I do my gift guides I try to be practical and I think really hard what the majority of the moms in my life would like and hopefully everyone can find a little bit of gift inspiration here. You can't go wrong with personalized jewelry, I love this necklace that you can choose your children's birthstone and it comes with a little leaf with their initial. I just ordered one for my mom and sister, I was going to order one for myself when I realized my sons birthstones are ruby and emerald, that's red and green, which is just too Christmas-y for me. I have had my eye on this "Mama" necklace (and this belt) for a few months (and I recently found this "mama" necklace for more than half the price! Both necklaces would go great with these darling little studs.
Mother's are busy and it is hard time for self-care but if you get them some beauty things as a gift they will have to find the time to relax. We chase are kids around also and need shoes that are chic and comfortable. I have these sneakers and they are just as cute with joggers, leggins and denim shorts. I saw this fun printer that I know every mom would love, you can print 4×6 photos right from you phone! The last thing I want to mention are these leggings. I just ordered my first pair by this brand, Strut-This, and I love them. At first I thought they would run too small but they fit like a glove and really hold your waist in! What mom doesn't want that!?
Happy Mother's Day to all you amazing women who care and love for the children in your lives!
Live votre rêve!