Another season, another "What I Want" post. Just thinking about summer makes me squeal with excitement. Technically it isn't until mid-June but I like to officially start things Memorial weekend which happens to be this weekend! Memorial Day kind of snuck up on me but I'm not mad about it! I have my eye on a few things for this summer. Some fun thins for me and a few things for the boys.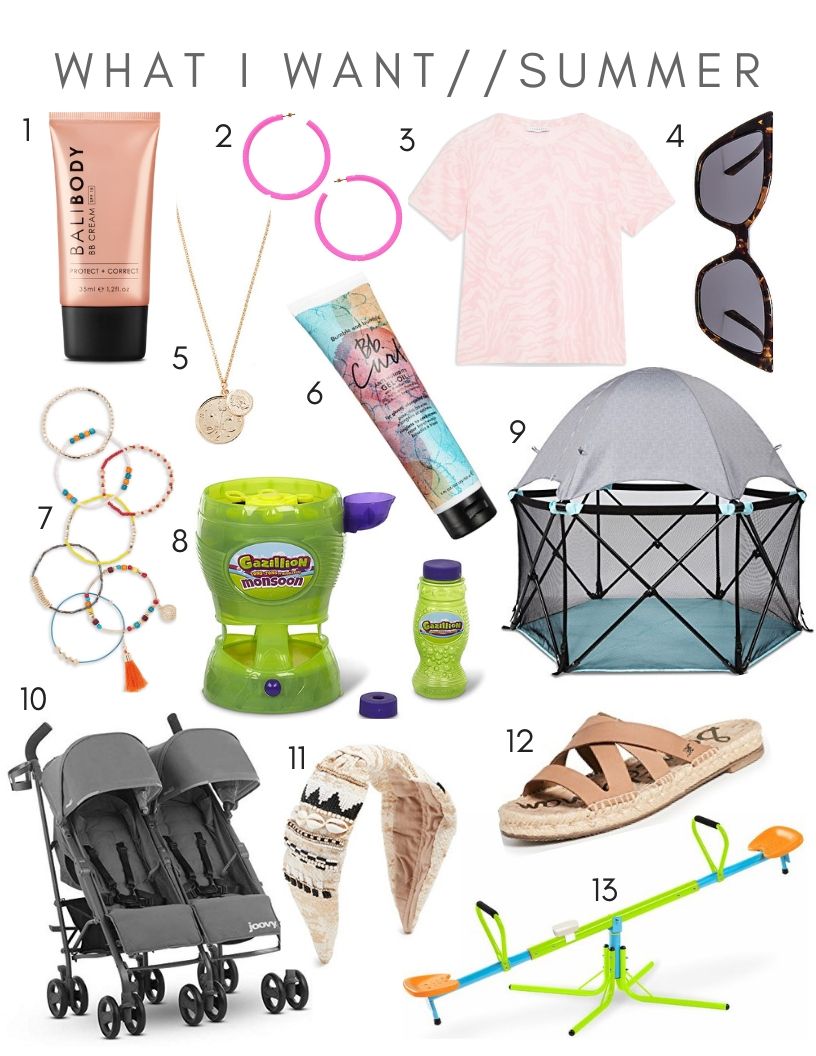 1 | 2 | 3 | 4 | 5 | 6 | 7 | 8 | 9 | 10 | 11 | 12 | 13
Let's start with things for the boys. It has been one year since having two children and I still do not have a double stroller! I have a double jogging stroller which I love but I have to take the wheels off to fit it in my trunk (it's super easy to take them off but just an extra step). When Noah was first born Myles was only 21 months and wasn't interested in sitting, EVER. So I got him a board to ride on and he loved that, it worked great for the zoo and trip around the mall and I used my jogging stroller for runs and long walks around the neighborhood. This summer we have a beach vacation and a trip to Disney on our calendars and I'm going to need a double stroller. I have heard great things about this Joovy stroller from my friend with twins and the reviews seem great! If you are in the market for a single light weight stroller I highly recommend this one. It folds up so tiny it can fit under the seat in front of you on a flight! I took it to Disney when I was pregnant with Noah and just had Myles and it was so easy to maneuver and lift.
A couple fun summer toys for the kids is this bubble machine that works really well. We have an electric machine that blows the bubble out from the side which is ok but this one blows them up and is much for fun for the kids. Don't forget to buy a lot of extra bubbles! Some how I stumbled upon this teeter totter and I think it is a great idea. It doens't seem to take up much space and is perfect to have in the grass. Another thing to have in the grass in this pop up playard. I actually bought it when Myles was a baby but never used it. Now with two kids and a pool I need this! If I need to run inside or take Myles to go potty I can leave Noah in the playard for a minute.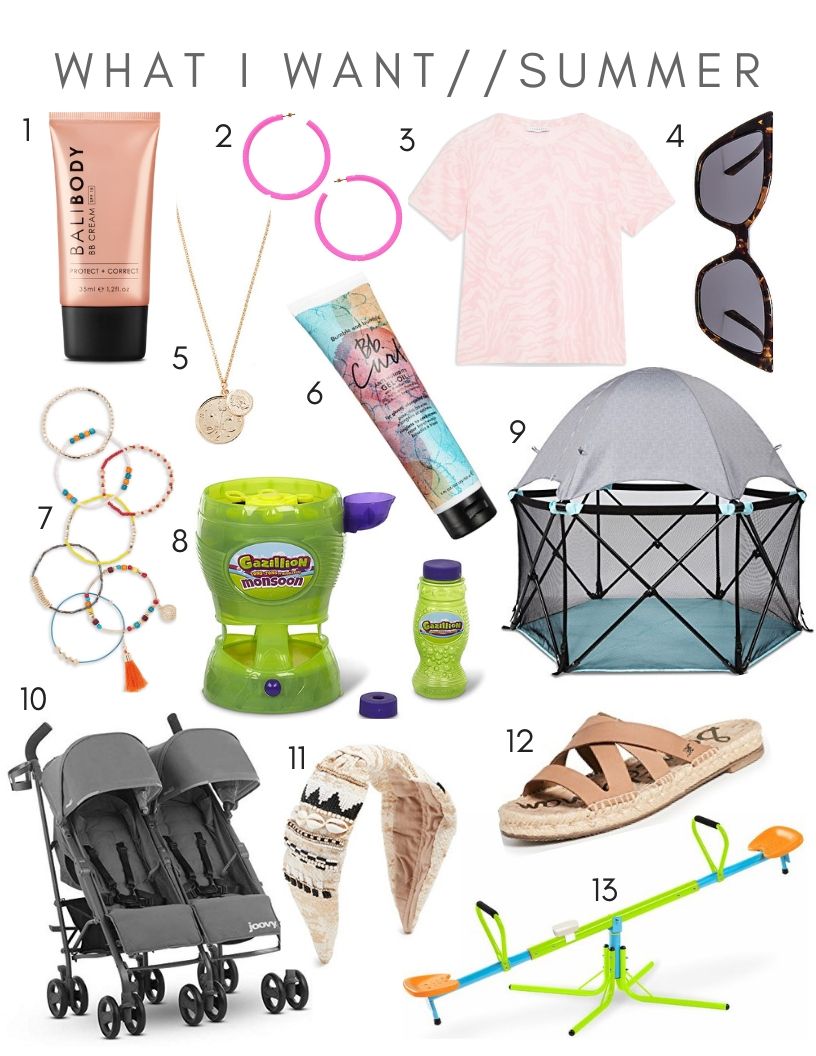 1 | 2 | 3 | 4 | 5 | 6 | 7 | 8 | 9 | 10 | 11 | 12 | 13
Now lets talk about what I want for myself. Trends are fun to try but somtimes become a little too trendy. The past couple of years I have had the hardest time finding a pair of sandals or wedges because I feel like everyone is wearing the same style. I finally found a pair of sandals that I want to purchase. These sandals are neutral and will go with everything and have a small platform without being too over the top, plus they are under $100!  Another example is shells and all the jewelry it's on which I still like and so does everyone else. Something with shells I haven't seen is a headband and I love this one! We all know neon is trending and its bright hue can be a little intimidating, these neon pink hoops a perfect introduction to the neon trend.
In the summer I enjoy layering dainty jewelry like these bracelets. I also love this coin necklace which is a little longer than my current necklaces and will go with my summer tops that have a lower neckline. The reason I want this light pink shirt is because the print is a cross between tie-dye and animal- both trendy and I have a pair of light pink pants that I think will match perfectly.
As far as summer beauty goes I don't do much. I don't do much with my hair or my skin. I like to wear a light tinted moisturizer with SPF. In the summer I rarely blowout my hair due to the humidity and hot weather. Styling my hair curly can be unpredictable. I need a good product to tame frizz and moisturize and I've heard good things about this one!

What do you want for summer?
Live votre rêve!