The gift guide my followers wanted most this year was to know where they can shop Black-owned Businesses. RewardStyle had a list of small business and let us know which ones were Black-owned so we can share with you guys. As a reminder, I do make a small commission on purchases made through my links. All of the stores below are new to me and I really enjoyed looking at their websites and seeing what they had to offer. In the image, I added the gifts I loved most from these black-owned businesses but please check out their websites for yourself!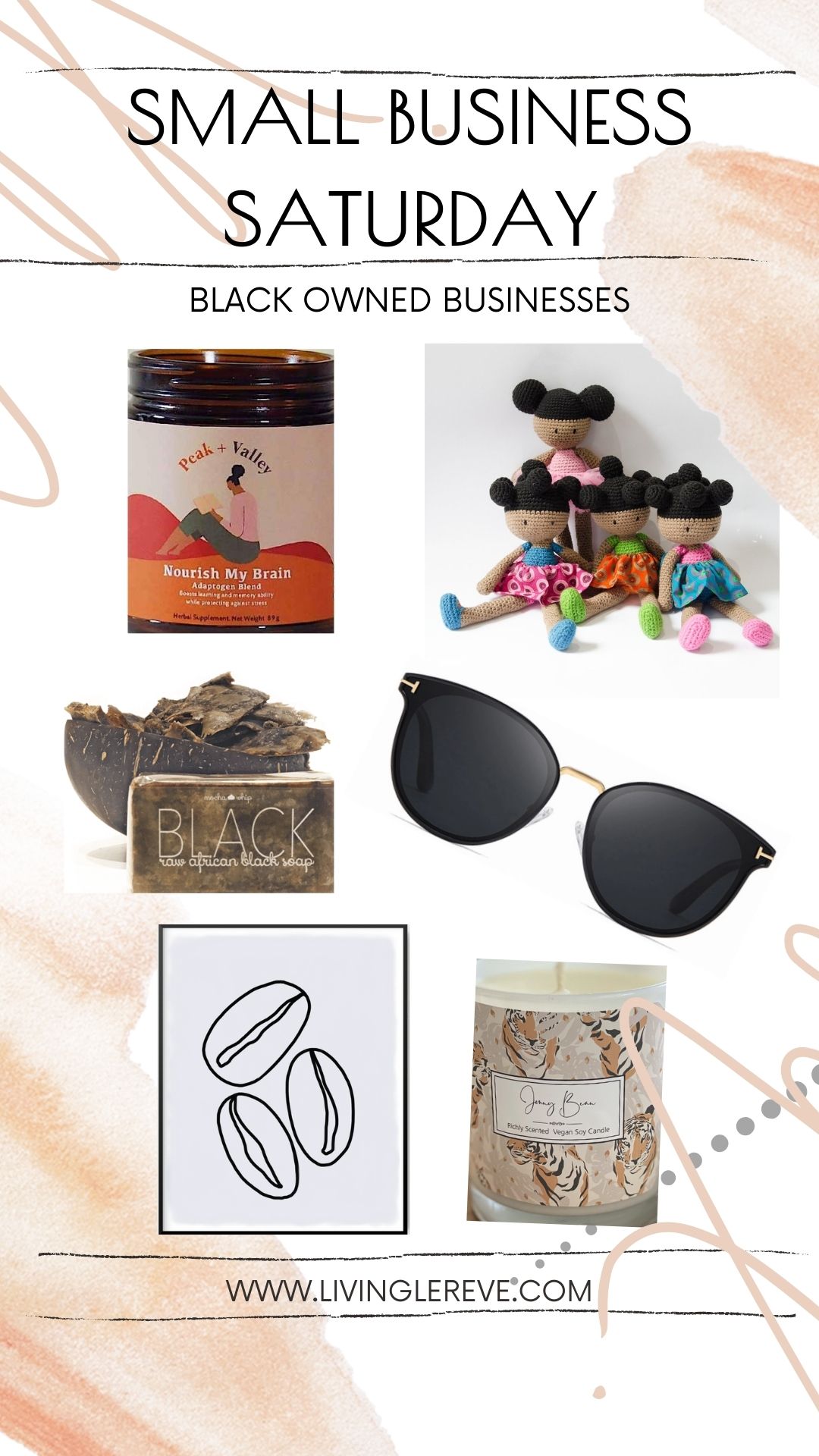 Black-Owned Businesses to support during Small Business Saturday:
|| 54kibo – Contemporary African design. You can find anything from light fixtures to baby gifts. This is a new favorite site for me!
|| Mocha Whip – Body butters made up of simple ingredients like shea butter and essential oils.
|| Rebdolls – A women's and plus size clothing site with sizes ranging between small – 5X wanting to bring about size diversity awareness in the fashion industry.
|| Pretty Well Beauty – A website full of beauty and wellness products that are clean, natural, and sustainable. There are also categories for men and babies! Hello, new mom gifts! Pretty Well Beauty also offers a Clean Beauty Edit which I'm sure my vanity needs.
|| The Crafted Prints – As the title says, you can find beautifully crafted prints. A variety of cards, thank you notes, art,  planners and more! I love this coffee bean print, I think it would look adorable on anyone's coffee station!
|| Peak + Valley – Mushroom and herbal supplements for holistic wellness. I read the "about" page and this woman has done her research! I enjoyed her story and believe she has a lot to offer!
|| Cheola Designs – A fashion brand of clothing and accessories that are sustainable and affordable.
|| Focus and Frame Eyewear – An eyewear site that offers styles that suit anyone's moment of expression, for those who need a prescription or not. All the options are very affordable.
|| Grace X Lovejoy – Streetwear and lifestyle brand of t-shirts and facemasks.
|| Jenny Bean Candles – Homemade candles from autumn scents and holiday ones.
If there are any additional Black-owned businesses I should know about please leave me a comment!
Live votre rêve!