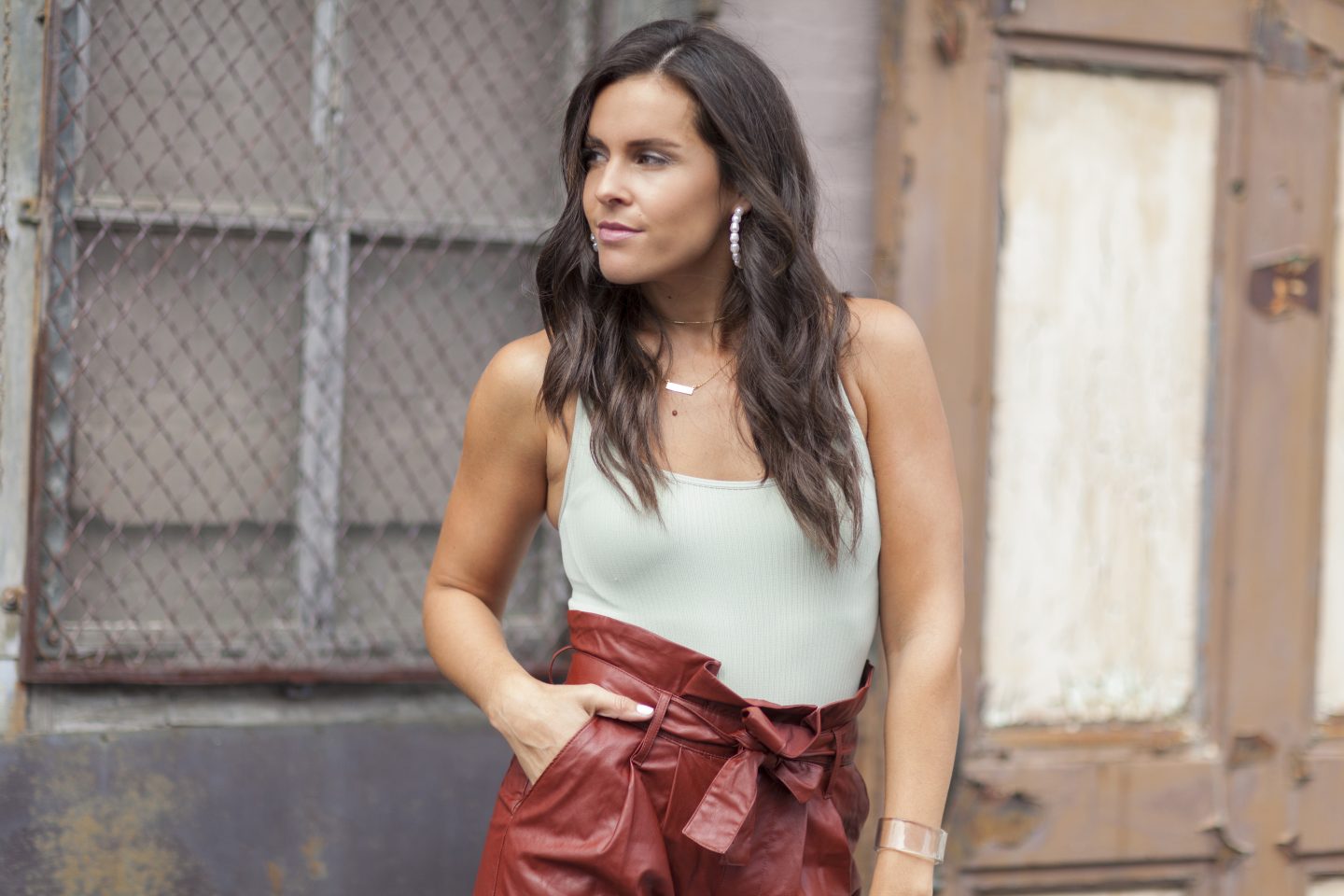 The trade happened at the end of June and we started house hunting shortly after. Our whole family excitedly headed to Salt Lake City to officially get things started (You can read more on my emotions right after the trade here and my first Utah visit and the beginning of our house hunt here). We didn't find a house but we were able too see some great neighborhoods and start to get a feel for what we liked and didn't like.
One month later I headed out to Salt Lake City again, this time with out the kids. I love taking the boys with me everywhere but house hunting is not a very child friendly activity. Plus I was only out there for two days and a 2 hour time change for only 2 nights is not worth it for me. The boys were able to spend the weekend with their Gigi and Pops in Arkansas and had a blast, pretty sure they didn't miss me at all. House hunting with just Michael was nice, we could really chat about all the details and what we liked and didn't like. We even found a house that we put an offer on. The sellers didn't like our offer, we didn't like their counter so we moved on.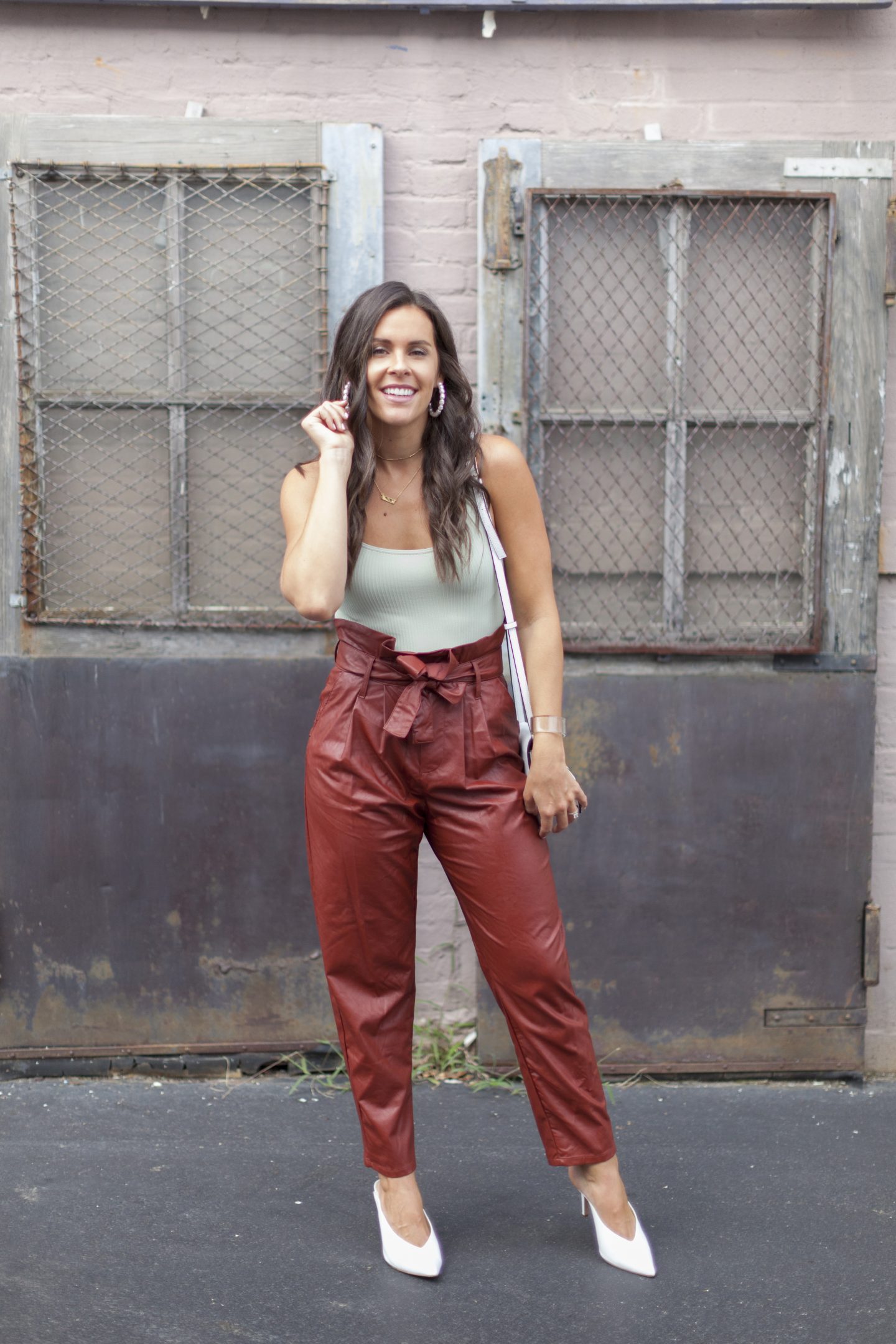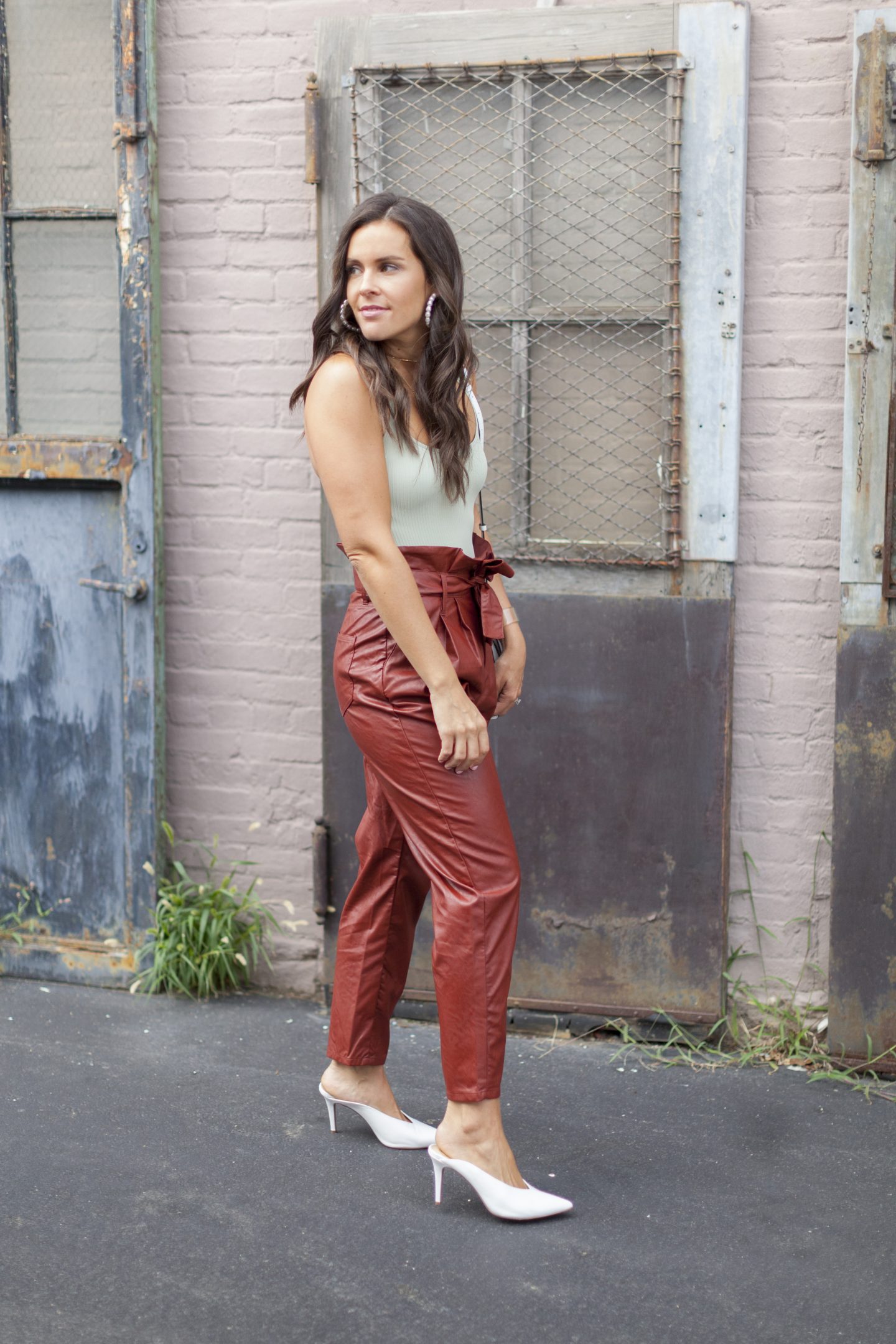 It was mid August now and I was starting to get a little anxious about the move. We were just about to list our house in Memphis to be sold and we were planning on arriving to Utah in September for the season. Michael reports extra early because he is an A++ student, the boys, dog and I usually follow a week or so later. If we don't have a house to move into by mid September where are we going to stay?
September is in full swing, October will be here in just 5 days and we don't have a house in Utah! Michael is currently renting a two bedroom condo and I am back in Ohio with the kids and pup while our Memphis house is half packed up with boxes filling the attic and garage. House or no house we are going to be in Utah the first week of October, right after training camp and just in time for the first pre-season game on October 5th. The boys have never shared a room so things could be interesting in our temporary condo. I want them to share a room someday but at this age it makes me nervous they'll wake each other up before the other is ready. Fingers crossed this will work out perfectly and sharing a room will become a permanate thing. Our biggest issue with the condo is that they don't allow dogs so I'm not sure what to do with Rio in the meantime, I could continue to stay back in Ohio but I'm so ready to be back as a family. We miss having daddy around and I miss my other half!
Ideally we would have loved to have rented a house but the renting options weren't anything close to what I like. I really want to feel relaxed and at home in our house. I never moved growing up, went to college, then moved to Memphis and now I'm headed to Utah. That is not many moves in my 31 years of life so I'm not very comfortable with change.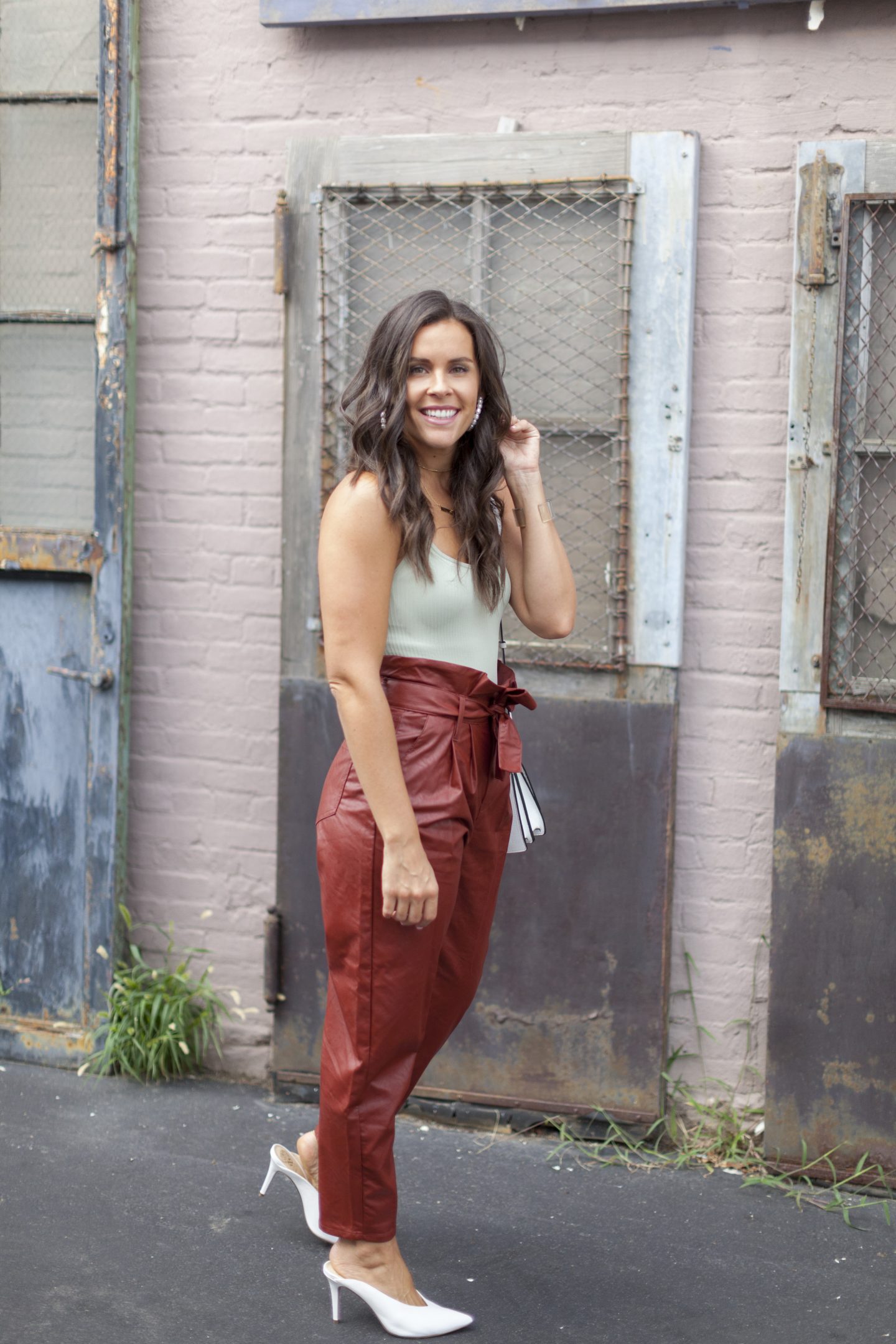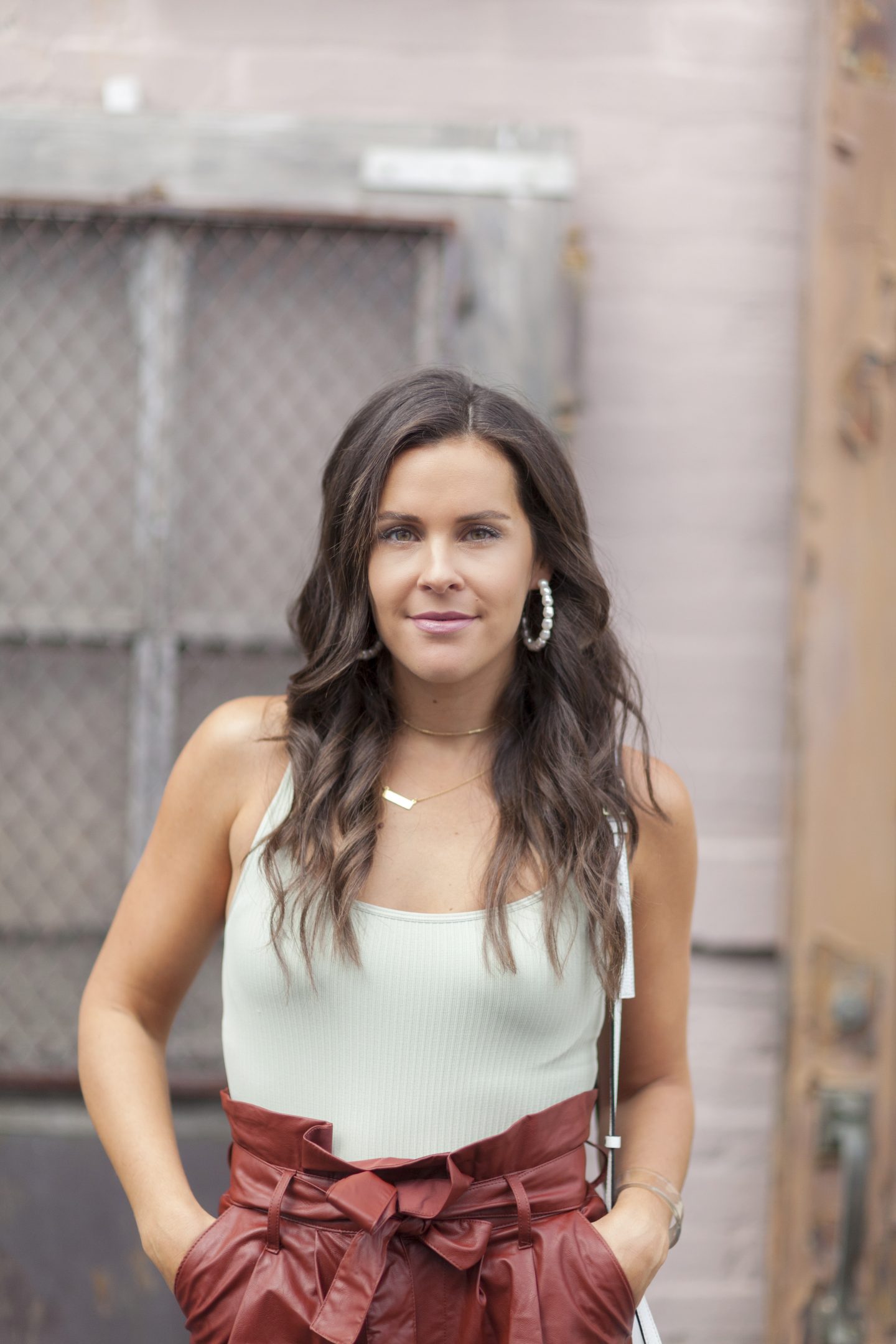 Some things on my check list are//
– neighborhood: I grew up an amazing neighborhood and in Memphis we lucked out with 2 great neighborhoods. They didn't have sidewalks but they weren't high traffic neighborhoods so we could easily take walks and jogs. A lot of the houses we liked that were in neighborhoods had such steep streets, even with sidewalks they would be hard to push a stroller up and impossible for myles to ride his bike.
– a yard: I didn't think this would be a tough one but it is. There is a lot of change in grade in Utah so a lot of the yards have retaining walls or rock beds, there are yards with quite a bit of grass but some of it is too steep for the boys to play or the flat yard is out front which isn't ideal.
– bedrooms: Our house in Memphis had a first floor master which is a must and the boys's rooms upstairs which we didn't like. One of them wakes up in the night and walking up the stairs in the middle of the night is not ideal and it scared me to have Myles at the top of the stairs (he can figure out all baby gates!) Most houses that do have a first floor master have all the guest rooms upstairs. It's been trickier to find than I expected.
I gave up on the perfect neighborhood, the house we put an offer on only had 3 houses in it and only one guest room on the main floor with the master. Michael and I are both willing to give up a thing or two on our wishlist now that we have ran out of time. The most important thing is that the house flows for the kids and Rio.
More on moving from Memphis. It hasn't really hit me that we aren't coming back to Memphis yet. Since we aren't typically in Memphis during the summer anyways I haven't missed anything. I did go and get a start on packing up the house but all we packed were things inside of drawers, cabinets and closets. This way the house still looks put together for when potential buyers walk through. Plus, we have no where for the furniture to go aways because we have no house in Utah! If our house in Memphis sells before we can move into a house in SLC then we will have to put our stuff in storage.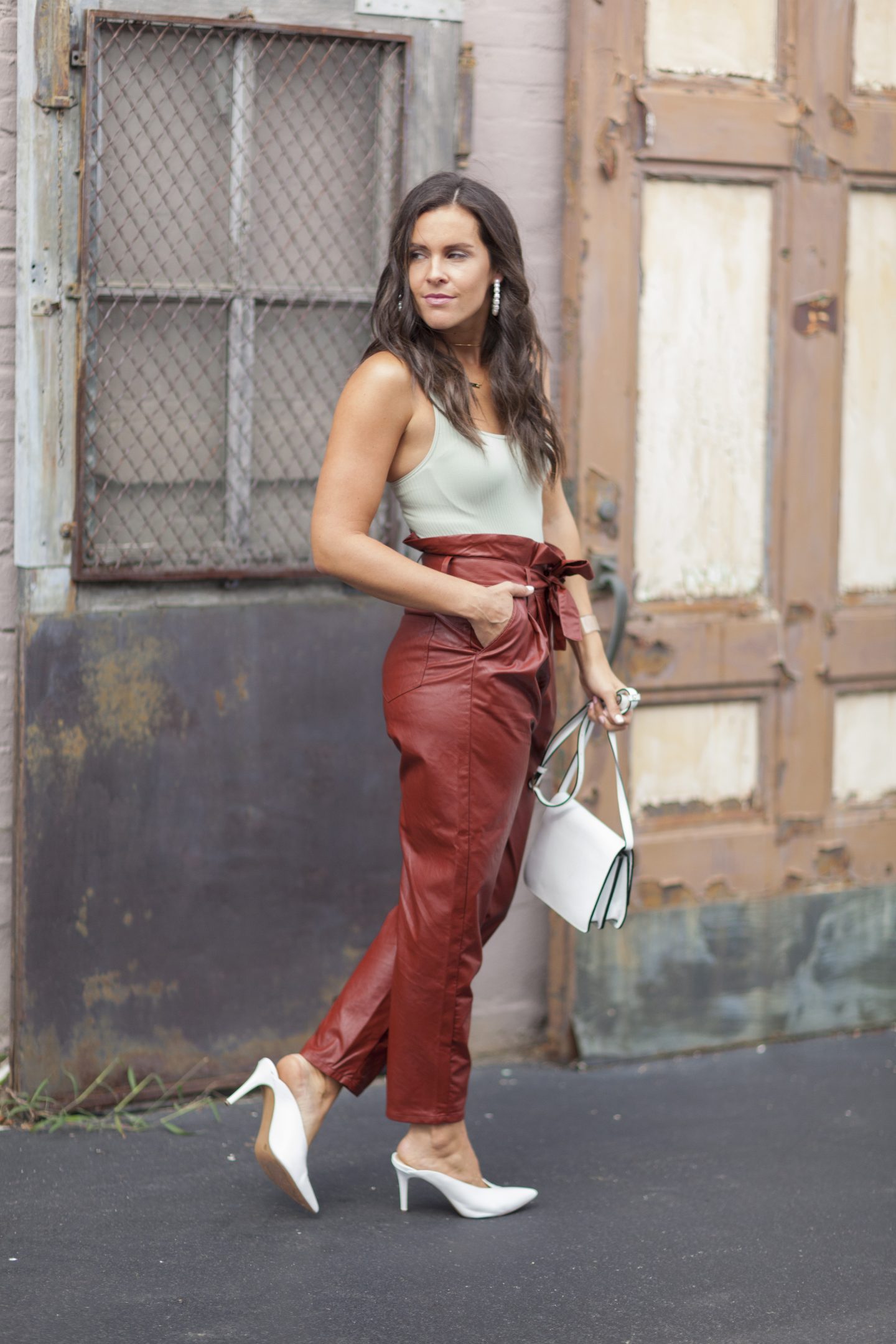 The Breakdown:
In love with these faux leather paperbag waist pants. They are so chic and look like very high end but they are actually under $35 and come in black too. These mules are the perfect height for me. I know shorter heels are in but the kitten heels just aren't very flattering on me so I prefer a small heel that is more in the 2 1/2" range.  This outfit is a great summer to fall transition outfit because the pants have a leather vibe perfect for the cooler months but the crisp white is keeping in fresh for the warm weather we are actually having. The pearl hoops tie in all of the white accessories and the mint bodysuit is such an it color that it is a fun option paired with the rust colored pants.
bodysuit | Urban Outfitters (similar here)
pants | Who What Wear 'Straight Leg Paperbag Pants'
shoes | Vince Camuto 'Berodie Mule' (on SALE)
bag | O.A.D. 'Mini Leather Messenger Bag' (in black)
earrings | Sugarfix by BubbleBar 'Pearl Hoop Earrings'
choker | Uncommon James 'Ready To Mingle Necklace'
necklace | BubbleBar 'Initial Pendant'
cuff | Lele Sadoughi 'Broadway Cuff'
*UPDATE* 9/29/19
I am pretty stressed and very frustrated! As you know we put an offer on a house months ago. The house's main floor has totally be renovated and is really beautiful, the whole lower level has not been touched, it's not horrible but I would definitely be updating a few things here and there. The comps that were used were from houses that have been listed for over 100 days and haven't sold. Not good comps considering the houses haven't sold. We also know the house is being listed for double and a half what the previous homeowners purchased it for. Now they did some nice renovations but that's a big increase! We offered somewhere between what they purchased it for and what it was listed for. They countered at 3% of their asking price which is nothing!! I didn't want to play the game of going back in forth a million times and I saw no meeting in the middle anytime soon. Moving on!
Michael finds another house while in Utah and I'm in Ohio. He really loves it, I fly out there, I love it too. There are only 2 things the house has or doesn't have but that is pretty good compared to what we have been looking at! It's the perfect size, close to a park and conveniently located to all the things I want. Yay!! So this house has also been renovated and is much more modern than I prefer but I can envision our furniture and softening the place up, maybe needing to change a light fixture or 2. Once again the comps are a little off, 2 are pulled from the neighborhood and 3 are pulled from 3 miles away. Three miles away!!! Those 3 miles happen to be from a prestigious gated neighborhood, so of course those houses are much more expensive than what we are looking at. Our realtor thought we should offer slightly above the comps in the neighborhood the listing agent was asking for above average of the 2 types of comps. Michael and I decided to offer something in the middle not to offend the homeowners and hope they will accept. We were wrong. They countered at the asking price since it was't actually listed.
Oh, did I mention this listing agent is the same women from the previous house we put an offer on!!! A nightmare, we already had bad luck working with her, the comps she pulls are outrageous, she knows who my husband is, knows how much money he makes and knows we are (or have) run out of time. So we offer right in the middle between our original offer and their counter/asking price, denied, they counter back at -2% of the asking price. This agent does not budge! Our counter had been +9.5% our initial offer.
I feel like my life is upside down. The things we need in Utah are boxed up in Memphis. We can't move them yet because we don't have a house to move them to. I don't want to pack up our whole house in case we downsize. We can't bring the dog. I don't know where to register Myles in school because I don't know what neighborhood we will be in. I want to be in Utah as a family. I'm annoyed at the listing agent of the houses we want. These are the feelings I currently have. I know these are all minor things but I'm just having a rough moment. I am very excited to be reunited as a family, I am excited for our condo life for the next few weeks, hopefully not too much more than that. I have reached out to the Neat Method in hopes they will be available to help unpack and organize when the time comes. I am in the process of finding someone to care for the dog. I'm ordering a few new toys and things for the boys.
All is good.
Live votre rêve! Go Jazz!!