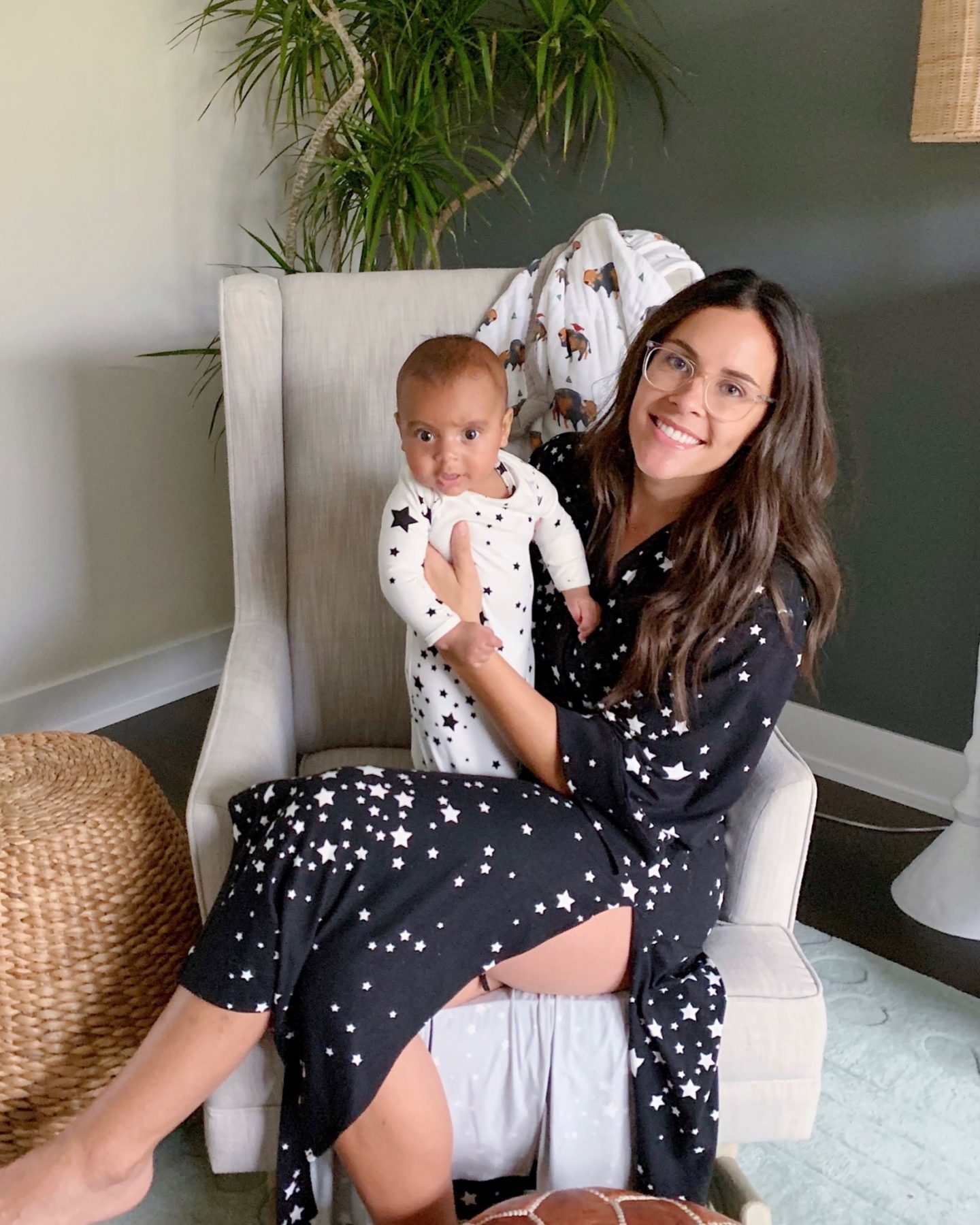 Planning anything ahead of time is not my strong suit. Of course, I'd love to always be prepared and do my research but I'm more of a last-minute person or do as you go. I never quite get to do that big nursery reveal. With my firstborn's nursery, it wasn't ready on time because we were building a new house and it was supposed to be finished by the time the baby came but things were taking longer than usual so we set him up a temporary one at our condo. Myles finally had a room for himself when he was about 10 months old, check it out here!
My second child's nursery was set up in one of our guest rooms. I did not want to remove the king bed in his room since our moms were able to sleep there to help us out during nights! One thing you'll find in common with all the nursery's is there is a bed in the room. I'm a strong believer in having a comfortable place for an adult to sleep in a nursery. The first couple of months I sleep in the baby's room since I'm waking so frequently, that way my husband can rest, there is no point in both of us being exhausted and someone needs to get up with our older children! I love how Noah's nursery turned out, the room was so calming.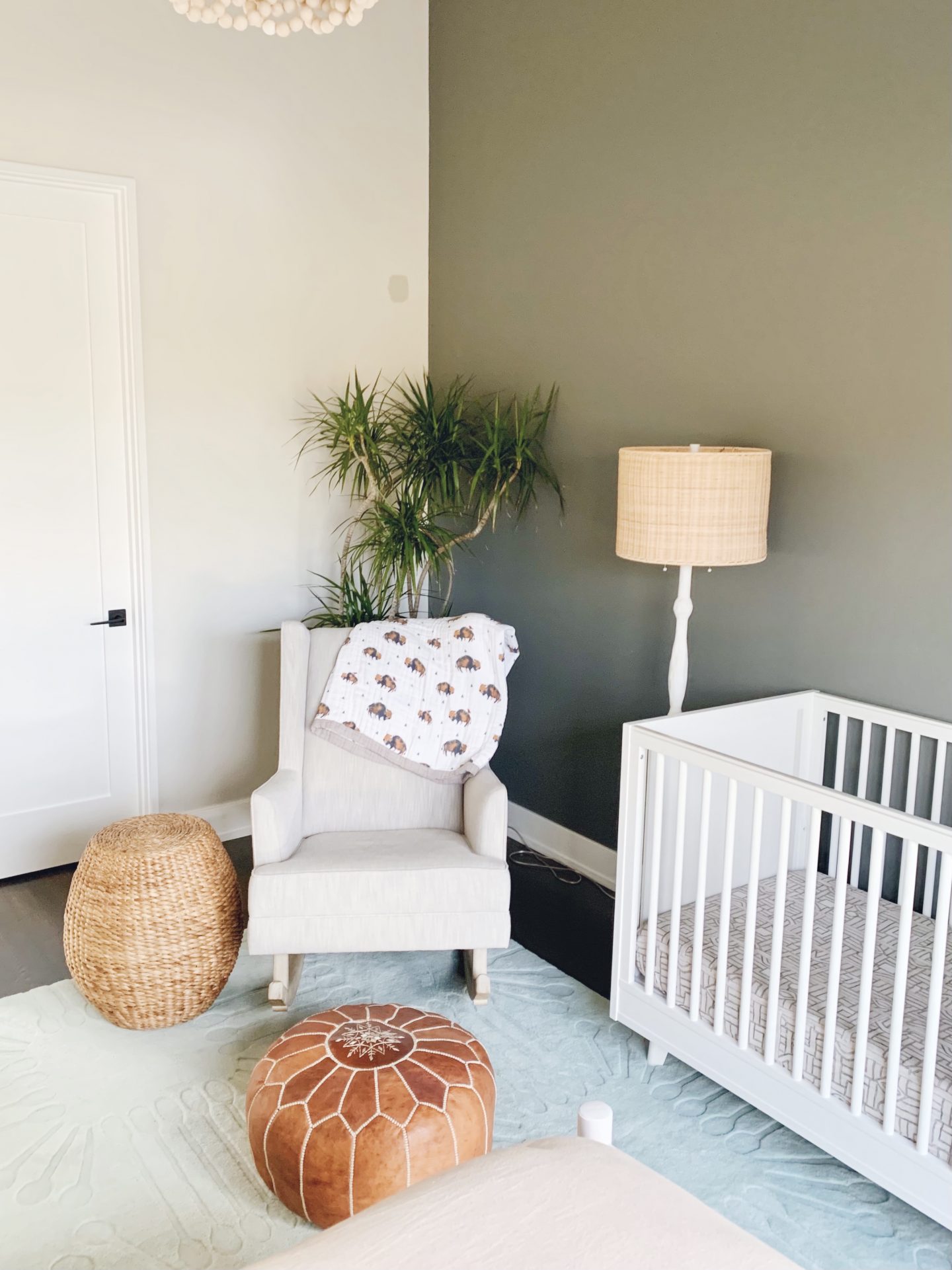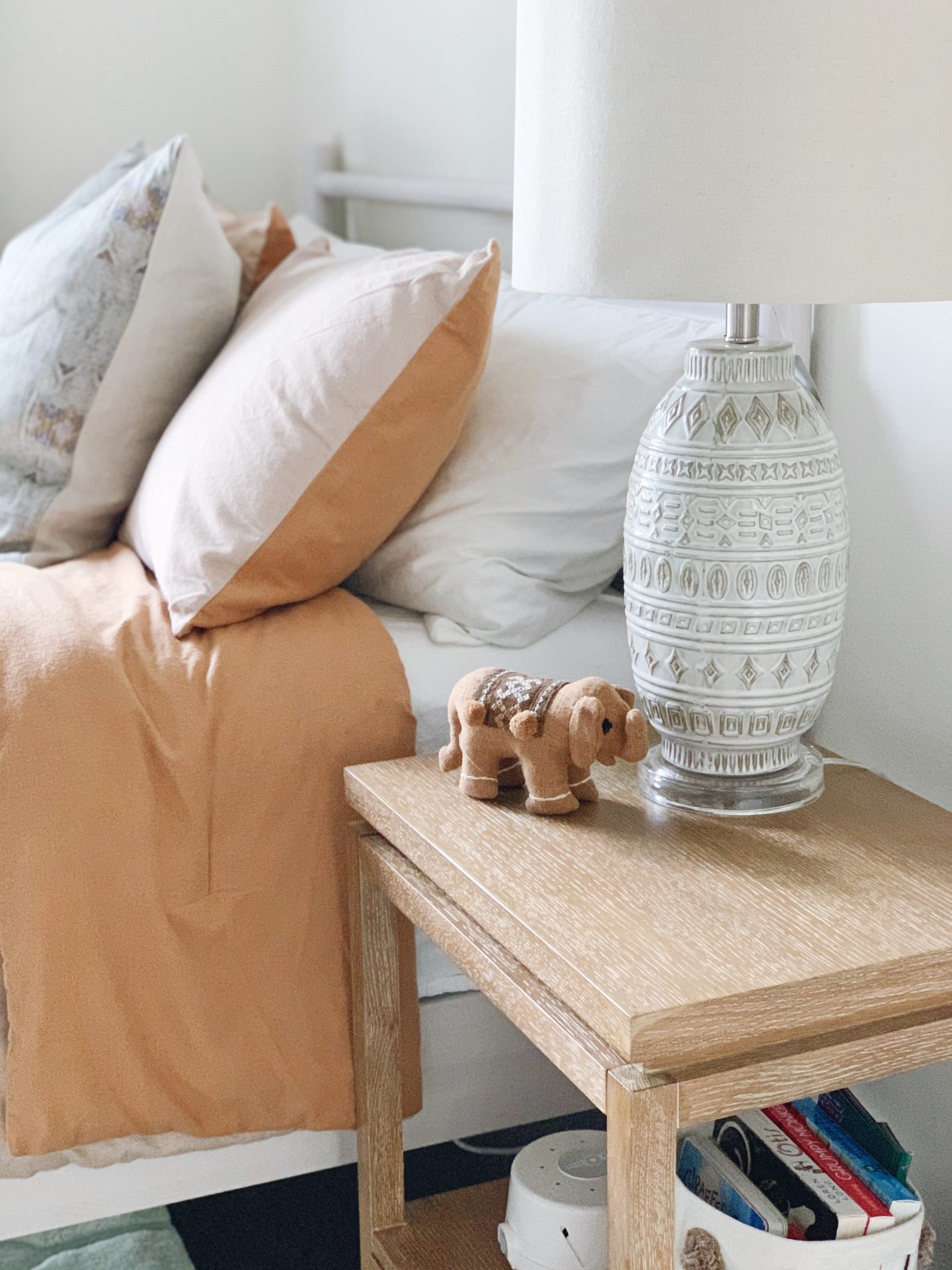 Let's get into Eli's nursery! He is taking over what was Myle's nursery because Myles and Noah are now sharing a room. You'll see a lot of the same items, same crib, rocker, side table, and changing table. I moved Myle's nursery rug into the room he and Noah share and bought a new rug that I absolutely love. I had no idea what direction I wanted to go when it came to putting Eli's nursery together but I knew I wanted it to be different. A color I had not used in any of the rooms was green. I was debating between a mint and chartreuse rug which would set the tone for the room. I did find this little elephant (ours is tan) and this crib sheet that I immediately fell in love with. The sheet was a splurge but I know we will use it for years to come!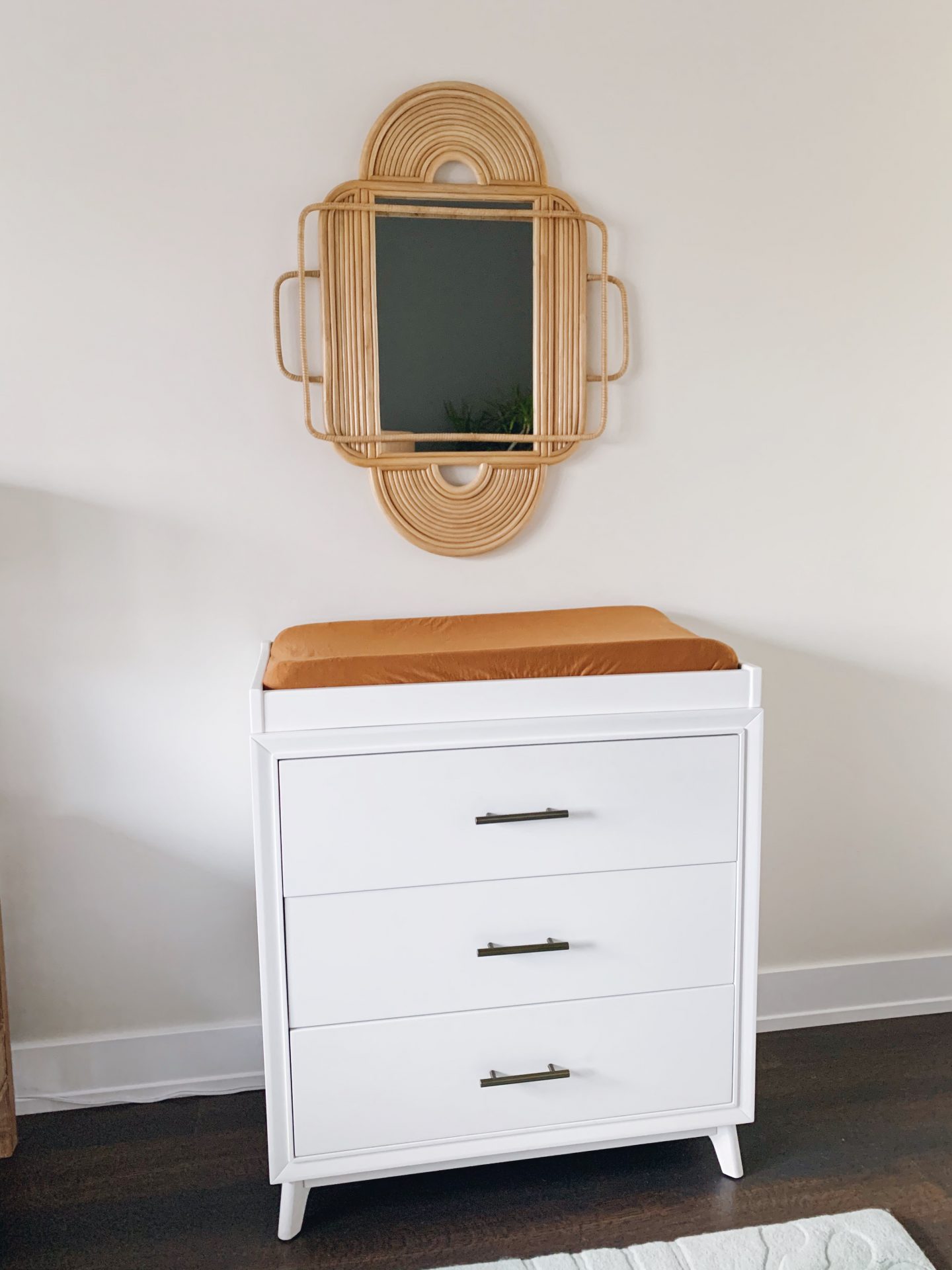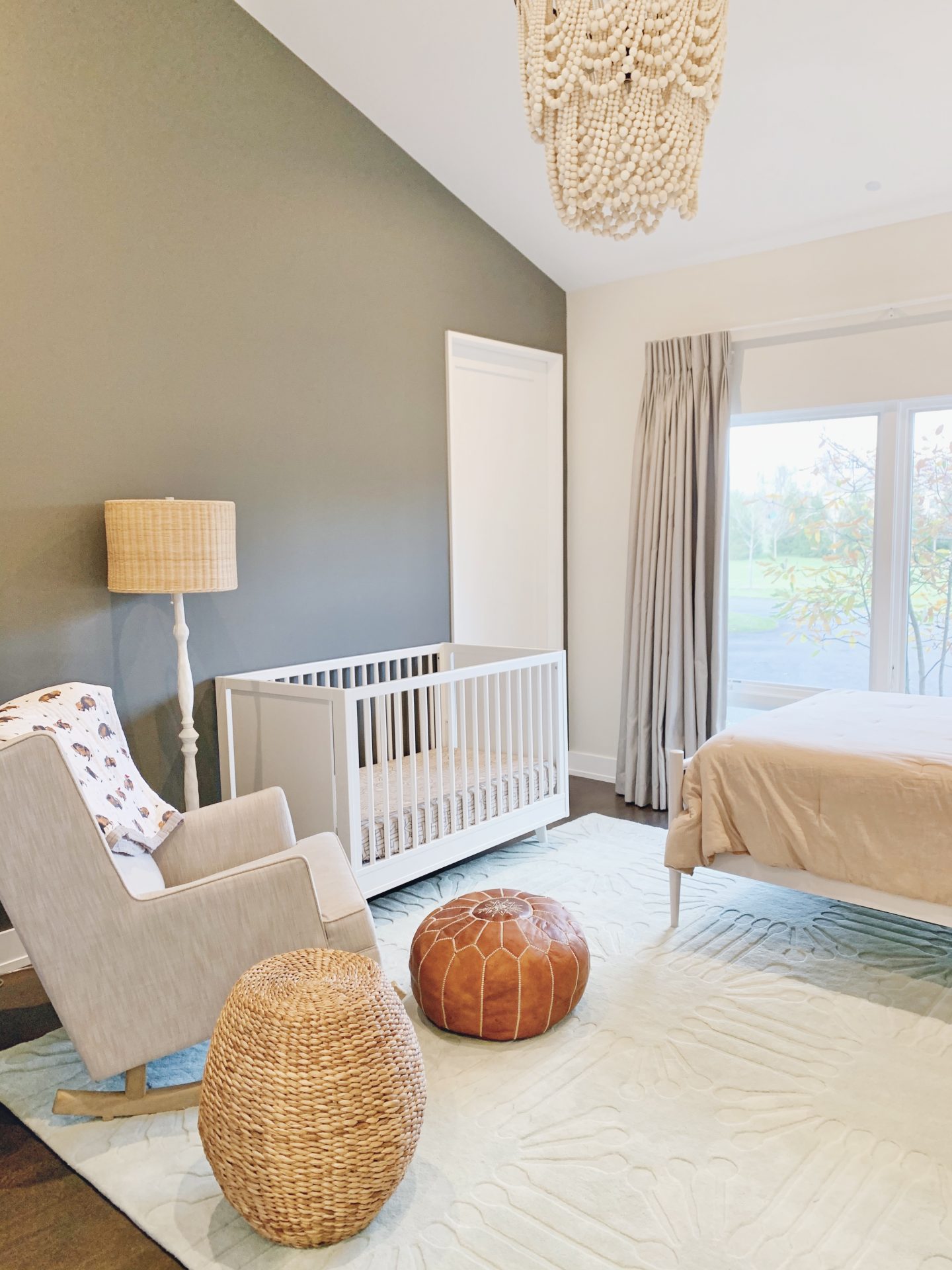 I added a Draceana Marginata (Madagascar Dragon Tree) plant in the corner of the room. I love the height and visual interest it brings to the room, plus I got it for 50% off from a local Columbus nursery. With the addition of the plant, I moved the rocking chair closer to the center of the room making it feel cozier. I always had issues with the rocking chair sliding off the rug while rocking so I put a felt strip all along the bottom and it has helped tremendously!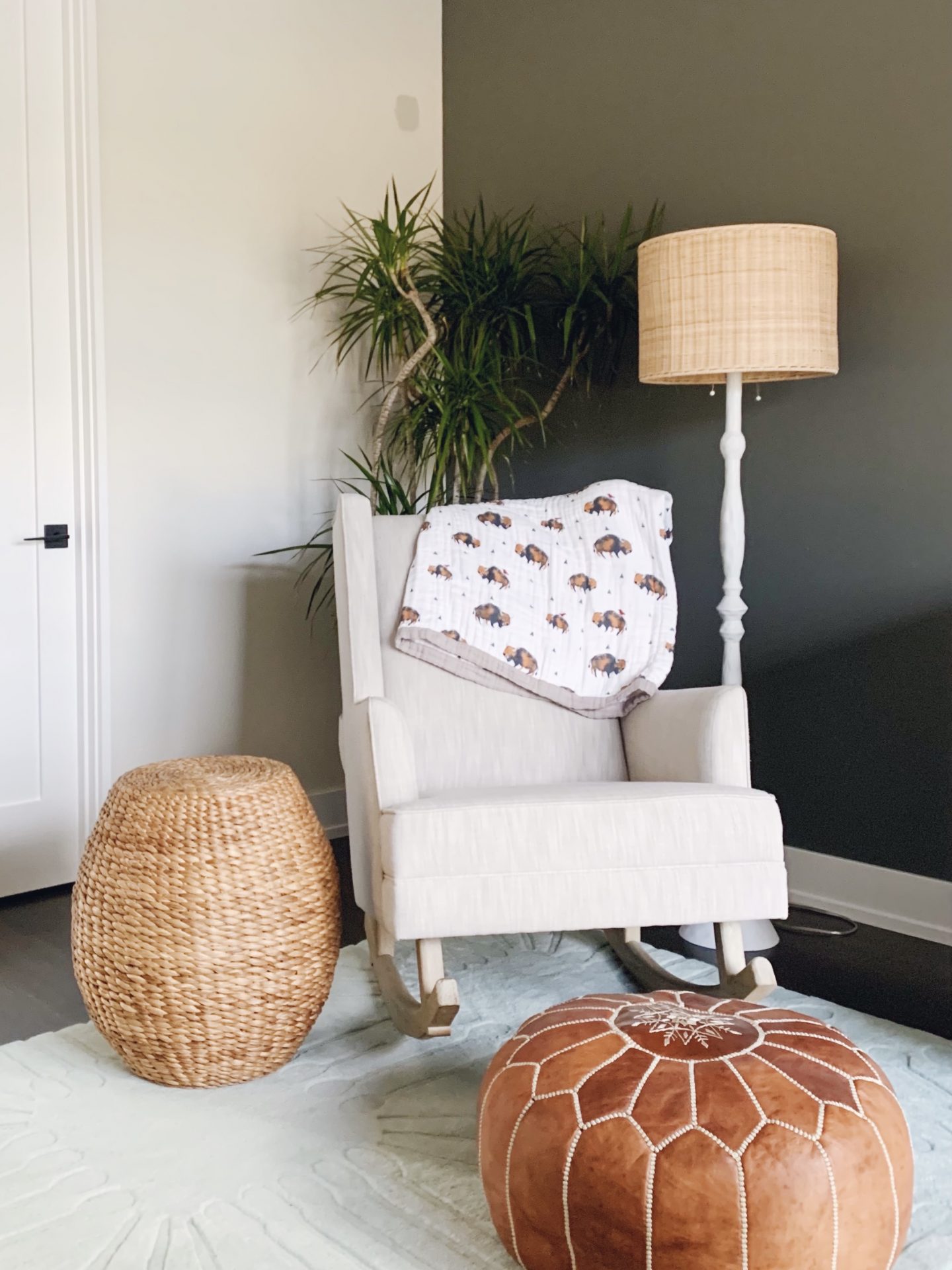 The walls are bare, other than the mirror I have above the changing table and I have no idea what to put on them. I still have the cross stitch alphabet art that was above from the crib when Myles was in here. I am open to art suggestions! The leather poof is also a new addition. I had wanted one for years and felt like Eli's nursery was the perfect spot for it.
I feel so good when I am in this room. It makes me happy and so proud to be a mom.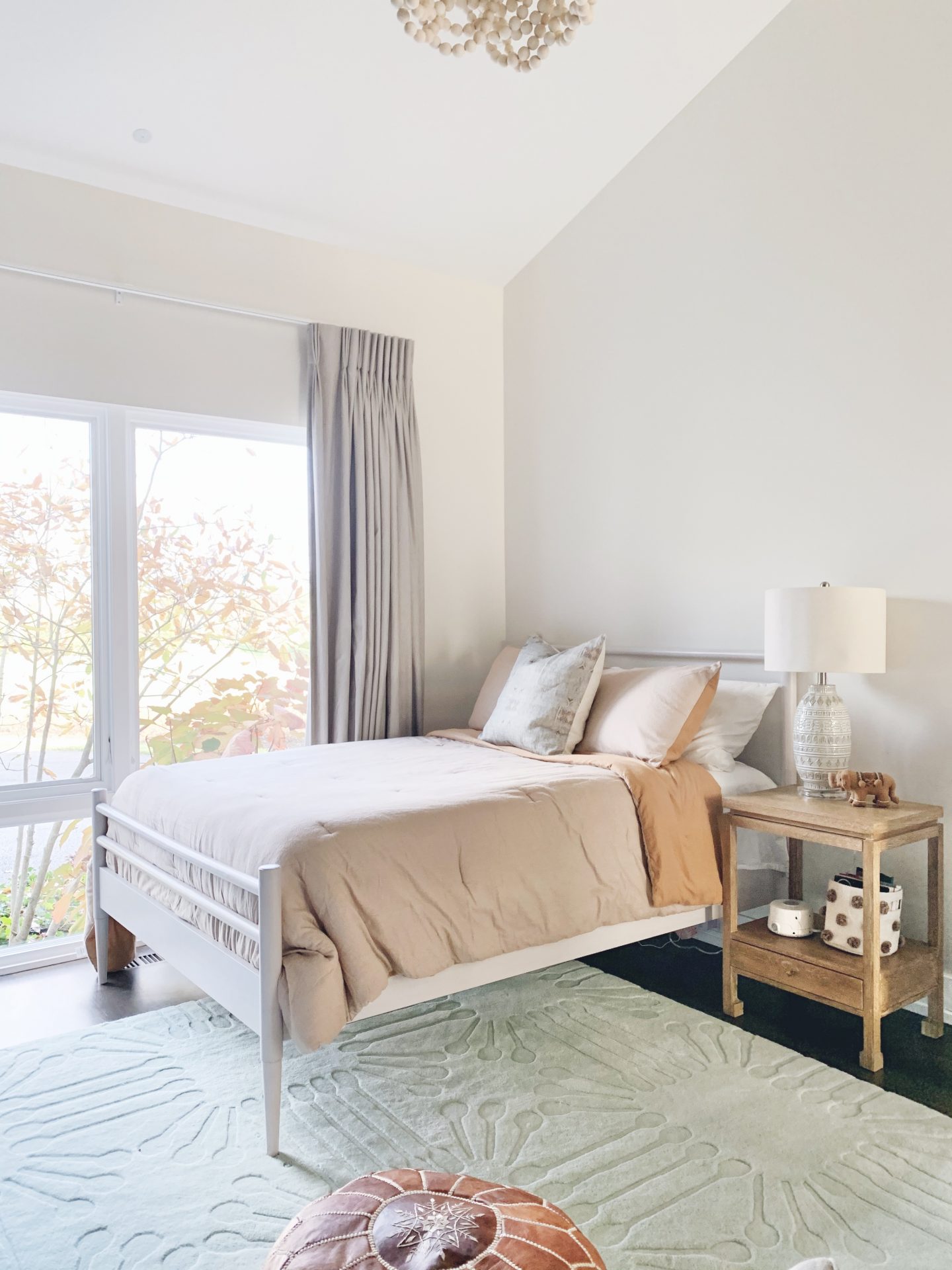 The Breakdown||
crib || Pottery Barn Kids
crib sheet || St. Franks
rocking chair || Pottery Barn Kids
rug || Crate and Barrel
pouf || Wayfair
floor lamp || Serena & Lily
bed || West Elm
bedding || Target Threshold
nightstand || Serena & Lily
changing table || Pottery Barn Kids
mirror || Anthropologie
bison blanket || Little Unicorn
accent wall color || Racoon Fur by Benjamin Moore
drapes || custom by Hang Ups
star robe and gown || Mason Gray
Live votre rêve!