Growing up stockings were one of my favorite things because they were like bonus little gifts. Today stockings are still one of my favorites, I look forward to what my mom stuffs in ours every year. We now have some staples like fuzzy socks, quality chapstick and the boys get balls that bounce and glow (this ball is the perfect baby version), along with some matchbox cars and soccer cards for the older boys. Now that I have a family of my own I want to make opening stocking part of our Christmas morning tradition so putting together the perfect stocking stuffers was a lot of fun.
These stocking stuffers can easily be gifts too if you are looking for a little something. I am pretty sure all of these are under $25 or very close to it. As far as the boy and girl stocking a lot of those can be interchangeable. Children, in general, like a lot of the same things until they get older that is out of my department, haha! Myles was watching me make this stocking stuffer gift guide and saw the bath toys and was so excited. I am definitely going to order that for him and Noah.
I also want to buy pretty much all of the mens things for Michael except for the tie bars because he has a ton. I actually asked him what he thought of the air pod case and he thought it was cool (this air pod case is my favorite for a girl- if I were tech-savvy I'd totally ask for these), can't go wrong with a good pair of underwear and if your guy likes music then this water-resistant bluetooth speaker is perfect for him and the shower. The thing I love about this key ring is how cool and simple it is. A key ring can do the job but it can be a pain to open it and twist the key on and this key ring will solve all his problems.
One last thing I want to mention is 1. for her. These are the Makeup Eraser. They seriously work so well to remove your makeup, all you need is water and they come in a lot of different prints and sizes. I like this 7 day mini set and think it's an adorable stocking stuffer and also a great gift for your mother in law, assuming she wears makeup. I'm getting mine the solid black!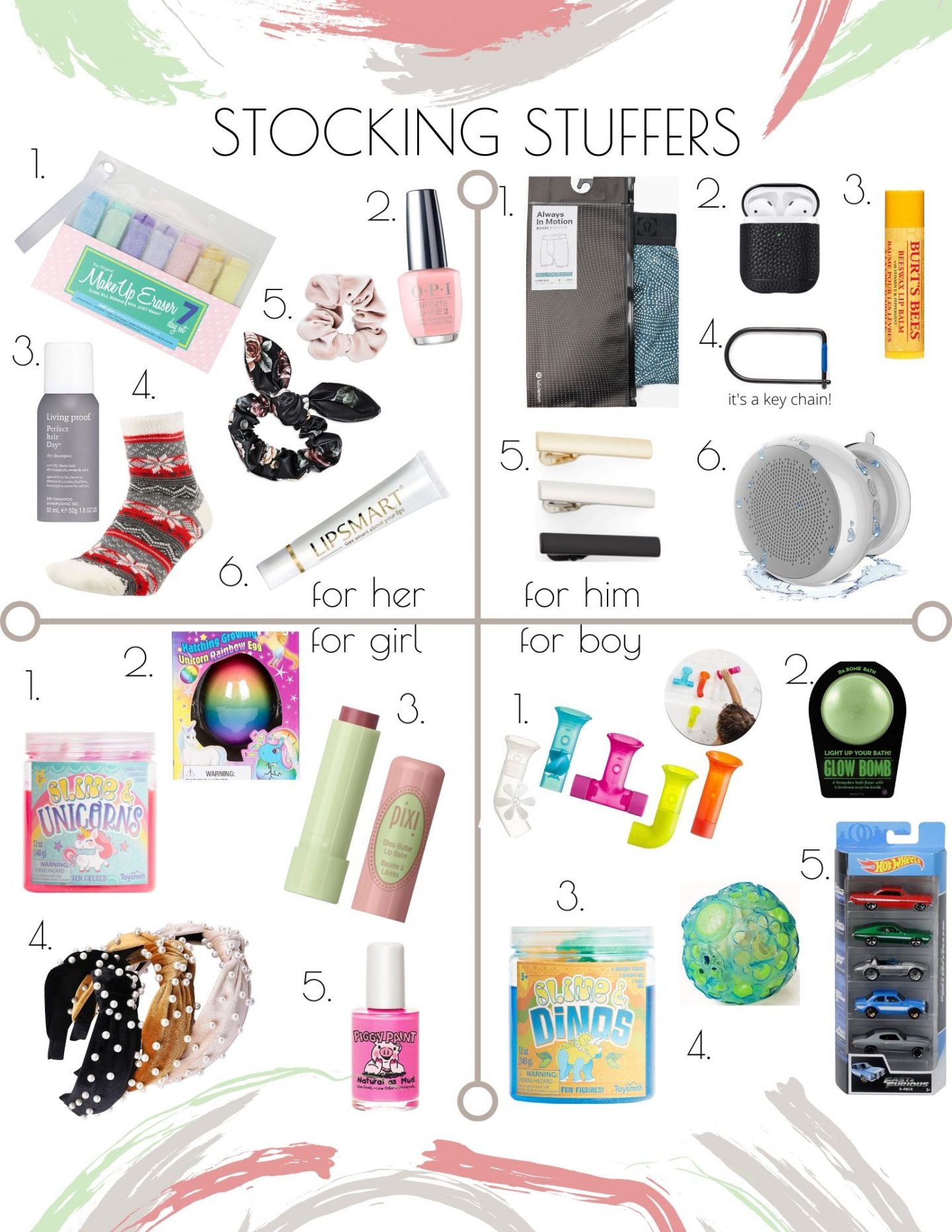 for her //
1 | 2 | 3 | 4 | 5 | 6
for him //
1 | 2 | 3 | 4 | 5 | 6
for girl //
1 | 2 | 3 | 4 | 5
for boy //
1 | 2 | 3 | 4 | 5
Happy Holidays!
Live votre rêve!