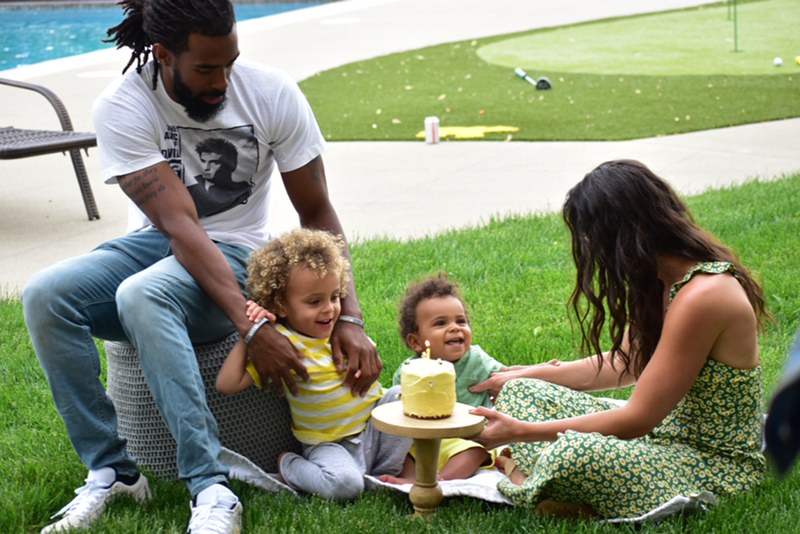 Things were buzzing around a couple weeks ago as we celebrated Noah's first birthday. We had many friends and family in town for the celebration and it took place at our house. The first birthday is always a extra special because of all that goes on in the first year of life for a baby. Noah has formed the sweetest personality, he is the absolute happies baby and has the biggest smile I've ever seen on a baby. He loved when we sang Happy Birthday!
I kept the decor simple with items I made. I love crafts and DIY projects. The hexagons on the wall behind the food I made. I used fabric and wood sticks from the craft store and a hot glue gun. I printed out a hexagon shape from the computer and lined my wood sticks up with it so I had the right angles. Instead of a table cloth on the bar for the food I put down yellow tulle for some texture and addition themed color. For the block letters which was my photo backdrop I used paper mache letters from Hobby Lobby and spray paint. I used two different shades of yellow for the large letters and did an ombre effect and did all of the smaller letters with one of shades. The paper bee I put together using scrap paper.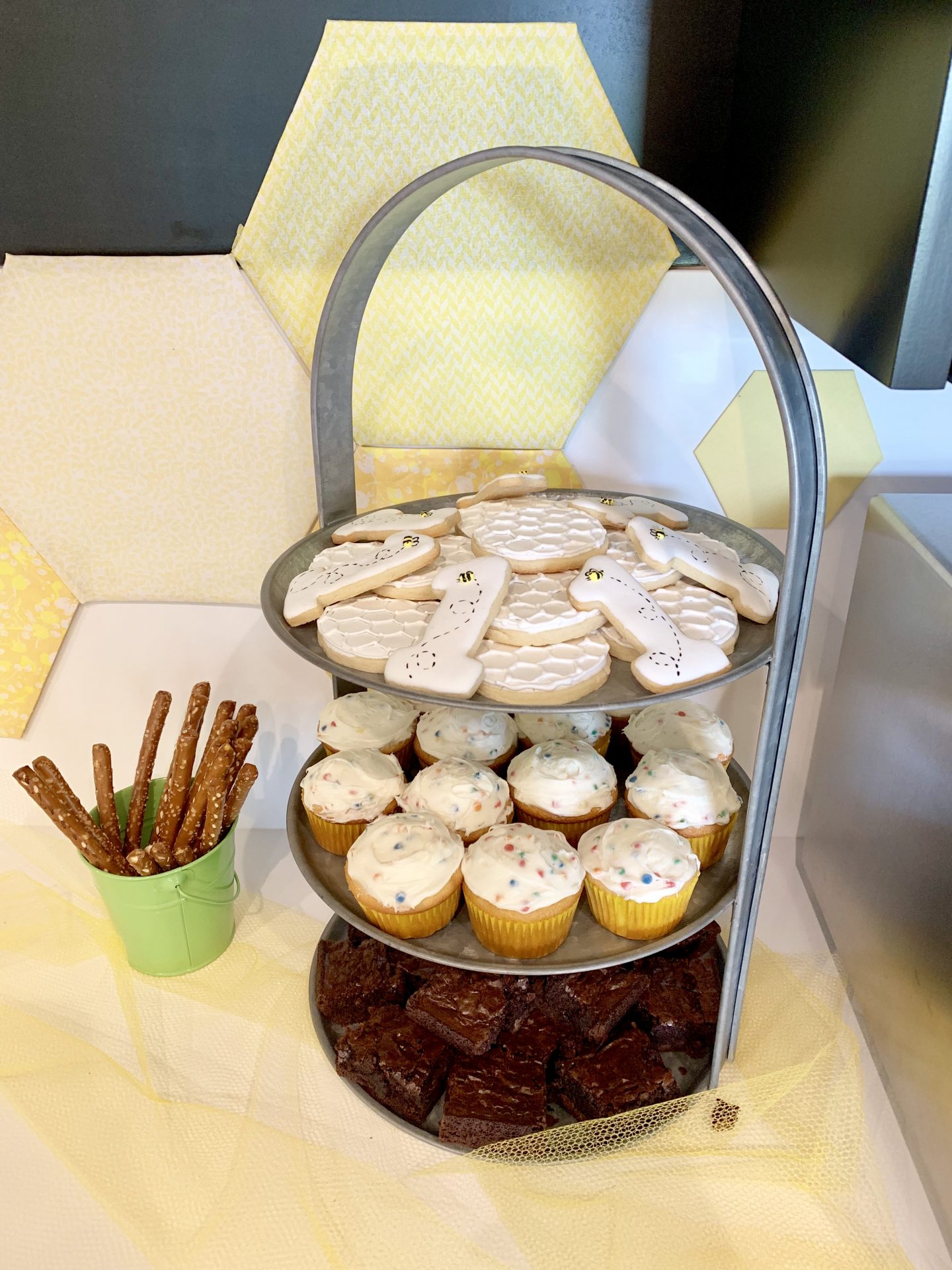 As far as food goes, I started with Noah's favorite and I catered Chick-fil-A, aren't those nuggest everyones favorite?! With the Chick-fil-A order came fruit and a couple different salads. I also ordered cookies with a beehive print and little bees from a local bakery in Columbus to add to the theme. I had a few things to bake myself since I enjoy baking. I had Noahs's healthy banana smash cake, brownies, Funfetti cupcakes and "1" shaped Rice Krispie treats dipped in yellow white chocolate. I also attempted yogurt covered pretzels that turned out to be a complete disaster so if you have a recipe for those please send them my way! Since the party was a little dessert heavy I made baby friendly banana and peanut butter sandwiches.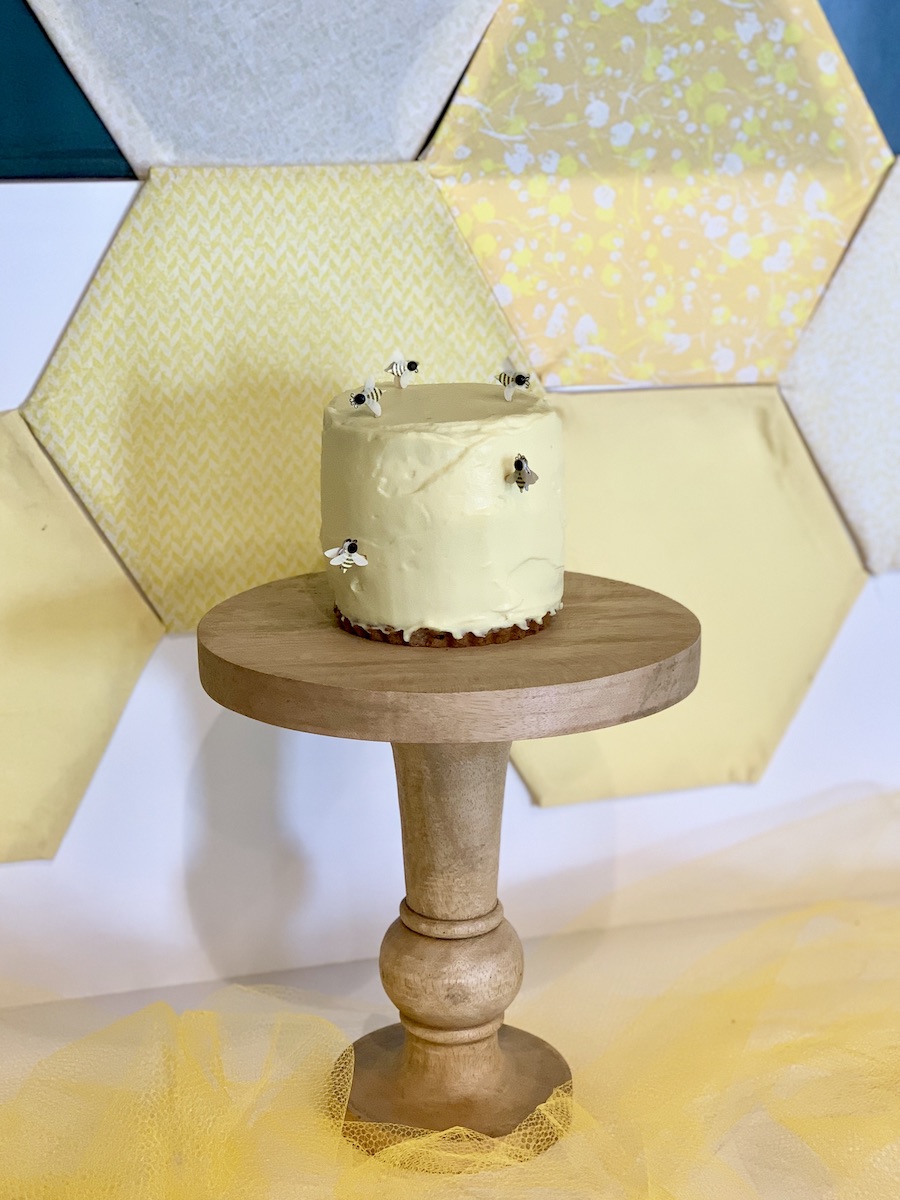 Below is the recipe for Noah's cake. I put his cake on a pedestal stand so it was a little higher and easier for him to reach. He actually taste the cake at all. He put his hand in it only a little and was done after that!
What You Need
3 ripe bananas
1/2 cup unsweetened applesauce
3 tbsp butter
3 tsp vanilla extract
3 tbsp all natural maple syrup
1 egg
1 tsp baking soda
1/2 tsp baking powder
3/4 cups whole wheat flour
3/4 cup oat flour (grind rolled oats in blender, then measure)
1 tsp cinnamon
For the icing:
8 oz cream cheese
1 cup powder sugar
1 tsp vanilla extract
2 3/4 heavy whipping cream
What You Do
Preheat oven to 375°. Spray 6 tart pans with cooking spray.
Mash bananas in a small bowl. In a separate bowl, mix the flours, baking soda, baking powder and cinnamon together. In a bowl of an electric mixer add mashed bananas, applesauce, butter, vanilla extract, egg and maple syrup. Slowly add in dry ingredients.
Evenly divide batter into 6 greased tart pans. Bake from 15-20 minutes or until toothpick inserted into the middle comes out clean.
While the cakes bake, make the icing. With an electric mixer combine cream cheese, powder sugar and vanilla extract. Slowly add the whipping cream, stop ever now and than to scrape the bottom and sides of the bowl.
Cool cakes on a cooling rack. Once cooled shave off the top of each cake so they are flat. Stack one cake on the serving tray and add icing to the top. Once spread evenly, add another cake and repeat the process untill you are out of cakes. Then icing the sides and top as smooth as possible.
I added little bees to stick with the theme and I ran out of time to do anything else!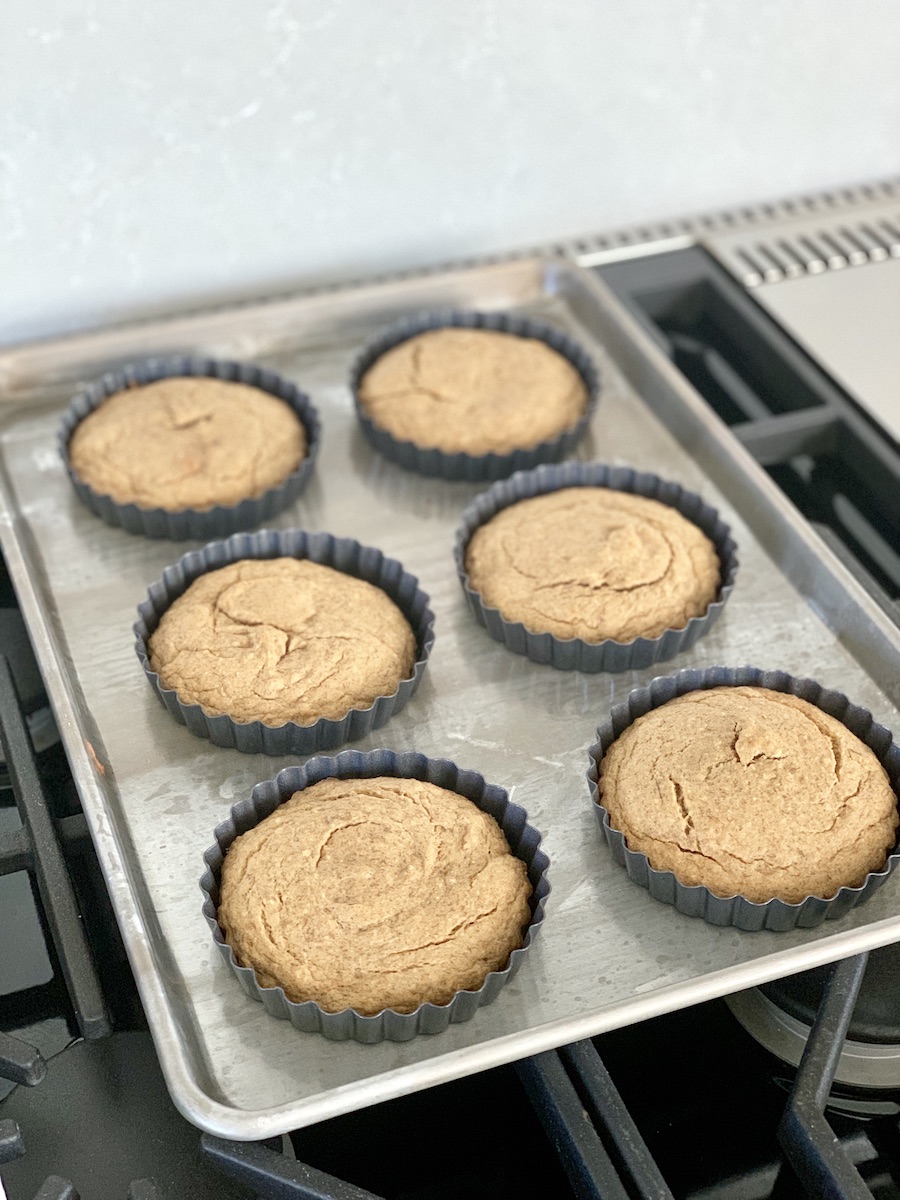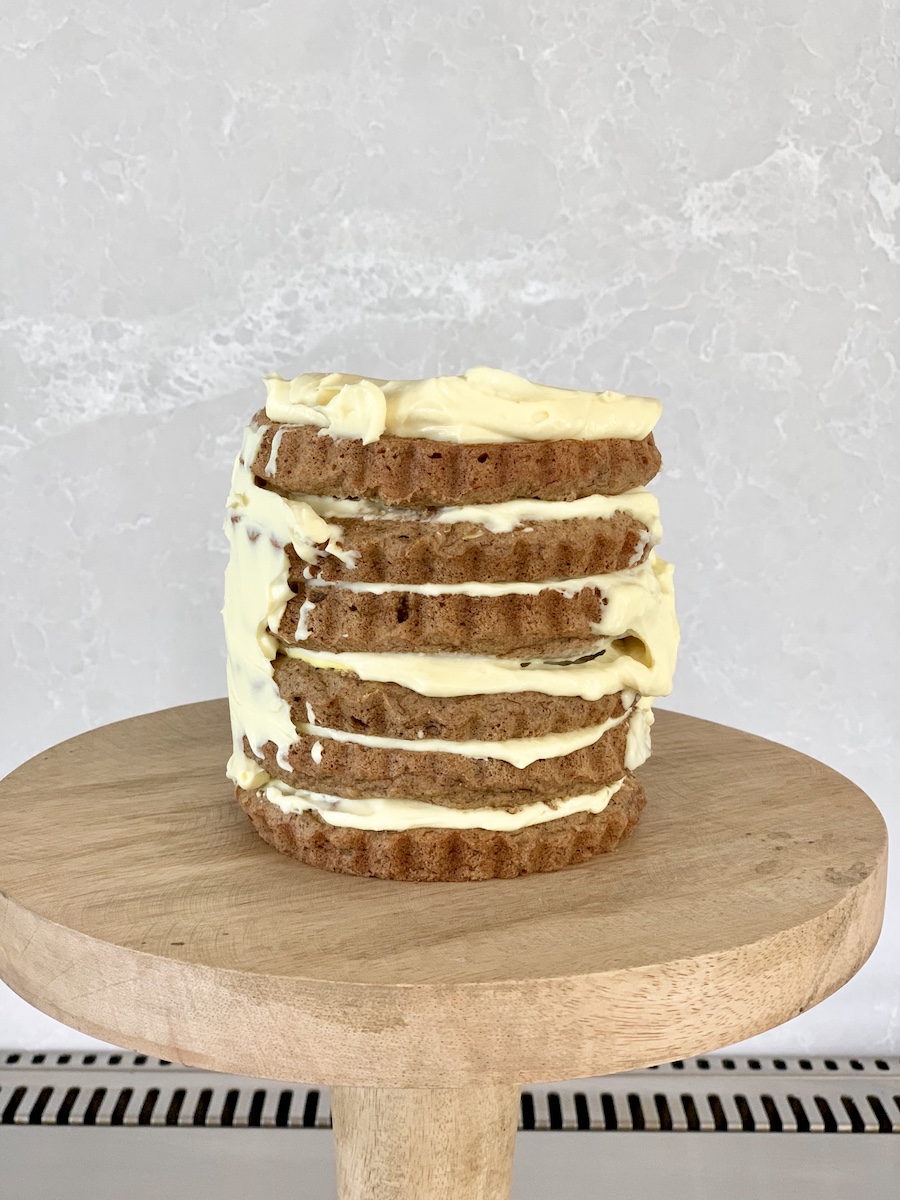 Happy Birthday sweet Noah!!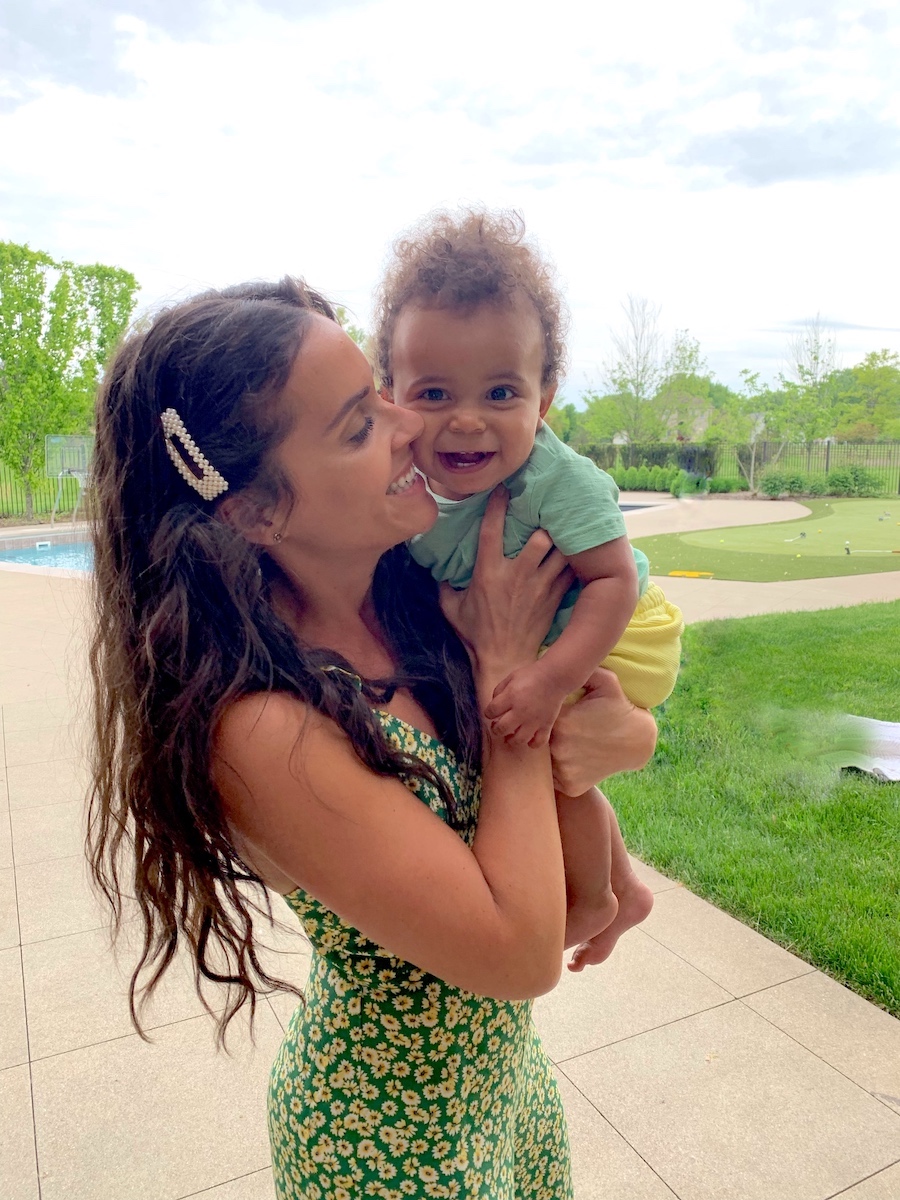 jumpsuit | Zara 'Green Printed Jumpsuit'
hair clip | Amazon 'Pearl Hair Accessory'
shoes | Carrie Forbes 'Naima Slides'
Live votre rêve!