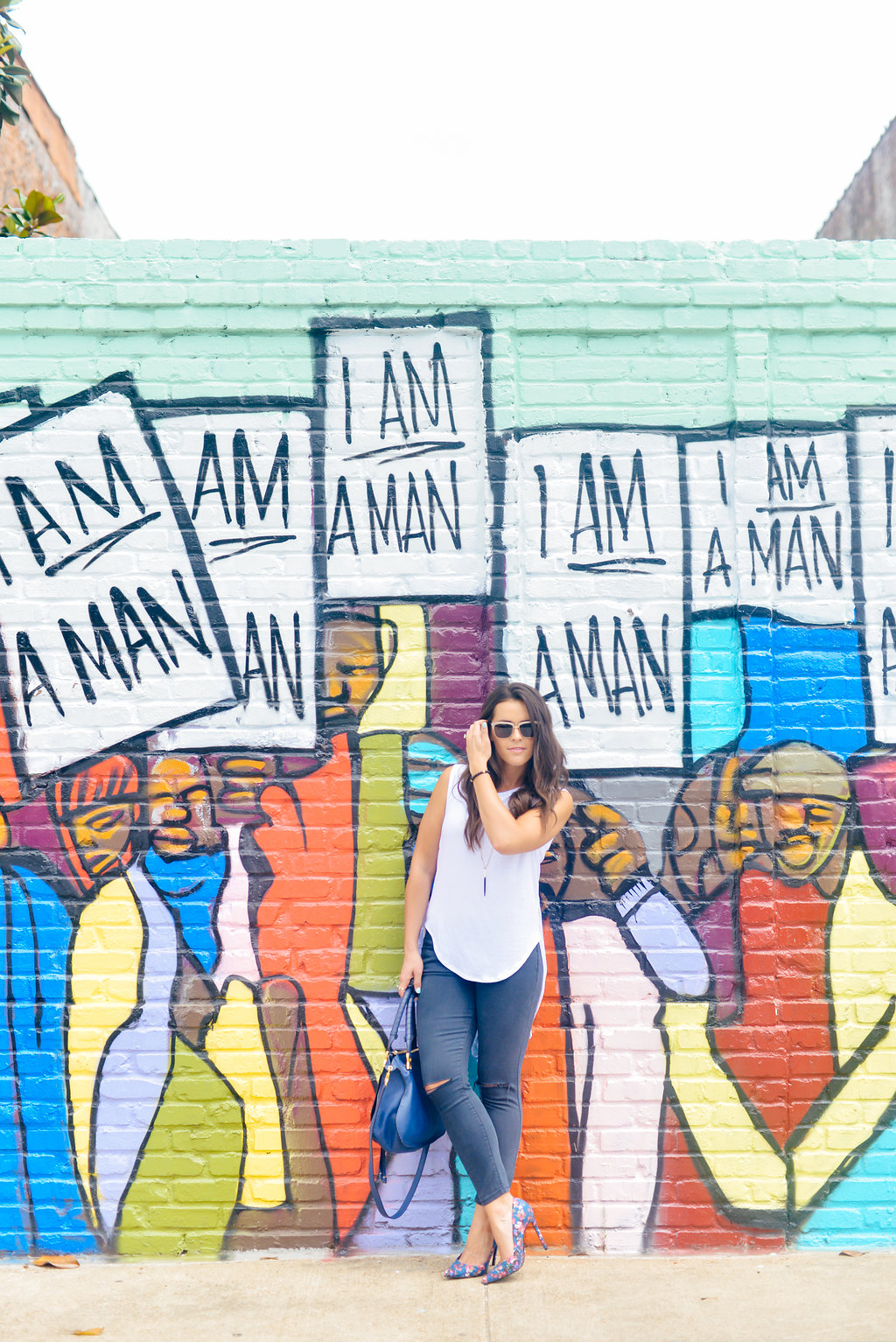 I love this incredible mural in downtown Memphis by artist
Marcellous Lovelace
. This piece is an homage to the Civil Rights Movement, based on the Memphis Sanitation Strike on March 28th, 1968. The "I Am A Man" March was in response to the death of two Black male sanitation workers that were killed due to poor working conditions.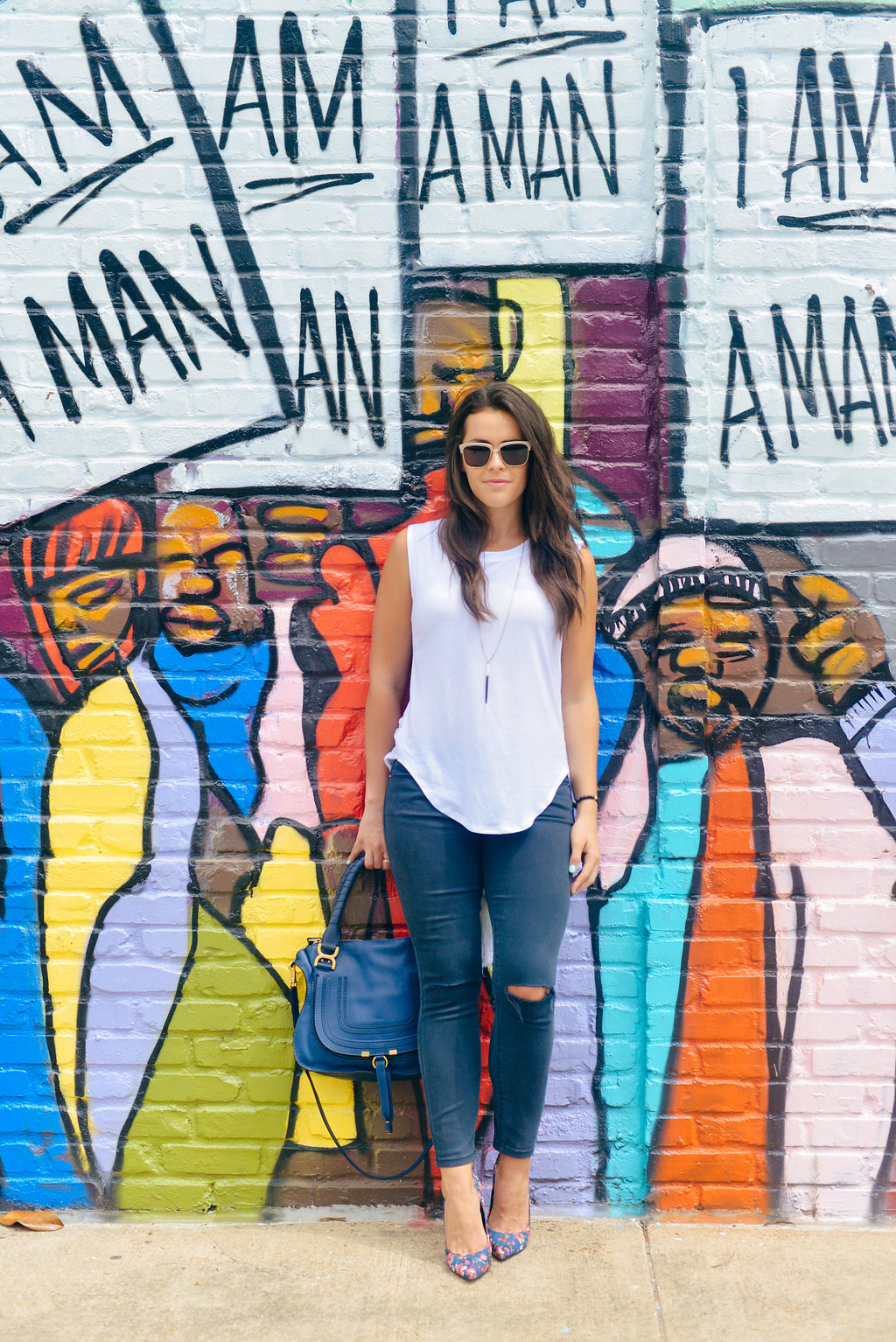 I have had the honor of visiting the Civil Rights Museum a few times while living in Memphis. There is a gallery in the Civil Rights Museum commemorating the sanitation strike. I had not realized that Martin Luther King Jr. was in Memphis to support the strike workers when he ga He was assassinated the day after his speech on April 4, 1968.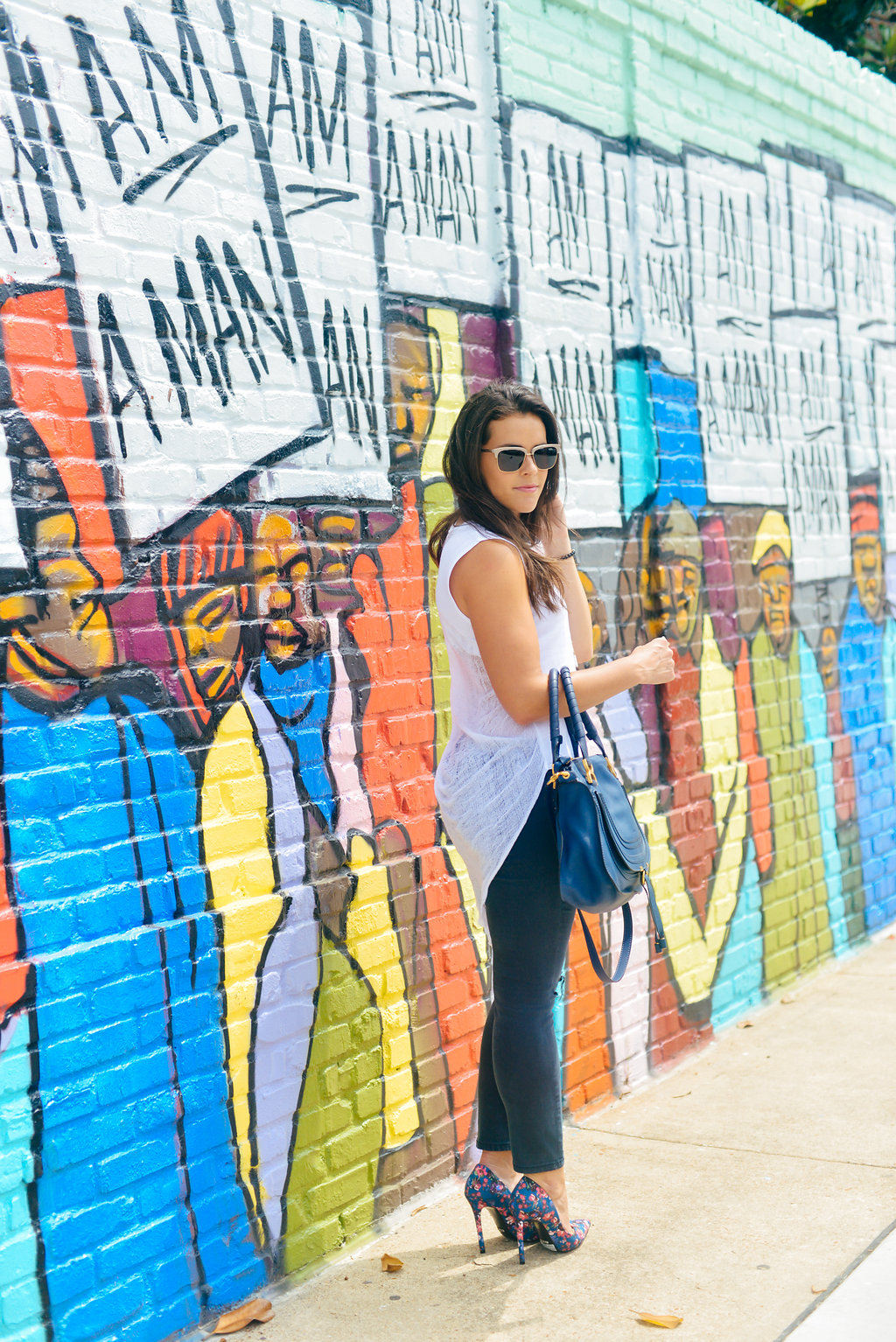 The Breakdown||
I hesitate to wear dark denim with navy because it can look too matchy-matchy. That is why I chose to wear these grayish-blue jeans with these pumps. I could have worn my light boyfriend jeans but I wear them all the time.
The jeans have a little distressing in the knees and the pumps are feminine with a floral pattern, I didn't want to add another element of style so I kept my top simple. This top does have a little surprise detail in the back 🙂 isn't the long mesh so cool! I love interesting and unexpected details. This shirt is part of the 'shred collection' by
Benjamin Jay
. I got my top from a boutique in Memphis called Lavish.
I was going back in forth between wearing this navy bag or a pink crossbody. I went with this navy bag because I couldn't fit all my things that day into the pink, problem solved.
jeans | Blank
shoes | Schutz 'floral gilberta heels' (
similar
)
bag |
Chloé
'marcie medium cross body' in navy
*
Lavish
. This is a great boutique in Collierville which is a suburb of Memphis. This store has a variety of great designers. People of all ages can find something here too, that is probably my favorite thing about this store. It's not too old or too young but has something for everyone. I really enjoy shopping at local boutiques, regardless of what city I'm in, and supporting small business owners. Lavish, get ready to see more of me!
Live votre rêve!