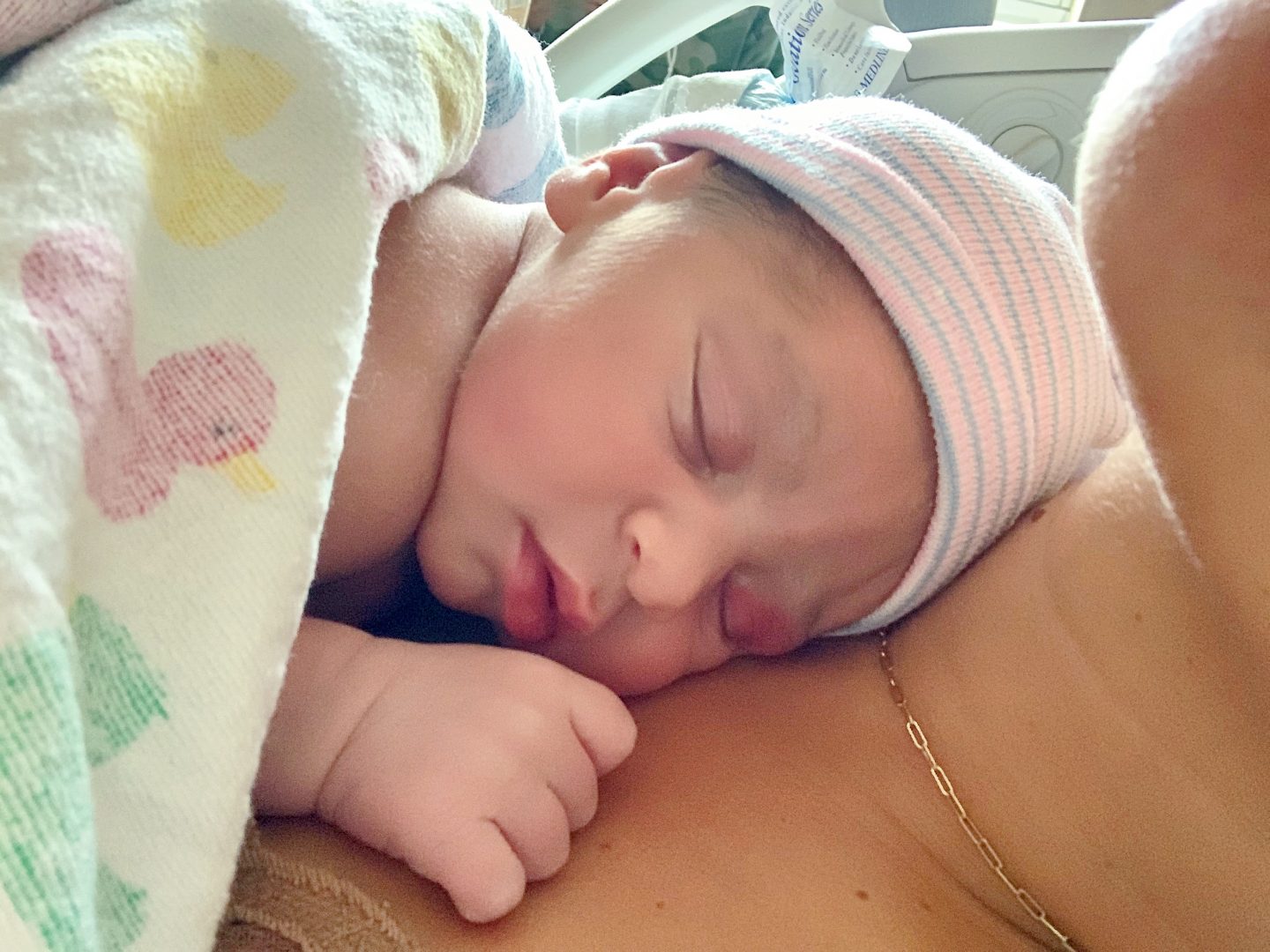 My third baby is a boy! We decided not to find out the gender during this pregnancy and it was really exciting. Even though we all had a very strong feeling we were having a boy it was still fun to not actually know! I'm still wrapping my head around having three children, and even more so around the fact that I have three boys! I could not be more excited about the adventures they will bring me on. The love I have for these three boys is more than I can explain. I never feared how I could love another child because I knew I could and it is truly the most amazing feeling, your heart truly opens up and grows.
So, what is little Elijah Michael's birth story? Nothing too abnormal, he came in quickly and smoothly just like any mother would prefer. Except we are still in a pandemic and my husband could not make it in time for the birth! That was quite the hiccup. Let's start from the beginning.
On August 15th I was nesting more than I ever had before. It had come to my realization the day before that I was not ready to have this baby. Physically I was ready but as far as mentally, not one bit, I had no newborn size diapers, no place for the baby to sleep, all of the clothes weres till in the basement in a bin, along with everything else baby related.  I had some serious work to do. I had the car seat installed in the car so that was one thing I had done. But on August 15th, I had the babysitter come over and help me since I couldn't be going up and down the steps all day and carrying large loads of stuff. She helped with the larger items and I then sorted and organized. Throughout the day I kept saying, "I feel so pregnant". I am never one to complain but it was just a feeling I hadn't been having. Along with feeling huge, I had shooting pain down my left inner thigh, known as Symphysis Pubis Dysfunction, to the point I couldn't walk. When that shooting pain started to feel better, I developed pain in my lower back, known as Sciatica. If it wasn't one thing it was another. In between organizing/nesting I would lay down and just not do anything, I didn't feel sleepy, I just felt like my body was out of my control.
My mom came up that evening after I told her how I had been feeling. I needed multiple people on call since my husband was in Orlando, in the NBA bubble, just about to start the first round of the playoffs. My mom and I were on the couch feeling the baby move. We were wondering what body parts were what and who this little baby was going to be. When it was time to say goodnight I told my mom, "I just hope this baby doesn't come too early. I feel a lot of pressure". This was probably around 11 pm and I had a really strong feeling something big was about to happen. I headed off to my bedroom and looked at my body, I felt that the baby had dropped and was really low. I took a photo and sent it to my husband telling him that "this giant baby was putting so much pressure on my pelvic floor". That was my way of telling myself I was starting to have contractions. I talked to Michael on the phone that night and didn't tell him anything other than the pressure I was feeling because I didn't want him to stress and be up all night if I was only having false labor pains.
At 1:30 am I realized I had been up ever 20 minutes or so to go to the bathroom when I wasn't really having to go. That has been a sign for me in the past of being in labor. I texted Michael, assuming he was sleeping but thought he could be up also, to see what time he had to be up in the morning for practice. I was trying to create a game plan. He didn't respond and I kept trying to go back to bed. A little after 2 am I just got up and started writing down my contractions, how far apart they were, and how long they lasted. I went to our basement to grab our exercise ball for me to bounce on and I started packing my back. The contractions were 4 minutes apart and averaging 40 seconds long. It was time to wake up my mom and get the show on the road. I told her I thought I was in labor and she told me she was going to go back to bed, lol! I was like oh no you don't! I knew I was in labor but I didn't want to alarm her too much.
The hospital is less than 15 minutes from our house which is really nice. We arrived a little before 4 am and I tell you what, laboring with a mask on is not easy! By the time we got to the labor and delivery room I was checked and I was already 5 cm dilated. I couldn't believe it. I still hadn't talked to my husband yet who was sleeping, he was not ready to be on call since I was 11 days early. I called my father-in-law, who answered right away, to start the process of getting the plane ready. I was able to get my epidural right away, which still took a little bit of time, I got it around 5 am. I was checked again and now measuring 7-8 cm! Things were moving fast and I was no longer feeling confident that Michael was going to make it in time.
The epidural kicked in after 2 contractions so I was finally able to get some rest. I slept for about an hour before I was checked again. Right before I was checked my water broke. It sounded just like a water balloon popping, it was the weirdest sound and feeling! Things usually progress quicker after your water breaks and I was already at 8 cm and still hadn't talked to Michael yet. Here I am, 8 cm dilated and so close to pushing and he was still asleep with not a clue what was going on.
I ended up calling one of the Utah Jazz trainers since I know they are on call in the night for their players and he answered and was able to call Michael's hotel room which woke him up. Needless to say, Michael was very shocked! I kept laughing because the whole situation was so unreal. While he worked on getting to Columbus, I worked on staying calm and relaxing. The baby's heart rate had started to drop a little bit and it turns out I was no 10 cm and I needed to start pushing. Michael still had 2 hours before his flight, so I knew there was no point in trying to wait, it was go time.
I FaceTimed Michael and handed the phone over to my mom. I pushed for 3 contractions, each contraction I did three pushes, except the last one I pushed a lot more and the baby came out! At 8:18 am Elijah Michael Conley was born, weighing 7 lb 5 oz and measuring 19 1/2 in long. Michael said I pushed for 12 minutes which isn't long at all! There were these handlebars that were under my legs that I was able to hold onto to help push and get my body into the correct position that were very helpful. I was pushing so hard and relying on the handlebars so much that my biceps were sore the next morning!! I was very grateful I worked out during my pregnancy. I loved hearing Michael's voice and seeing him on the screen during labor, it was very encouraging. Michael announced to me the baby was a boy and they put him on my chest and I just fell in love again. I absolutely love being a mom and opening my heart to my children.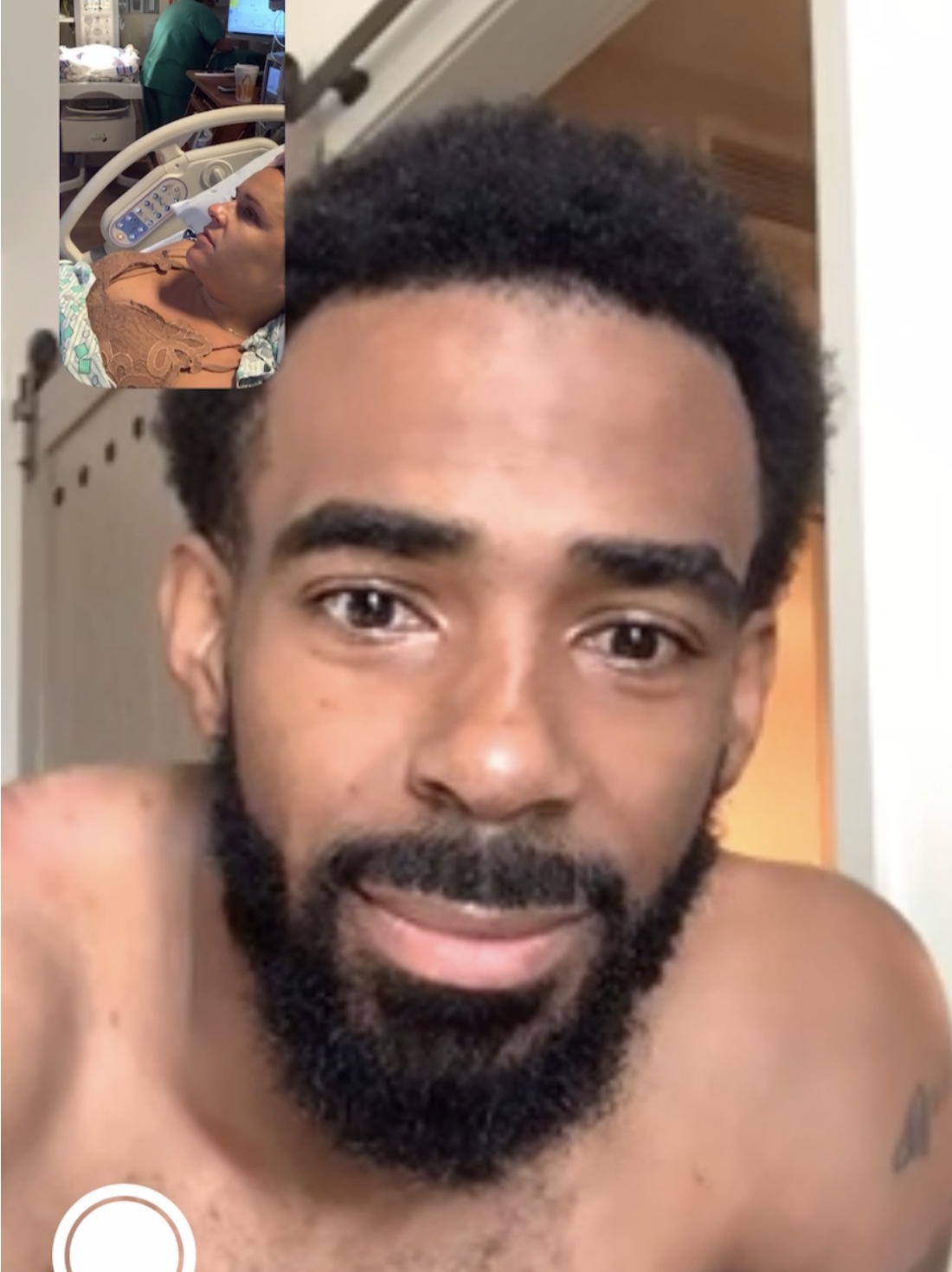 Michael arrived earlier that afternoon. It was my first time seeing him in over 6 weeks and it was the best ever. We got to chill in my hospital bed, just the three of us and soak up all the newborn feelings. We headed home the next morning giving us a couple of hours as a family of 5. The older boys were so excited to meet the baby and see their daddy. It was quite the day!