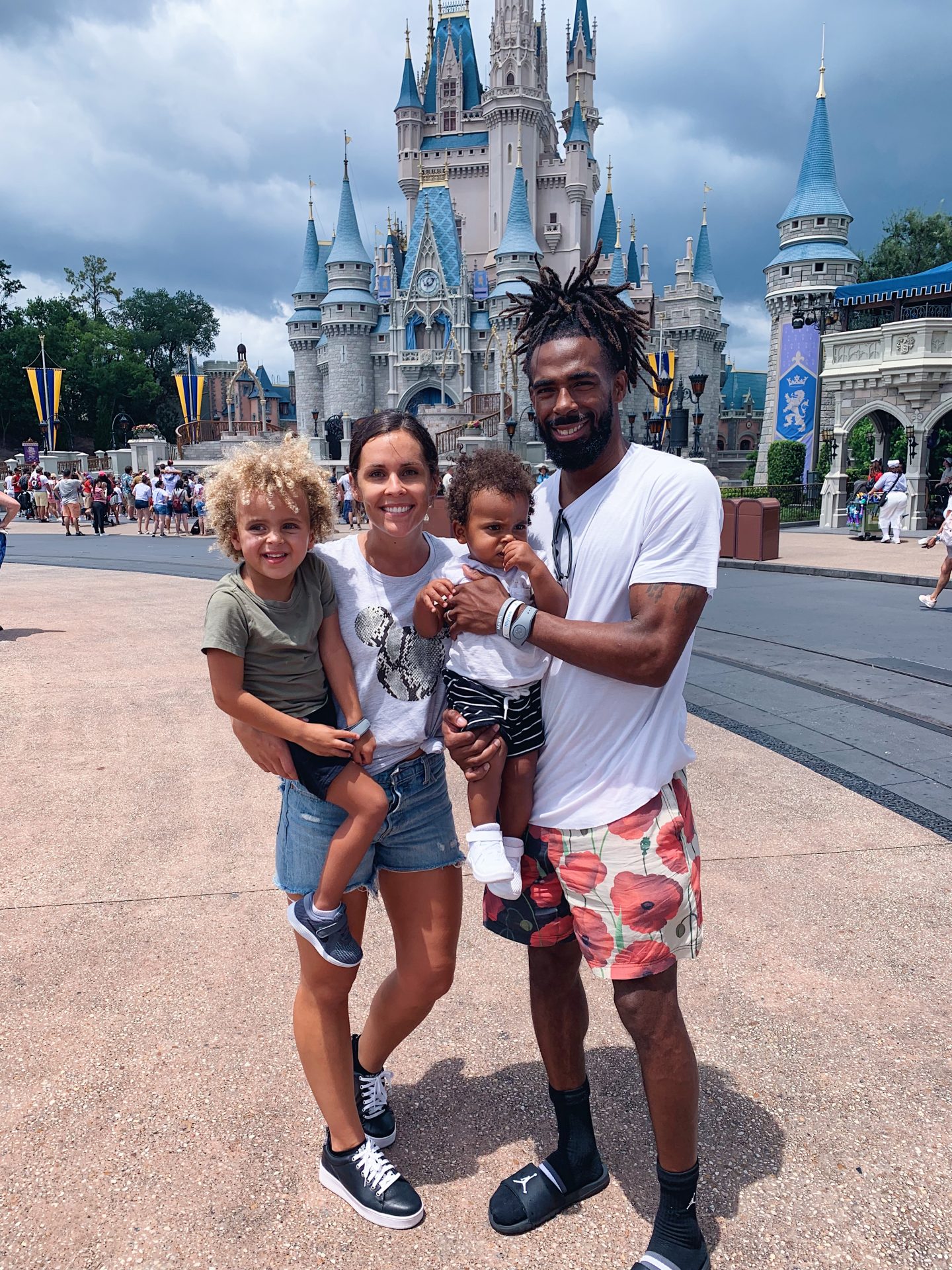 A couple weeks ago my family boarded a Southwest flight to Orlando for our first ever trip to Disney World as a family. I took Myles to Disney in March 2017 with a few girlfriends and their children. We had such a great time we thought we should make this a frequent thing, maybe even bring our husbands along! All of our spouses play in the NBA so we knew they wouldn't be jumping for joy with our proposal but if we told our husbands that the other guys were going we knew we could get them on board. This group was all on the Memphis Grizzlies together during the 2014-2015 season and are now scattered across the country on different teams. At the time of planning, no one was on a playoff team which meant we could actually plan a trip! Everyone's off season would officially start on April 11th and we were free to travel. We hoped sometime in May would work since that would give a few weeks to relax and rest and was early enough before training started.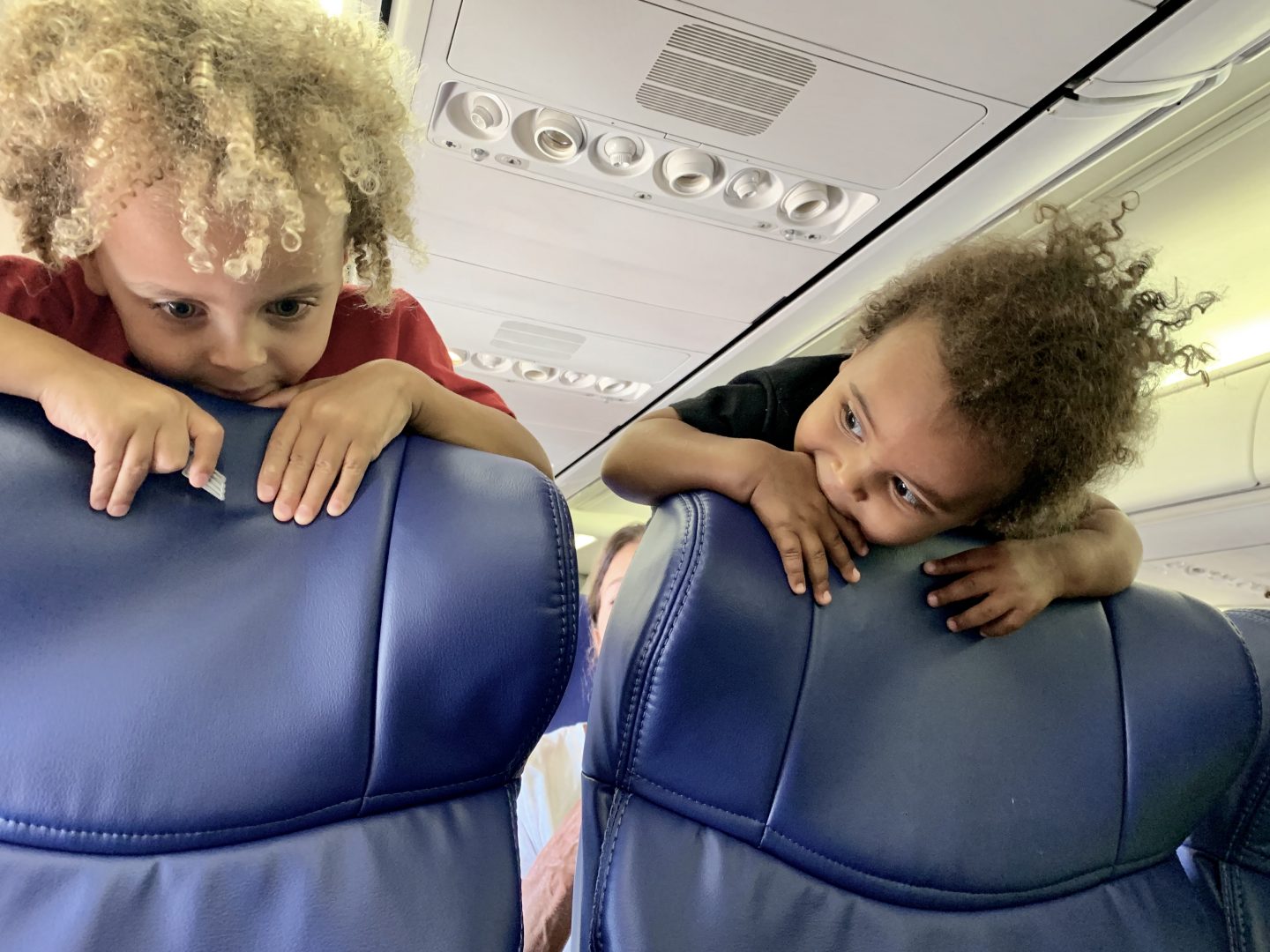 May rolled right on by and there was no trip to Disney. The first week of June Michael got his list of work opportunities and obligations for the summer which included a trip to Orlando for the Jr NBA Global Championship and opening of the Disney's NBA Experience Grand Opening. Yup, yup, yup! A work trip to Orlando meant there was another chance our friend family vacation could happen! I definitely encouraged Michael to take that work opportunity because the kids could be involved and there really aren't many opportunities provided where the kids can join. Now I just had to check in with my 3 friends and see if their spouses were available which is the hard part. No secret here, they were available and our trip to Disney was booked!
Us girls had talked about bringing one of our parents/grandparents or a sitter along on the trip so we could have some adult time. I understood going to dinner without the kids but I wasn't sure about going to the parks without the kids. Isn't that the whole reason to go to Disney World is for your kids to experience it all? That is not the case. I'm still new to the whole Disney situation but people LOVE it! There were so many families walking around without children and there are thrill rides that the little kids can't go on. We brought my mom along on the trip and I was so happy to have her. She is just like me but more calm about things making my life so much easier! She was able to join the fun during the day with everyone and she would watch the kids during naps and evening while the adult kids went on the rides and had dinner.
We all had Park Hopper Tickets and Fast Passes and one of the days we all had a tour guide as well so we were able to do a lot of jumping around. If you plan on visiting more than one park in a day you need to get the Park Hopper and if you want to not stand in line as long get the Fast Passes! You'll also want to be organized prior to arriving. Figure out what rides you'll go on at which parks and where they are located. If you have children find out what rides have height restrictions.
Day 1 //
We arrived on a a Saturday to the Grand Floridian, a beautiful white hotel with a red roof where the monorail system can easily take you to the parks. My mom, Michael, the kids and I started our vacation on the Na'vi River Journey in Animal Kingdom. It was so hot on this trip it was great to find rides that were in air conditioned buildings like the Na'vi River. I chose Animal Kingdom as our first stop to go on the Kilimanjaro Safari. This ride is always a hit for my kids since they are huge animal lovers. After the Safari we went to the Dino-Rama area. It is a dinosaur lover's dream come true. The Boneyard is located here which is really cool, kids can dig up dinosaur bones. I quickly walked past this area because it was so hot, digging in sand did not seem like the best idea. We did all ride the Tricera Top Spin, except for Noah because he fell asleep.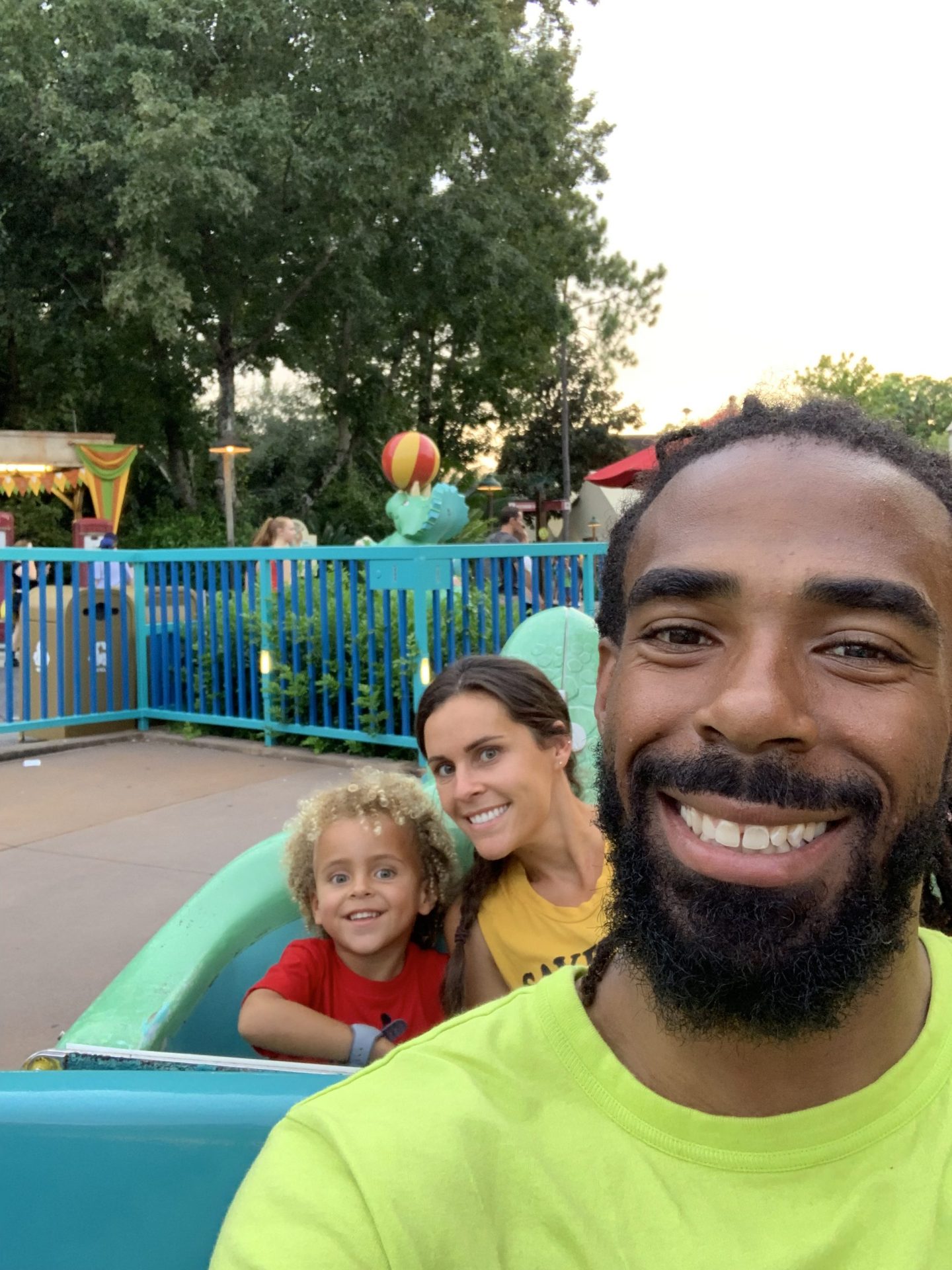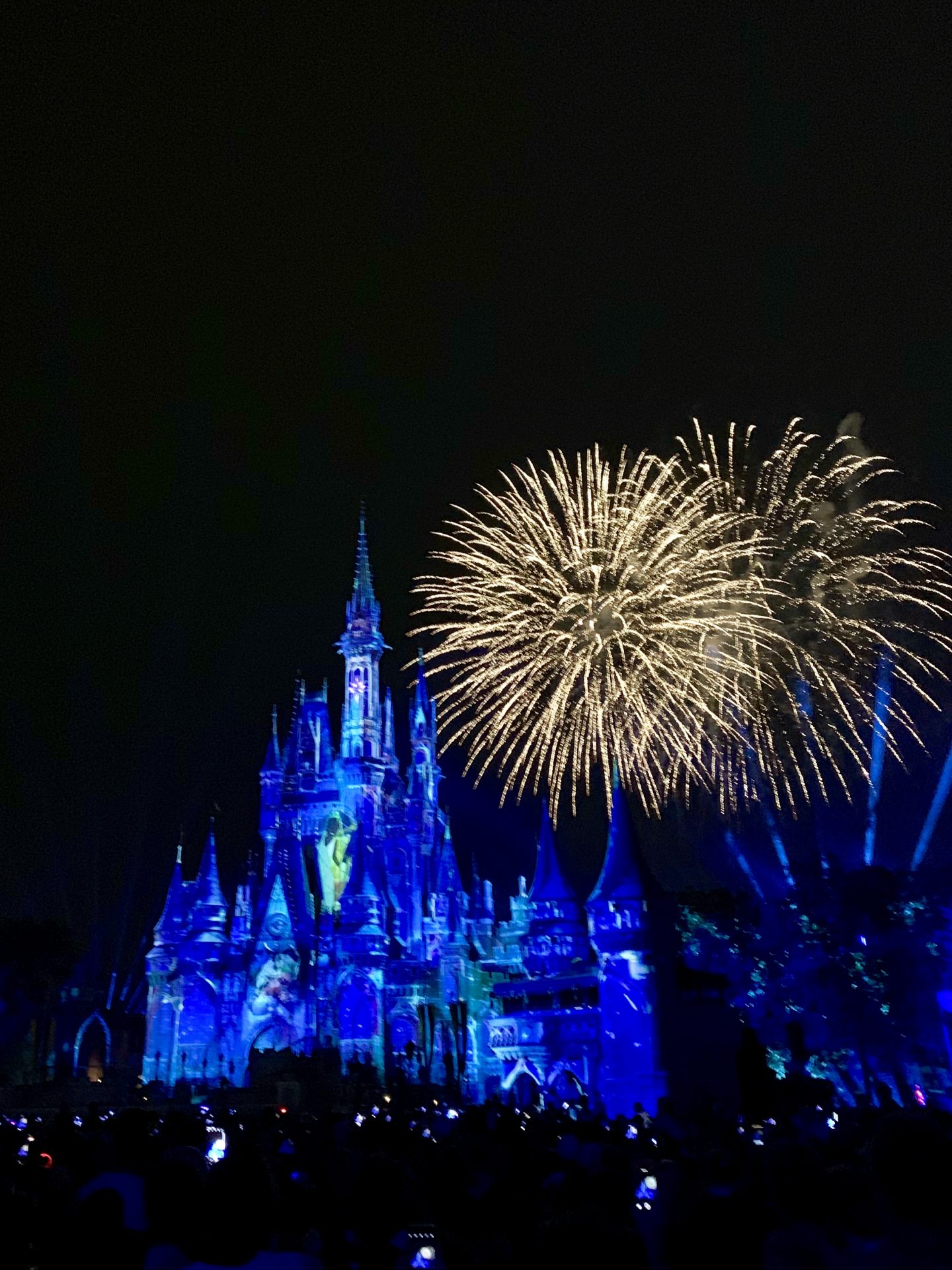 This wrapped up our fun for the evening at Animal Kingdom. It had been a really long day of travel plus a couple missed naps made the day even longer. We grabbed food at a quick service restaurant then headed to Magic Kingdom to see the fireworks. Seeing the fireworks was pushing it because they are so late and as I stated before, traveling and no scheduled nap. I had no idea how they boys were going to react to them but luckily it was a hit! We all were looking forward to a good nights rest!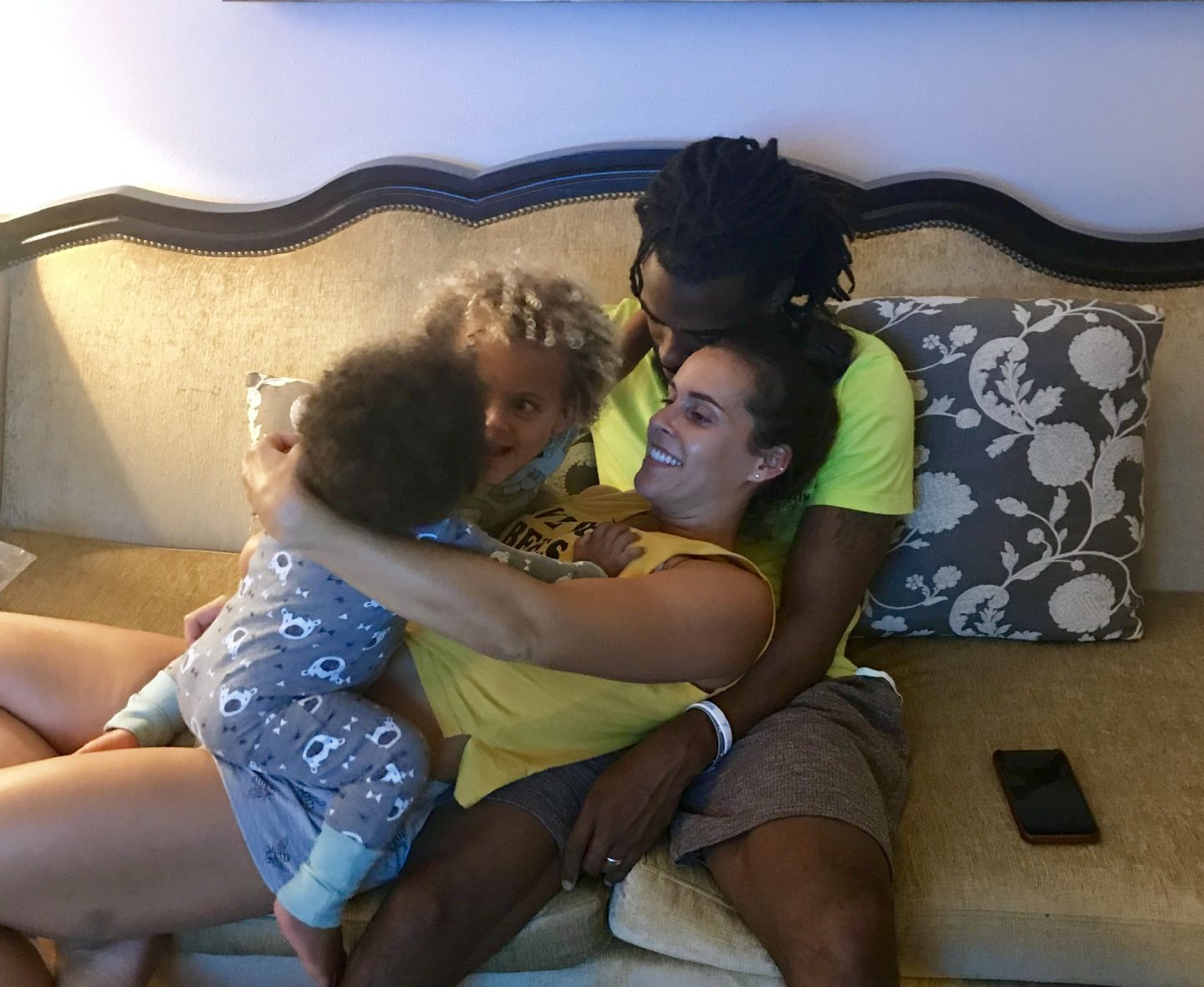 Day 2//
My mom, the boys and I went downstairs for breakfast then headed to the parks (Michael had to work so he couldn't join us). Our first stop of the day was to Hollywood Studios. When I went to Disney in 2017 I didn't come here so I was curious to see what it had to offer. We were signed up to see The Beauty and The Beast show and had a little time to spare so I rode the Rock 'n' Rollercoaster and laughed so hard, by myself, LOL. I couldn't remember the last time I had rode a rollercoaster, I love them! We also jumped on the Voyage of the Little Mermaid, the great thing about that ride is it is air conditioned and a great place to sit and cool down. Back to the show we went, Myles was a little nervous and looked uncomfortable throughout the show and Noah looked like he was in a dream, he could not take his eyes off the show. Our next stop was Toy Story Midway Mania which is a fun interactive ride that my mom and I enjoyed more than my kids! Points were tallied throughout the ride so we got competitive!
Everyone thought Myles would love Slinky Dog Dash but he was a bit scared. It is a wonderful rollercoaster for kids, you only have to be 38" to ride. It was Myles's first ever rollercoaster and the lap bar was pushed down a little too tight so he kept saying his stomach hurt on the ride and I don't blame him. I was laughing my head off riding with him but was trying to be comforting at the same time. We wanted to end our morning on a more relaxing fun note so we did the Dumbo ride which is a classic ride that goes in circles and up and down. Noah loves that ride too! After this ride we tried to keep the boys awake on the ride back to the hotel for a quick little bite to eat and long solid naps. Which luckily happened.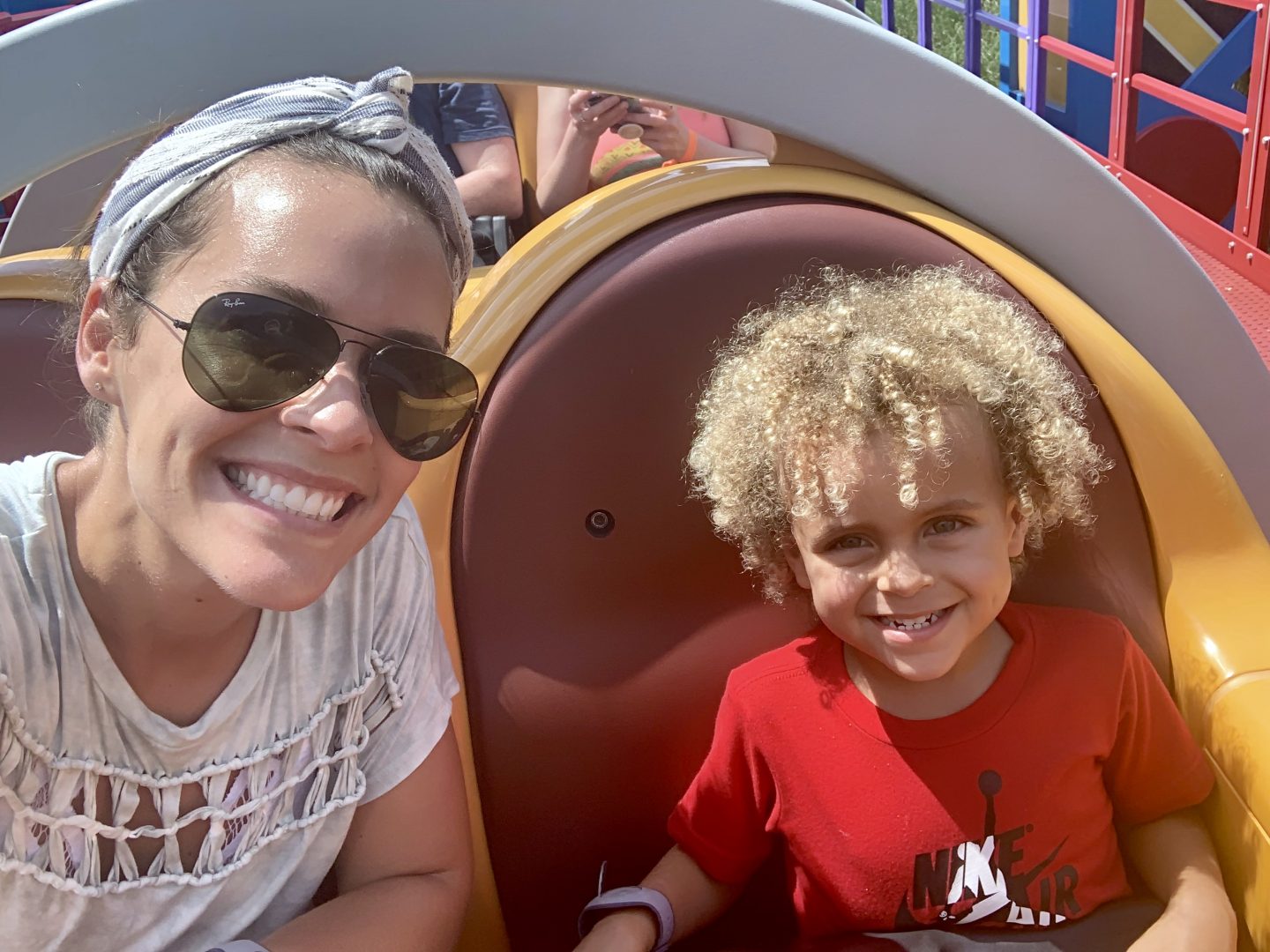 Myles coudn't stop talking about the safari ride so after naps we went back to Animal Kingdom. We got to see some new animals that weren't out the previous day so it was well worth it. Noah was more awake than the first time we went so he was able to enjoy it more. After the safari we went to the Festival of The Lion King which is an amazing show! Myles was once again a little nervous and Noah kept climbing out of my lap to go be in the show- very different personalities! It was a quick trip second time around at Animal Kingdom but the days are long at Disney so there is no problem headed back early if you feel like you've covered enough ground. The adult only dinner was this night was I needed to get back to get ready!
Reservations were at 8:00 pm at Capa, the rooftop restaurant at the Four Season Resort. Michael and I were the first to arrive which isn't the norm but it felt so good! I sipped on a cocktail while enjoying the views from the balcony. During dinner the girls sat on one side and the boys on the other. We realized we had a lot of catching up to do and there was no reason to be talking over our spouses! Dinner lasted hours and could have lasted much longer but they closed so we had to skedaddle!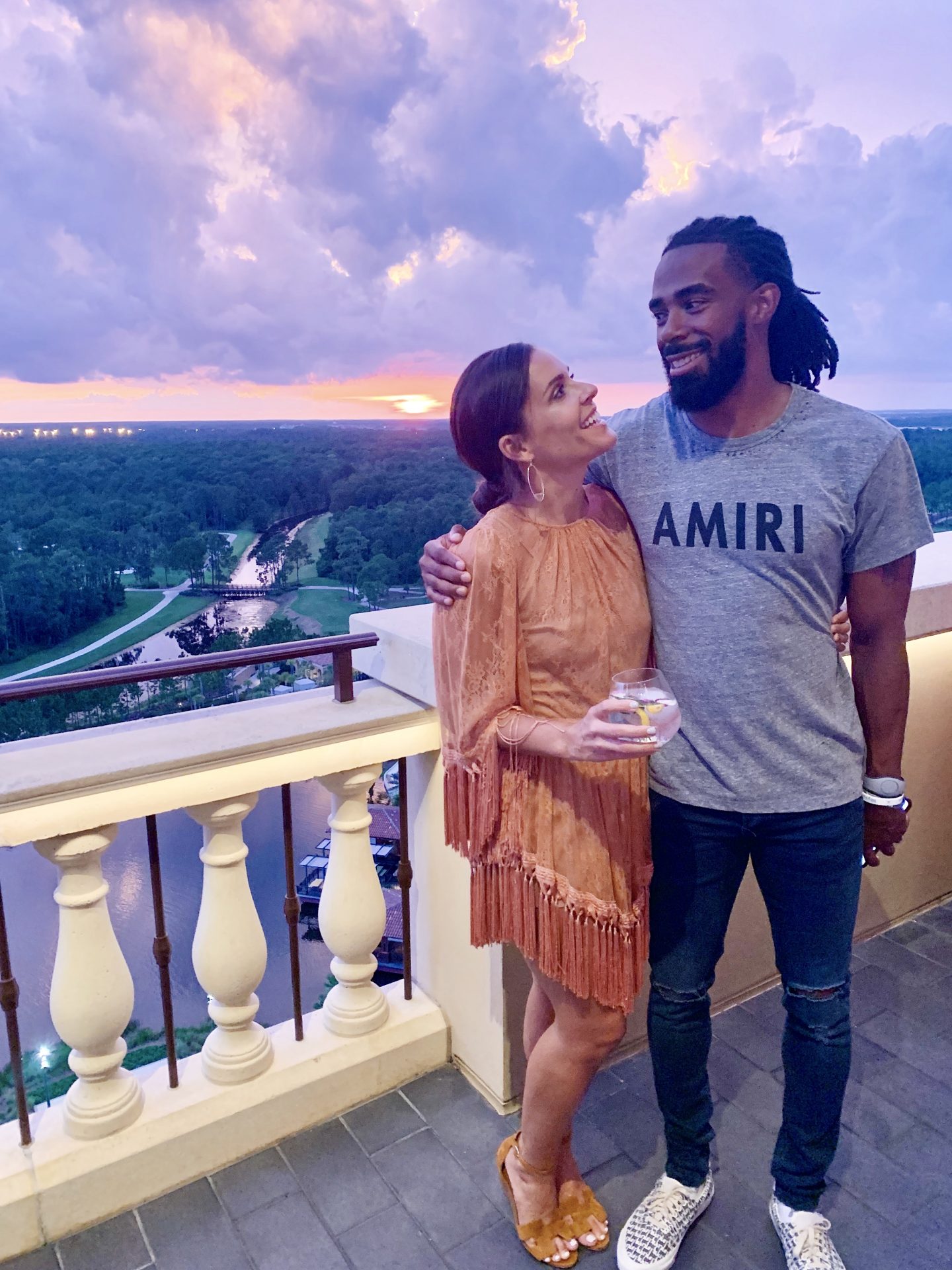 DAY 3//
A car was to be at our hotel at 8:15 am to take us to the Disney NBA Experience Grand Opening. After the official work portion for Michael was over the boys were able to play games and enjoy the facilities. If you are a basketball fan I highly recommend coming here. It also would be a great place to add to your itinerary if you know it's going to be a rainy day.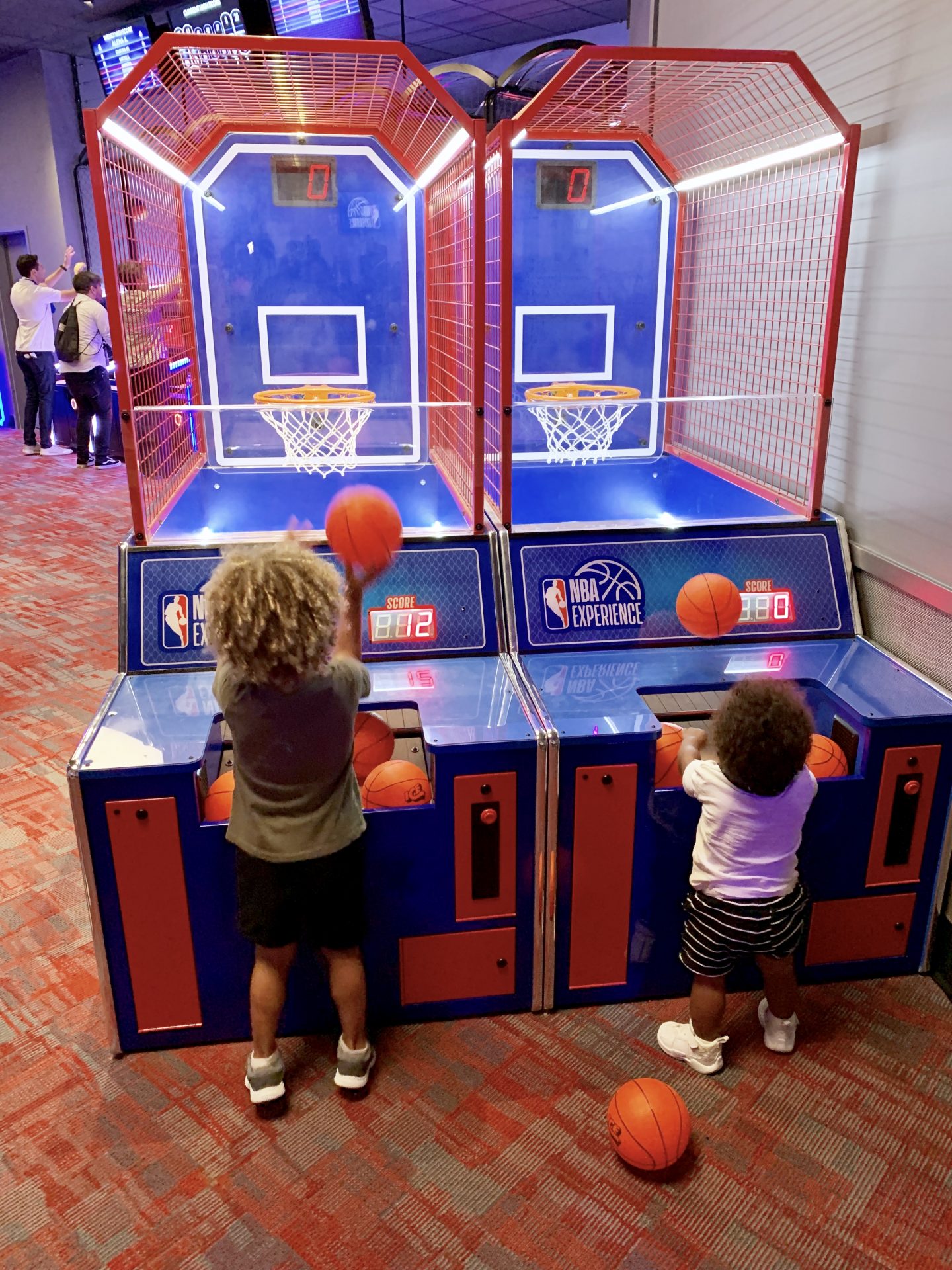 After the NBA Experience we met up with
After the NBA Experience we met up with all our friends at Magic Kingdom since we hadn't done that park yet (other than to see fireworks). There is soooo much to do at Magic Kingdom. If you have young kids make sure Magic Kingdom is at the top of your list. There are rides all of the park and it's big so look at a map and plan accordingly. We did Peter Pan's Flight, Dumbo The Flying Elephant, Mad Tea Party, It's A Small World, the carousel, Journey of the Little Mermaid, Buzz Lightyear's Space Ranger Spin and Tomorrowland Transit. We were about to head home to put the kids down for naps and to dodge a storm but remembered we hadn't got family photos in front of the castle so we quickly walked there. We did not beat the rain but we did get our photos!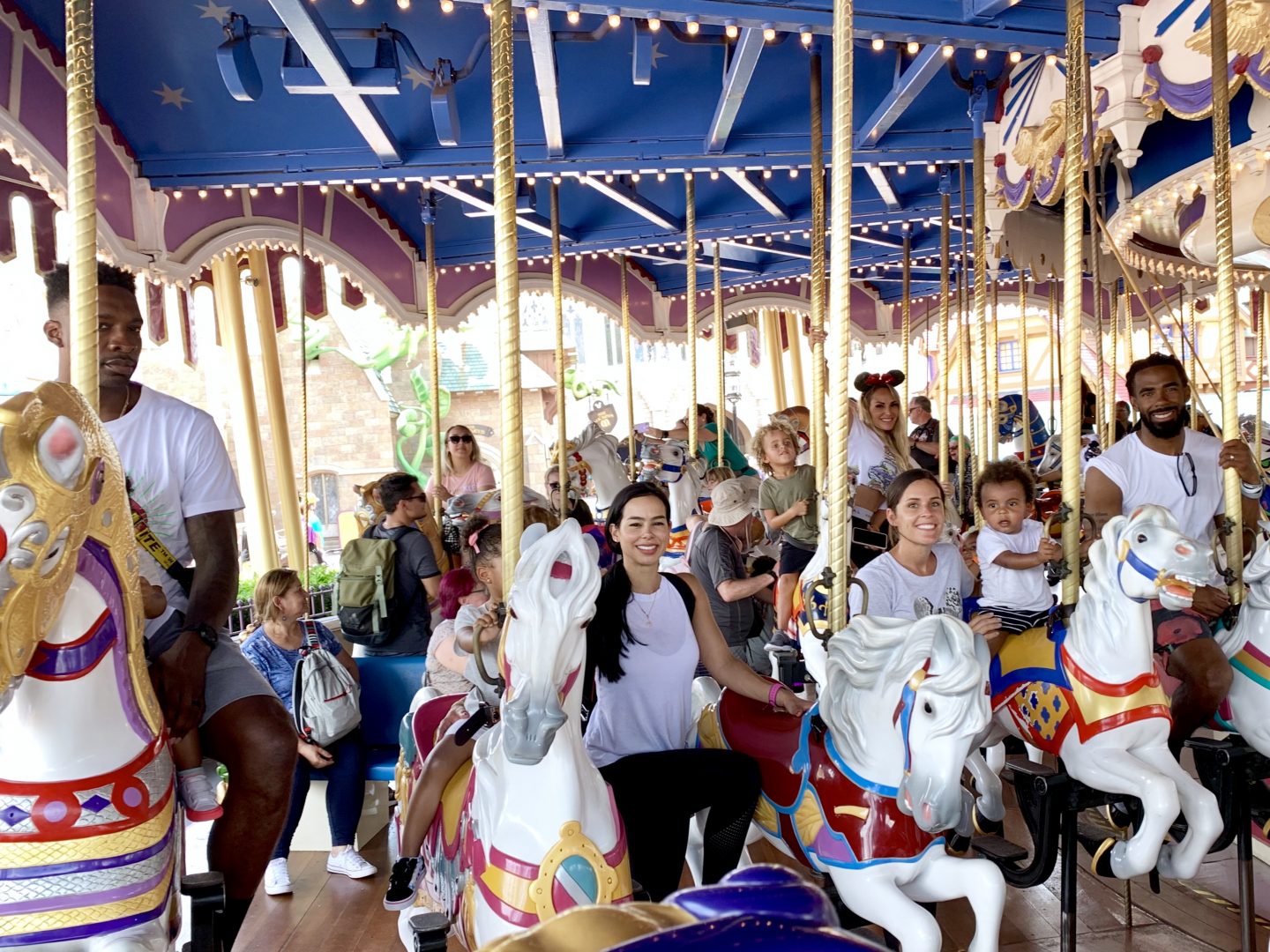 We all went back to our hotels to get the kids down for naps so we could go out and do adult rides. The adults went to Animal Kingdom to ride Expedition Everest. We all rode this ride but a handful of our crew were scared! Including my husband! I knew he wasn't a roller coaster type of person so I was really proud that he did it but a few of the others were shaking and nervous too! I loved it so much I did it twice, the ride goes backwards!! We also went to Pandora which was amazing!! We got to ride Avatar Flight of Passage just before they had to close it down, we were very lucky. Michael liked this ride and he isn't a roller coaster person so I highly recommend this ride to everyone, especially if you want to know what it feels like to fly.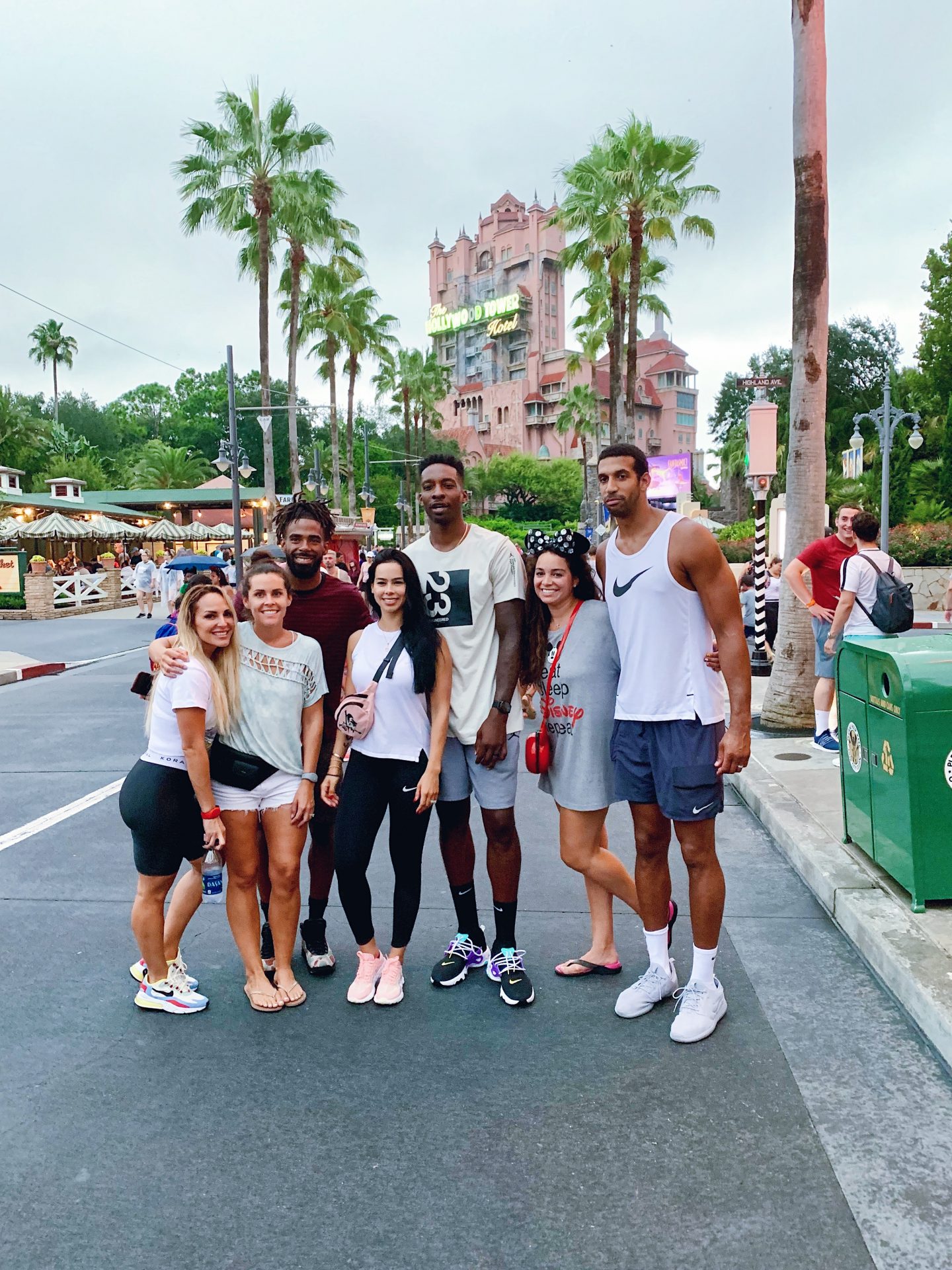 We also hopped over to Hollywood Studios so we could ride the Tower of Terror and the Rock 'n' Rollercoaster for those who weren't scared. Walking around the park without our children had such a different vibe. It was like we were in high school with our friends, dating and riding rides at an amusement park. So much more fun than I could have imagined. The guys had to go workout and shoot so we parted ways.Us girls checked in with the kids to make sure they were all set for dinner and bedtime and we went to Epcot for our reservations at Chefs de France. While we waited for our reservation we walked around while sipping on frozen rosé. This was such a fun girls night. To find true friends in the NBA is unusual and I am so lucky to have found so many great friends through the NBA. There have been a lot of girls come in and out of the Memphis Grizzlies and I was the one that remained. Even when girls left because their husbands/boyfriends got traded we still kept in touch. A big season is coming up for me because I am the one who has left. I am headed to the Utah Jazz and I'm looking forward to meeting the players and their wives and hopefully we can build more life long friendships. I was grateful to be able to talk to the girls about our big move since they had all done this a few times.
Day 4//
This was our last day. My family headed to the Four Seasons where our friends were staying to enjoy a character breakfast and a day at the pool. You never know what you are going to get with 5 kids ages 4 1/2 – 1. There was a lot of food on the floor and toys scattered but so much fun!! There were so many pools to play in, the babies loved the kid area because it is all very shallow with plenty of fountains to run through, it's also near by the entrance to the water slides that my mom, Michael and I loved and to the lazy river which we all loved! I love this group of friends and to be with them and our children was just the best.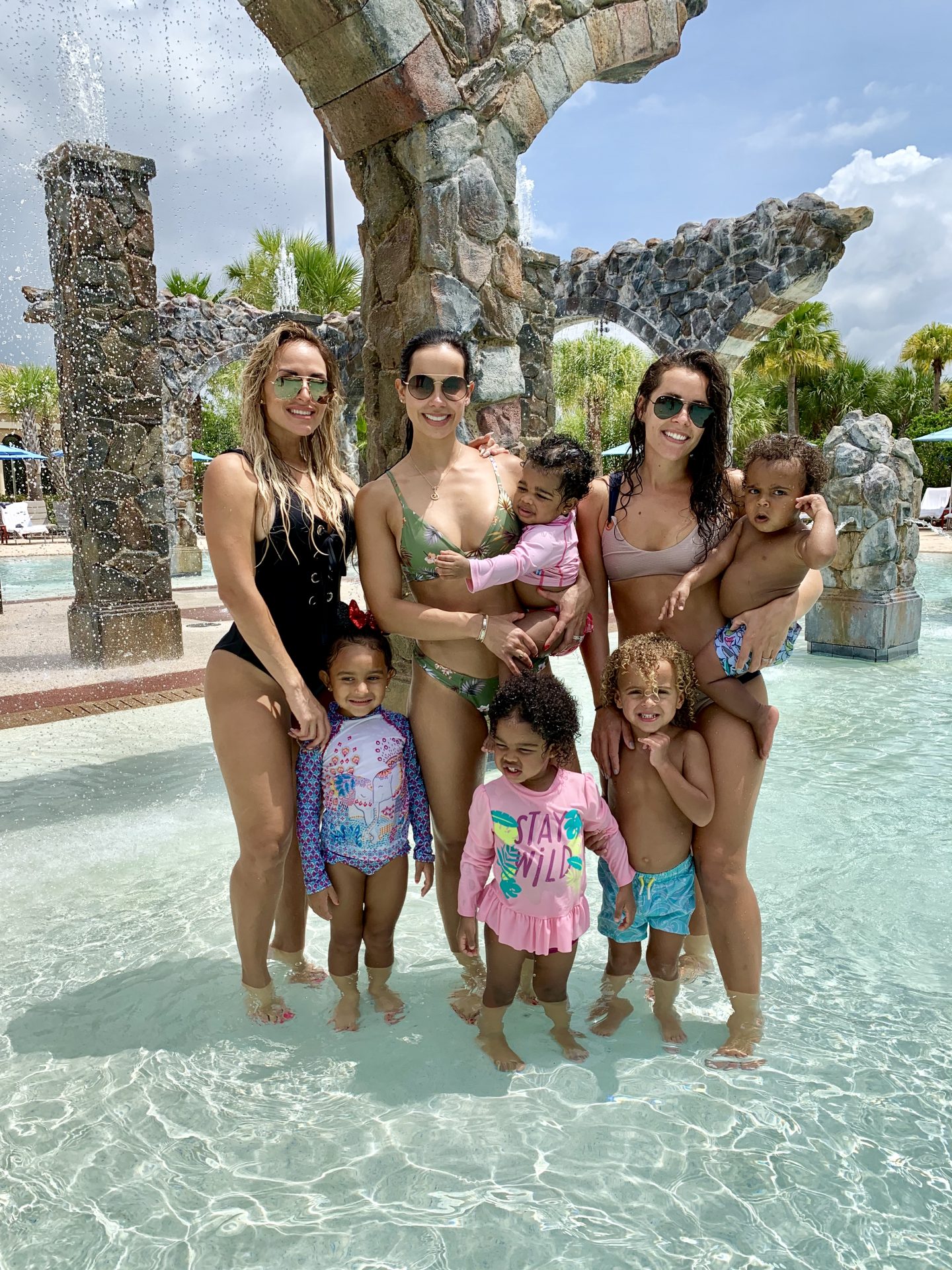 I was happy to walk around the parks with Michael, my mom and the boys during our first family Disney trip. Since we were there for Michaels work we were provided a guide for the duration of our stay which was extremely helpful. I know not everyone has access to a guide but they can take up to 10 people so it may be worth it for a splurge if you can share it with another family. When preparing for your trip you will absolutely want to get a map of each park. Figure out what rides your children can do and where they are located. There is a lot of walking to be done and you don't want to take any extra steps if you don't have to. 
Live votre rêve!
Shop my Disney World looks below.