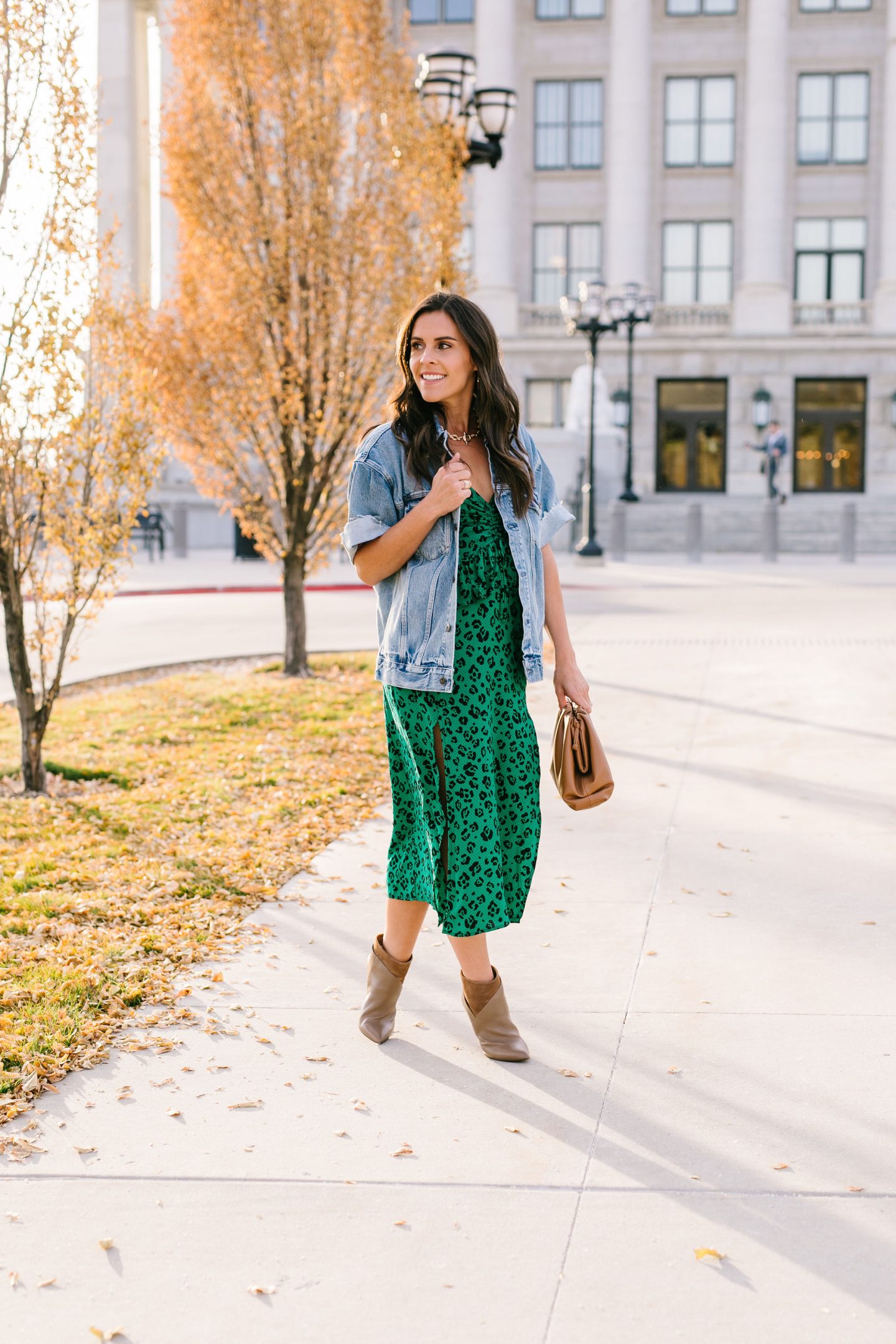 The One Piece //
dress | Suboo from Shopbop
It has been 10 months since I last did a "1 Piece, 3 Styles" post. I was really excited to do this feature monthly but my audience didn't seem to like it as much as I did so I took a break. Since I truly love doing these posts and love finding as many possible ways to wear one item, I have decided to try it again. The green leopard dress I am featuring I originally bought for a cocktail event but ended up wearing it in a more casual setting. This little green dress can go from casual to dressy, summer to winter.
Look 1: Chic Fall Day //
This true shade of green can work for all seasons but to make it really work for fall I needed to add more earth tones and texture. This short sleeve denim jacket was a great touch since it was so warm this day, a long sleeve denim jacket could work too! The tan booties and clutch really give this outfit the fall vibes. Looking at this outfit is making me miss fall already!
jacket | Levi
clutch | Looks Like Summer
shoes | I.R.O.
necklace | Urban Outfitters
earrings | Uncommon James

Look 2: Sporty Skirt //
My style ranges from girly to edgy and I never considered my style to be sporty until I did a poll and sporty was how most of you described my style. Now that I have heard that it makes total sense. I love a good sporty look and adding sneakers with dresses. This green leopard dress would look really cute with a leather jacket and sneakers or moto boots and a long cardigan but I wanted to switch things up and make this dress look like a skirt so I added a chunky sweater over it, which happens to be my favorite way to winterize your summer dresses.
sweater | Rachel Parcell
shoes | Golden Goose (on sale!)
bag | Chloe lookalike
earrings | Uncommon James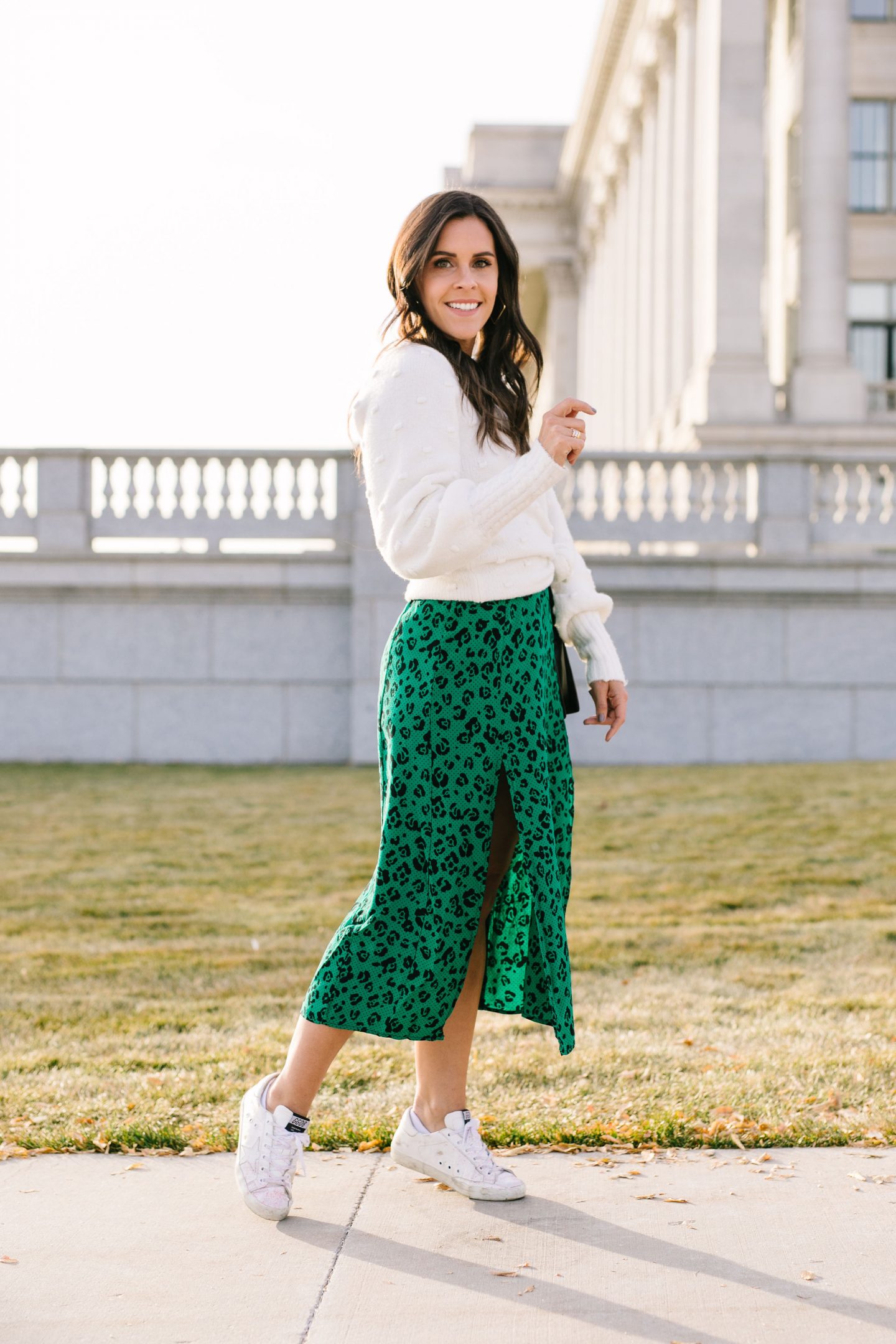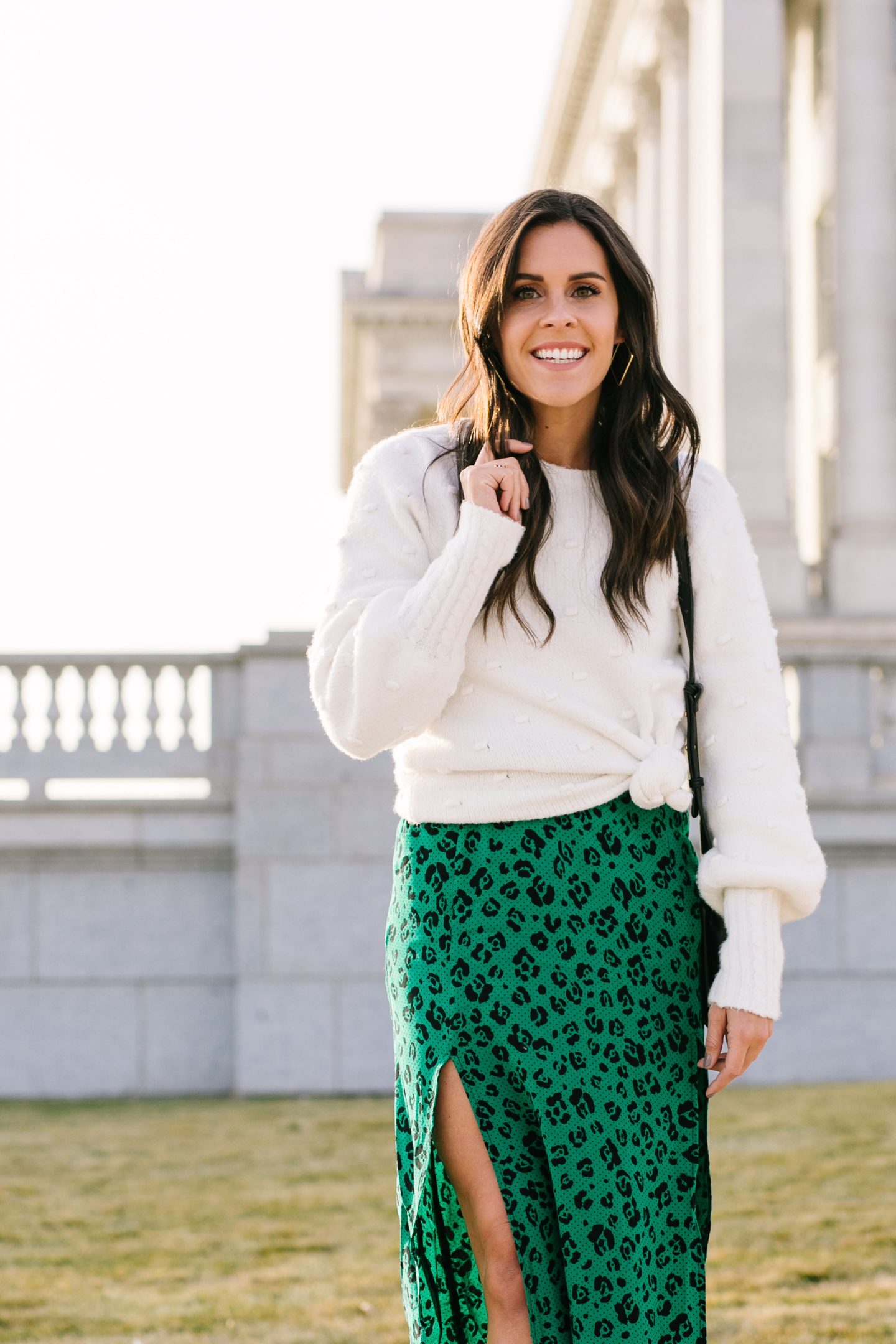 Look 3: Winter Glam//
Nothing says winter like some faux fur. Now that I live in Utah I need more chic winter coats. When I was living in Memphis I only needed jackets but here it's a bit too cold for that. These chain link heels I'm wearing are what I had ordered for the cocktail event I planned on wearing this little green leopard dress too. I think this is a perfect winter cocktail outfit and the faux fur jacket really spruces it up.
jacket | Rachel Parcell
shoes | Stella Luna from Shopbop
bag | Perrin Paris
necklace | Urban Outfitters
earrings | Uncommon James

Live votre rêve!