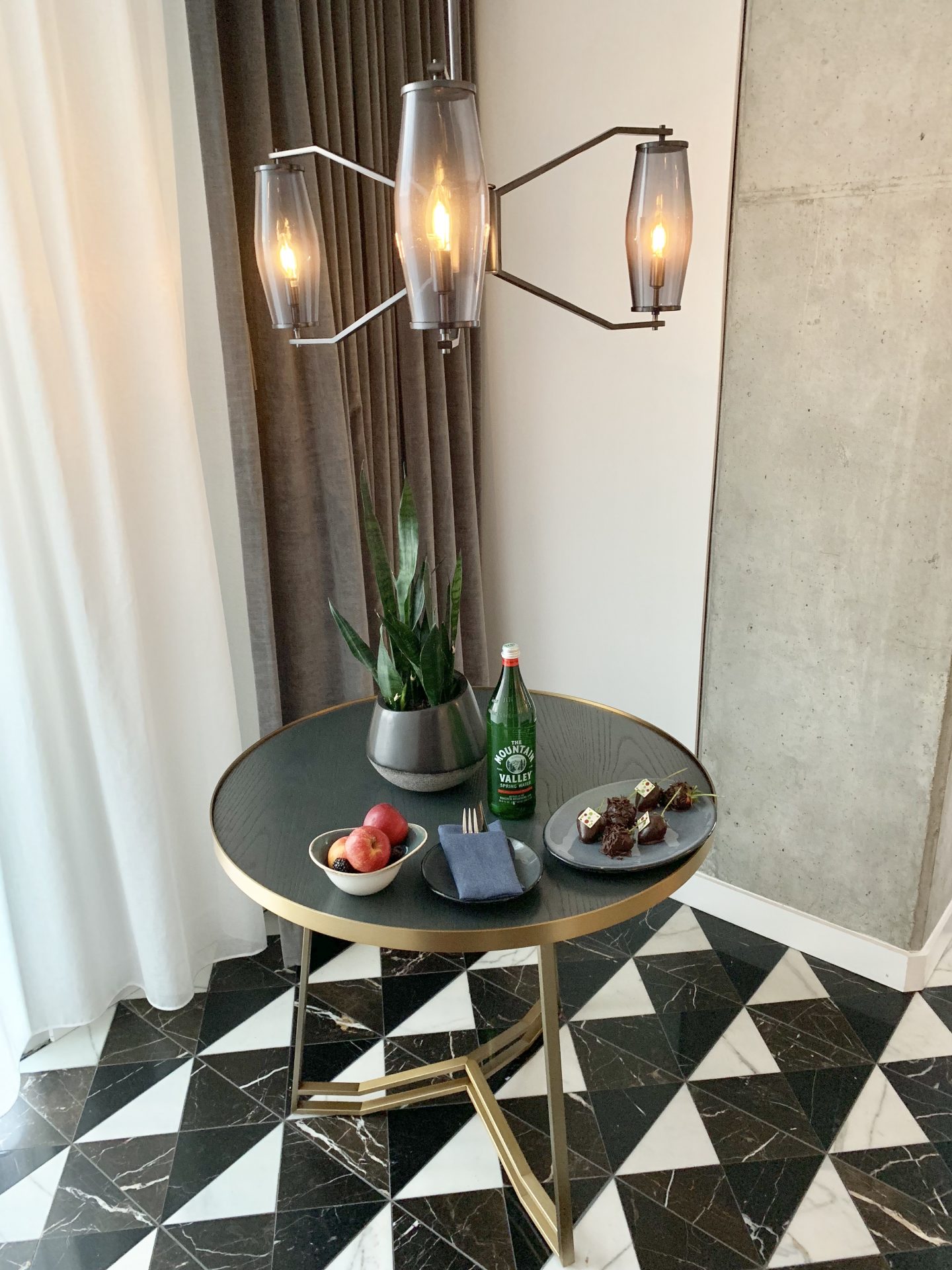 Over the weekend my husband and I took a little trip east to Nashville, TN. A short, three hour drive to Music City was the perfect getaway for us. It was a long summer with the newest addition to our family arriving and we have been going non stop. We are back in Memphis for another basketball season and training camp starts this week which left last weekend to be our last chance to relax as a couple.
I recieved so many recommendations on where to stay, where to eat and where to shop. There is no possible way to hit up all the great spots during our short stay but I did a little research and checked out photos, locations and menus and planned the weekend.
FRIDAY //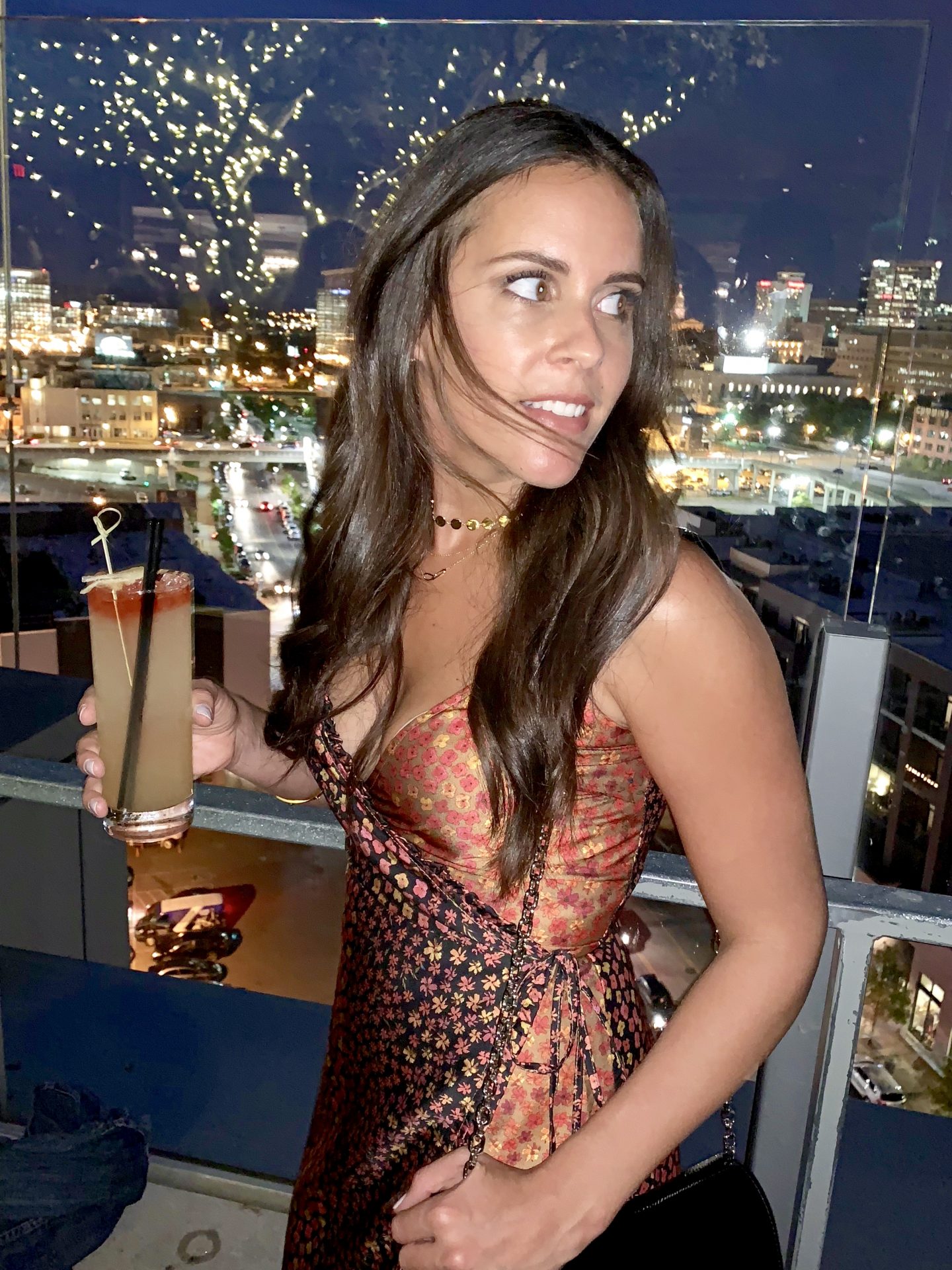 We checked into the familiar Thompson Hotel around 5:00pm. This hotel has the best interior decorating. It's clean and modern but has that ethnic boho style that makes the room warm and inviting. Every fixture and print is perfection. Another great thing about the Thompson Hotel is how conveniently located it is. We can walk to a number of restaurants and even a few shops!
Dinner reservations at Merchants were for 8pm so we had a few hours to kill. As always, I immediately wanted to just go walk outside (I always want to be outside!) but realized it was best to get myself together first. I had to pump and shower to get ready for the evening. We went ahead and got dressed and headed to the rooftop bar of our hotel, L.A. Jackson, for a cocktail before dinner. The vibe of this place seemed very east coast to me which I loved. Of course it was packed but we found a great spot along the wall where we could enjoy the city view while sipping on our drinks. I'm on a one drink limit since I don't want to "pump and dump" and I ended up only having half of my drink which was perfect! Sad to admit I was feeling it too! It's been a while since I've had a cocktail.
Merchants is a three story building that dates back to the late 1800's that seems to be located in the middle of it all. We couldn't tell if it was a normal Friday night or if something special was going on in the city but Broadway was packed!!! There were people everywhere, it was very lively and there was incredible people watching. If you eat at Merchants you have to order the Artichoke Dip. I am a medium fan of this dish but I ate every last bit of it- delicious. After dinner we walked around Broadway since it was so happening (and both of our shoes were comfortable!) and headed to Mikes Ice Cream for a little treat.
Saturday //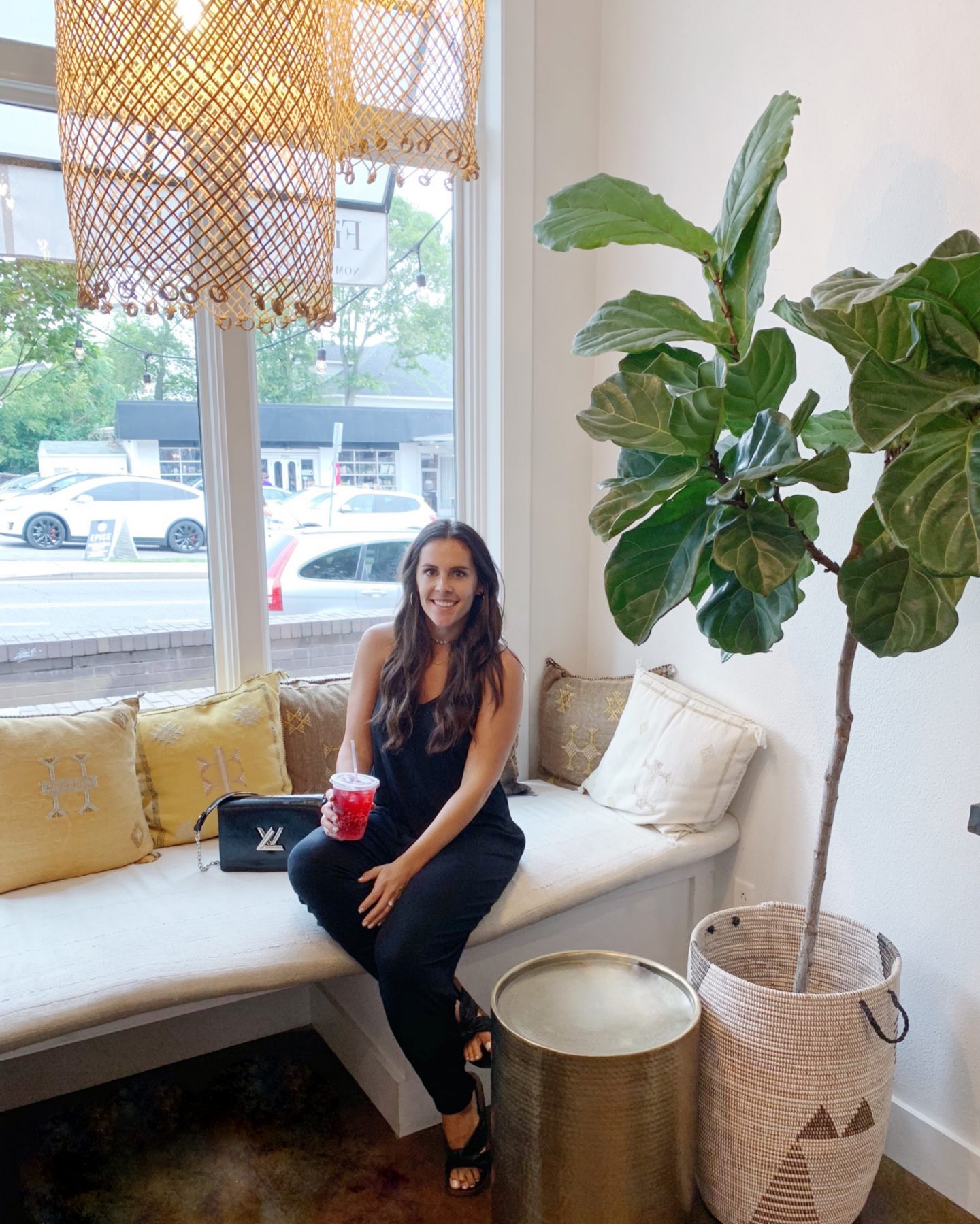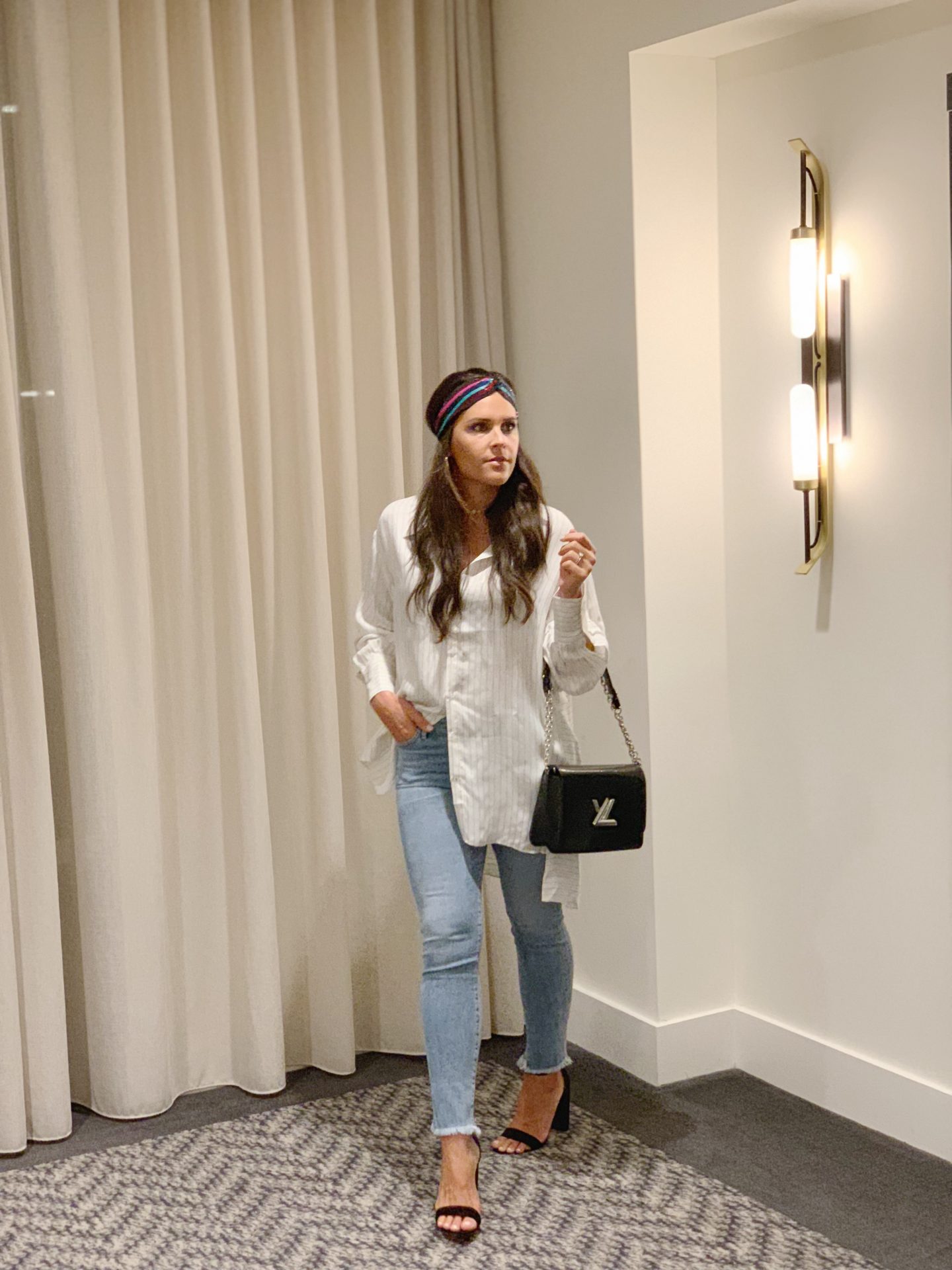 Throughout the trip I was pretty much just looking forward to the next restaurant I would be eating at. Milk & Honey is walking distance from our hotel and is always a must for me. Last time we were in town I went twice in one day! Once for lunch and once for coffee. To no surprise the wait was over an hour but we got lucky and snagged a couple seats at the outside bar with no wait! I sipped on an iced lavender honey late while waiting for our breakfast.
Up next was 12 South. My sweet blogger friend Hunter told me to come here and I'm so glad she did because I never would have known about this cute street filled with restaurants and shops. Since we had just ate brunch we weren't hungry so I stuck to shopping and did some damage at Emerson Grace and Hero. I did stop in Firepot which is a tea bar for an iced drink and stumbled upon the cutest and most affordable Moroccan pillow cases. Most places sell these pillows for around $130 and I snagged one for $68! I have been looking for a pillow for our master sitting area and the one I found is just perfect.
Our in room massages started at 4:00pm so we headed back to the room to pump, relax and get ready for another fun evening. It was supposed to rain most of the weekend and we were really fortunate to dodge most of it. It was a downpour when we went to dinner but luckily we didn't have plans to walk around like we did the night before. We ate at Oak and sat upstairs which was nice and open. Of course we both ordered steak but when it came to sides I wasn't sure what to get. I wanted a vegetable but I don't like asparagus and I cannot stand the texture of creamed spinach, the other veggie option was Crispy Brussels Sprouts but I've never ordered Brussels sprouts myself and I didn't want to waste a side dish so I stuck with potatoes. But then…. our waiter brought them out anyways because they are his favorite and they are now my favorite. They had a sweet and sour Asian type of flavor to them that I will surely be craving!
Sunday //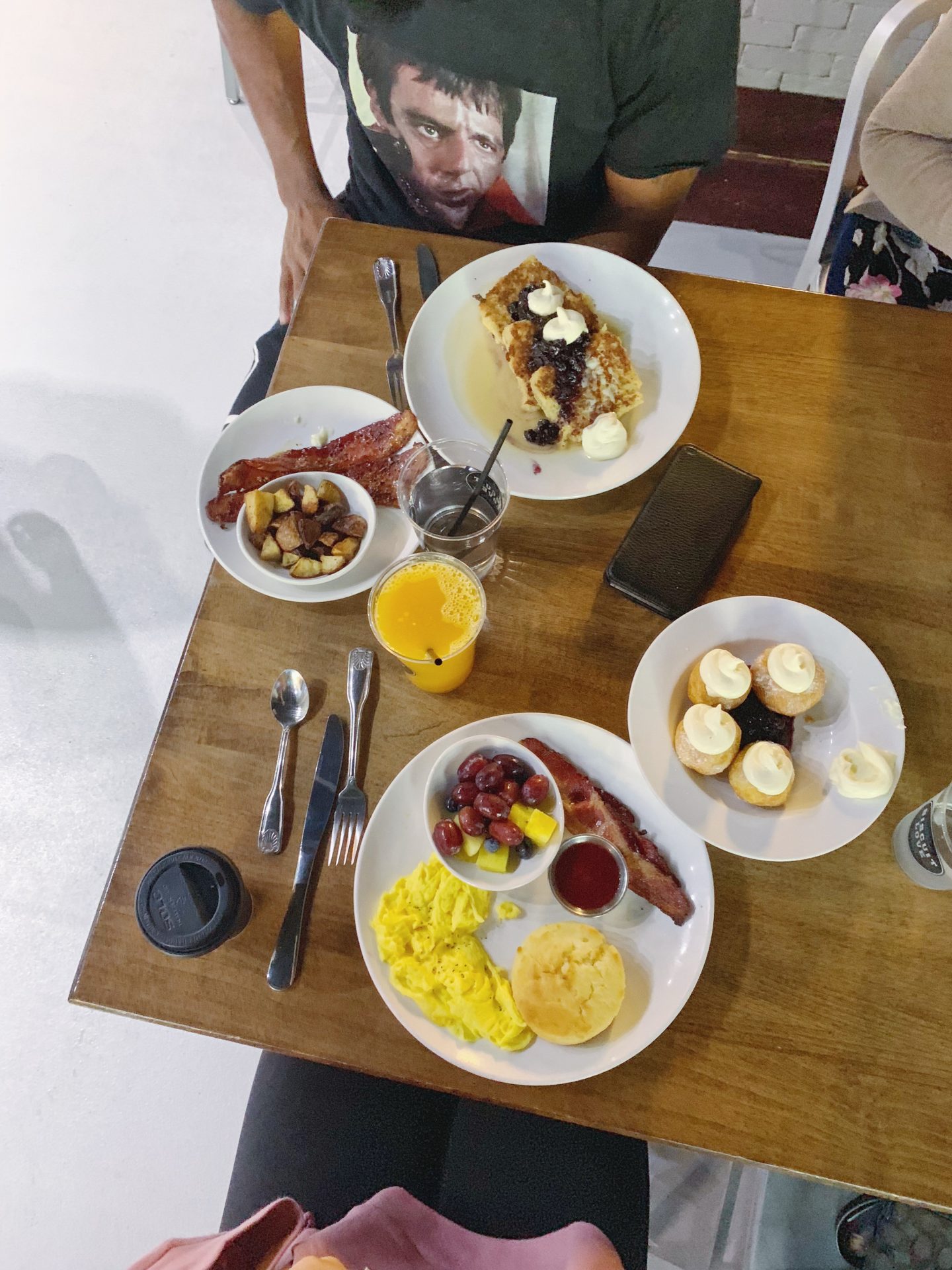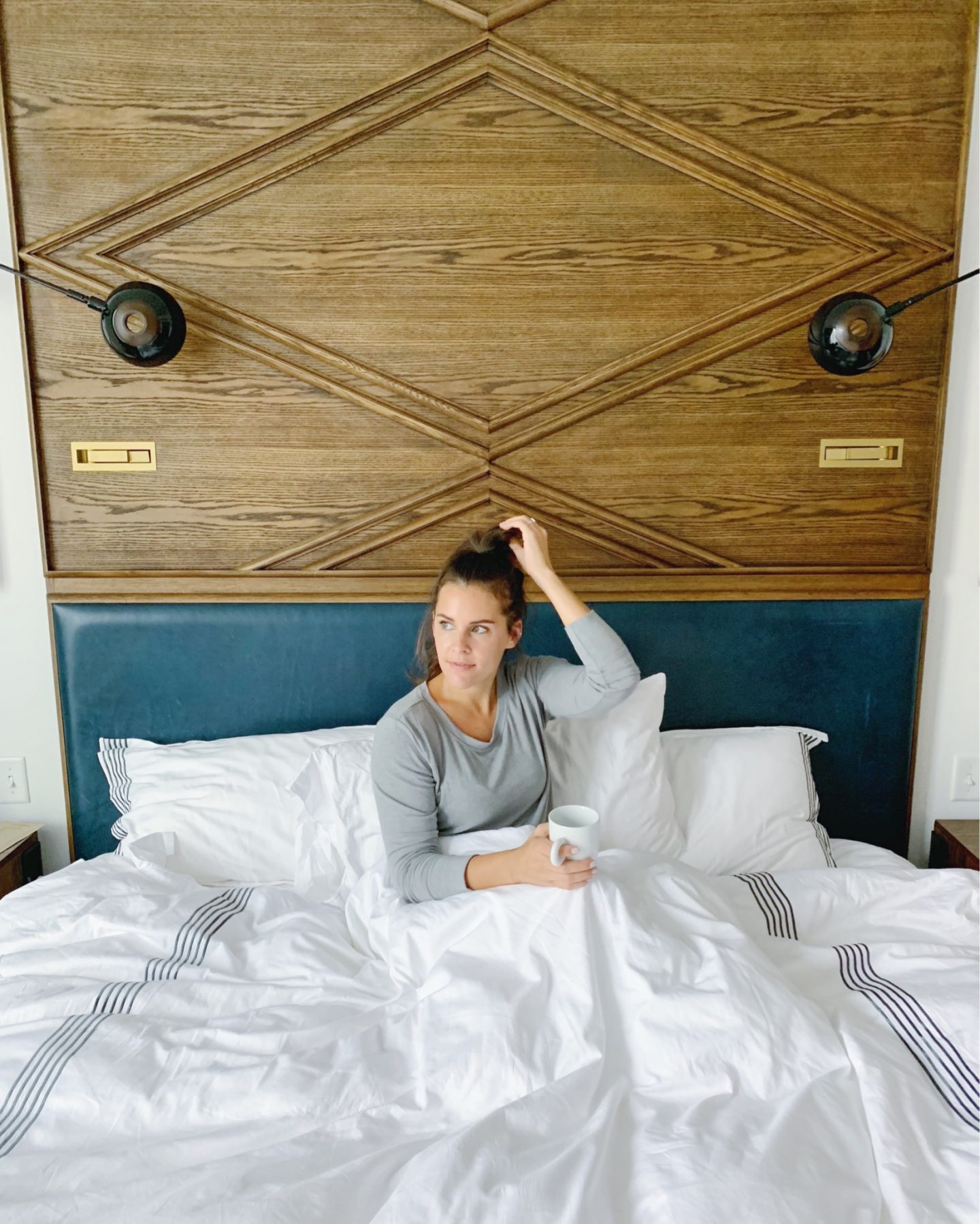 Our last day in Nashville. I loved spending so much quality time with my husband. It's amazing how fast life goes on when you have children and how little you actually get to talk with your spouse. We are together all the time, playing with the kids, bathing, feeding and doing bedtime. When it is just the two of us we are exhausted. As much as I missed my babies I loved the one on one time with my husband. For brunch, we saved the best for last… Biscuit Love!
Everyone told me this was a must during my stay in Nashville. It seemed to be a must for everyone else too because from open to close there was a line out the door of this restaurant. Even in the rain there was a line. It almost seemed like that was the thing to do and if you were going to eat at Biscuit Love you were going to stand in line. Everyone was prepared and had rain jackets or umbrellas. Let me tell you, the line is worth the wait.  We started with their famous Bonuts, a sweet and buttery combination of a biscuit and a donut dusted with sugar and topped with lemon mascarpone and blueberry compote. For my meal, I ordered the Egg Plate, which included a biscuit, bacon, eggs, fruit and homemade jam. I love to make my own sandwich with plates like this, one bite of biscuit with jam, bacon and egg… yum yum! Michael ordered the Lily which is a biscuit french toast topped with lemon mascarpone and blueberry compote with their house made syrup. I snagged a bite off his plate and his meal was also delicious, if you want something sweet the Lily is just for you. I can't forget to mention their fresh squeezed orange juice. Not many restaurants offer fresh squeezed unless you are in Florida or California. Fresh squeeze OJ is one of my favorites so I enjoyed that with my meal and I got a caramel cappuccino to go which I sipped on throughout the drive home.
The staff at Biscuit Love was so nice and welcoming. Even though the restaurant was packed and people were everywhere no one seemed to be rushed or overwhelmed. I loved cozy brunch spot and it was the perfect ending to our trip. Thanks for having us Biscuit Love!!
Mommy Confession //
This was my first time leaving Noah so I was really hesitant to travel too far, I really wanted to be driving distance from home (Memphis) just in case anything were too happen. It was hard to leave Myles too, especially since he can talk and understand we are missing. It breaks my heart to see him sad and miss us but luckily out boys are left in the best hands. I spent the week leading up to my trip pumping after most of my feedings trying to get milk stocked in the freezer. That was so stressful. The first time I left Myles it was for 36 hours, he was 6 months old and sleeping through the night. Noah is 4 months old, still gets up once to eat and I left him for 2 full days.
Unfortunately, I wasn't able to pump enough milk for my trip so I had to buy formula. I'm slightly embarrassed to admit I got teary eyed choosing a formula because I was filled with such guilt. I never had to give Myles formula and I felt like I wasn't, not sure how to put it, working hard enough for Noah. Maybe I should have started pumping earlier, maybe I shouldn't have planned to leave for so long. But actually it's really no big deal. Noah had no problem having a bottle mixed with half breast milk and half formula and I am doing my best and that's all that matters. I have read that moms have this guilt for not nursing whether it's by choice or not or that others make them feel guilty for their choices. That is so sad to me and although I had guilt, I'm not sure why tears were brought to my eyes because the most important thing is that we are feeding out baby one way or another.
It has been a while since I added a mommy confession to a post but every once in a while something pops up! You can read a few others here, here, here and here. You can also search "mommy confessions" to read them all.
Live votre rêve!