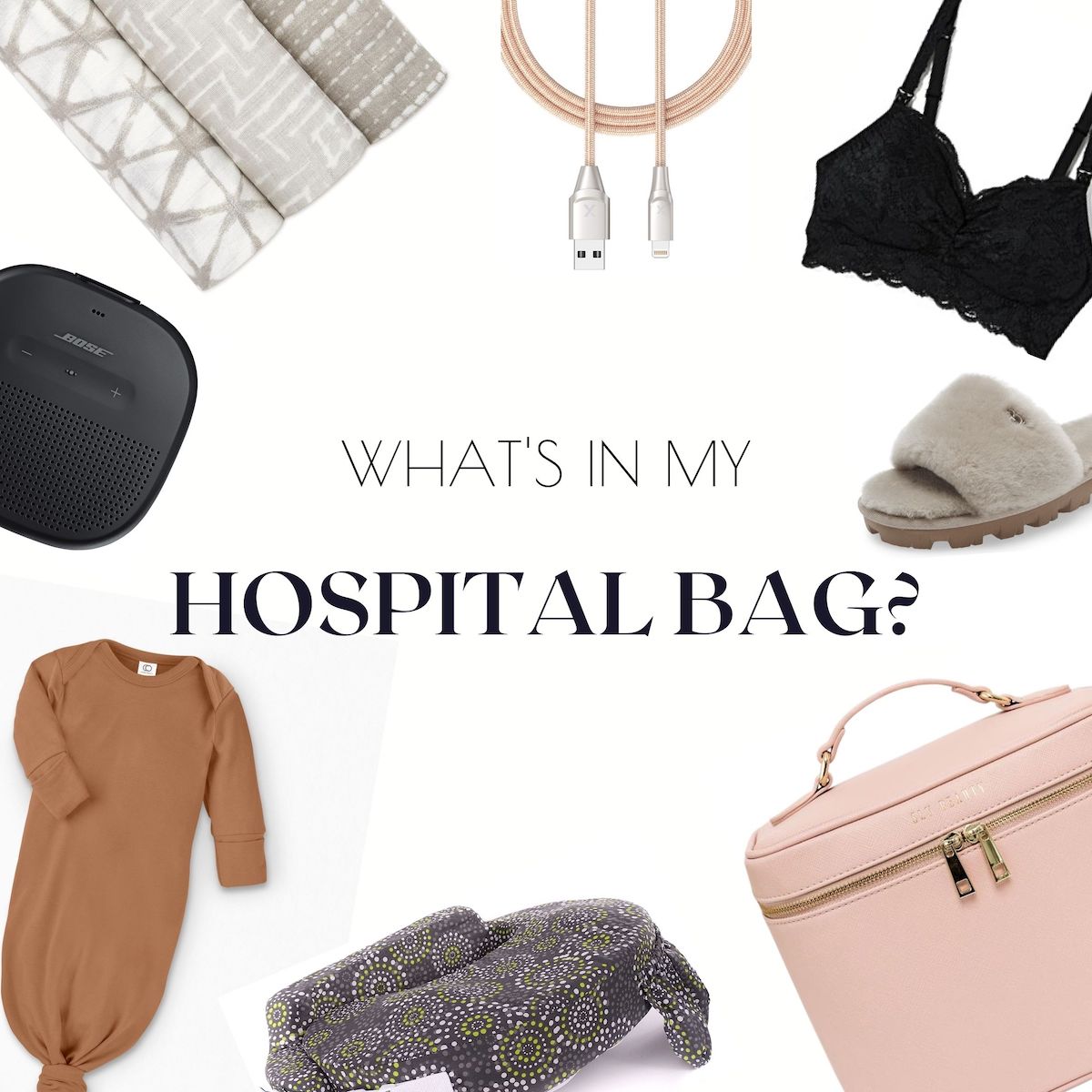 During this past pregnancy, I got more into what other influencers were bringing in their hospital bag for delivery. I was really surprised by the amount of stuff they had packed and how early they had their bags packed and ready to go. Bags is plural because these women had a bag for themselves, baby, and their husbands. I do recommend packing before you are in labor because when the contractions are close together you really only have 2-3 minutes at a time to get things together, I learned the hard way.
When I was at the hospital a few weeks ago to deliver my youngest I decided to take notes of what the hospital had and what I brought to really break down a list of items you need. Every baby website has a list and loads of bloggers have blogged about what's in their hospital bag but my list to tell you what you really need and some optional items, there is nothing extra or fancy here. I'm too simple for that! The items with an asterisk (*) are the items you don't need but may want to bring if you are feeling extra.
Self-Care Essentials //
– toothbrush & toothpaste: Whenever you get the chance to brush your teeth you will definitely want to. Especially if you are laboring through the early morning and you miss that regular morning brush.
– dopp kit: Bring your kit with what you need in the bathroom as you would if you were traveling. I don't get dolled up in the hospital but it is nice to put a little something on to feel refreshed. You'll be taking a lot of photos!
– towel: Do bring a bath towel. The hospital towels provided are very small, thin, and not very soft. Bring a washcloth or loofa too. I recently ordered these bath sheets that I had been seeing on social media and they are so good. They are incredibly soft and my husband loves how oversized they are.
– chapstick: I don't go anywhere without chapstick and the hospital is no exception.
Mommy Duties //
– nursing bra: A must if you plan on nursing. I love these pretty lace nursing bras but for sleeping, I opt for this one here. I'd bring one of each them. I honestly spent the first 24 hours post-delivery in the gown the hospital provided and did not put a bra on. Once you shower it feels nice to put yourself together a little bit. You can read more about my nursing breakdown here.
– *post-partum underwear: I have never purchased additional post-partum underwear. I take a few from the hospital and I make them work. I will say the provided underwear from the labor and delivery floor is way better than the underwear provided on the mother-infant floor!
– *nipple balm: If you plan on nursing this is a must. I never bring any to the hospital because they have a little sample tube that is perfect to use in the hospital.
– *nursing pads: Do bring nursing pads of some sort. Most likely your milk supply won't be in while you are at the hospital but the nursing pads prevent the nipple balm from getting on your nursing bras.
– nursing cover: If you are sensitive to others seeing you nurse bring a nursing cover. A baby blanket can work too.
–nursing pillow: I love my nursing pillow, it's firm and has a little pocket you can keep your nipple balm and a pacifier in. To be honest I haven't used it this third time around because I am very comfortable nursing. As a new mother, you need the support of a pillow and a nursing pillow is comforting to have.
– *reusable water bottle: The hospital should provide you with one so this shouldn't be necessary. You need to drink a lot of water and you will want to. I am always incredibly thirsty after I give birth. The hospital doesn't actually give you a water bottle but they do provide a large water jug of some sort so y0u don't have to have it refilled every hour. I brought one this time around and never used it. I am 4 weeks pp and still using the one from the hospital.
Baby Essentials //
– outfits: Planning your baby's going home outfit is one of the more special moments before having a baby, picturing your little one at home for the first time. Bring a newborn size and a 0-3 month size just in case your baby is on the larger size. You'll also be taking lots of photos so bring an outfit for that too!
– swaddle blankets: You will receive your baby in the hospital receiving blanket which I used for the first night. You'll enjoy swaddling your baby in a cute blanket of your choice. The Aden + Anais are wonderful but make sure you get the silky soft ones, they are much softer!
– *diapers: The hospital has plenty of diapers for your little one, no need to pack any. Don't forget to take the extra diapers in the drawer before you leave!
– *breast pump: This is not necessary at all. If you end up needing to pump the hospital will have one for you to use. Save yourself the space in your bag.
– *nail file/clippers: I actually asked the hospital if they had a little file to use and they did not. With COVID, you are not allowed visitors so you have a lot more downtime in the hospital than in other years. Babies are usually born with really long fingernails so you may want to file them down while you're in the hospital. My brother and sister-in-law introduced me to this amazing electric one, it gets the job done so fast!
Keeping It Cozy //
– pillow: I like to travel with my pillow no matter where I go and the hospital is no exception. I am spoiled with my silk pillowcase. If your partner is staying at the hospital with you make sure they bring their pillow also.
– slippers: slippers are nice to slip on when going to the restroom or just to stretch your legs and take a walk around the hospital floor once you start moving around.
– eye mask: If you are having a planned c-section this is a must. After a c-section, there are more monitors which means more lights and beeps, and you are checked by the nurses more frequently. My husband and I both really struggled after our first child was born via an emergency c-section. You aren't checked as frequently after a vaginal birth and there are no bright lights on monitors but an eye mask is still nice to have. I brought two, one for me and one for my husband.
– *robe: I brought a robe once but never wore it because I didn't want to sit on it and get blood on it. If you know you are going to have a c-section then you'll be in the hospital for a few more days you may want to wear your robe, especially if you plan on having visitors.
– *blanket: I have never brought a blanket to the hospital. If a blanket is a comforting item for you then I think it could be a good idea but the blankets the hospital provides does the job and you can ask for additional blankets. You may want to
Travel Items //
– extra long charger: This is something you will really want to bring. I did not have this for my last delivery so my phone would be charged up and I wouldn't have access to it and I was too sore to want to walk and grab it. If you don't bring an extra-long phone charger try and bring a wireless charging battery case. You'll be taking so many photos and videos and texting all your friends and family, you will be surprised how quickly your battery dies. You may even have to FaceTime your husband during delivery!
– bluetooth speaker: If you have a playlist planned during delivery bring a bloothtooth speaker so you can hear it better.
– snack items: You will get very hungry. Even during COVID times, we were still able to get carryout delivered to the hospital which was wonderful (hospital food isn't that great) but I am a big snacker. I throw in a few bars in my bag that me and my husband would like, maybe even some candy!
– sound machine: You will be so happy you brought this!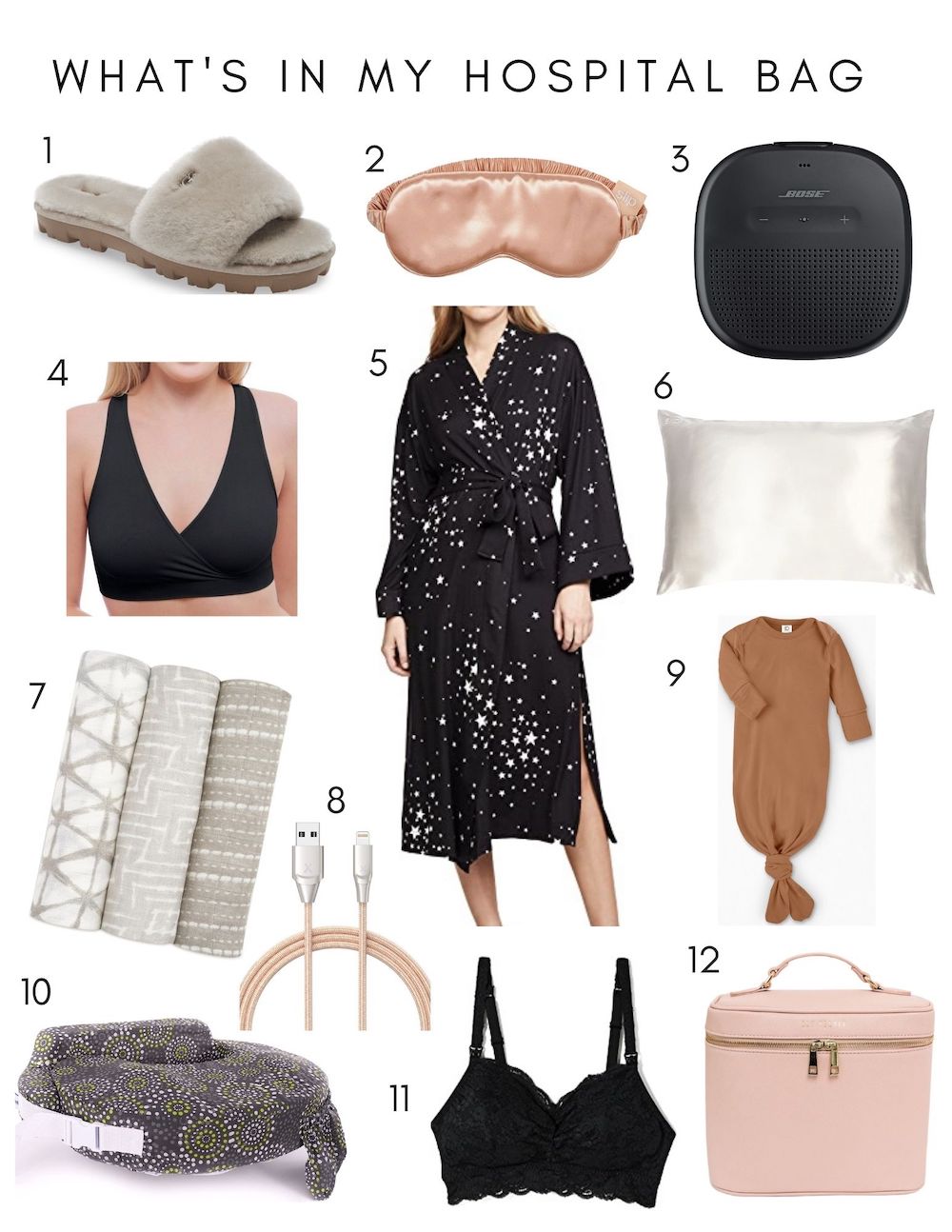 1 | 2 | 3 | 4 | 5 | 6 | 7 | 8 | 9 | 10 | 11 | 12
Live votre rêve!