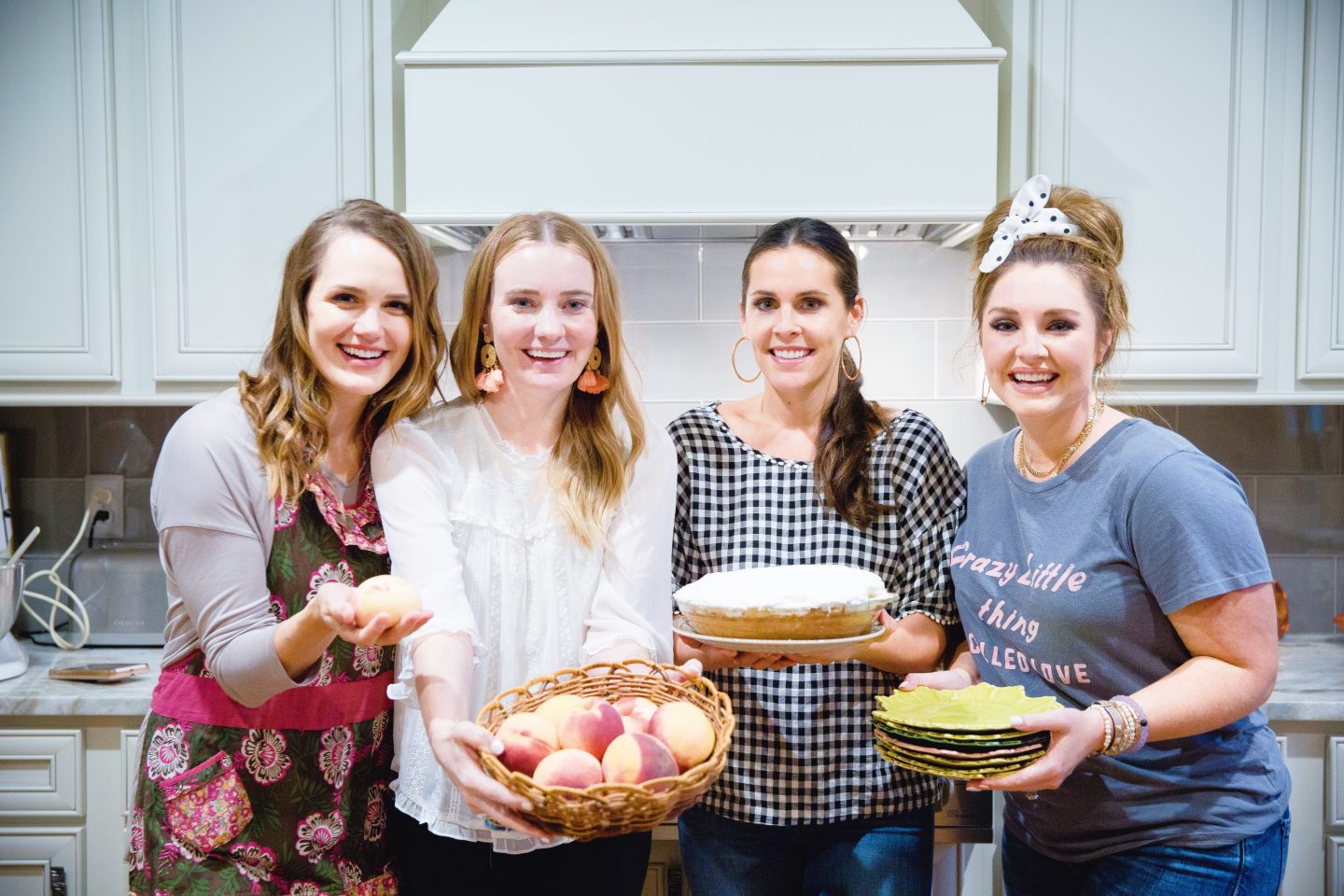 Some of you may have thought Bluff City Lights no longer exists but we are here! Summers are hard for us since we all travel so much but things are starting to settle down and we are getting the group back together again. A couple of weeks ago we got together at Collins' Aunt Judy's house to learn how to make her delicious peach pie.
Let me start by saying I LOVE to bake. Cupcakes are usually my thing and I always bake from scratch. Seeing what's in my kitchen usually inspires me to add an extra ingredient in here or there. My past favorites cupcakes recipes are Maraschino Cherry Cupcakes and Salted Caramel Mocha Cupcakes (comment below if you want me to post the recipe). Now that I've got two little boys to take care of I don't have the time to bake like I used to. If I do bake I try and make it a healthy option that I feel good about offering to my sons like these Banana Zucchini Muffins or my Whole Wheat Pumpkin Oat Muffins. When BCL decided to get together to bake I jumped at the chance and took it very seriously! This may not be the healthiest recipe but it is one of the yummiest!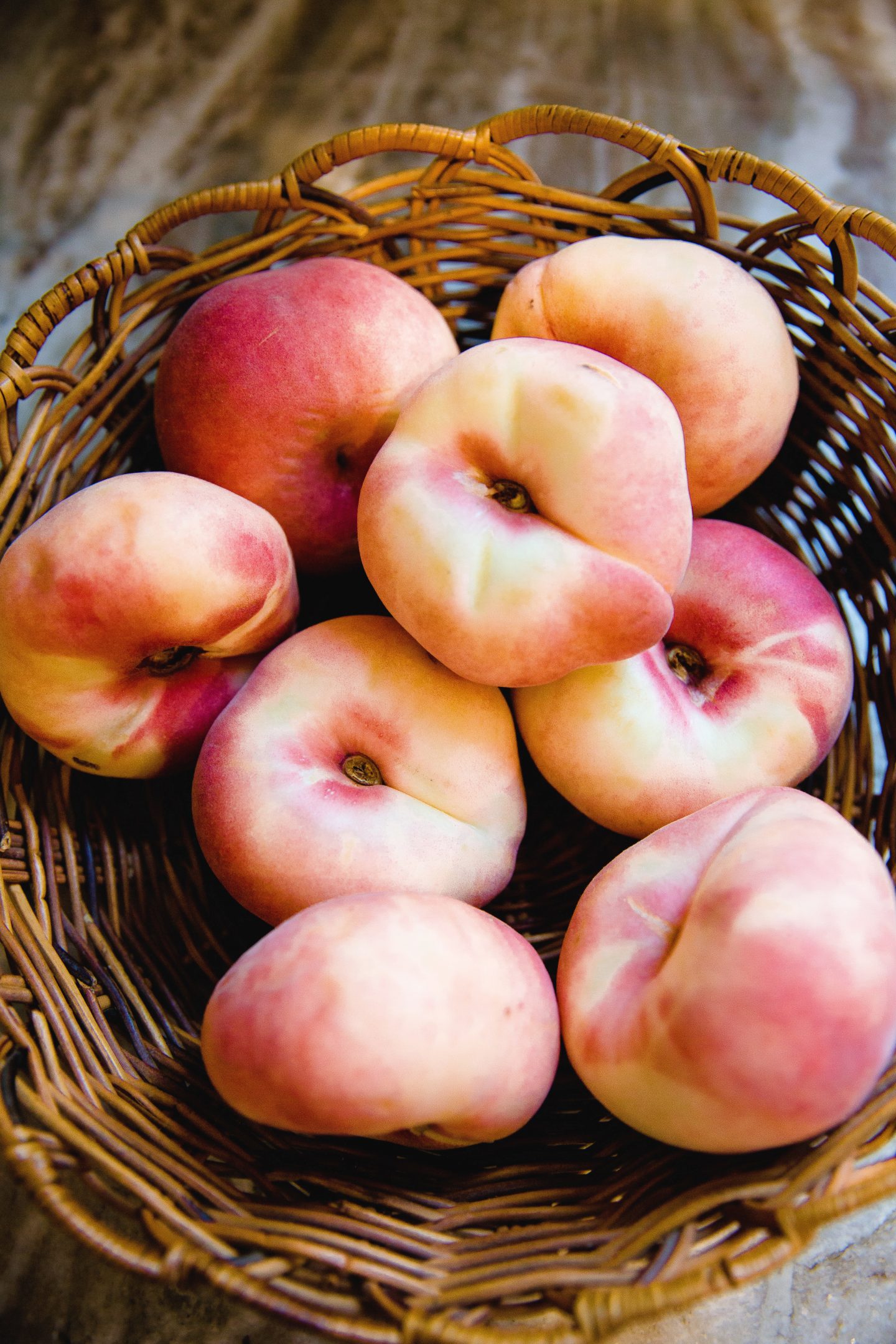 Back to the peach pie! A little bit about it before you start baking. It isn't your traditional pie, it is almost a cross between a cake and a pie, a shortcake actually. The crust is thick and doesn't need to be rolled out, there is no top crust, the more juice in the peaches the better, and the whole pie is topped with whipped cream!
Aunt Judy's Peach Pie
What You Need
6-7 ripe peaches, peeled and sliced
1 stick butter
8 oz cream cheese
2 cups sugar
1 1/4 cup self-rising flour
1 pint heavy whipping cream
1 tsp vanilla extract
What You Do
Preheat the oven to 350°F. Start by peeling and slicing your peaches. You want 4-5 cups worth. Add 1 cup of sugar and put them in the refrigerator to chill while you make the crust. I made this pie a second time and added 3/4 cup of sugar and it was plenty sweet.
In a bowl add 1 stick of softened butter, 8 oz of cream cheese, 1/2 cup of sugar, and 1 1/4 cup of self-rising flour. Mix all ingredients with your hands (when I made this a second time I used my Kitchan-Aid with the dough hook then kneaded it into my pan and it worked out perfectly) and knead into a greased pie dish. You will have a thick uneven layer of dough. Bake the pie crust for 28 minutes. Once it is done baking, let it chill for a few hours before adding the peaches. You may want to put it in the refrigerator to speed up the process (wait till the pie pan cools first).
While your pie crust is baking, put your beaters/whisk and bowl in the freezer. You want these to be as cold as possible when making your whipped cream. When you're ready to finish the pie it's time to make the whipped cream. Pour 1 pint of heavy whipping cream into your chilled bowl. Beat on medium speed and slowly add 1/2 cup of sugar. As the beaters continue add 1 tsp of vanilla extract. Once peaks form the whipped cream is done. If you need to make the whipped cream ahead of time, wrap cellophane over the whipped cream and store in the fridge to chill (don't store whipped cream in plastic).
When everything is chilled it is time to put the pie together. Ladle the peaches onto the crust and include all the juices. You may need to poke holes with a fork into the crust to get the juices to settle in. Next, spread the whipped cream on top. Voilà!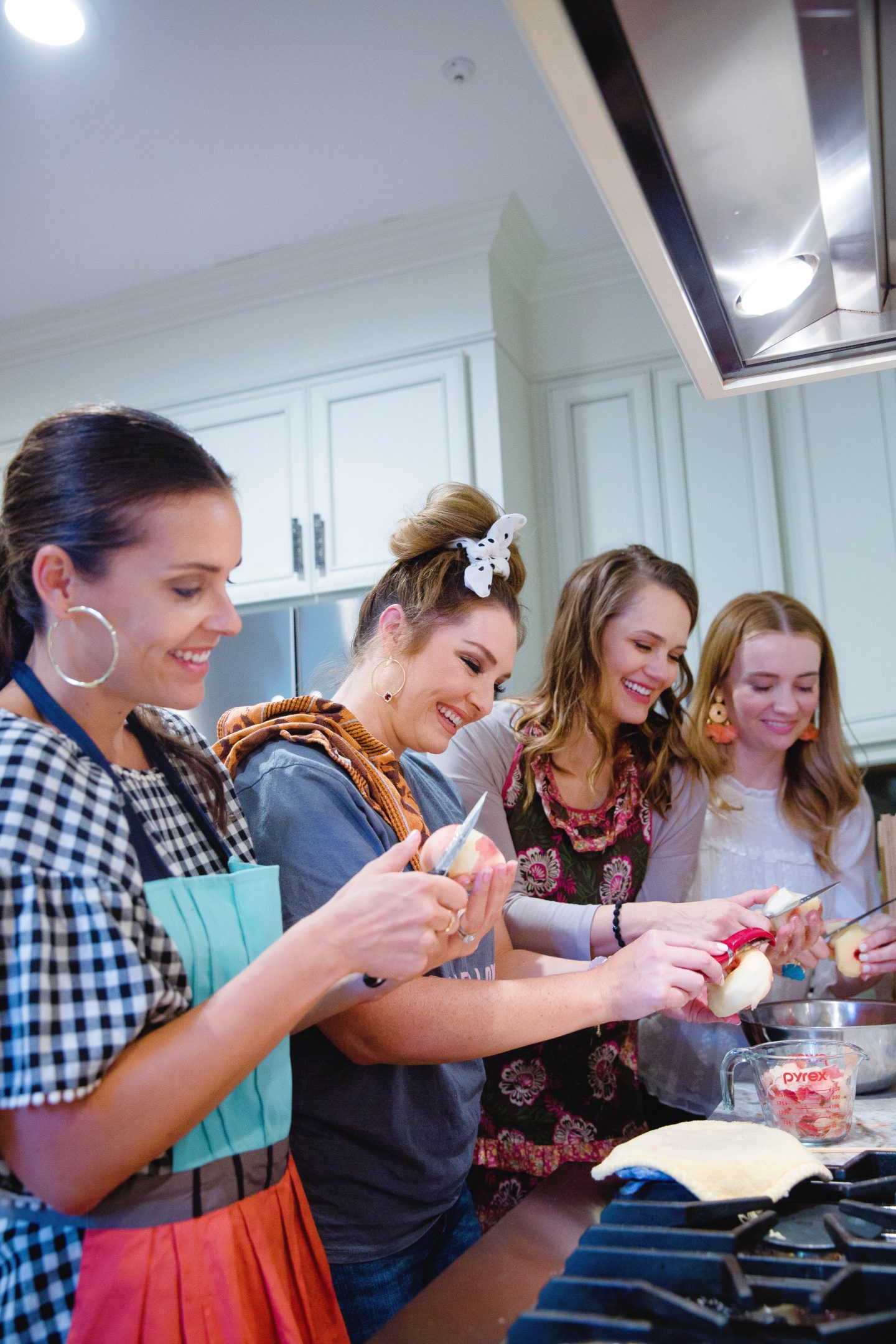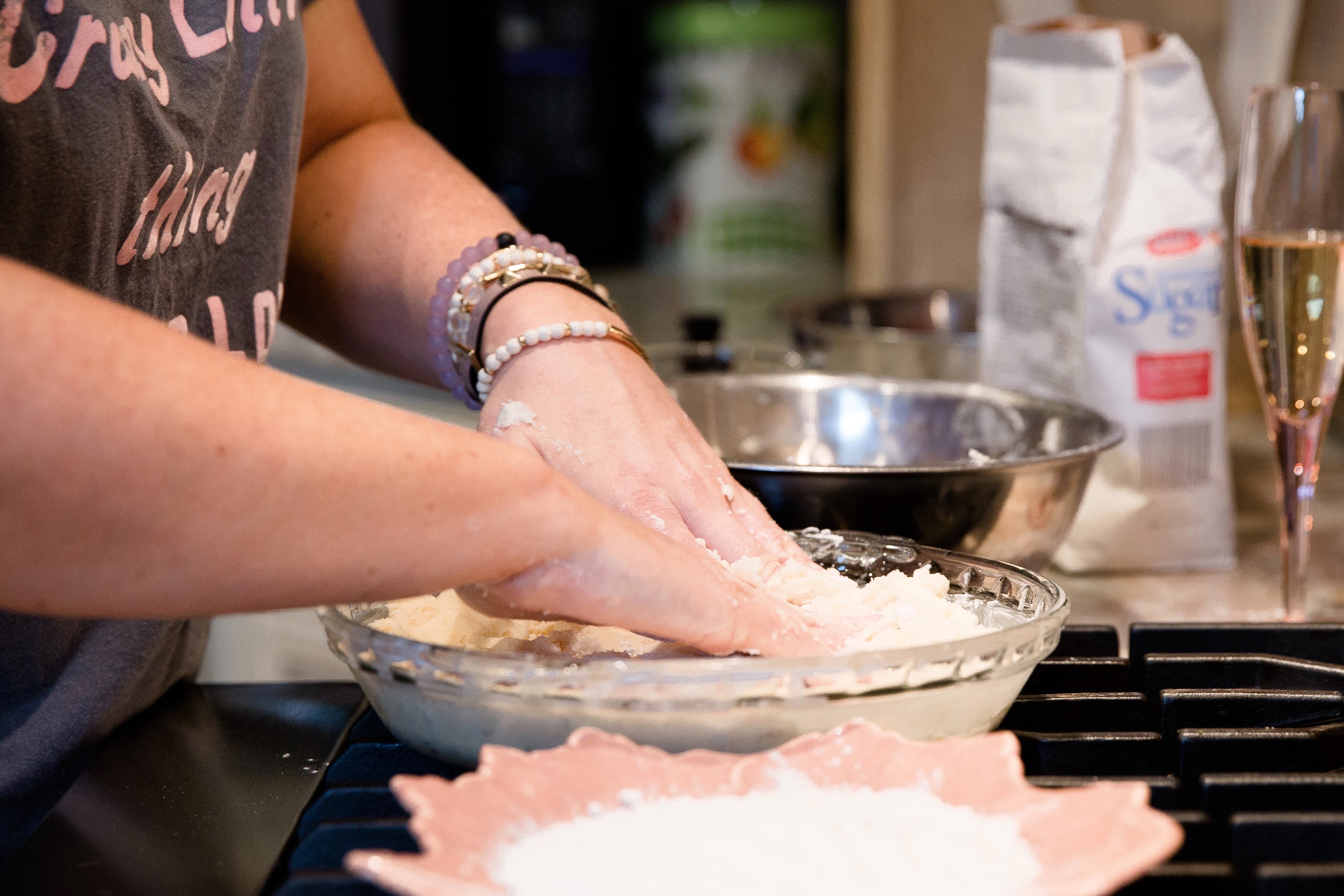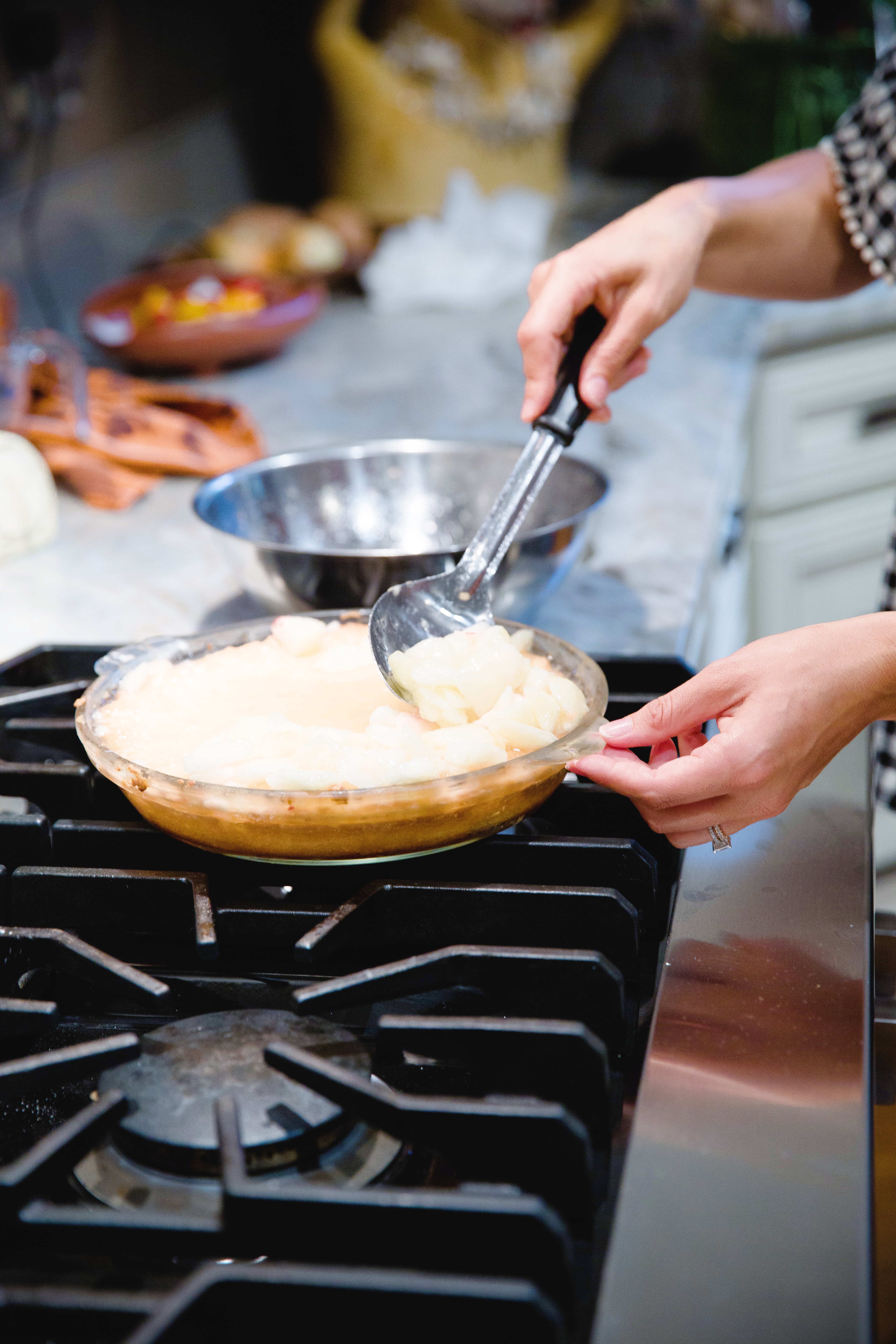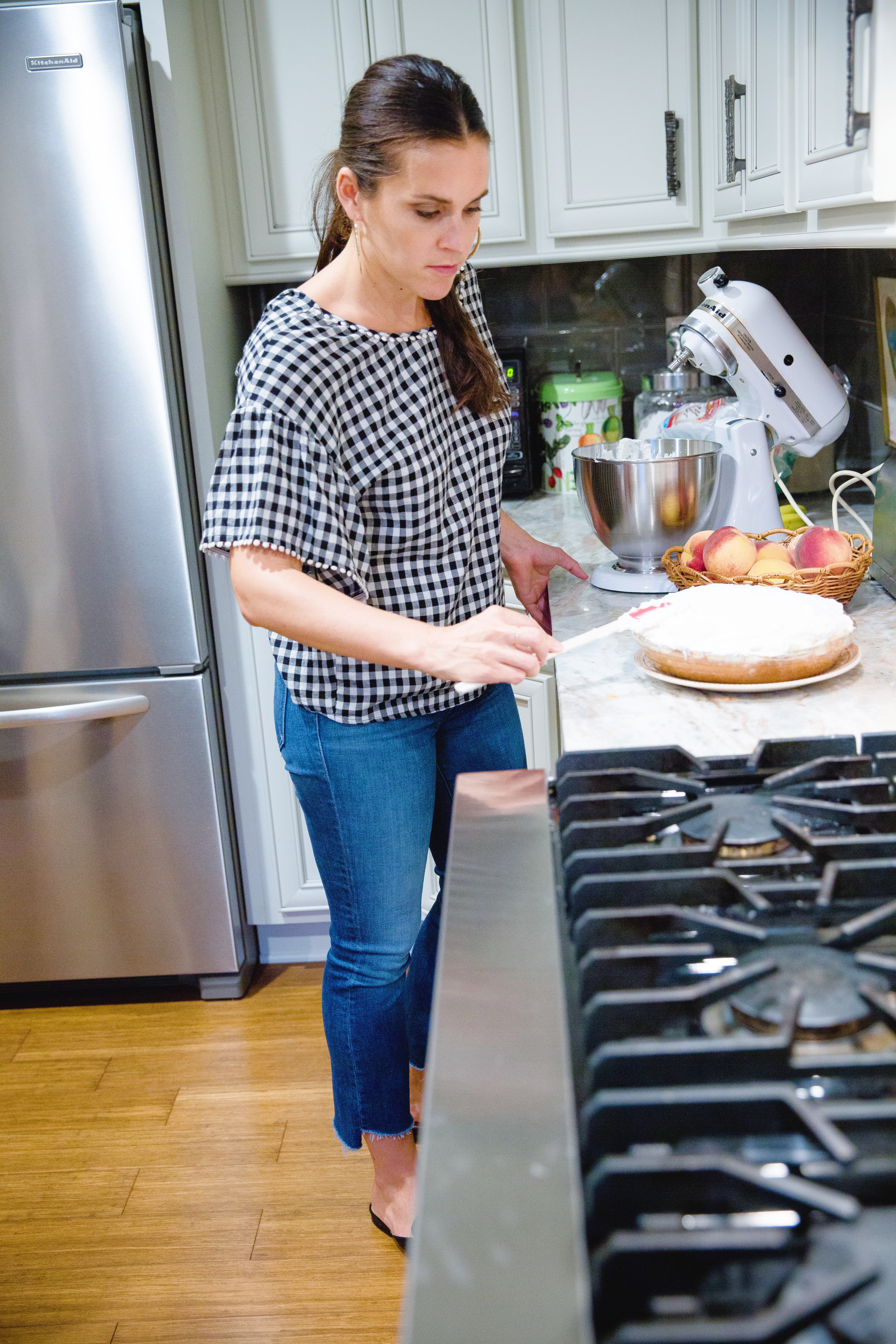 I hope you guys enjoy this pie as much as we did. Half the fun of baking is doing it with friends.
Live votre rêve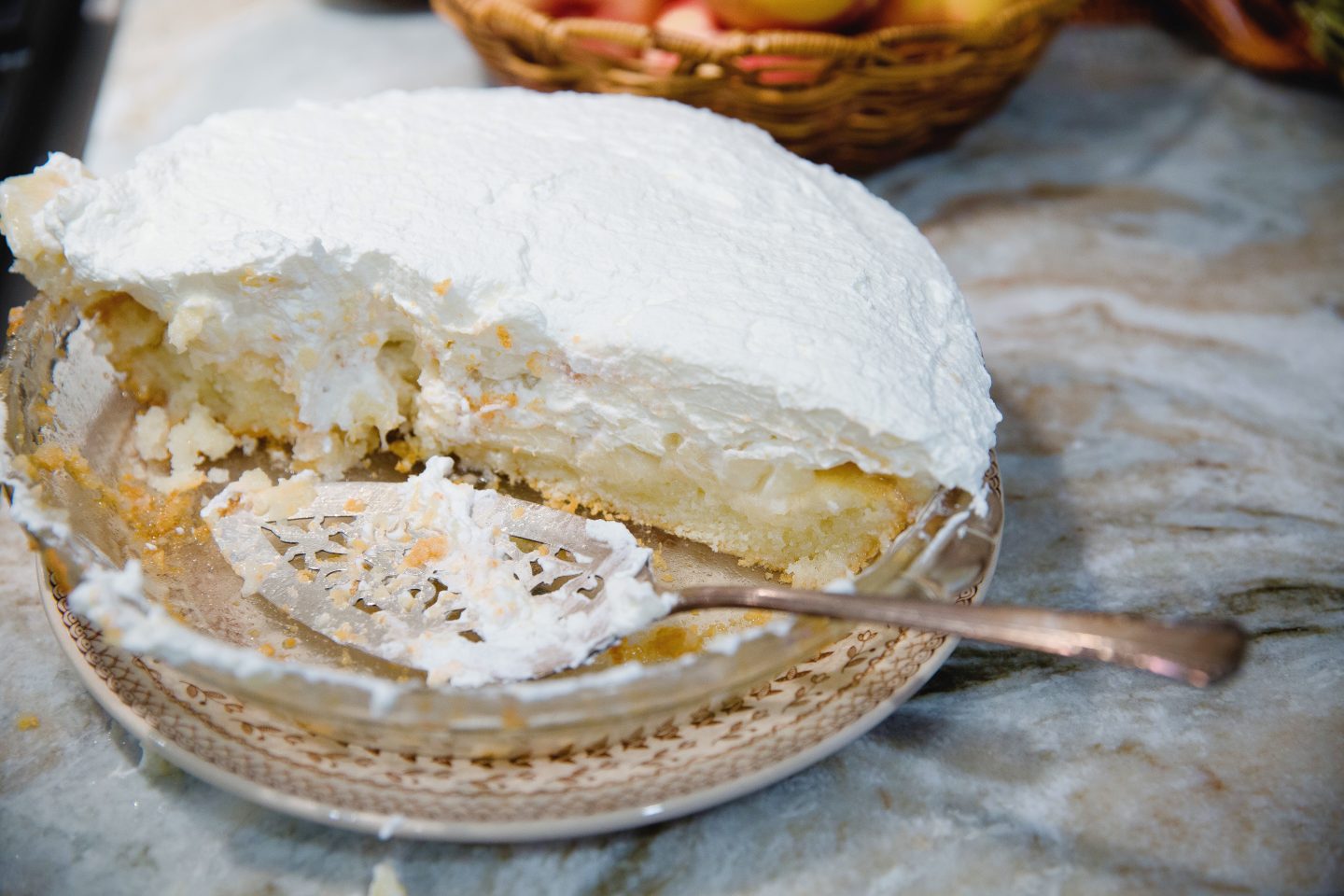 Shop my look below