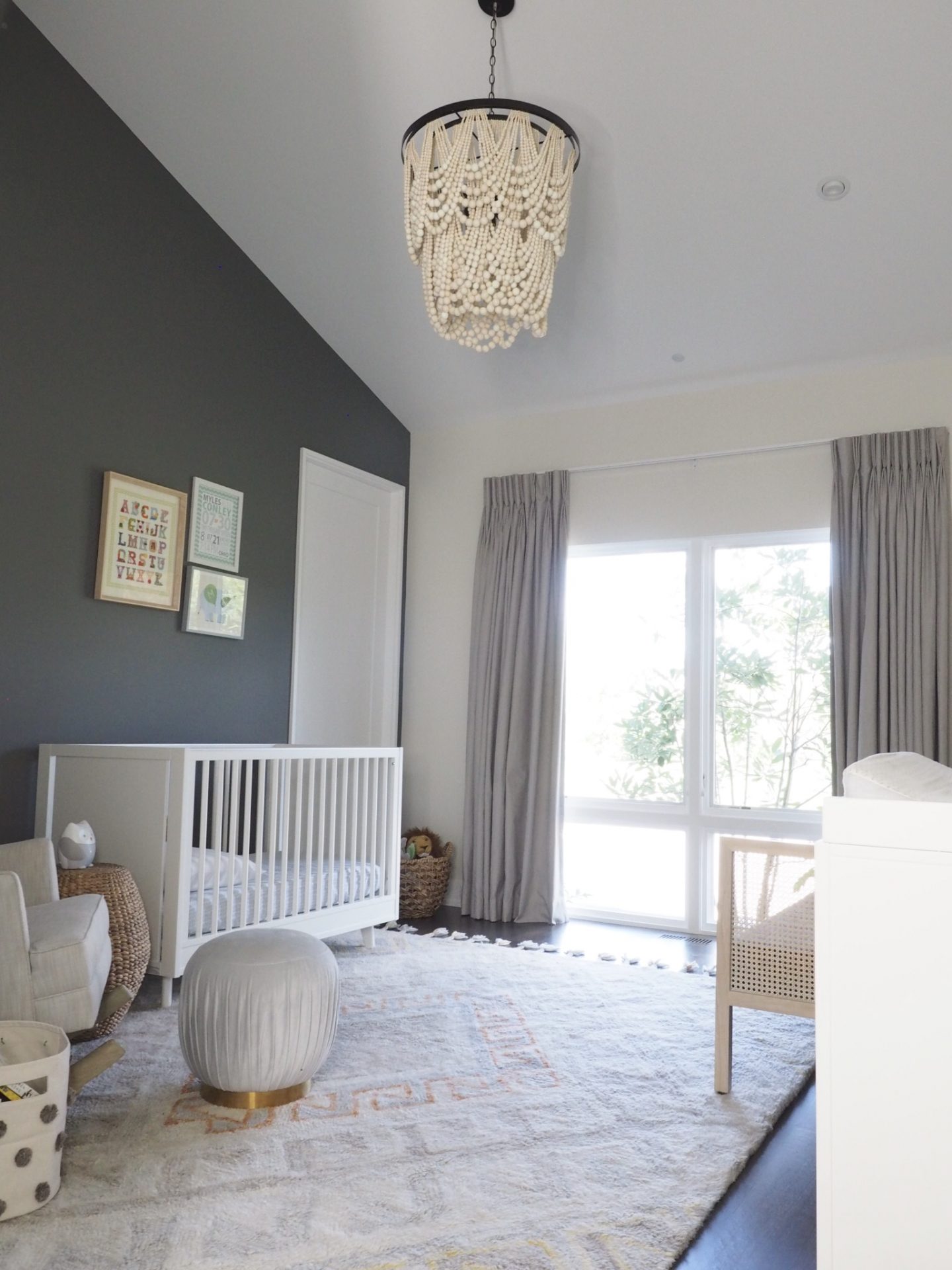 Myles's nursery is now a toddler room. Not much has changed except for the crib which we converted to a toddler bed. We also added the floor lamp that was in Noah's room. Myles is more of a cuddler and loves to rock in the rocking chair so it was more fitting to have a floor lamp near this chair so we didn't have to get up after reading books. Noah, on the other hand, is an eat and straight to bed kind of boy.
I took these photos last summer and I am just now posting them. I have no idea why I never actually posted this subtle orange nursery. When we were building our house I changed the location of the nursery three different times! There are only three guest rooms so the nursery took a turn in each room. Part of me wishes I let this room be in the original plan which is the room that has a bathroom attached with a bathtub. The boys both bath in there but that room is our actual guest room. It has really high windows that don't have shades so the room can be bright very early in the morning which made me nervous. Myles is sensitive to light and I am not interested in waking up at 5:3o am.
Before purchasing anything for the room I made a Pinterest board. Some of my boards were for inspiration but most of them were made up of the items I wanted to buy so I could see how it looked together. This cream wool rug with subtle hints of orange and blue was my focal piece. I love how it doesn't scream BOY but does have blue, orange and yellow. Piece number two was the day bed. In love with this daybed. As parents, we are prepared to sleep on the floor or the rocking chair here and there so I knew I wanted a place I could stretch out. I'm so glad we have this daybed. It's perfect to cuddle and read as a family and can be used for guests in the future.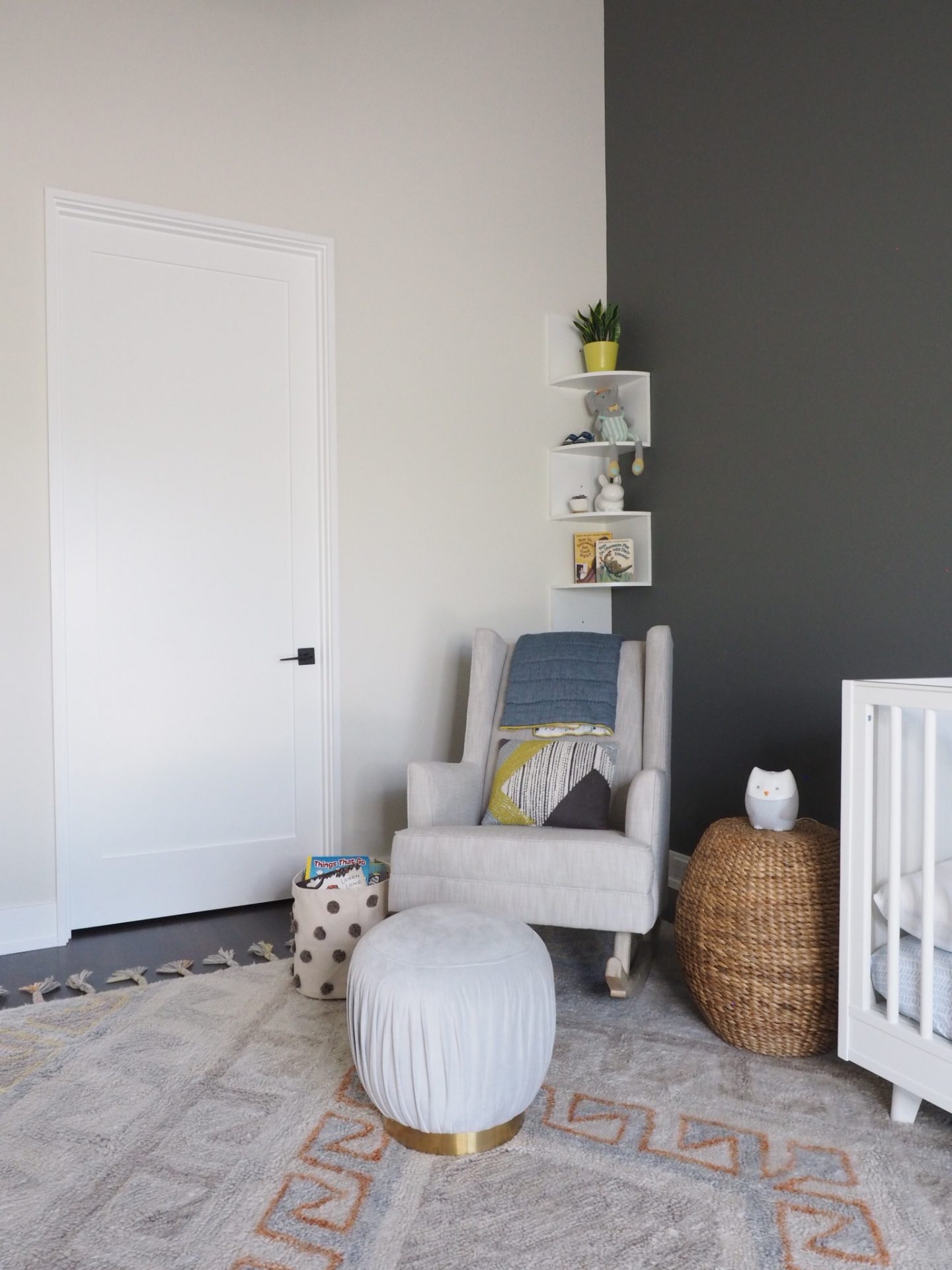 This rocking chair was a lifesaver with Myles. This boy absolutely loves to cuddle and I cannot count the hours we spent in this chair together. Myles will be 3 years old in a couple of months and his line is "it's ok Mommy, just cuddle with me a little bit". I love to cuddle but this Mommy has things to do!! This chair is a light color but not too light and has a texture to it which helps hides spills. So far so clean!
I was nervous to get a foot stool in such a light color but it has held up really nicely. One time Myles had peanut butter on his hands and it got on the stool but it cleaned up perfectly. The corner shelf was actually purchased for our condo years before we even broke ground on this house and I never put it up. I felt like this was the perfect spot for it in the nursery. Most of Myles's books are on a shelf in his closet but I needed to have easy access to his favorite books. I love this storage basket, it is fun and kid-friendly without being an eyesore.  The basket comes in a set of 3, each a different size so I have some for books and some for toys in our play area.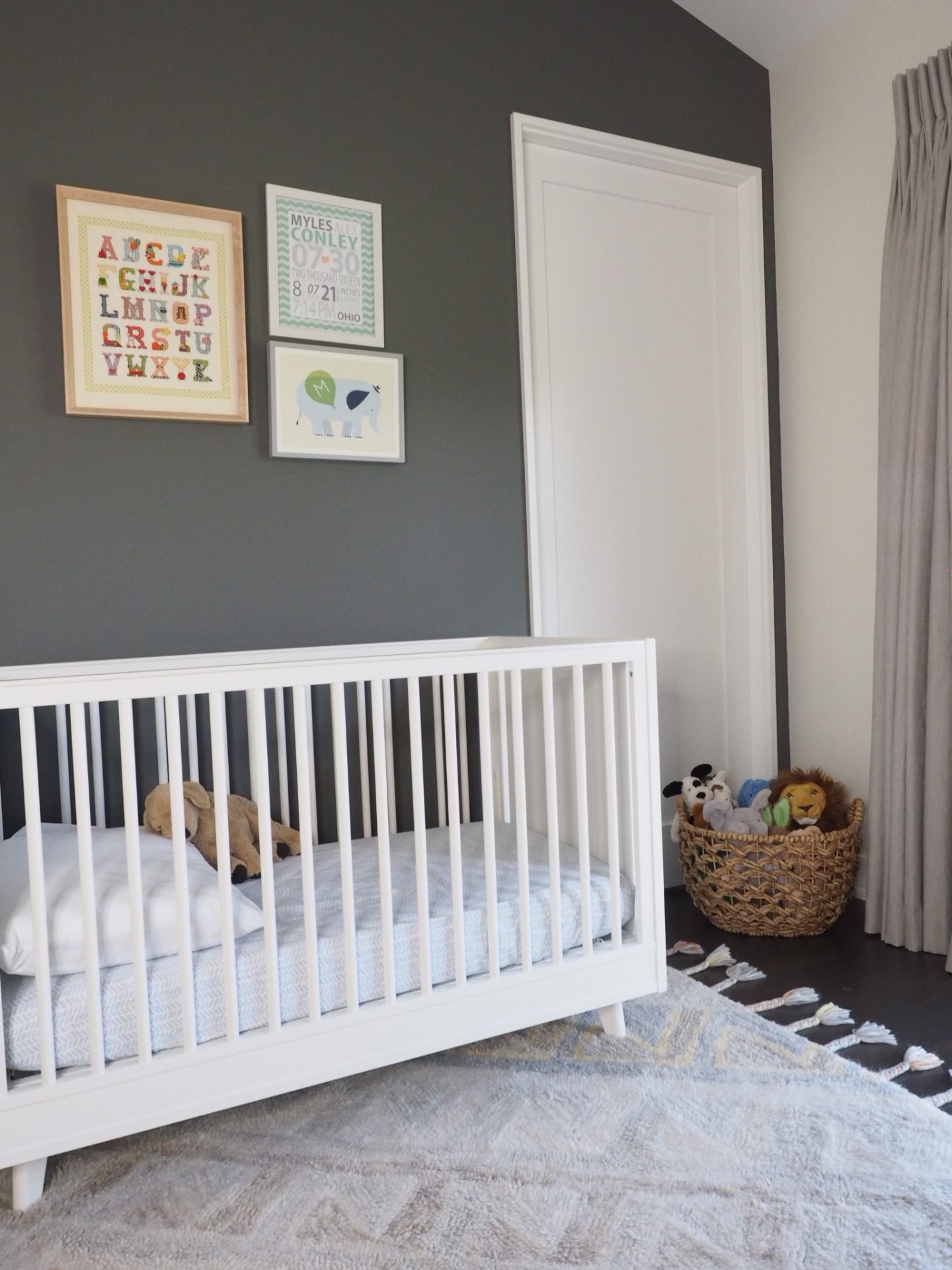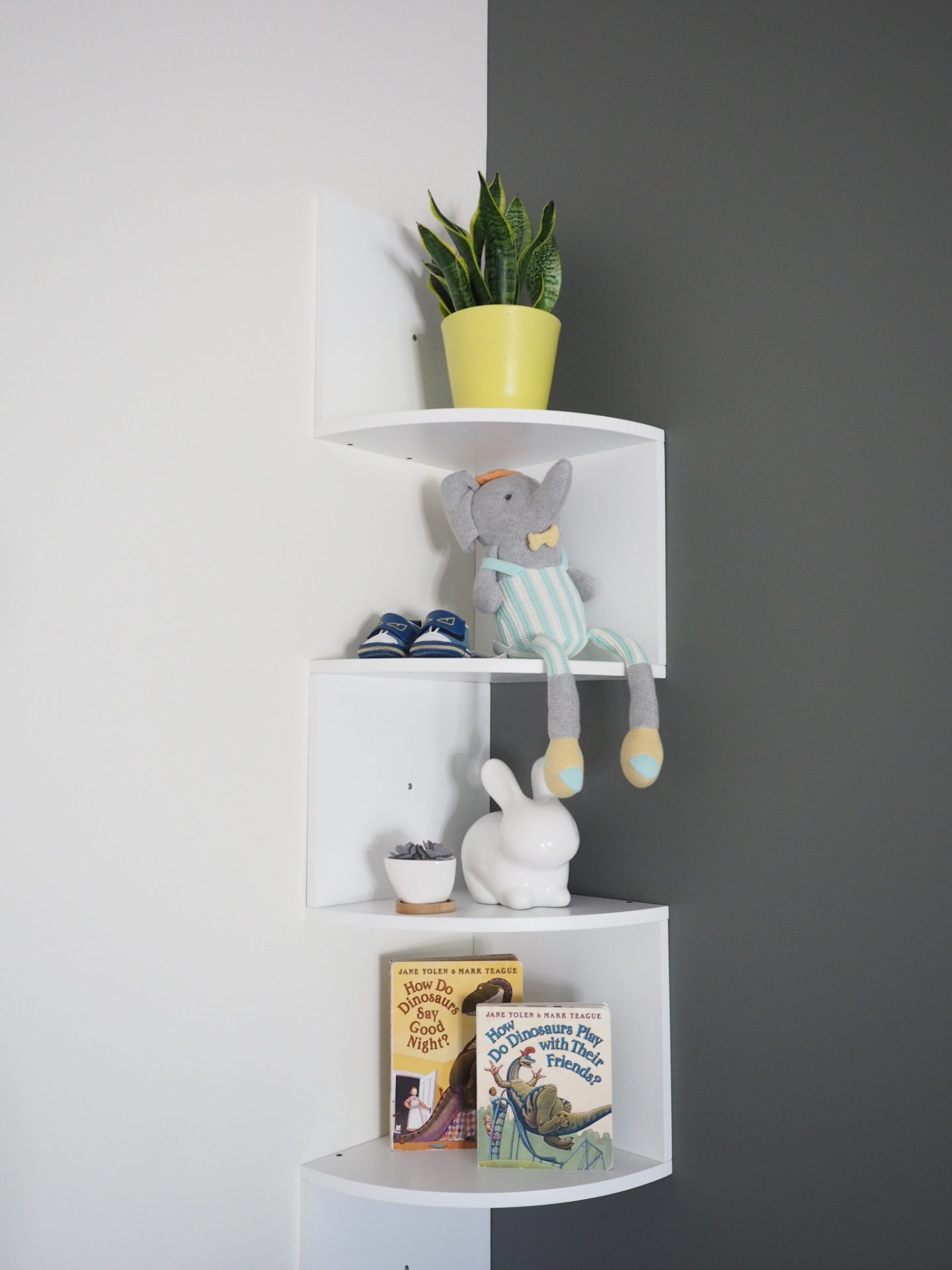 The picture above Myles's changing table was a gift for his first birthday and we love it. He was obsessed with looking at it and always said "Daddy", the family picture was a big hit- except he never mentions me! I really wish I would have got the larger changing table in this style. For some reason, I didn't feel like there was enough room so I got the smaller version. It works out just fine because in the top drawer I have diapers, wipes, and creams which is what you would put on top of the changing table if you did have space for a larger changing table. 
I want to find more art for the walls but I think the boys may share a room at some point and it will need to be rearranged. I hate putting holes in the wall unless I know something will 100% hang there. This room has been good to us!
crib | Pottery Barn Kids 'Reese Crib' (on SALE)
crib sheet | Pottery Barn Kids 'Sateen Broken Sheet'
mattress | Newton Baby, Inc. 'Newton Crib Mattress'
dresser | Pottery Barn Kids 'Reese Dresser and Topper'
daybed | CB2 'Boho Natural Daybed'
pillows | CB2 'Tecca Pillow', Wayfair 'Breuer Pillow'
rug | CB2 
rocking chair | Pottery Barn 'Modern Wingback Convertible Rocker'
floor lamp | Serena & Lily 'Brighton Floor Lamp'
side table | Target 'Remi End Table'
owl | Skip Hop 'Moonlight & Melodies Nightlight and Soother'
ottoman | CB2 'Pleated Gray Ottoman'
basket (for books) | Nordstrom 'Pom Canvas Bins'
corner shelf | Kiera Grace Provo Corner Wall Shelf
bunny | Suck UK 'LED light'
chandelier | Pottery Barn 'Amelia Wood Bead Chandelier'
drapes | custom
gray accent wall | Benjamin Moor Amherst Gray HC-167
Live votre rêve!