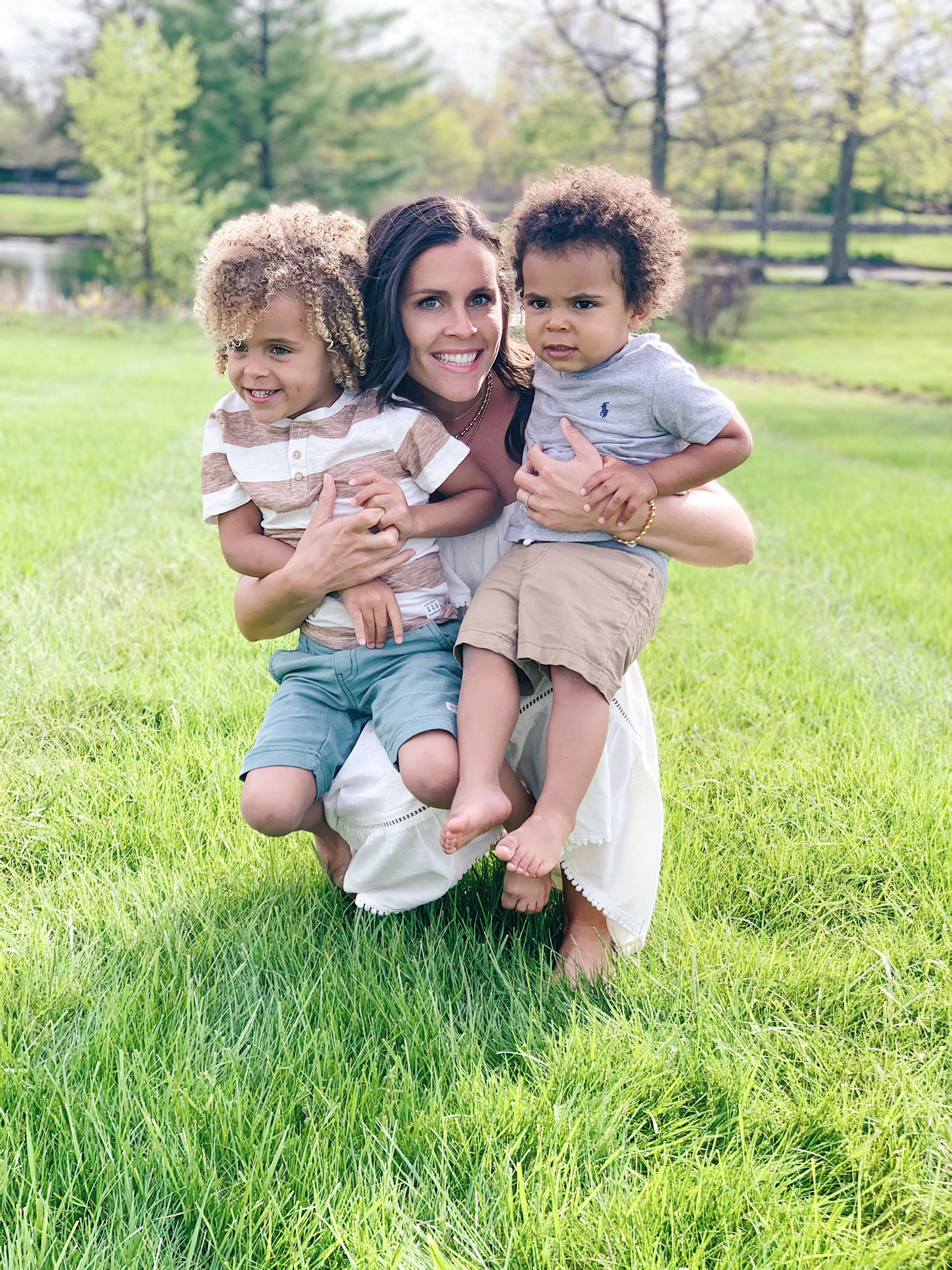 I am so excited to be sharing everything about the first half of pregnancy #3! Last week I told you guys to leave me your pregnancy questions and I'd answer them all here on the blog. So, let's begin!
Q. Why did you feel like you had to hide your pregnancy for as long as you did?
A. I didn't feel like I had to hide it I am just more comfortable hiding it. The risk of miscarriage decreases tremendously after the first trimester so I always wait to announce till than. Once I've realized I've been able to hide it on social media for so long I like to see if I can go a little longer! I was close to sharing but my 20 week anatomy scan was coming up so I figured I would wait until after that appointment to really make sure everything was going well.
Q. How soon did you tell your family and friends?
A. We shared with our family a little later than usual, at 13 weeks. We saw our family during Christmas and I had only found out a couple of weeks before then so I was maybe 6 weeks along and hadn't gone to the doctor yet. Even though the home pregnancy test says positive I just prefer to hear a heartbeat at the doctor before telling people I am pregnant. It was really hard not to share when my family was in town though. I was exhausted and didn't have energy to do all the activities we had planned, I did them anyways but would have loved to explain how I was feeling! I like to tell my family in person and we didn't plan on seeing them after Christmas until All-Star Weekend in February and I happened to be 13 weeks at that time.
As far as telling our friends, my husband told all of his right away once he got the clear from me. Their wives were congratulating me before I got the chance to tell them! For my friends from home, some I called and told and others I texted, that was around 15 weeks.
Q. Did you plan on having another baby or was it a surprise?
A. We planned on having another baby! Our second child was actually our surprise. We wanted multiple children but had been thinking of having them a few more months apart than they actually are. I was still breastfeeding when I got pregnant with my second so I never had a period, it was a wonderful suprise!
Q. Did you get pregnant the first try?
A. For this pregnancy, we got pregnant the second try!
Q. Do you know the gender yet? Are you planning on finding out?
A. We do not know the gender yet. I figure this may be my last pregnancy and I want to know what it's like to be surprised! Not planning on finding out!
Q. Will you be telling anyone if it is a boy or a girl?
A. Nope, because we aren't finding out this time! When people do ask what gender the baby is I don't feel right knowing and saying we aren't sharing. We either know or we don't!
Q. Do you want a girl?
A. Nope, I would be happy with a girl and I will be happy with another boy. I am a bit intimidated to have a girl because I feel like as a girl myself I will put more pressure on myself for how she grows up, but who knows. Clearly I am very comfortable with boys since I have 2 already, we've got all the boy things already. I really don't care either way, I'm just really happy to be having a third child.
Q. Did you have any morning sickness? If so, did any remedies work for you?
A. With each pregnancy, I have been a little more nauseous but I cannot complain at all. Luckily, I never had any morning sickness. This time I was nauseous from morning till late afternoon for 6 weeks. I liked to make a smoothie with ginger in it to help with the nausea. The smoothie had a frozen banana, frozen pineapple, some fresh ginger, cinnamon, almond milk, chia seeds, and flaxseeds
. Sometimes I would add vanilla protein powder if I was drinking this on the go and needed it as a breakfast substitute.
Q. How are you feeling this pregnancy compared to your other two?
A. For the most part the same, I was a little nauseous for 6 weeks in the beginning which I didn't have at all with Myles and with Noah it was a day here and there I felt a little nauseous, but never got sick with any. I always breakout on my back and shoulders during the first trimester and this time I broke out on my face as well. It was pretty bad the first trimester and now it's one pimple in the same area every couple of weeks, drives me crazy! I do feel more tired but I know that's because I'm not sleeping well at night because Myles wakes up often. I think I had the most energy during my second pregnancy.
Q. What, if any, are the differences or similarities- physically, mentally, or your own evolution as a mom, have you noticed with each pregnancy?
A. I answered some differences and similarities above. A big physical difference is how much earlier I started to show. I also was a couple pounds heavier to start with this pregnancy and I mentally had a hard time with that. I knew I was pregnant and things were growing but I felt like I looked much further along than I should. I knew the baby was only inches big so it didn't make sense for me to be showing like I was. That's the thing with having children, each time you have one, you show a little earlier! You have to consider your growing uterus, increase in the amount of blood and water weight. Plus I am older in general, I have more cellulite which I will not enjoy seeing this summer.
I still have the same fears of being pregnant and something happening to the baby, I never feel 100% confident because I am always scared, or I should say I always know, anything can happen at anytime. Hitting certain milestones does make me feel better and seeing that the baby looked great during the anatomy scan made me feel better too.
I am a little more relaxed with what I eat this pregnancy because I feel like foods have come a long way. They say not to eat deli meat and hot dogs while pregnant because you are more likely to get listeriosis while pregnant. I have been eating turkey sandwiches this pregnancy and a bite here and there of a hot dog but do make sure it is cooked and that they are nitrate-free. I also have taken a couple bites of cookie dough when making cookies which I didn't dare do with my first.
Q. When is your due date?
A. August 28th, 2020.
Q. In any of your pregnancy's have you been scared about losing the baby?
A. I was the most scared during my first pregnancy. There are so many possible things that can go wrong, big or small, I just didn't understand how something could not go wrong. I was very strict about not telling anyone until we were out of the first trimester because the percentage of miscarriage decreased tremendously. Each milestone is a huge celebration. The 20 week mark feels great. I love getting to the 30 week mark because I am confident if the baby had to be born it would survive (my sister had her twins at 30 weeks and they are perfect). Unfortunately, anything can happen at any time and that is the scary thing about being a parent, the second you get pregnant there will not be a day that goes by that you don't worry about your child/children.
Q. Is this your last or are you planning for more?
A. I think this is our last but I am not 100% sure. I am waiting to have that complete feeling.
Q. How do you workout when your pregnant?
A. My first pregnancy I did Pure Barre religiously because I had the time to go. With my second pregnancy, I was training for the St. Jude half marathon for the first half so running was a lot of my workouts. Once the race was over I would do fitness classes at LifeTime where I belonged. This time around I'm doing everything I did before. I was going to Shred 415 a lot at the beginning but noticed I had to run at a slower pace on the treadmill to listen to my body. I started doing a lagree class too (all of these are part of ClassPass that I am part of). Then COVID-19 hit and all the workout classes stopped. I try and go on slow jogs or a bike ride (once I'm too big to ride a bike I'll do the stationary bike- I did CycleBar with my second) for some cardio on the nicer days but my primary form of exercise at this time is working out in our home gym and lifting weights.
Q. Best sports bras and strapless options for pregnancy?
A. When I'm pregnant I can't wear anything too tight. Your breast grow and your ribs expand so make sure you treat yourself to a couple new bras. For sports bras I have been really liking this one from Target, it is great for low impact workout. If I'm going to be doing more running or jumping I need a little more support and love the Spanx Breast of Both Worlds bra, plus it's reversible, you can get your black and nude in one! Strapless bras for pregnancy you just need to size up in your favorite strapless bra. I feel like for good support with a strapless bra you need the underwire. The strapless bar I use while I'm pregnant is the same one I use when nursing. It isn't a nursing bra but I can just flip one cup down and nurse, flip it up and flip the other side down. I actually have that bra in my maternity bin because it is way too big for me to wear when I'm not pregnant or nursing.
Q. Where are your favorite budget-friendly places to shop for clothes while pregnant?
A. I do like to invest in a good pair of jeans when I'm pregnant because I know I will wear them all the time. I do love to get most of my maternity jeans from Target and the Gap, and most of my maternity workout leggings from Target. I did just get a pair of Girlfriend maternity leggings that I am so excited to try, I haven't tried them yet! I try not to wear too many maternity tops but ASOS, TopShop, and H&M have some cool trendy pieces that are affordable.
Q. How do you balance time with your husband, your older kids and yourself?
A. Family time is really important but giving time to each is also really important. I think diving that time up and focusing on that individual is really important. For time with my husband, we like to go out to eat and have a little date. The NBA season is so busy we try and do that twice a month. This gives us time to actually talk to each other without the kids distracting us. When I spend time with the kids I make sure to give them 100% of myself. I learned that after having my first child, you aren't going to be the best mom or the best worker if you are trying to do both at the same time. Workingout is really my time for myself. Often the boys want to workout with me and they are crawling on, over, or under me. But some days I just need to be alone. I have been trying to explain to my oldest the importance of "me time"!