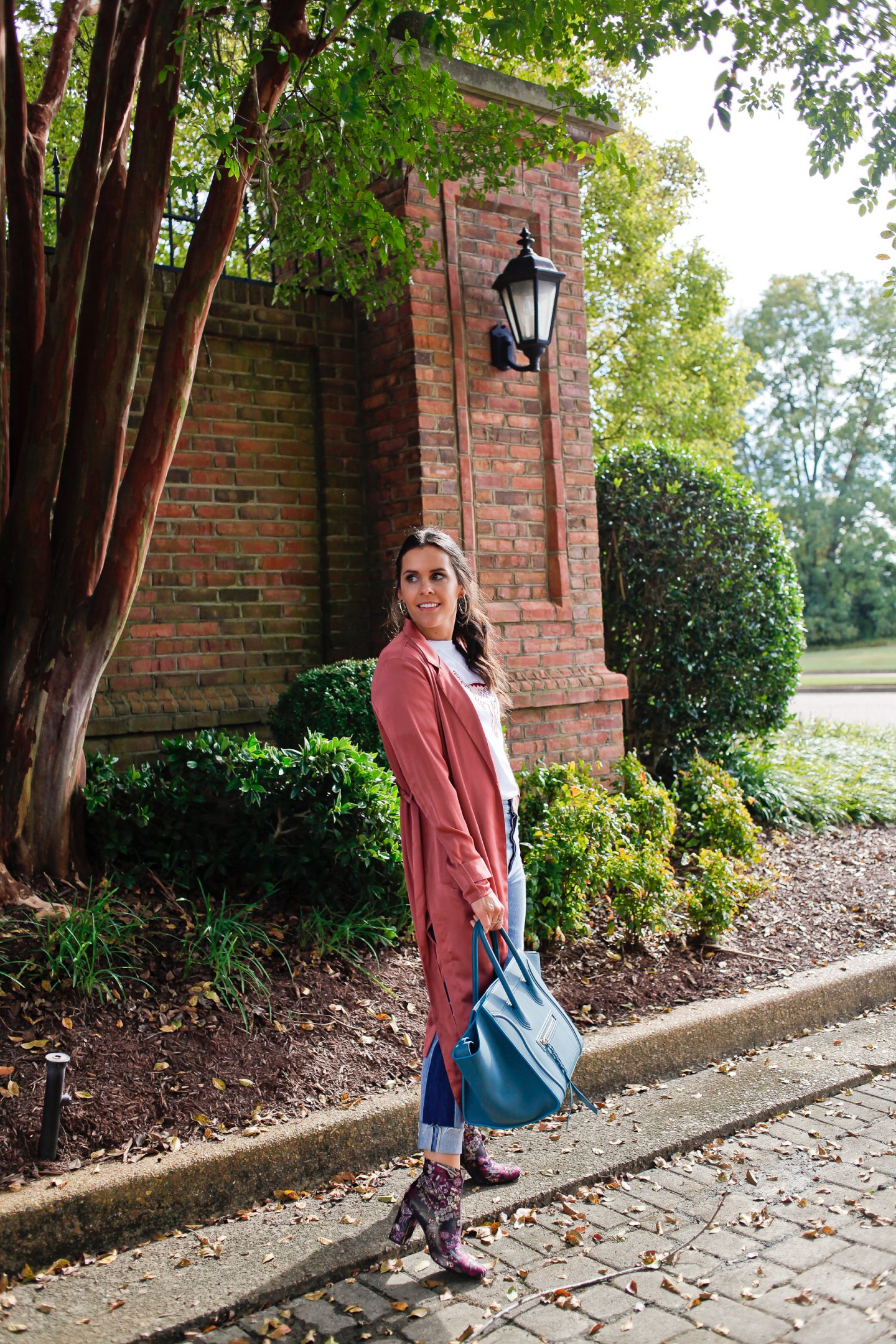 Before my first baby was born I thought I may never wear heels again. I always knew I'd still wear chic outfits but I wanted to be a stylish mom. I hit a little rut when I started to only wear sweats because the washed the best. I was getting spit up on so often I didn't dare wear anything dry clean only or hand wash only. My designer bags also took a back seat as day by day I carried my diaper bag with me. Baby number 2 has come and gone and I finally figured out how to stay fashionable while dressing appropriately for my kiddos and look like a chic mom.
I definitely put effort into dressing for my children. What I mean is wearing something that won't inhibit my mommy duties. I need to be able to pick up the baby, nurse, blend in spit up, chase my toddler and carry a bag that has multipe size 3 and sizse 5 diapers, creams, wipes, toys, snacks and who knows what else. That is a lot to consider when wanting to dress like a stylish mom. I know I'm not the only one who wants to be a stylish mom so I broke it down.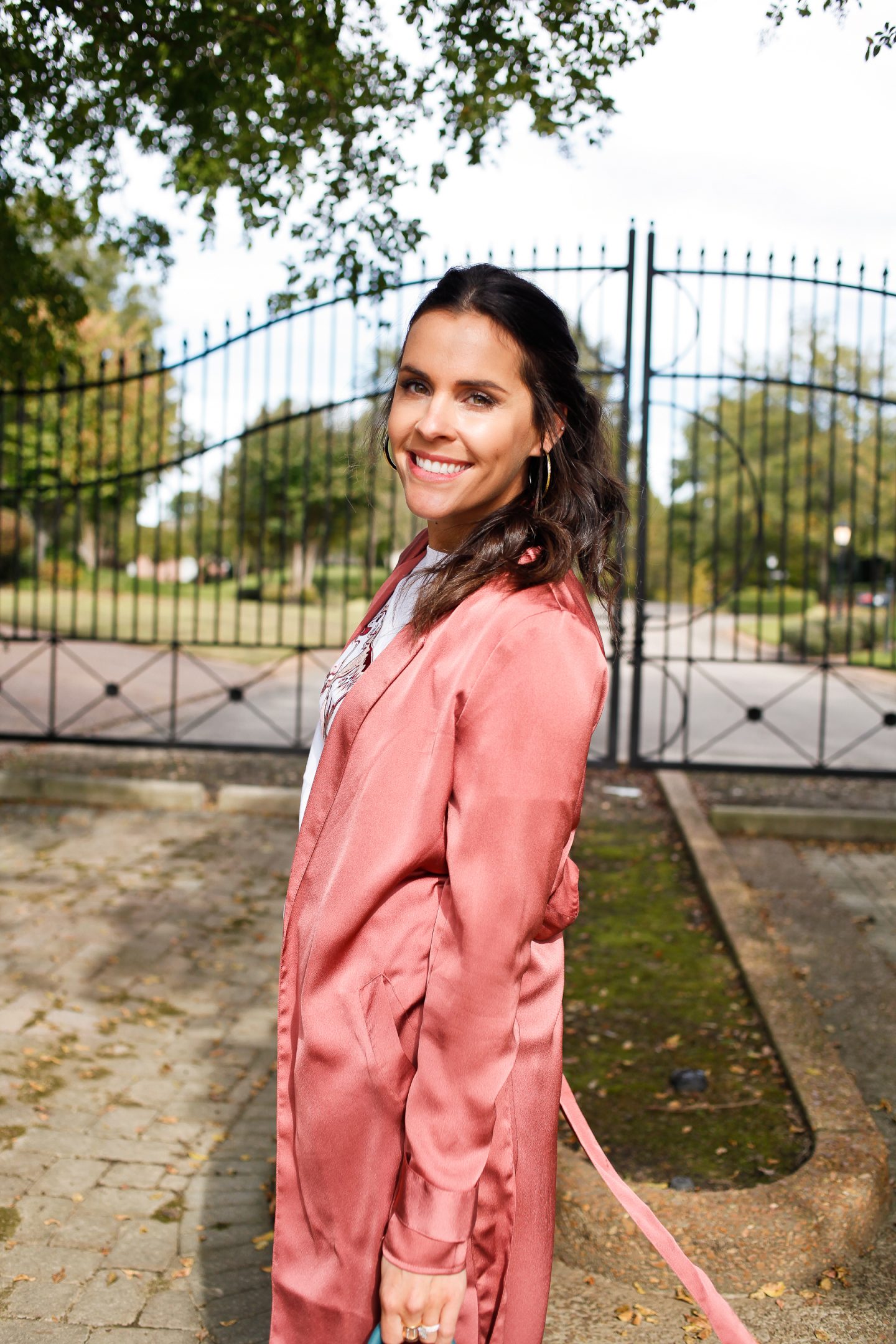 How To Be A Stylish Mom
Put on your most comfortable jeans. I know it can be hard to get out of sweatpants but you will look more chic and feel more stylish with actual pants on. As a mom there is a good possibility you'll be bending down and running around so make sure they are comfortable and your booty crack doesn't show!
Wear a shirt your child might like. Babies like things in high contrast like stripes and polka dots as well as textures. Last year I would wear this sweater for Myles and he loved to touch all the little yarn balls. Now that I have a toddler I've been wearing animal prints and animals. My son loves tigers, leopards and dinosaurs and pretty much every safari and farm animal.
Add a layer. A denim jacket, bomber, blazer, duster or cardigan. When I feed my kids (solids or nursing) I take off my outter layer so when I get food or spit up on my shoulder I can cover it up with my jacket when we are all done and no one would ever know the mess that is actually underneath!
Accessories. You need to be careful with these. Babies love to look at shiny jewelry but they also love to pull on large earrings. Tassels, earrings and chunky necklaces are all baby favorites.
The finishing touch is a large bag. Put your baby bag down for a day to two and bring back your large handbags. These bags can easily fit everything your diaper bag has and looks 10x better. Don't forget to swap out everything, you don't want to be out in public and forget wipes or a pacifier!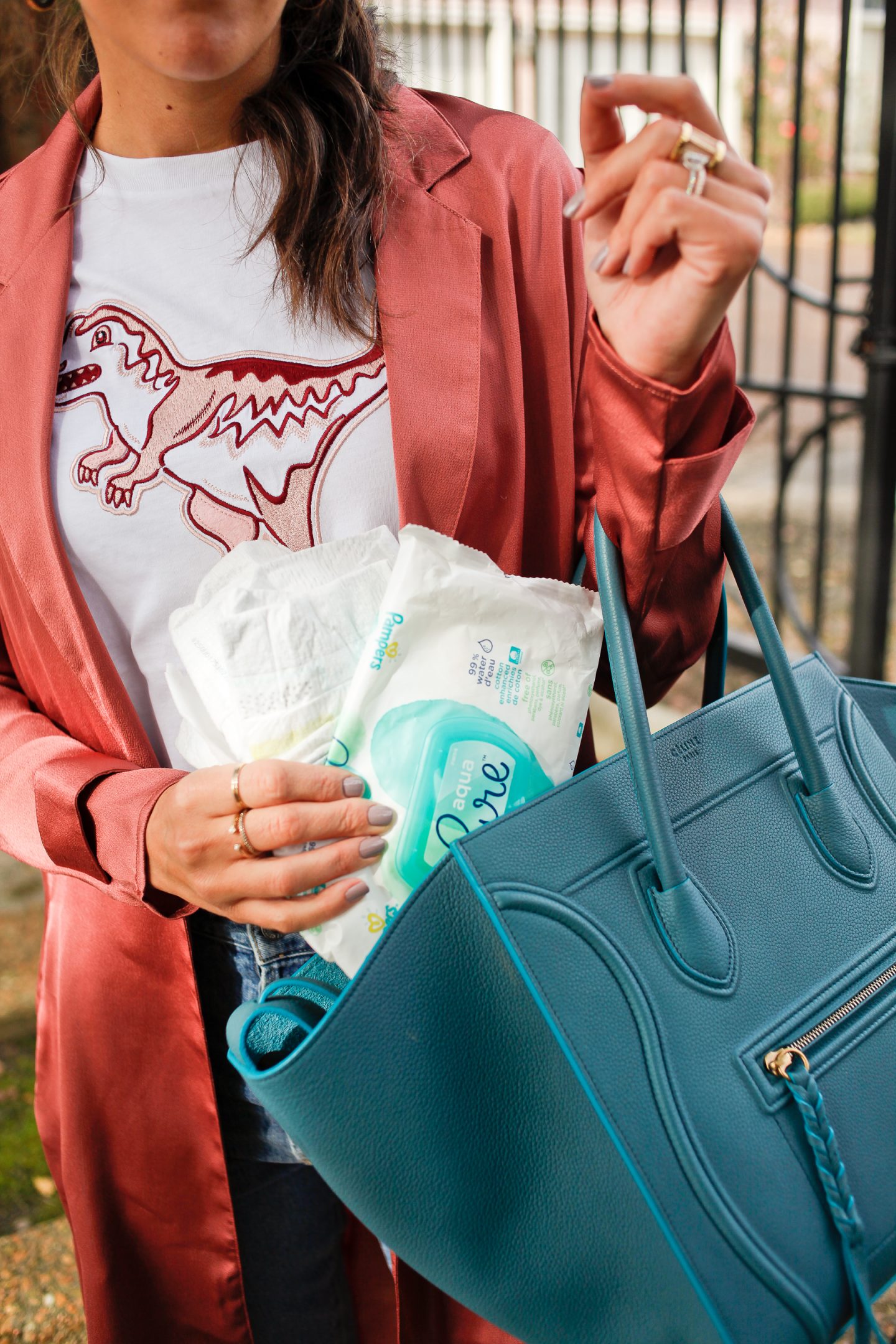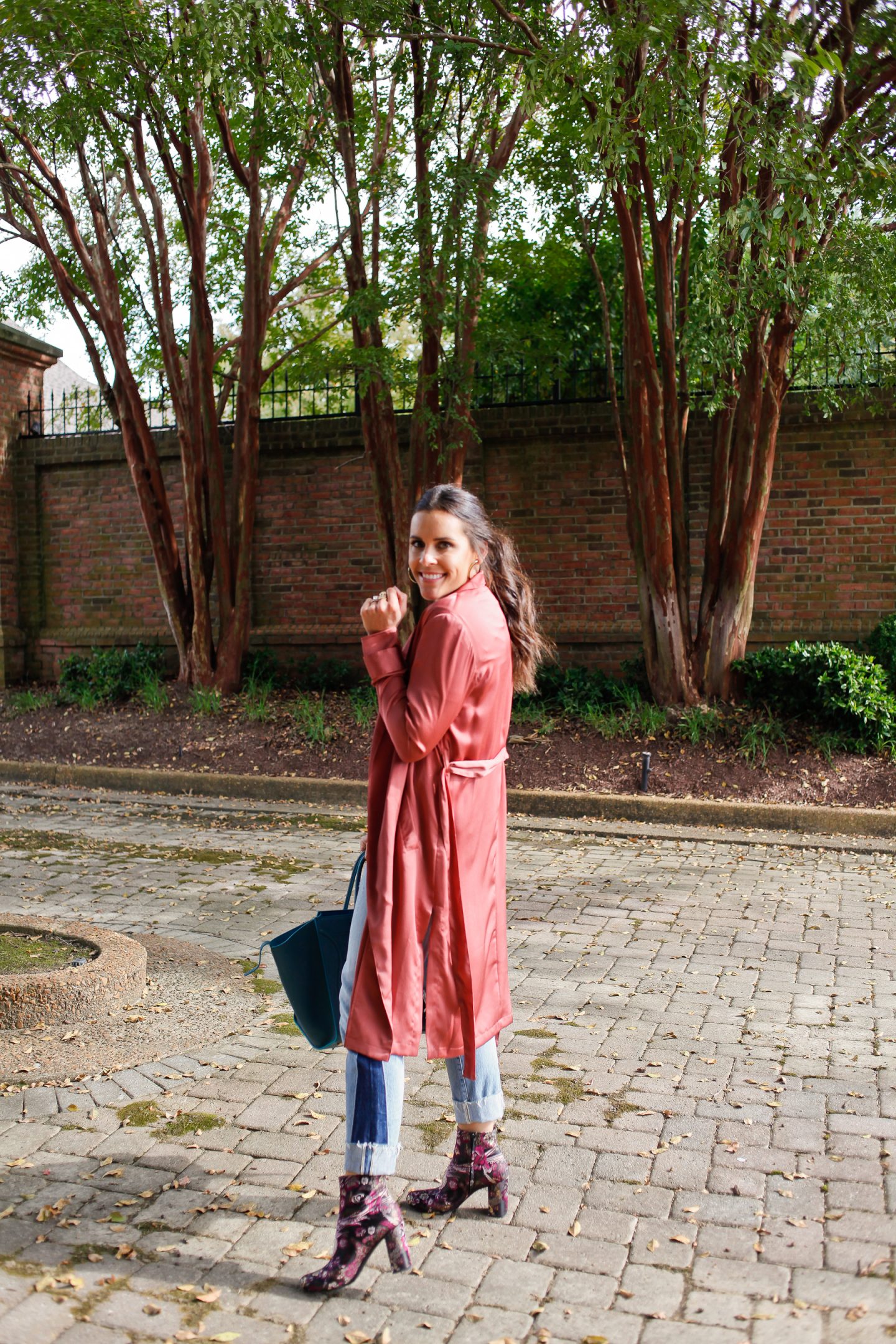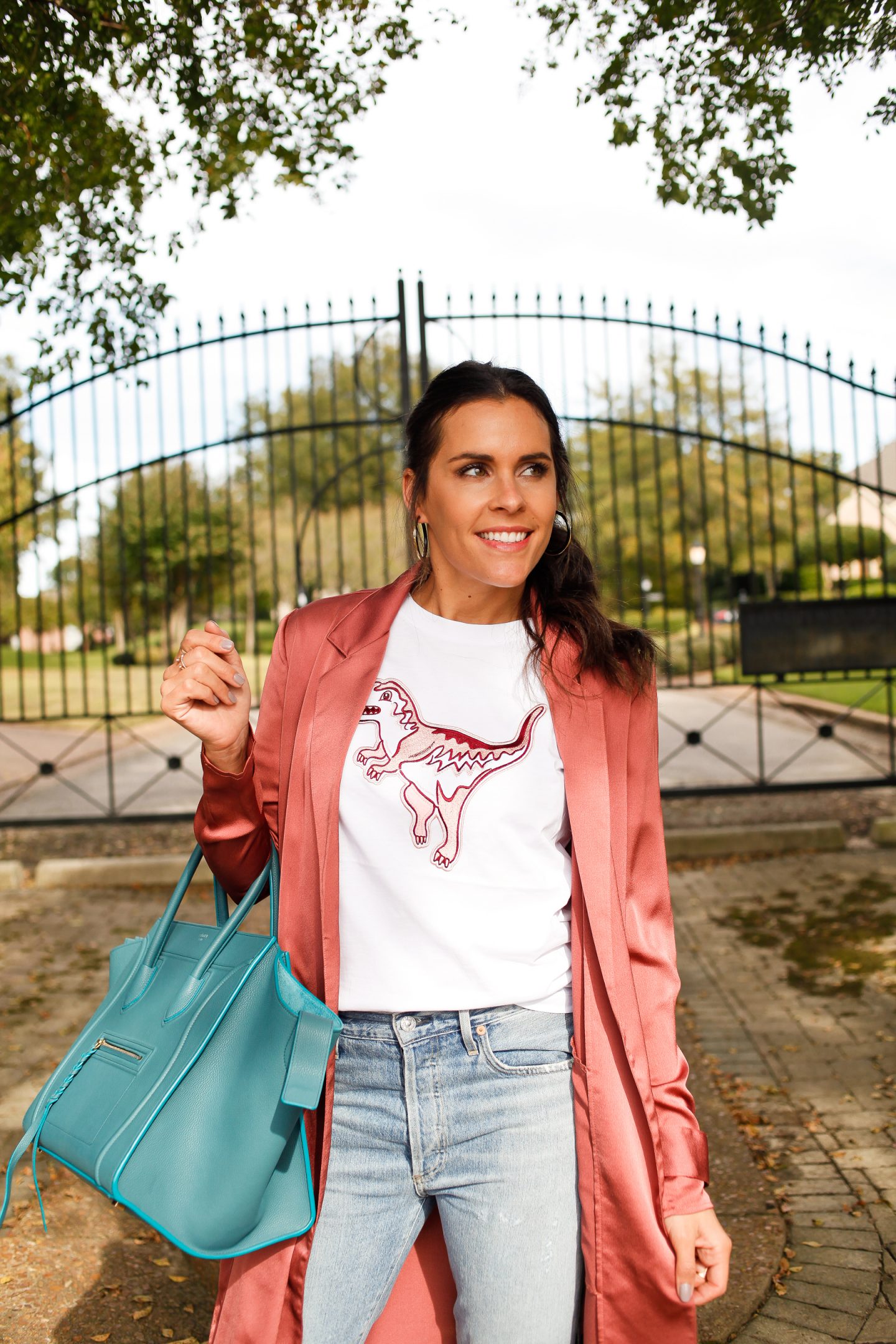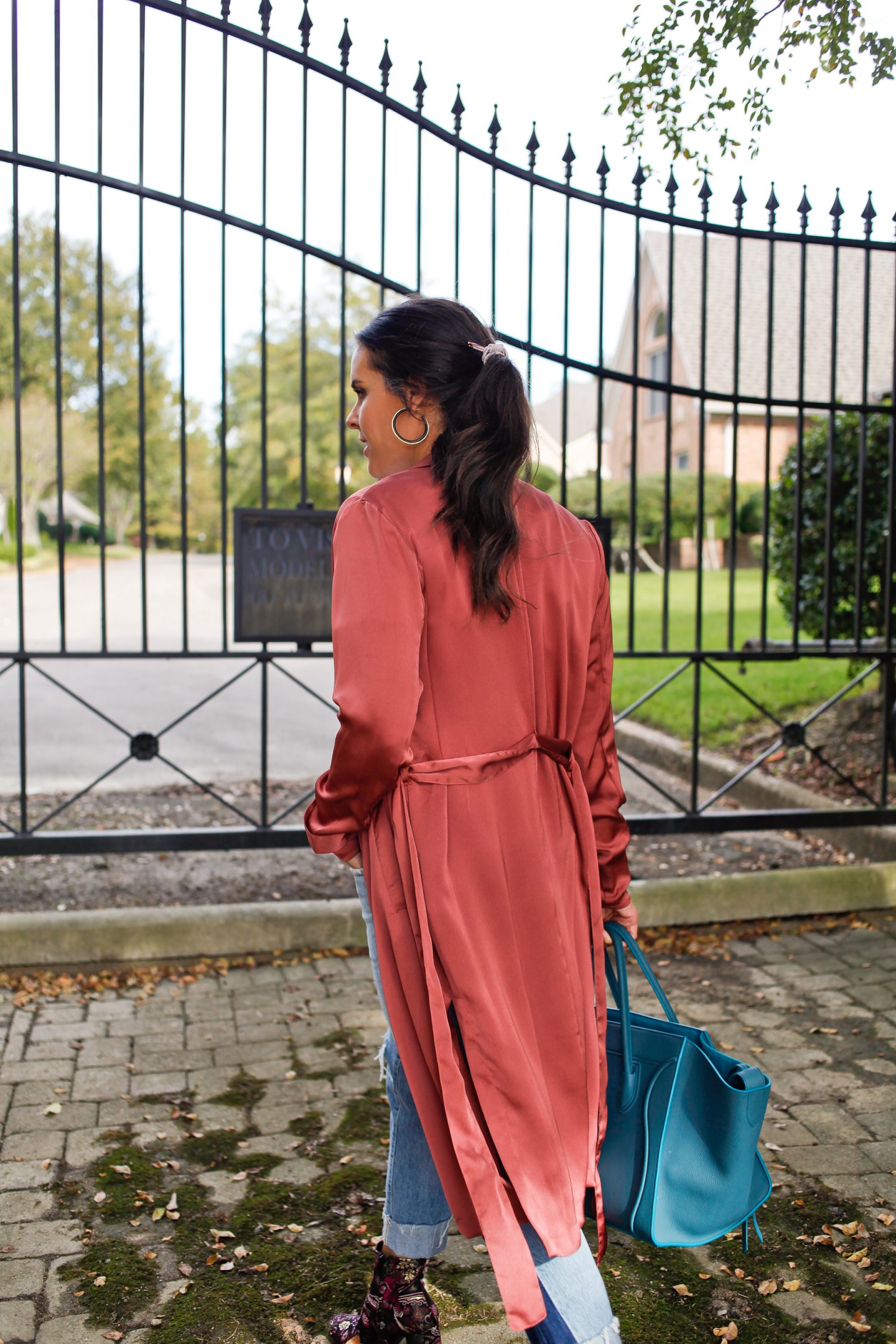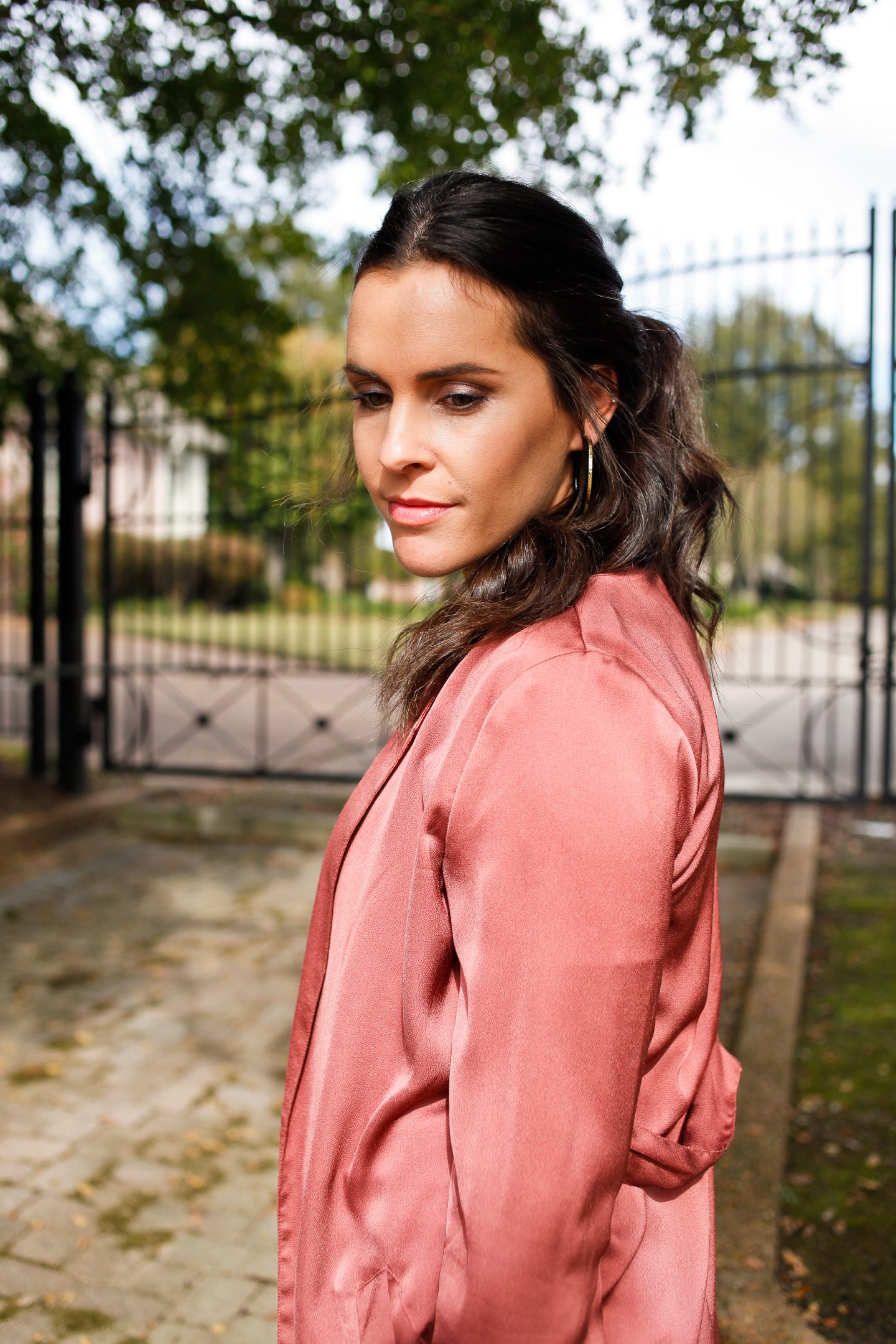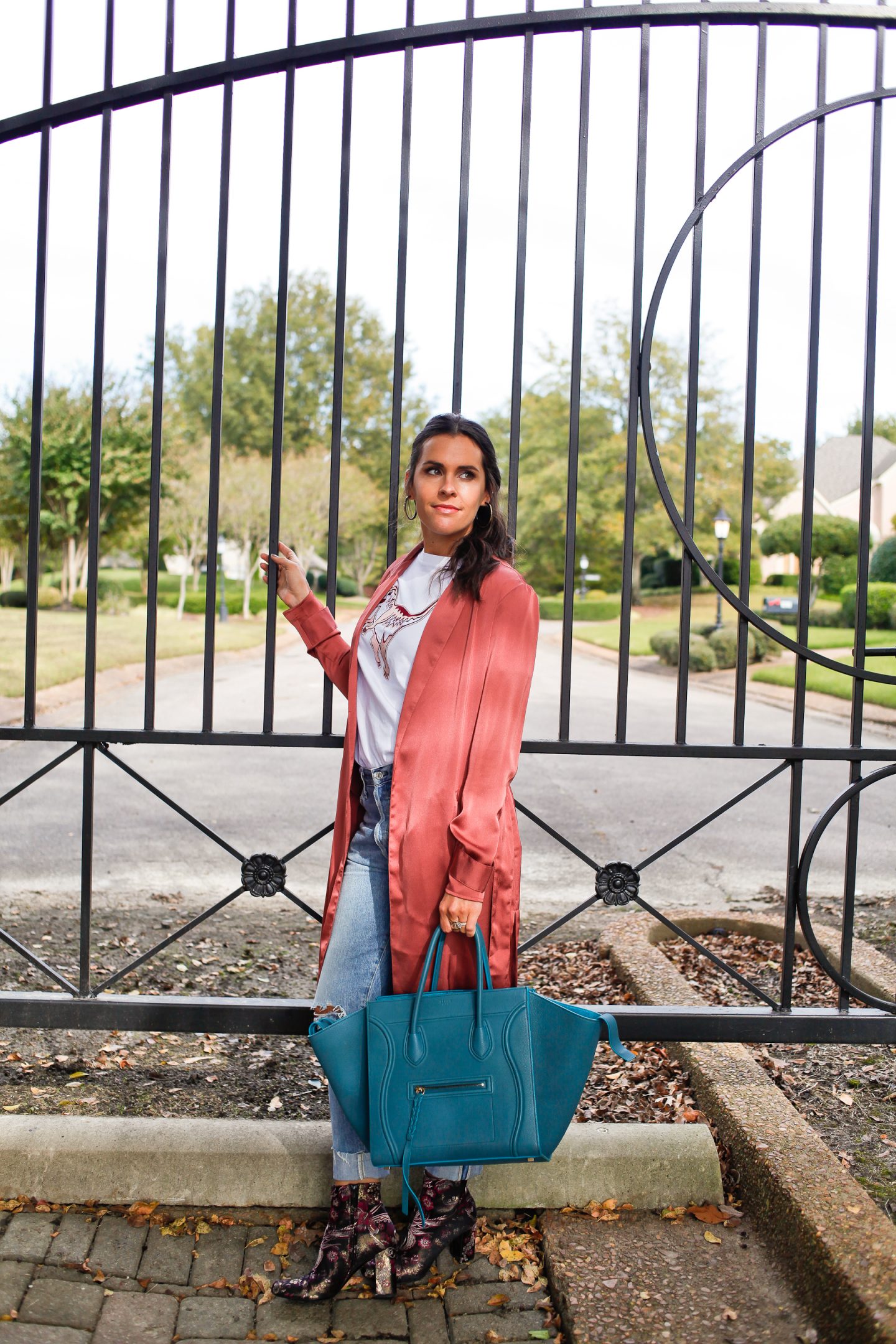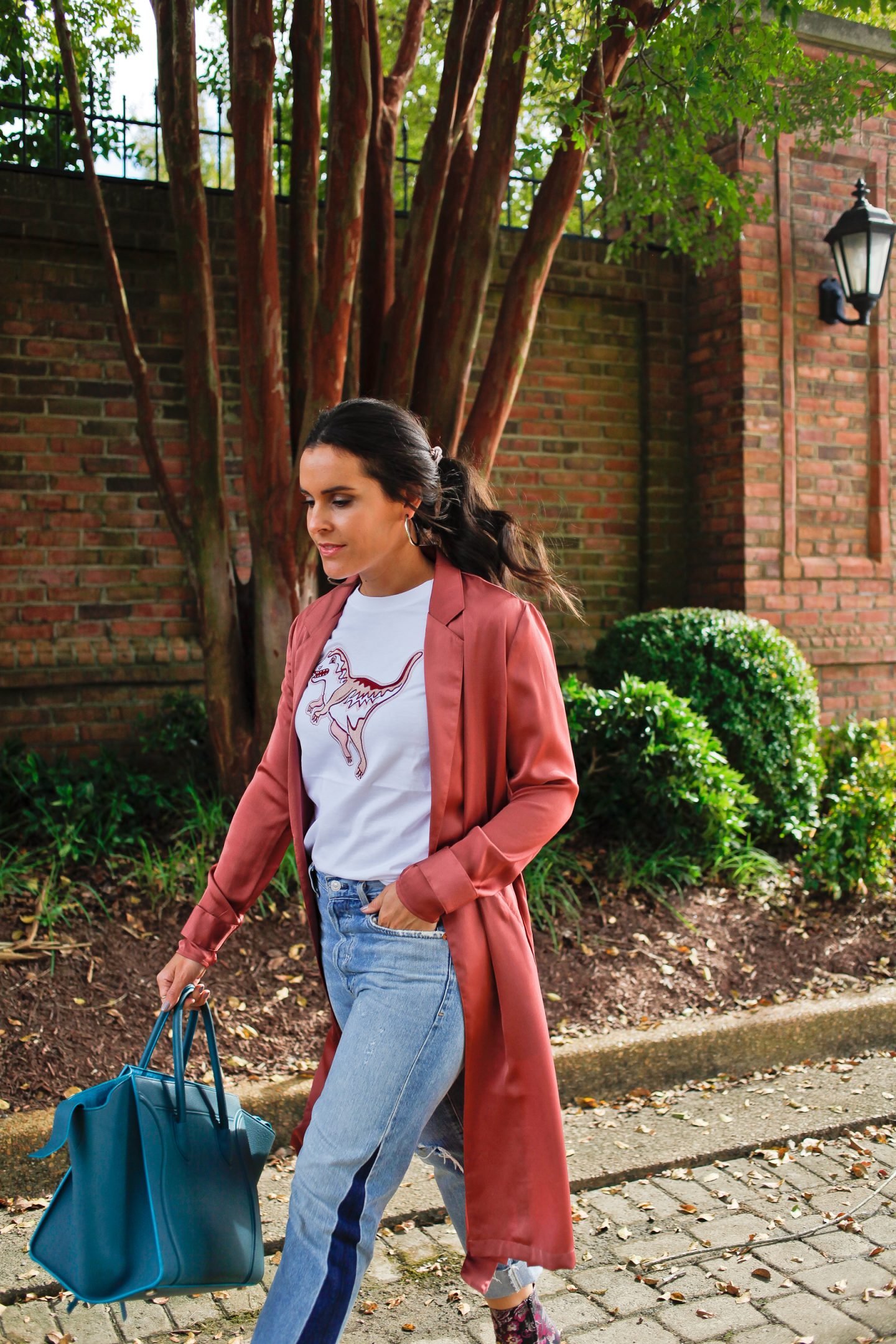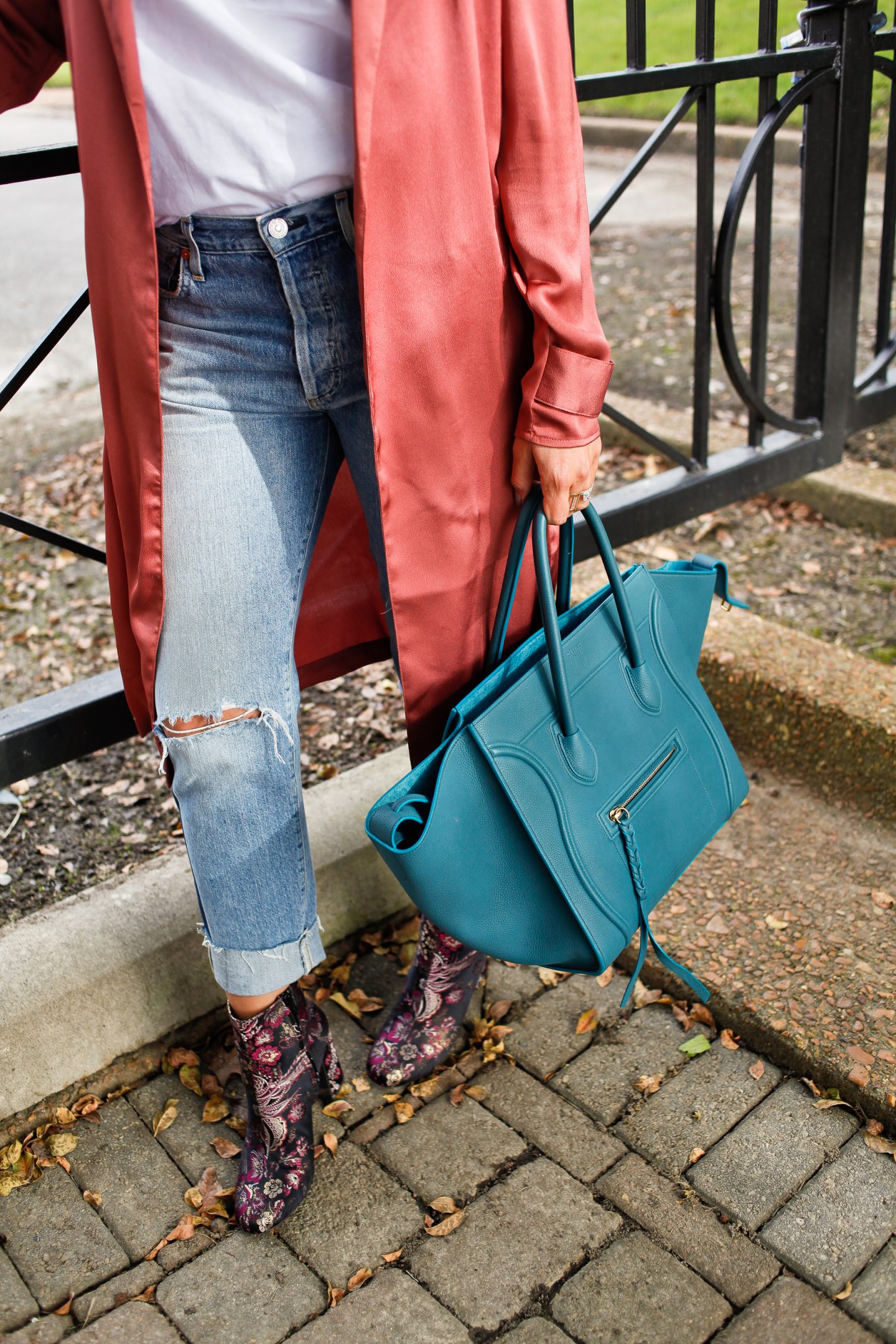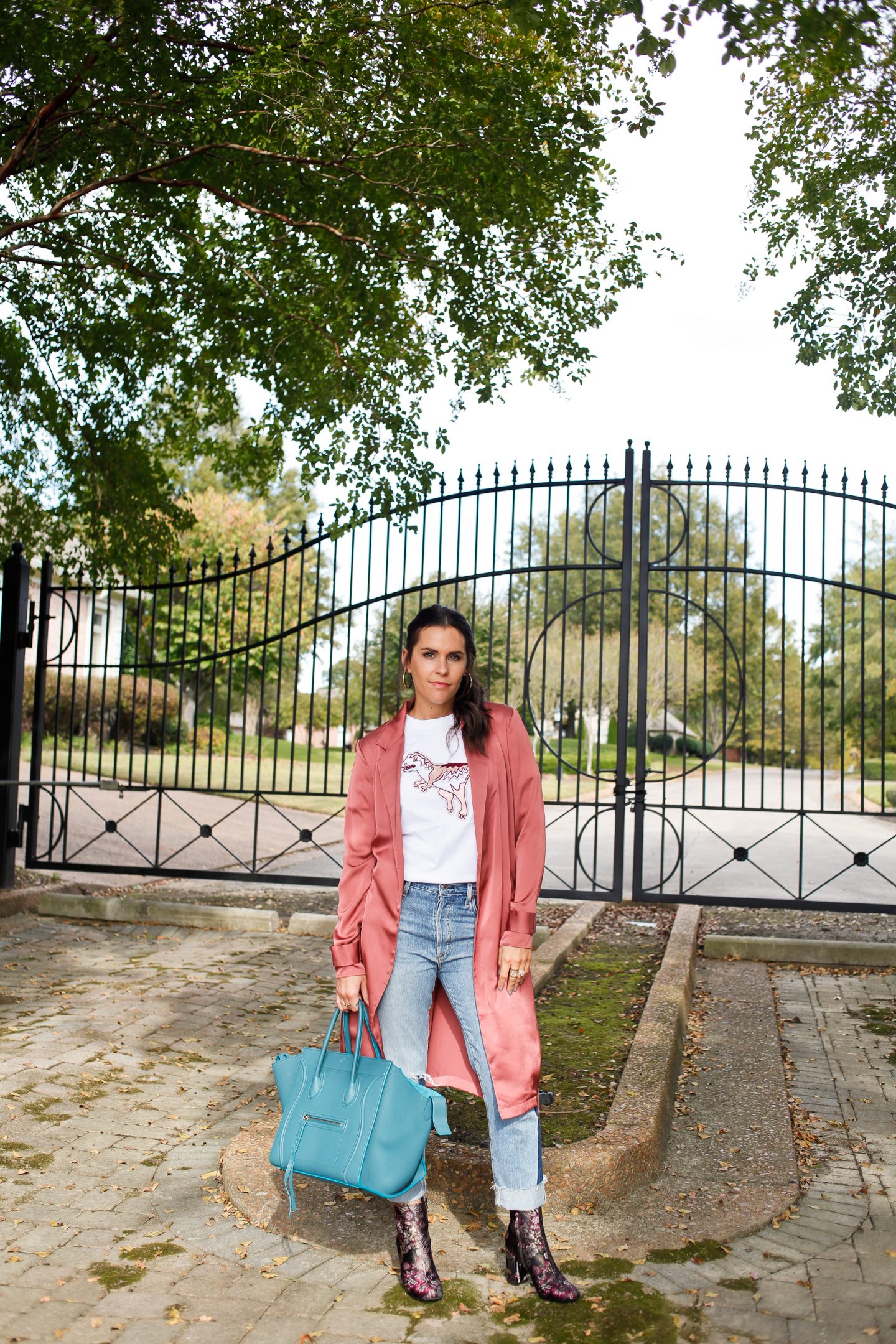 The Breakdown:
This outfit here is my everyday dress up look. Jeans and a tee and a comfortable heel. I'm also adding dusters to everything, some are in sweater form and some a more robe like. This one I'm wearing here I wore last year with my bump, I love a piece of clothing that can go from baby to no baby and still fit! During the colder months I stay away from pumps and sandals and opt for boots and booties. I'm so much more comfortable when my feet are warm!
duster |  (similar for under $30)
tee | Coach 1941 'Embroidered Rexy T-Shirt' (similar for $10)
jeans | DL 1961 (similar)
shoes | Saint Laurent 'Babies Jacquard Ankle Boots' (similar for way less here and here)
bag | Céline "Micro Luggage Handbag" in Turquoise (similar for less)
Live votre rêve!