Some of us run hot, some of us run cold, some sleep in shorts, and others in pants. I tell you what, keeping our whole family sleeping comfortably at night can be a challenge. I have slowly been figuring it out and just got the final piece to help us out, our new SHEEX bedding. My husband likes to sleep with the temperature really low and has had the privilege of having a thermostat in the primary bedroom that controls only the primary bedroom and bathroom. Now that we split time between our primary bedroom and our guest room (if you know us, you know we have bad sleepers in our house and our primary bedroom is too far from the boys' bedrooms), which does have a thermostat in it, and is right in the middle of our children's bedrooms, we need to consider them.
Our youngest son is only one year old and he does sleep in a sleep sack but when the thermostat is set below 71 his little hands are cold when I get him in the morning. Our middle son moves a lot while he sleeps and never has his blanket on in the morning so I never want the room too cold for him. Our oldest son is not a good sleeper and finds his way into bed with us one way or another before the night is over, so he is not as affected. My husband and I on the other hand are always so hot at night I don't let us put the thermostat below 71 compared to when we don't have to consider the kids and set it to 68.
I really needed some cooler bedding so we could sleep comfortably and I found everything I needed from Sheex. The first step to sleeping comfortably is staying cooler with your bedsheets, you want them to be breathable and provide optimal heat transfer from your body so you don't end up sweating during the night. SHEEX has a line of sheets called
Arctic Aire
that has a softer than silk feeling and is made from a sustainable material called Tencel. Tencel fibers contain submicroscopic channels that help regulate absorption and then release moisture for a restful and restorative night's sleep.
I also got their mattress pad because I feel like most mattress protectors make you hotter in the night because they aren't breathable. The unique shape of the fiber fill in this mattress pad prevents heat from accumulating in the material surrounding the body. This technology is designed to keep you cool and dry throughout the night by pulling moisture away from your body and enhancing moisture evaporation. I never knew there was so much thought and engineering put into creating bedding!
Our bed is topped off with the Arctic Aire Quilt and the Original Performance All Season Comforter. I planned on using just the quilt but with winter coming I thought the comforter would be useful. The quilt and comforter are both white but not the exact same shade. The sheet set does match the comforter perfectly. I actually like the contrast the quilt adds to the bed.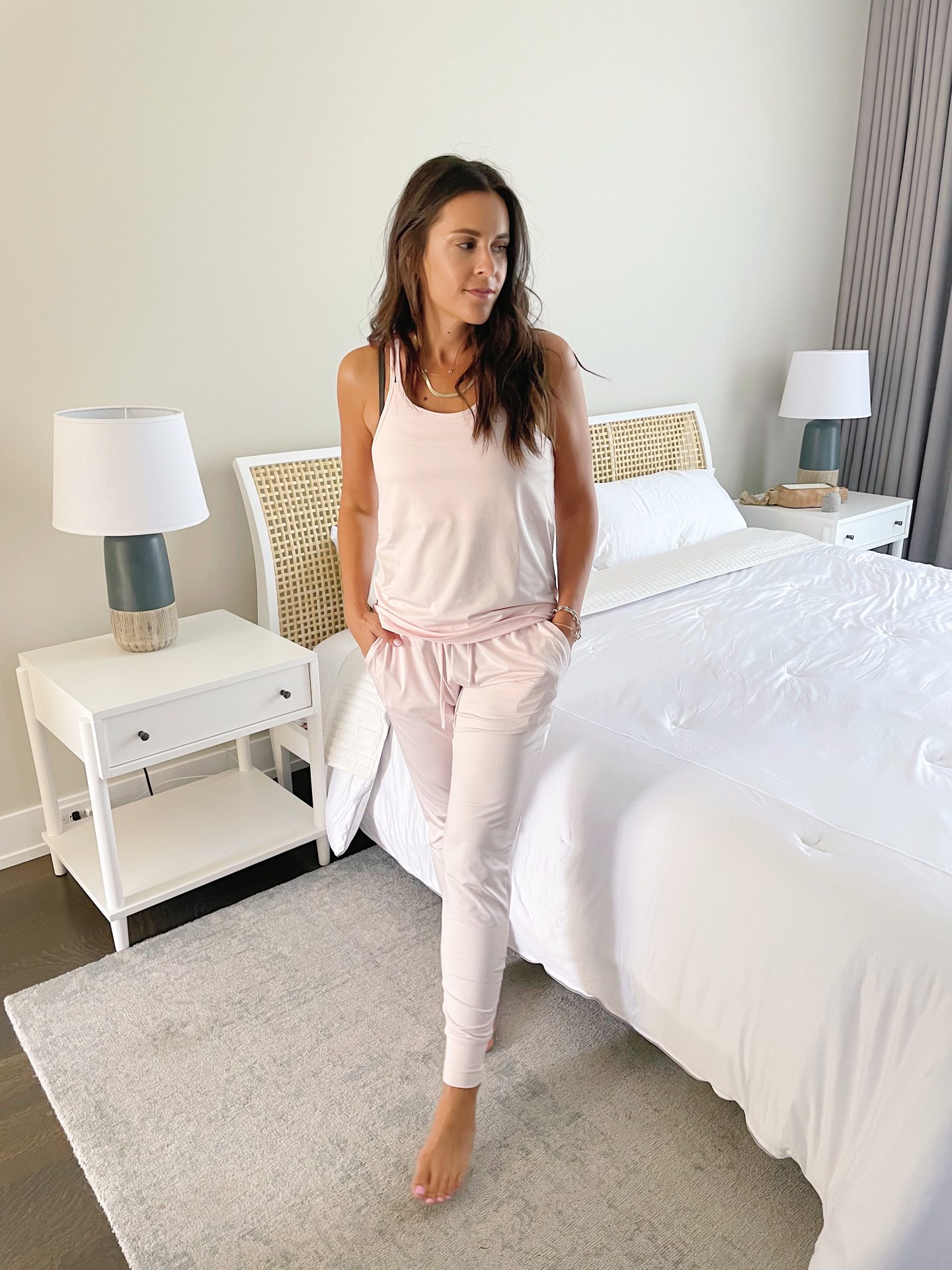 Everything I ordered from SHEEX is extremely soft, even the
pajamas
. I almost forgot to mention those. When I first pulled the
pajamas
out of the package they seemed like workout clothes because they are thin and made of moisture-wicking material, just like the sheets. My all time favorite thing about these is how non-restrictive they are. I once preferred to sleep in as little as possible but now that we have children and have to wake up at odd hours of the night I wear pajamas but I'm very particular. The joggers blew me away. When I first got in bed and into my sleeping position, on my tummy with my right leg up and bent, I didn't have to adjust the pants at all! Very impressed.
I have been sleeping so well with my new bedding and pajamas and I'm so happy the whole family can sleep comfortably.
This post is sponsored by Sheex. As always, all opinions are my own.