Bryce Canyon has to be the most breathtaking place I have ever been to. One of the things I was most excited about when I found out we were moving to Utah was all the National Parks I could drive to. I was really hoping to visit the National Parks last spring before I had my baby but when COVID hit we went back to Ohio. Back in Utah with my three little boys and I still wanted to visit the National Parks so off we went to explore Bryce Canyon toddler style! Not going to let a baby stop my adventures! My mom was coming to town and she is like me so I knew it was perfect for us to explore with my kids.
A huge thanks to so many of my followers for all of the advice and suggestions! I planned this trip in 5 days and could never have done it without your advice. I learned a few things along the way that I want to share with you! I needed to know where to stay and what hikes to do. Most of you weren't familiar with Bryce Canyon in the winter. It is higher in altitude so there was plenty of snow!

We stayed at the very rustic Best Western Ruby's Inn which was the only suggested place. It is a very large hotel with separate buildings located just minutes from the start of the hiking trails. There is an indoor pool which I was looking forward to taking the boys to since we checked in a bit late and didn't do any hiking that day. We did not stay in the main building where the pool is and I didn't have the energy to load them back in the car with all the pool stuff so we skipped the pool and just played in the hotel room, the boys were just as happy jumping from bed to bed. We also got a complimentary breakfast!


Bryce Canyon can be seen from many roadside pullouts and viewpoints throughout the National Park but to really experience the park I highly recommend hiking down in the hoodoos. Even in the snow, it's possible. To make it easier I would invest in crampons. I just ordered a pair so I'll be better prepared for wintery walks! The hike we did was a lot for my 2 1/2 and 4 1/2 year olds but they walked the whole thing and I was so proud of them. It was 3.73 miles which was much farther than I was anticipating. The walk also cut into nap time so towards the end the boys had no energy and were slipping and falling all over the trails.


We started our Bryce Canyon toddler style hike at Queen's Garden Trail which is an incredible walk through the main amphitheater. It starts at Sunrise Point and junctions with another trail later on. During this hike, it was all downhill and snowy but we walked slow and could not get over the scenery. My oldest kept saying "this is a bad idea" since it was slippery and so steep. I made sure to hold their hands to keep them safe. Maybe it was a slightly bad idea since we hiked for 3 hours but I would have regretted not walking down and through the hoodoos.

It was chilly but not a cloud in the sky and the sunshine warmed us up quite a bit. At one point a thick layer of gray clouds rolled over while we were down on the canyon floor and it was really cold there. As we hiked back up the sun came back out and we were warm enough to take off our gloves and hats.
Queen's Garden Trail junctions with the Navajo Loop which we took to get back up the canyon. When the Queen's Garden Trail meets the Navajo Loop there is a sign showing you that you can take Wall Street or Two Bridges. We were told to take Wall Street since it's a slot canyon but it was actually closed due to weather! Walking up the Navajo Loop was where we saw the most people and we did not go during the busy season.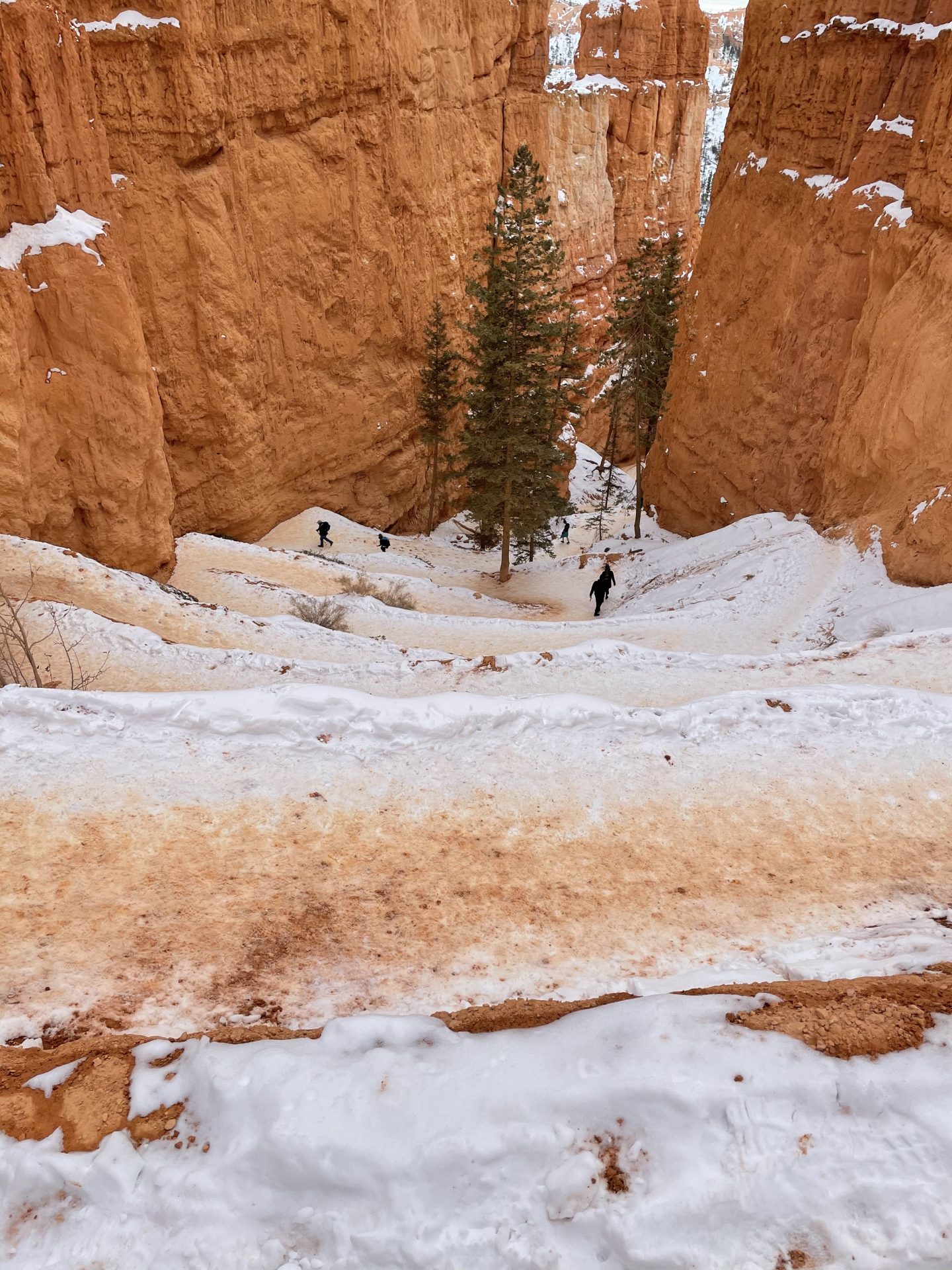 If I were to do it again in the winter with my kids I would only hike the Navajo Loop. The snow and ice made it a little more challenging for my little boys to hike, making it take much longer than it should. I would also suggest parking where your hike will finish and not where it will begin. We parked near Sunrise Point, hiked down Queen's Garden to Navajo Loop, hiked up Two Bridges. When we got to the top and were at the Rim Trail (flat trail on the top outer edge the connects Sunset Point and Sunrise Point) the boys had had enough. Seeing other cars in the parking lot got them extra excited to be done but we still had about 0.5 miles to go. I hate that our toddler hike ended on a rough note (tired, hungry, and sleepy) but I'm so grateful for the experience and beyond proud of my kids for doing the hike.

Live votre rêve!