The sale everyone talks about, maybe even a little too much is happening very soon, the Nordstrom Anniversary Sale! I didn't think I was interested in doing too much shopping this year but then it hit me that I'll no longer be pregnant so now I am excited to shop for a few new things! I am keeping in mind that I'll be nursing so I want most items to be nursing friendly and nothing too tight, at least not for the first few months post-baby. I'll be adding categories to this post as they are ready.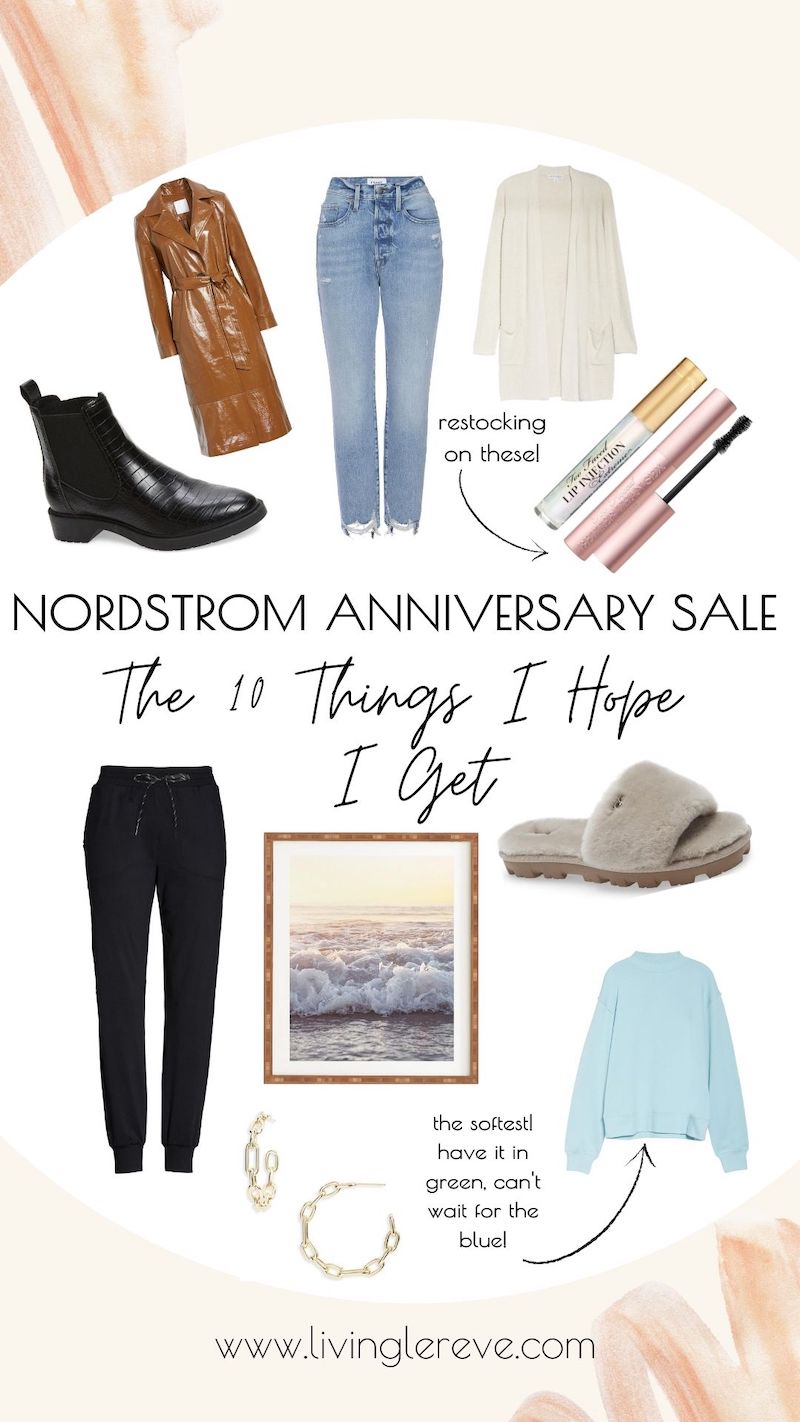 Before we get into my sale picks I wanted to explain a little about the sale in case you aren't aware. The Nordstrom Anniversary Sale is when Nordstrom released new fall merchandise at wonderfully discounted prices. Think denim, booties, sweaters, and jackets. The first thing to note about this year is that everyone gets to preview the sale items on the same date which is July 24th. It really is a great idea to start saving items to your wishlist. I am always amazed at how fast items sell out, even while I'm browsing. This will help you see what items you love are available and to be able to check out as quickly as possible or to even edit your cart to make sure you really want it.
The Nordstrom Anniversary Sale has an Early Access Sale for its cardholders starting August 13th. This is for people who have a Nordstrom credit or debit card (see below for more details in the graph). I mentioned before, items sell out fast because so many people are cardholders, part of the Nordy Club as they call it. If you want to sign up to be a cardholder click here so you can access the sale right away. There are a lot of returns that happen so if something you want is sold out make sure you keep checking back on it!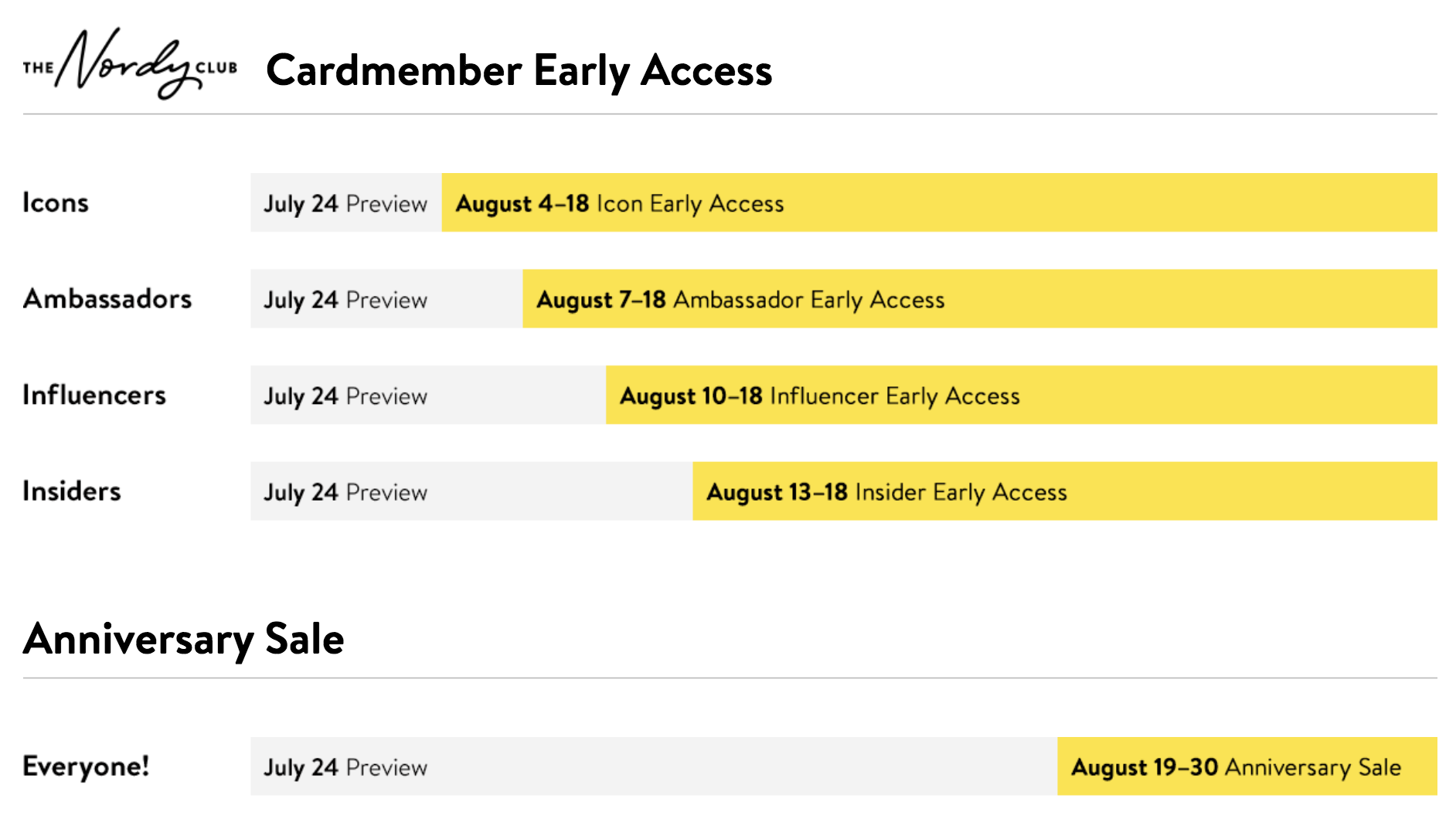 Find my picks below:
FITNESS //  I am no longer investing in maternity leggings but they have some great options on sale that I added to my list if you are expecting. I was looking more at high waisted leggings to hold my post-baby skin in (your tummy is extra loose after you have a baby, no matter how toned you are) and flowy tops. I paid extra attention to the cut of a couple of tanks to see if they are nursing friendly, preferring them to be low cut under the arms- these tops go great with a nursing sports bra.

WORK FROM HOME // Unfortunately, it looks as though a lot of people will be working from home. If I were to be working from home and having video calls with my boss and co-workers I would definitely be wearing something extra cozy on the bottom like leggings or joggers and something pulled together on top like a collared shirt or sweater with some earrings. I put a few WFH outfits together in the Like To Know It app so make sure you are following me there!


HOME //
Is anyone ever satisfied with their home? I feel like I am constantly wanting to update something, swap items out, or add a little extra here or there. The home section of the Nordstrom Anniversary Sale may be my favorite! 
BOOTS/BOOTIES // How many pairs of boots do we really need? The style in the shoe department hasn't changed too much but I am looking for a pair of chelsea boots, motorcycle boots and a pair of brown snake print booties. I have a gray snake print pair of booties that I love and wear all the time. I also think I may want another pair of fashionable hiker boots. Now that I spend my winters in Utah I rarely wear heels and I am finding myself in hiker boots more and more.  I would highly recommend getting a pair of white booties if you have been contemplating it. I got my white booties over 2 years ago and wear them all the time!

DENIM // Skinny jeans are a must in my closet, they aren't the most trendy but they are the easiest and most flattering and can be worn with just about any shoe choice. I always like to get a pair of new skinnies each fall. I was really surprised and super happy to see two of my favorite denim brands, Mother and Frame, are part of the sale! If you want to go more trendy I chose some wide leg, straight leg, and cropped options.

OUTERWEAR // After living a full winter in Utah I have a much better understanding of the climate. It really doesn't get too cold there, not compared to Ohio. Mainly because of the lack of humidity. I didn't wear my winter coats as much as I thought I would. Going up in the mountains it is very cold but as far as my everyday winter wear, the lack of humidity and warm sunshine make it bearable. We do park outside to go into the Jazz games so I do wear more coats to the games so I have gotten a few more cute lighter weight coats.

BABY // My husband just asked if I was ready for the baby and it made me realize how unready I am! I do have everything from my other kids but my cosleeper is partially in Utah and I have yet to replace it (because I can't decide between the Snoo and the Halo). I also sent my better group of baby clothes to my brother since he had a little boy and my parents are going to bring them back after their visit in a couple of weeks. I am also switching the rooms around and swapping out the beds. None of it is complete! I do have a few leftover newborn and size one diapers left over from Noah but I got some work to do! 

BEAUTY // There isn't a huge selection of beauty products but this is the time I like to restock on my favorite items or buy something I have been wanting to try. Skincare can be so expensive! I do have to say, everyone needs these silk pillowcases. I have used cheaper silk pillowcases and you can tell they aren't as nice. Now, I can only sleep on these pillowcases, even when I am at a hotel and sleep wonderfully I feel like my face was pulled and more wrinkles developed.

Live votre rêve!