---
Designing a house is very overwhelming. I loved the process but there were a lot of decisions to make. I wanted things to be modern and on-trend but look on-trend in 10 years also.  Luckily I had help from our amazing interior designer Jennifer Sweas but I also have a lot of strong opinions and did loads of research to help make my own decisions. Picking bathroom finishes was one of my favorite things to do, along with picking light fixtures.
We have six bathrooms in our house so I had a lot of different ideas that could come into play. This post is going to be for the 3 guest rooms, 2 are currently occupied by our boys but all the rooms are right next to each other. Throughout the building process, these bathrooms were labeled bathroom #2, bathroom #3 and bathroom #4 so that is how I will refer to them in this post. Bathroom #1 and bedroom #1 were the master bed and bath.
Bathroom 2//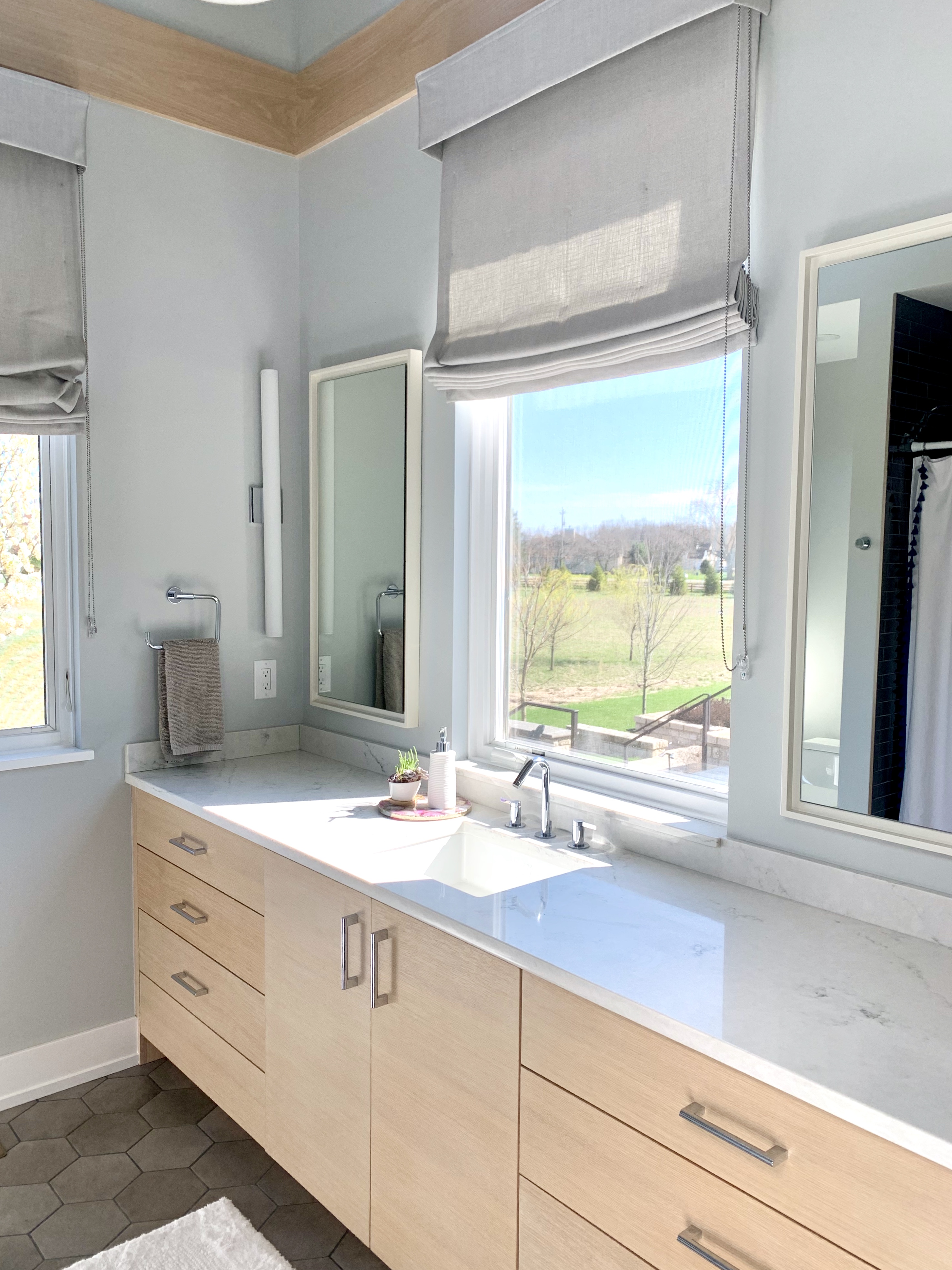 Bathroom #2// This bathroom is all about the kids. I knew one of these three bathrooms needed a bathtub for our future children. We started designing this house before we got married and it was really important for me to think of the future in the process. I designed this room for kids to be able to comfortably share at some point but wanted to make it unique. Often times you will see a Jack and Jill bath and there are two sinks at the vanity, I suggested that between two of the bedrooms but our architect and builder advised against it saying, in the long run, you'll prefer each bedroom to have its own bath. I wanted only one sink but still two sides. I love having the window in the middle with two mirrors on the side, it seems a bit backwards and I love it. In the future, if any of our children decide to share this room they will get their own side with a mirror and a set of drawers, they'll just have to take turns at the sink!
The tile in this bathroom is my favorite. Choosing the hexagon tile was bold only because I kept being so cautious to make sure designs would be on-trend in the future. I wanted something that caught the eye but wasn't too distracting. The tile in the shower is a dark charcoal glass subway tile. I love that it has a bit of shine and the floor is more matte, it is a great combination.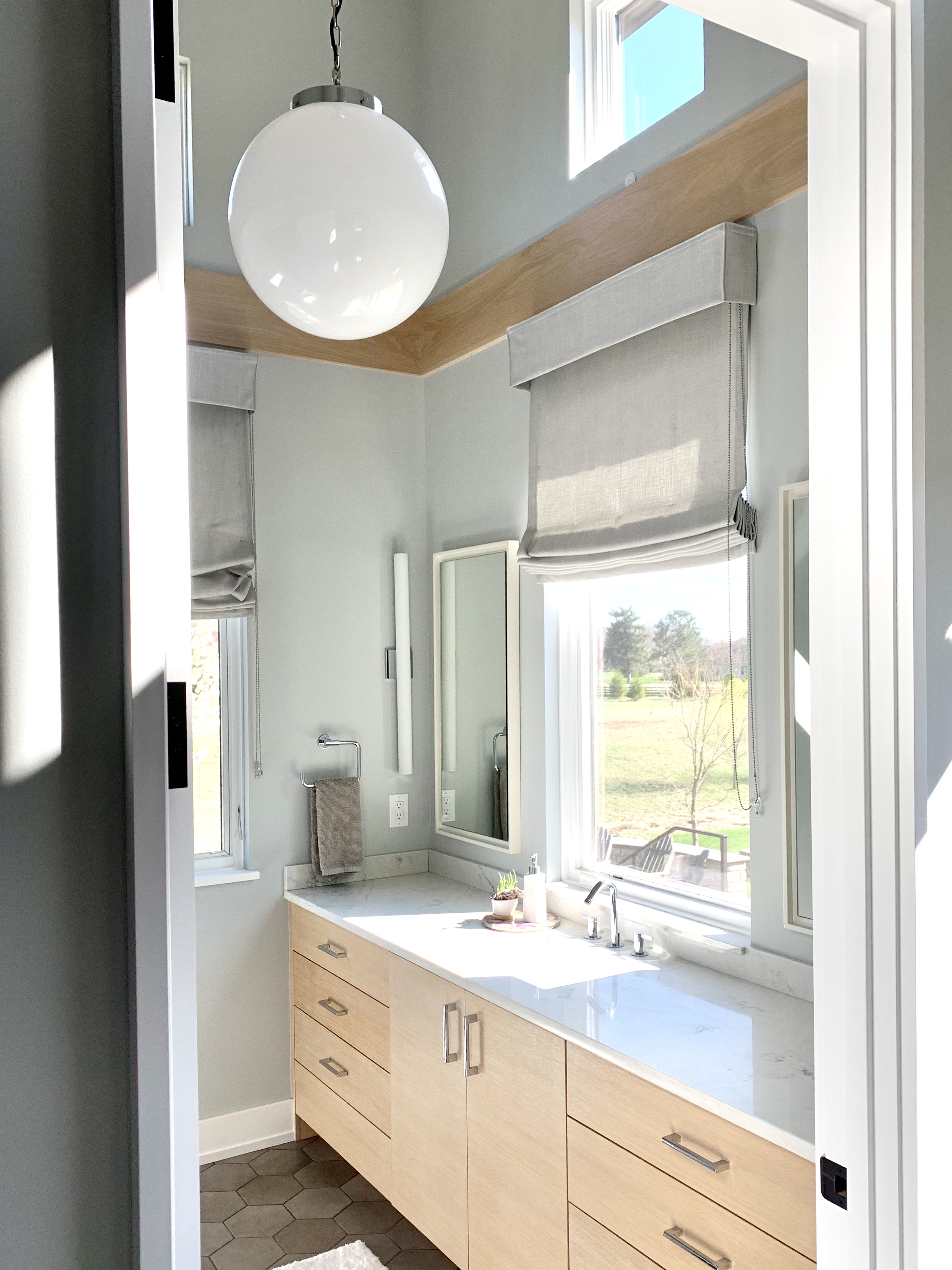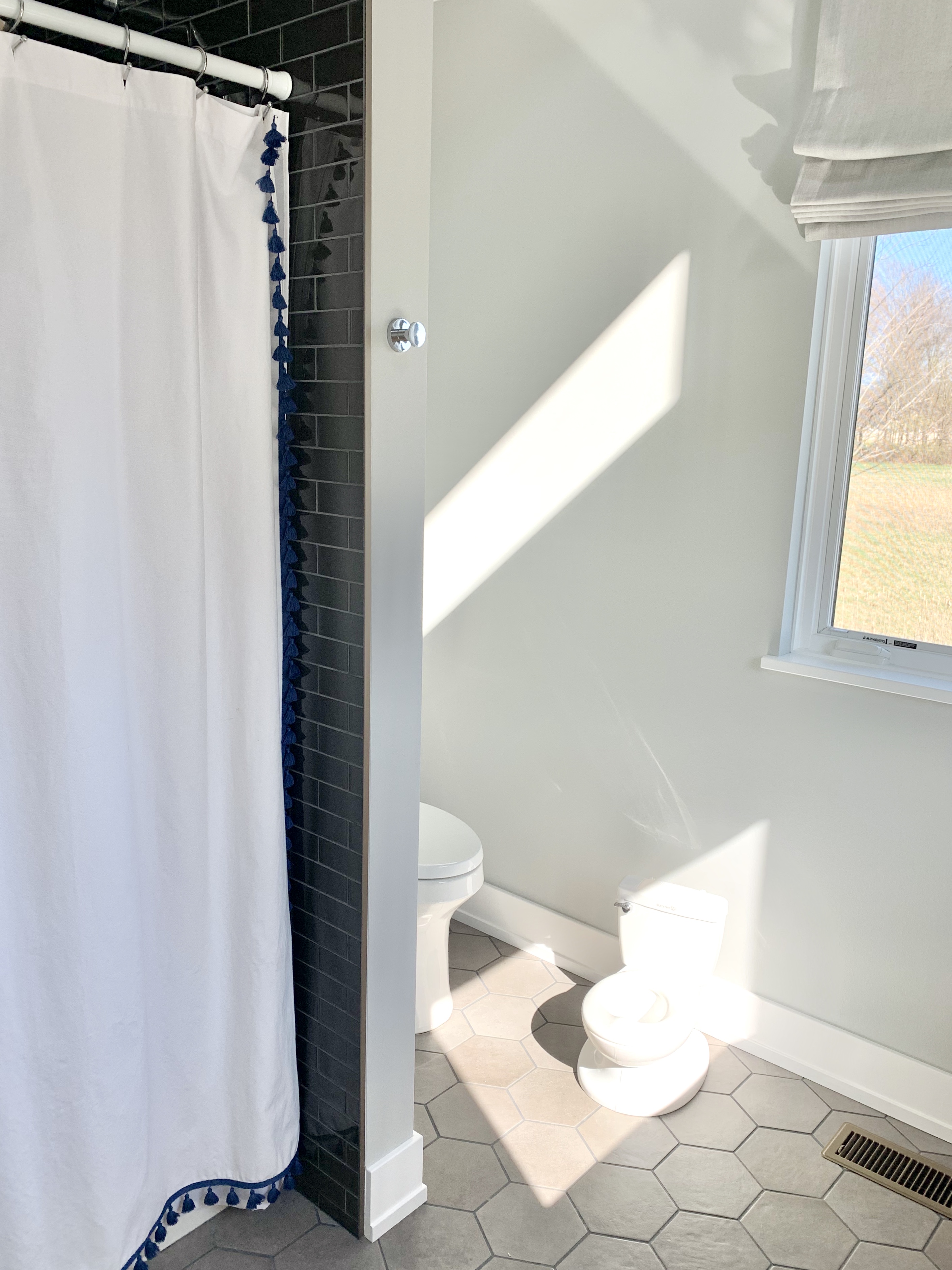 + sconces- Tubo FT Slim LED Bath Bar by Robert Sonneman in 32″ chrome.
+ chandelier- Restoration Hardware Parisian Architectural Milk Glass in 20″
+ mirrors- West Elm Floating Wood Wall Mirror
+ tray- Anthropologie Composite Agate Cheese Board
+ soap dispenser- Bed Bath and Beyond
+ faucet- Kohler Stillness Widespread Faucet in polished chrome
+ towel ring- Kohler Stillness Towel Ring in polished chrome
+ cabinet pulls- Atlas Homeware Round Rail Pull 
+ shower curtain- Serena & Lily French Tassel Curtain in navy
+ paint color- Benjamin Moore Perspective CSP-5
---
Bathroom 3//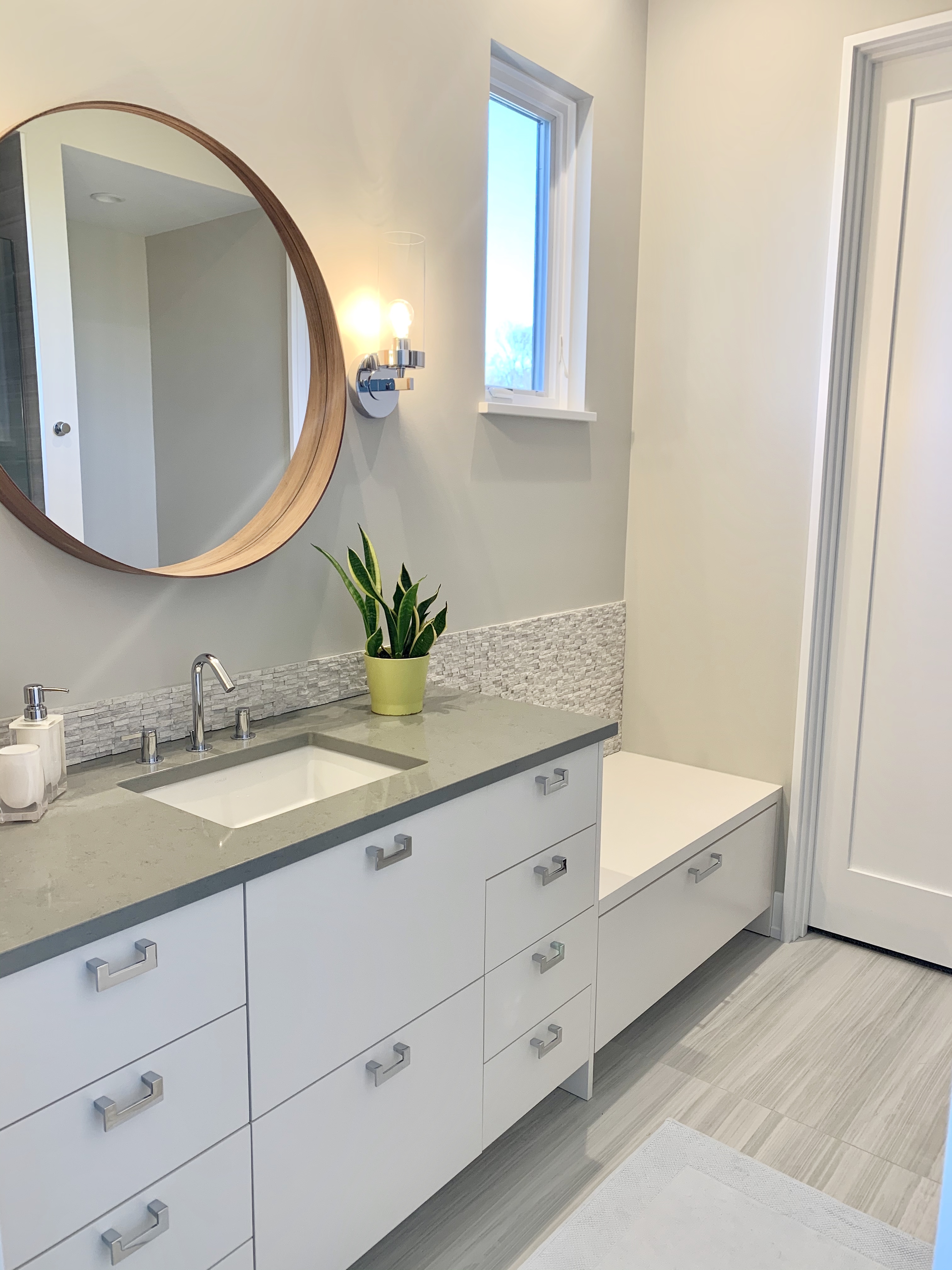 Bathroom #3// This is the middle bathroom. It is very calming and gives me spa-like vibes because of the tile on the wall. Originally the tile was supposed to go up the whole wall but things were getting expensive so I dropped it down to the backsplash height- a decision I regret. I love the idea of the storage bench here. This room is designed for one person so I didn't need two sinks or mirrors so we added the window and seating area. The closet for this bedroom is on the other side of that door near the bench.
The center of this vanity is actually a door, we added the pulls to make it look like two drawers for a more seamless look. The bottom two drawers on each side are actually one deep drawer, again we added an extra pull to make it look like there are four drawers on each side but really there are only three. These are things you definitely want to take into consideration when designed your bathroom, think function and aesthetic.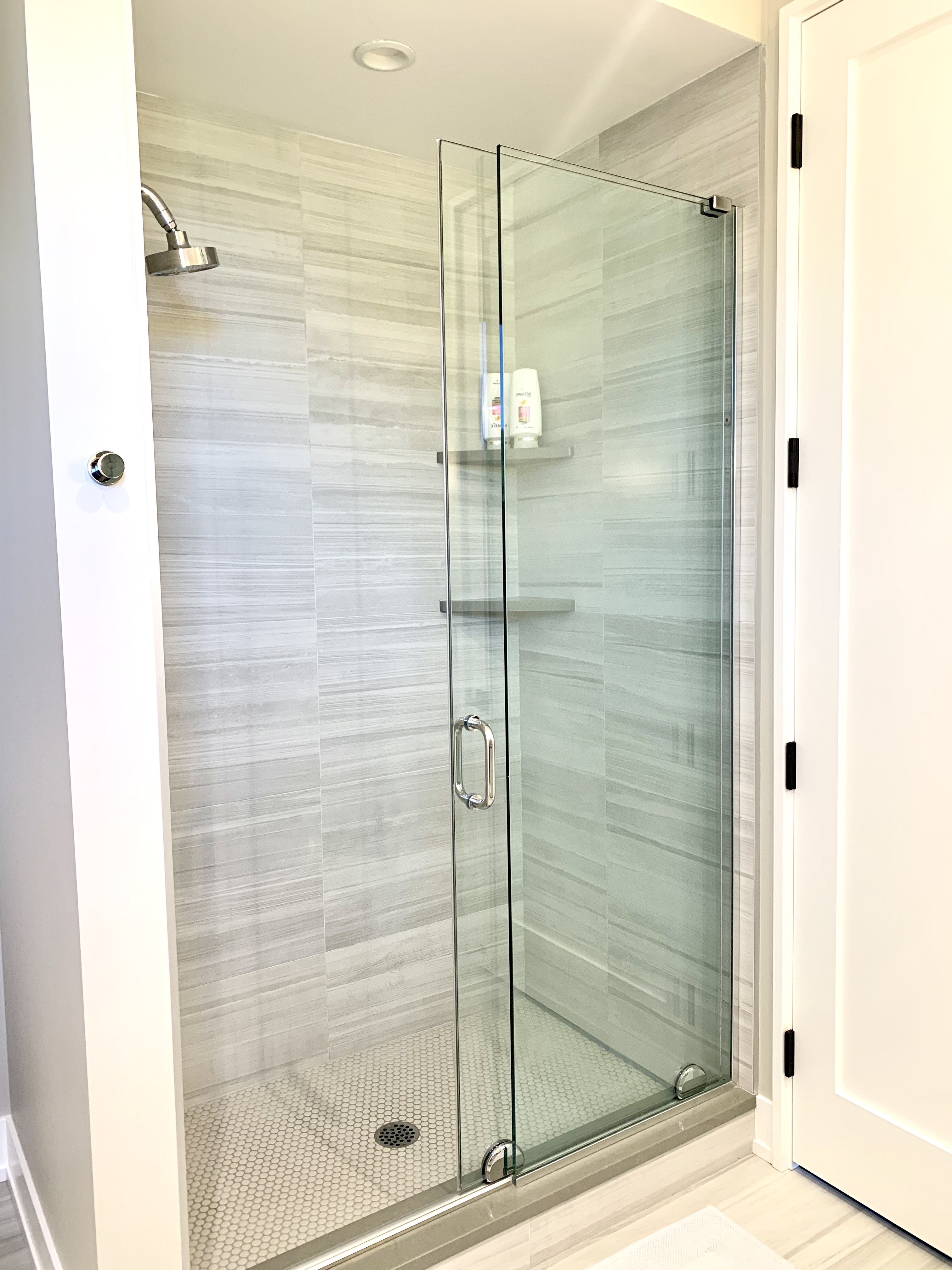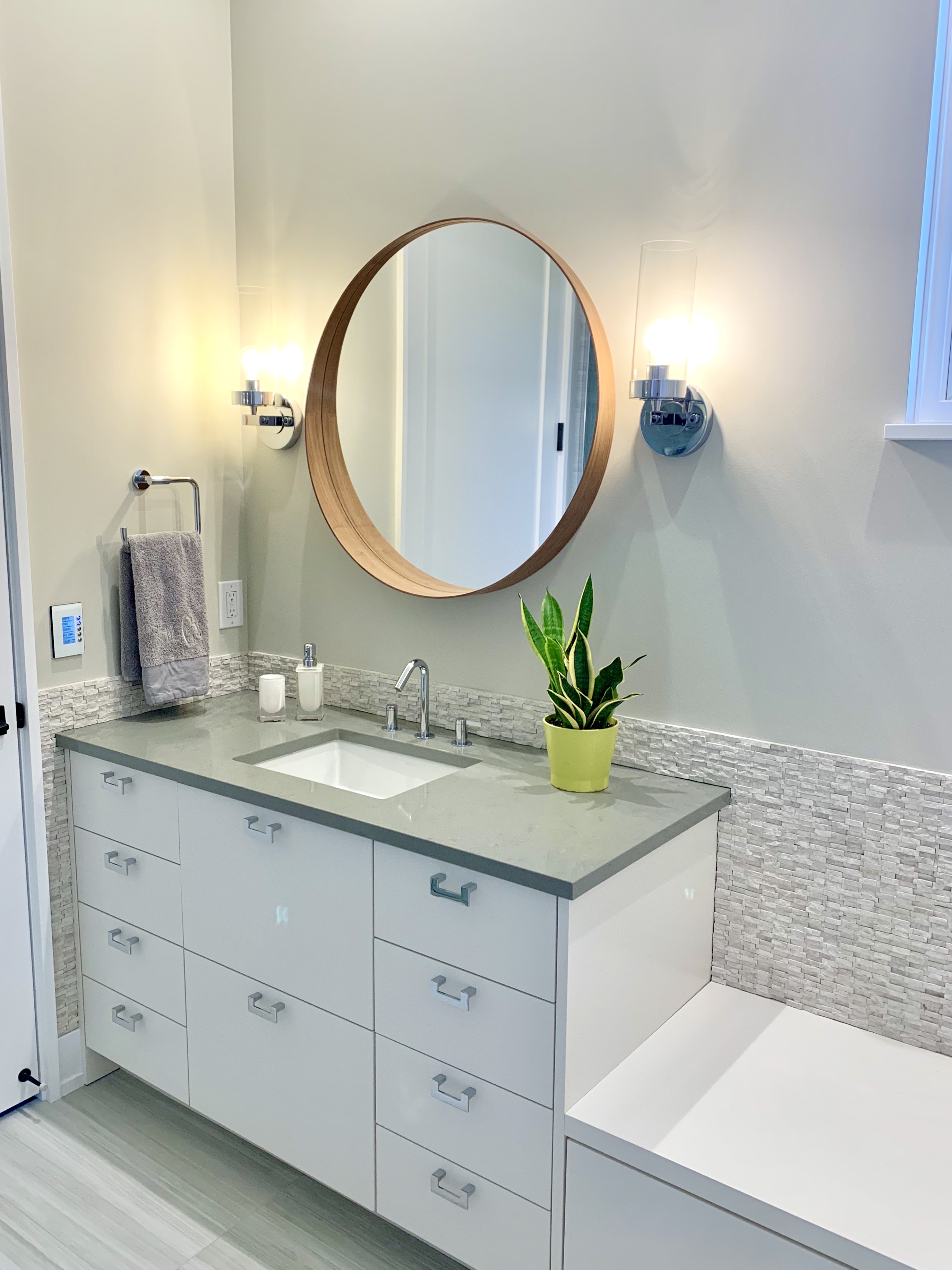 + mirror- Ikea Stockholm Mirror in walnut
+ pulls- Atlas Homeware
+ soap dispenser/cup- Bed Bath and Beyond
+ faucet- Kohler Stillness Widespread Faucet in polished chrome
+ towel holder- Kohler Stillness Towel Ring in polished chrome
+ hand towel- Restoration Hardware 'Linen Bordered Turkish Towel in pewter
+ sconces- Rejuvenation Momo Single Wall Sconce in polished chrome
+ paint color – Benjamin Moore Penthouse CSP-35
---
Bathroom 4//

Bathroom #4// This bathroom is probably the most frequently used. It is somewhat off the kitchen and near the laundry room which the garage is off of. We use this bathroom anytime we are near the kitchen or about to leave the house or when we first come home. This bathroom is also a powder room, the shower room can be closed off so there is only a toilet and sink. I designed it this way knowing this would be a very frequently used bathroom but still wanted bedroom #4 to have a full bathroom connected to it.  The shower is very sleek, the hexagon floor tiles have a subtle wood design to keep things earthy. The tiles on the wall in the shower are the same as the floor tiles throughout the bathroom. I love any tile but a standard square.
This vanity was custom made like the others. When I was looking for countertops I always asked to look at the scraps in the back because they are always marked down. Since this countertop was going to be small in this bathroom I knew there was a good chance I could find a scrap that was big enough. I loved the finish on this counter and we were able to get two corner shelves for the shower also.
I actually am a little bothered every time I go into this bathroom. I wanted the height of the toilet to be standard height knowing we would have kids using it (great choice since this is Myles toilet choice) but the toilet looks so small next to this vanity which is way too tall. When you build a custom house you get to pick everything. There are standard measurements but you don't have to follow them. We wanted the counters in our master to be a little higher since Michael is taller but keep the guest room counters shorter so kids would be able to wash their hand and brush their teeth without needing a stepstool forever. What I didn't take into consideration in this bathroom was that we have a vessel sink. This gorgeous sink from Living Roc is 4.5″ on top of an already taller than average vanity at 36″. The standard height for a counter is 32″ which felt a little low, bathroom #2 and #3 are 34″ high. I really want this counter to be 30″-32″ with the added vessel sink but since it is a floating vanity it is really secured to the wall and it seems like too big of a project.
Another thing I don't love about this bathroom is the toilet in general. I chose these tankless toilets for the powder rooms (bath #4 and our powder room that I'll show in another post) because they were sleek and looked cool. They don't flush as well and fingerprints are all over the flush panel!
Bedroom #4 was supposed to be the main guest room because of the bathroom set up. Since we don't have guests often the bathroom would be more of a powder room but for when we did have a guest, there is a drawer and space for their toiletries and of course the shower which is connected to the bedroom. This ended up being Myles's room. I forget why but perhaps because it is the smallest bedroom or because it is the first in the hall making it closest to the master.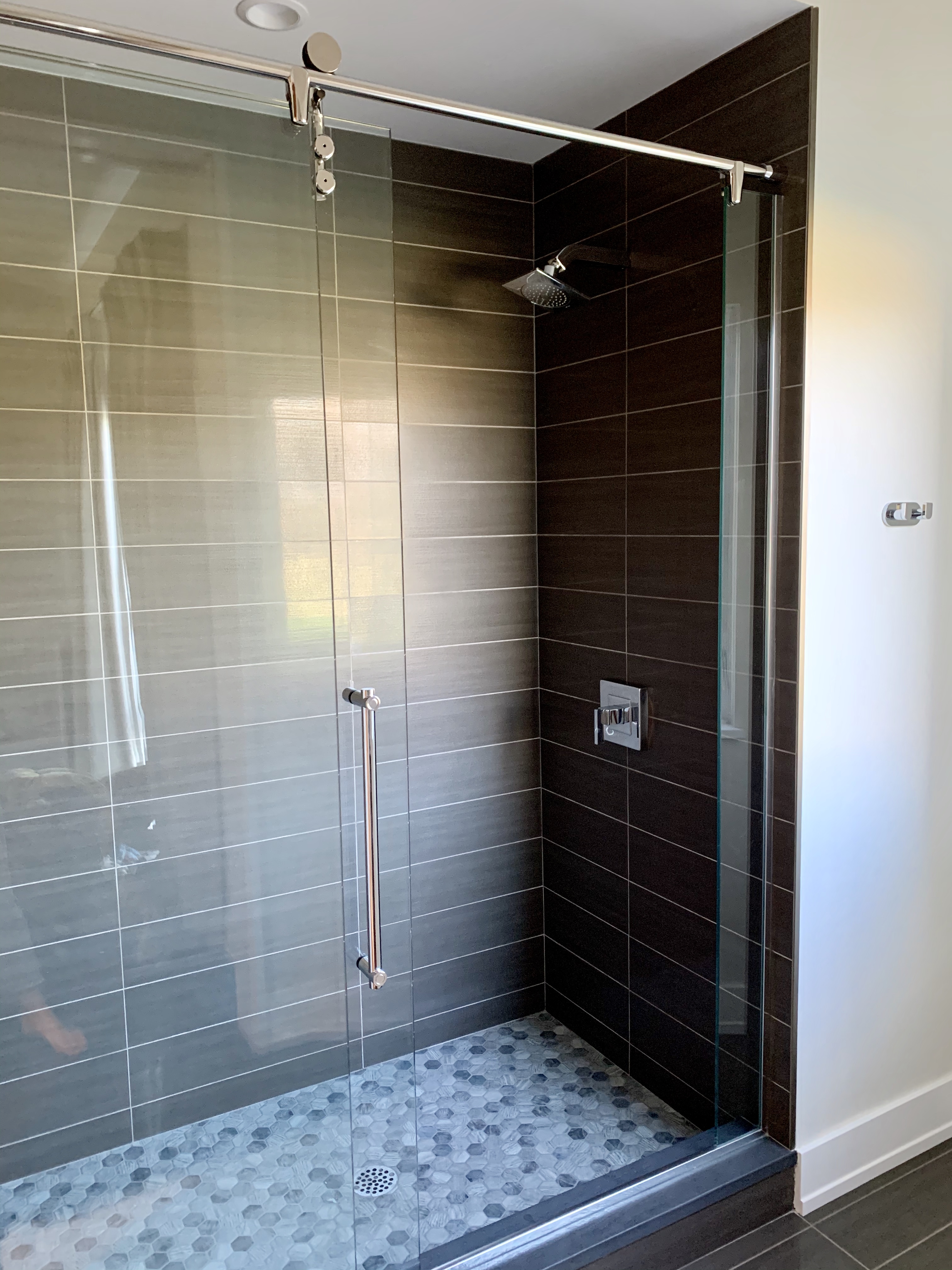 + mirror- Crate and Barrel 'Colby Nickel Mirror' in gunmetal
+ knobs- Atlas Homewares
+ soap dispenser- Target 'Acacia Soap Pump'
+ faucet- Kohler Loure Widespread Faucet in chrome
+ towel holder- Kohler from the Loure collection in chrome
+ hand towel- Restoration Hardware 'Linen Bordered Turkish Towel in charcoal
+ vase- CB2 Celia White Vase
+ paint color near sink- Benjamin Moor Baltic Gray 1467
+ paint color at shower- Benjamin Moore Glacier White AC-40
My tips for creating a bathroom that is on-trend but not too trendy…
– Choose a tile that you like now and you think you will like in 10 years. Try not to choose something that you are seeing everywhere and is really bold, chances are it will go out of style sooner.
– Stick to finishes you really love. Don't let your friends, designer or builder persuade how you feel about the final decision. If you truly love it you will always love it.
– Go super trendy with accessories. Items like hand towels, bath mats, vases, and shower curtains are a great way to go bold.
– You could even go bold with paint color since it's easier to paint than it is to replace tile.
– I also love that all of our bathroom can be intermixed. In my head I have a little theme of the bathrooms but at the same time all the colors go together and any type of person, boy or girl, child or adult, can use these bathrooms.
Are you building a house or renovating a bathroom? I hope you can learn something from my experience and find a little inspiration!
Live votre rêve!