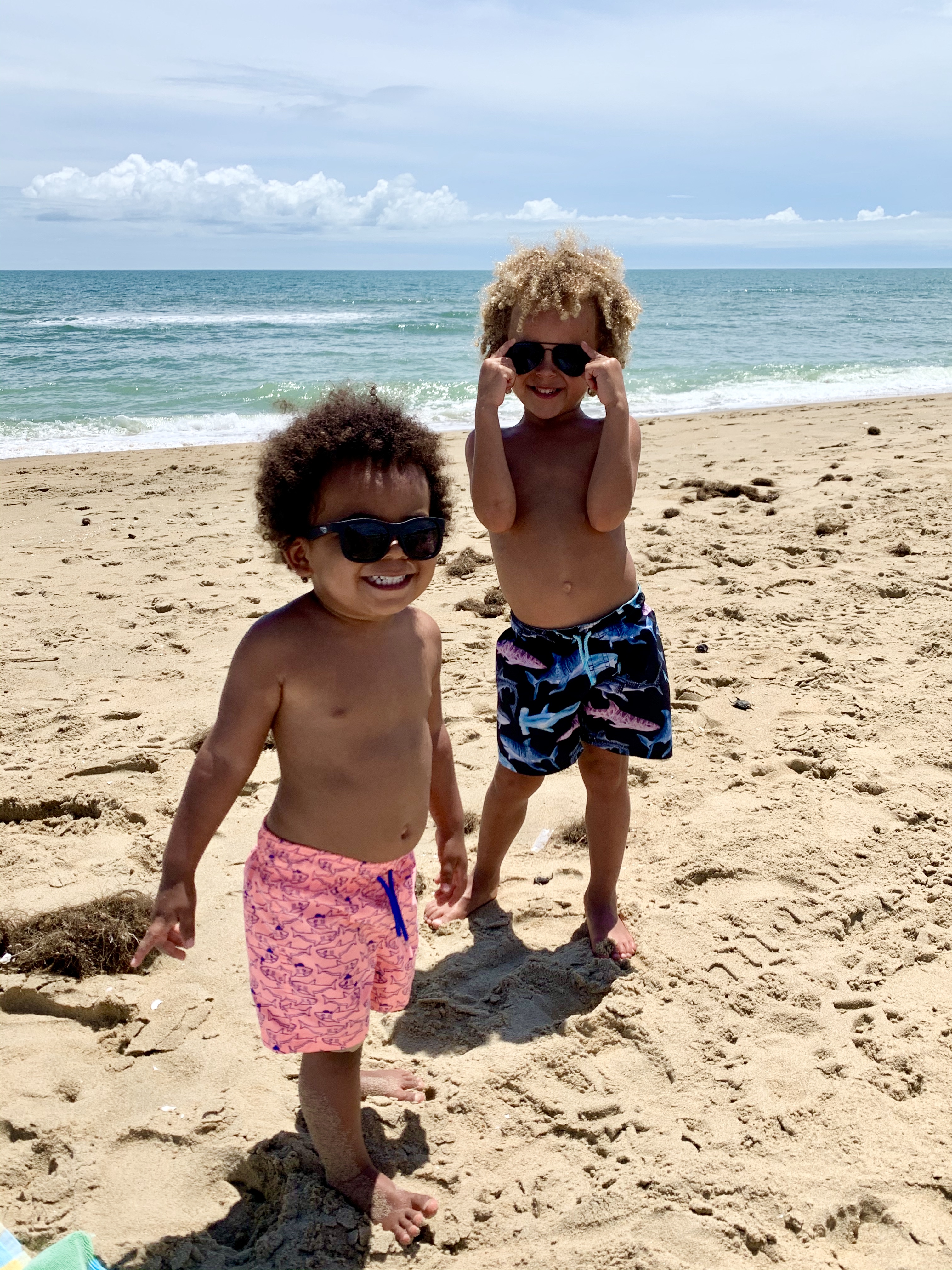 I'm currently on my annual family vacation in Sandbridge which is just south of Virginia Beach. My uncle got a house here 20 years ago and we've been coming ever since. The past 4 years of coming here have been quite exhausting even though it's technically a vacation. Putting sunscreen on 2  little boys, finding their shoes, and gathering their toys and snacks ends up being such a process!! Getting their lunches together convincing them to eat and get ready for naps is another process that wears me out.
The items I've needed over the years have changed as my boys have gotten older. Of course, I was exhausted because I'm also 7 months pregnant but next year I'll be adding another baby to the mix so that will be interesting! I wanted to share what I take to the beach and a few things I love that help make the beach experience that much better!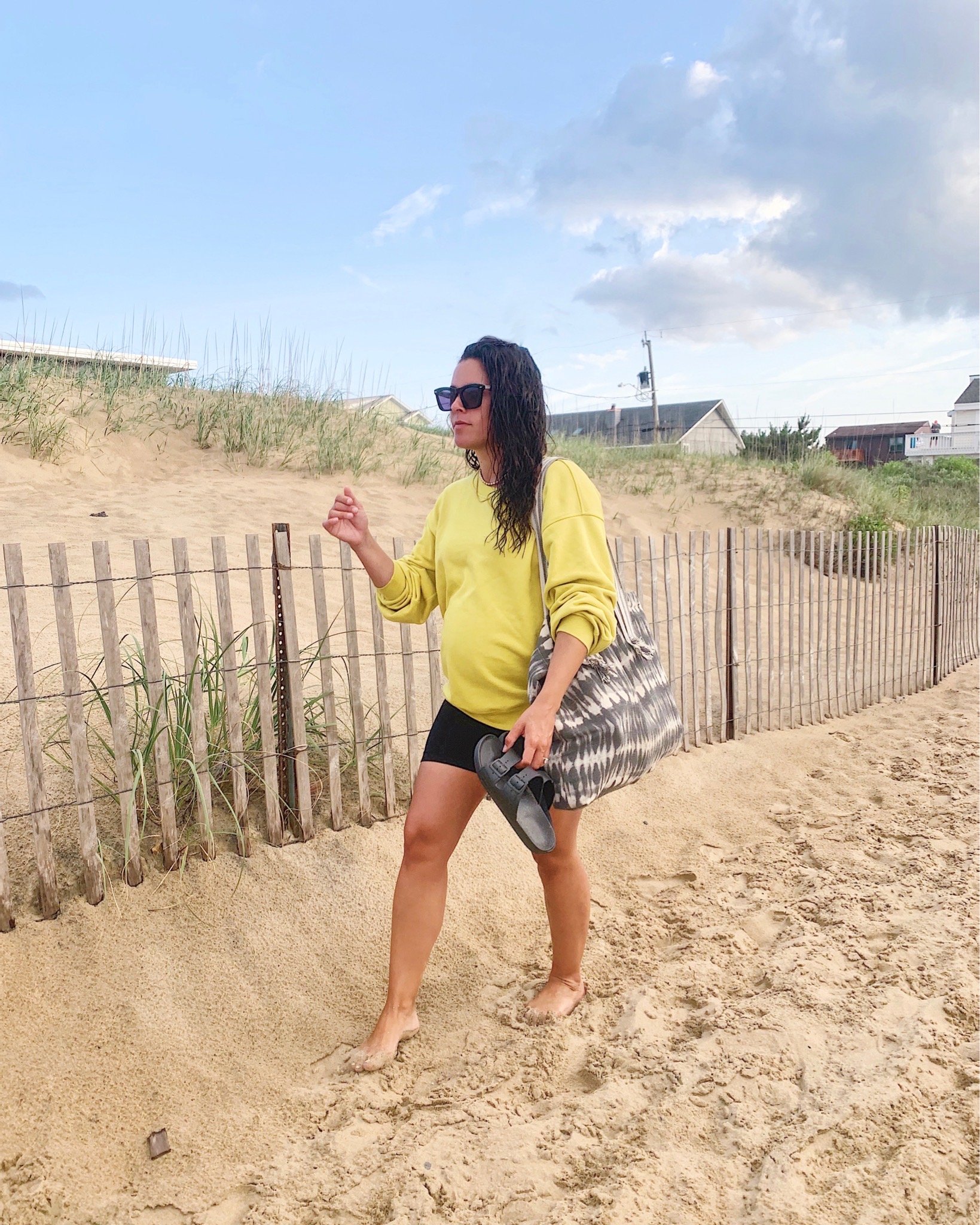 1. Sunscreen // This is a must for everyone. Luckily, no one in my family has really fair skin so we don't burn easily but we do spend most of the day outside on the beach and we are constantly reapplying sunscreen. I always apply our sunscreen before walking down to the beach so that it has time to set in before they get in the water. I also like to get all lotioned up before getting sandy. I like to use a face stick for the kids and I usually use lotion prior to going down but have a spray sunscreen in my bag for easy application down at the beach, you just need to be careful which way the wind is blowing so the wind doesn't blow the sunscreen away! I use this lotion on my face (I also use this tinted version back home for everyday use) and this spray for my body.

2. Sunglasses // The boys really got into wearing sunglasses right before we left on our trip. I have two infant pairs of Babiators that weren't working for Myles anymore so I ordered him these adorable aviators for only $10. Unfortunately, they only wore them for a very short period of time. Myles's eyes were so red every night, I felt like they were getting sunburnt but he still wouldn't wear his glasses for more than 15 minutes.

3. Beach Bag // When I travel with just my husband I bring cute little straw bags since all I'm only filling it with stuff with me. When I have the boys with me the bigger the better and I love using a large tote bag I can easily toss in everything we need for the day. The large bag I brought could fit anything and everything including a few towels!

4. Beach Chair // Our go-to chairs down here at the beach are these Tommy Bahama chairs. They have backpack straps making it really easy to carry down to the beach, cup holders on the sides, a cooler pocket in the back, and they recline! These chairs have it all! One wouldn't typically need everything these chairs include and they can be a bit pricy. I found these folding chairs with backpack straps and I am definitely ordering myself a couple! I know I'll be going to a lot of soccer practices in my future and these chairs will come in handy.

5. Floatie // Ok, this one isn't actually for the beach since my kids just run around and if they do go out in the water, an adult is holding them. I do see a lot of young children wear floating devices at the beach so I wanted to include this really cool puddle jumper I got Myles for our pool. I wish Noah would wear one because he is the one who can't swim!

6. Beach Wagon // We walk to the beach from the house and we load the toys, towels, chairs, boogie boards, and more into this beach cart. The extra-large wheels make it really easy to pull or push. As far as actual wagons go, this wagon will also do the trick. It's an all-terrain wagon with large wheel that has a lot of traction.

7. Beach Umbrella // As much time as we spend at the beach a day we desperately need some shade. We are a simple family so we don't pop up the large beach tents but we love this Sport-Brella. It comfortably fits 2 people under it and has sides that can help block the additional sun from shining in, I spent a lot of time under this umbrella the first time I brought Noah to the beach when he was 5 weeks old. I'm not familiar with this tent but I think this would work really well and is also simple.

8. Cooler // If you plan on eating lunch at the beach make sure you bring a cooler bag. If we get a late start to the beach I'll pack our lunches to eat beach side before going to the house for naps.

9. Beach Toys // The beach naturally provides a lot of entertainment but definitely bring toys. Shovels are used by all ages, we have these which is the perfect size for older toddlers. Noah is really into monster trucks at the moment so I always brought a few down for him. Also, bring plenty of buckets, some to make sandcastles with it, collect shells or hold sand diggers.

10. Blanket and Towels // I love a large beach blanket to layout to put everything on. It's also a nice spot to spread your towel if you want to lay on your stomach or sit with your kids while they have a snack. If you want a little extra cushion or an option to use in the grass too I'd go with this option or this option.

Live votre rêve!