It took me a couple months to put this baby product post together because I kept adding items. I originally was going to talk about the top baby products I use and love but I've since discovered a couple new things while shopping my friends' baby registries and I think are worth talking about. I also have a couple products I absolutely love for my toddler so I had to add them in too.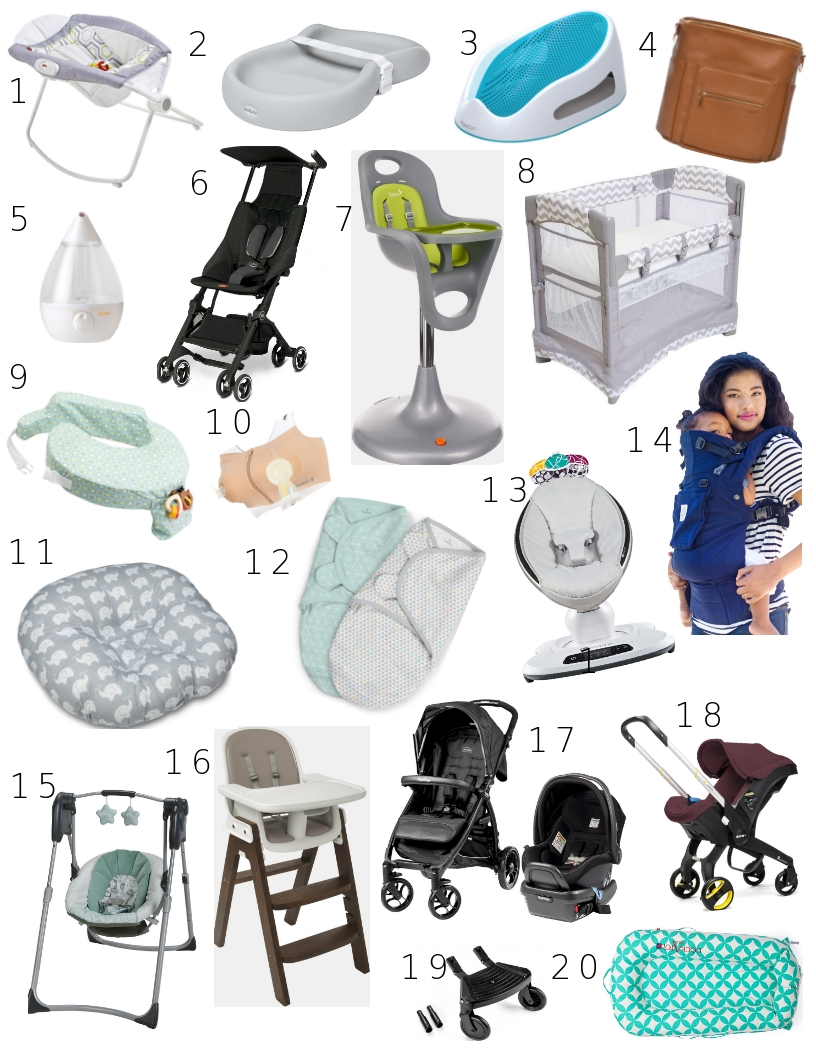 1 | 2 | 3 | 4 | 5 | 6 | 7 | 8 | 9 | 10 | 11 | 12 | 13 | 14 | 15 | 16 | 17 | 18 | 19 | 20
swings// The Rock n Play (1) was a gift from my old neighbor. I didn't register for it but her kids loved it and she thought it was a great thing for a parent with a newborn to have and she was right! It's one of the easier things to transfer your newborn to from your arms because it is is cushioned and angled so the baby feels cuddled. There is also a vibrating button for that slight movement that babies love. This is great for the first few months but once the baby can roll over they've outgrown it. The mamaRoo (13) seems like a great idea and is sleek and modern but I will say it is so-so. Neither of my kids cared for it too much. The older they are the more they seemed to like it. Noah enjoys sitting in his mamaRoo while watching Myles play with his toys. As far as when they are younger, it would buy me some time but not like the old fashioned swing (15) does. There aren't that many swings out there that go forward and back, most seem to go side to side or up and around. Myles liked the swing a lot and Noah LOVES it! We put ours on our porch and we would swing for ever while we were out swimming or having dinner. He does prefer a swing with longer arms because there is greater movement so keep that in mind.

sleeping// When we first bring our babies home from the hospital we have them sleep in the Arm's Reach Co-Sleeper (8). I don't attach it to the bed but that is an option. This bed is easy to move around and doesn't take up too much space. It also had pockets which I love to store extra onesies, burp clothes, swaddles, pajamas and anything else that may get ruined during the night! Since I mentioned swaddles, if you are more in to swaddling with a blanket make sure to get these "silk soft" ones, they aren't all as soft! When Noah came along I debated about buying a DocATot (20) I had gone back and forth debating if I needed it or not. I ended up not buying it for myself but received it as a gift right after he was born. We used the DocATot a lot the first few months Noah was born. We went on our family vacation and I brought it and placed it on our bed for him to sleep in and on another trip I had him in little room on the floor. It's a great bed that is cozy, super easy to transfer around and it actually fits in the Arm's Reach Co-Sleeper! Another semi sleeper thing is the Bobby Newborn Lounger (11), so I guess it's called a lounger. First off, this thing is really soft. I didn't now Bobby made any other pillow other than the Bobby feeding pillow and a friend got this for me after she came to visit Myles, she noticed I didn't have anywhere for him to hang and chill with us. This pillow is great for when they are completely immobile, I would put it on the counter while I got my meal ready, stick it on the table while I ate, leave it on the couch or have it on the bed. It's great and inexpensive.

nursing// I love my Breast Friend Nursing Pillow (9)! I used it a lot more with my first baby, perhaps because I was a beginner and less experienced. It has pocket which I love, you can store your nipple cream, a pacifier, even your watter bottle. It also is very firm and I feel like it provides more support than the traditional Boppy nursing pillow. While I was looking at the Bobby online I came across this feeding pillow by a brand I have never heard of but this looks kinda cool. If you like gadgets and don't want to squish a pillow under your arm they've made one just for you! If you are away from you baby and you need to pump you must have a hands free nursing bra (10)! I'm all about multi-tasking and getting things done in a timely manor. If I had to hold the bottles while I pumped that would seem like a huge waste of 30 minutes. This hands free bra allows you to put your makeup on, work on your computer, feed your toddler, whatever you need to do. You are tied down to a 6 foot radius due to the pump chords but you'll be surprised how much you can accomplish while pumping hands free. If you have questions on nursing bras you can check out this post here.

highchairs// I listed two because we have one in our Columbus house and one in our Memphis house. I'm not sure why I registered for 2 different ones, I guess I couldn't make up my mind but I love both for different reasons. The Boon Flair Pedestal High Chair (7) has wheels but is unique because it is on a pedestal. Some highchair legs with wheels seem really wide and look like they'd take up too much space. This highchair has a home in a nook in our kitchen and a wheel it to the island or kitchen table to eat or even to the stove so he can watch me cook. I love how easy it is to maneuver. The one thing I don't love is to take the tray off you have to pull the underneath handle towards you and over to the left, once you get the hang of it it's easy. The OXO Tot Highchair (16) happens to match out Columbus kitchen perfectly, I love that it isn't an eye sore. My favorite thing about this highchair is that it grows with the child. Even though Myles turned 2 over the summer we didn't change the seat height. He did learn to climb the steps and sit in his seat on his own which is wonderful. When I am getting a meal or a snack ready and I can say "go get in your chair" and he'll climb right in. The con about this highchair is that the there is not a removable tray within the tray so you have to wash the whole tray after each meal. Also since it is while some foods stain it but nothing a little soap and water couldn't fix. A highchair that is not on my list that I just discovered on my brothers baby registry is the Baby Bjorn Highchair. The reason it's on their registry is because it easily folds up to be put away. If you live in a small space you may want to consider highchairs that fold.

transportation// I first saw the Doona Convertible Infant Car Seat (18) when I met my friend in Miami for a little trip. She had it for her daughter and I was curious what this little stroller was. The Doona is actually a carseat/stroller in one, the wheels are built in to the base. I think this stroller is fabulous for those who live in a big city or travel a lot. If I lived in the city I would love knowing I could walk around then safely get in a cab with my baby by switching the stroller to the carseat form. I have the Peg Perego Booklet Travel System (17). I did a little research and this is great quality, very easy to use and looks sleek. Since I'm familiar with the brand I bought the Peg Perego Convertible Car Seat when Myles outgrew the infant seat. I couldn't decide on what double stroller to get and what I've learned is the only time I need one is to go on walks to runs and I use this one that I got during the Nordstrom Anniversary Sale. What I did do is purchase was this board (19) that attaches to my stroller (17). It comes with handle extensions which allows more room for the parents feet, otherwise you'd kick the board when walking. We use this all the time! Myles does have a lot of endurance and loves to run around so he is usually pretty good at the zoo and the mall but occasionally will hop on the board. For traveling with a toddler I recommend the GB Pockit Stroller (6). I was looking for something really lightweight and compact and this one happens to be the most compact on the market. You can even push it down the aisle of an airplane and store it above in the overhead compartment.
When it comes to transporting while you are on your feet you must have a carrier. I have the Moby Wrap which I like for the first few weeks. Although, I've actually never tried using it when the baby is older because I go to my LilleBaby carrier (14). It's pretty heavy duty but has great back support, a pocket for your phone and keys and lots of straps for support shade. When I was on vacation and wanted to take walks on the beach I borrowed my sisters carrier which is more lightweight and breathable.

miscellaneous// My Fawn Diaper bag (4) has really held up. I wanted something sleek and lightweight since I knew the bag would way a ton after filling it with all baby necessities. It can be worn with one strap or on your back with 2 straps and has plenty of pockets. The best thing is how easily you can clean it, I have completely turned mine inside out to clean out spilled milk.
Looks like the basic changing pad got an upgrade. This Peanut Changer (2) seems to be what's on everyones registry today. It was out when I had Noah but I didn't even look to buy anything new because I already had everything. I'm not sure if I'm sold on it or not. I'd like to hear what others think about it. It would be very easy to wipe up after messy diaper changes but I also wondering if any liquid would puddle in the middle and make the baby messier than they need to be?
Once the baby is 6 weeks old or so I start to use my Angelcare Baby Bath (3). It can fit in our kitchen sink but when the baby's legs get long I move it to the bathtub so there is more room to kick and play. This tub has holes throughout so the baby is sitting in the water and is elevated so they can see what's going on. Once your baby starts really moving you need to watch that they don't roll out- you should never take your eyes off your baby in the tub!
You should have a humidifier to your registry. I did not and ended up at the store with a congested baby right before bedtime. I love this humidifier because it's sleek and clean and you can adjust the direction of the mist by rotating the top part. You should definitely register for all the medical baby stuff because the last thing you want to do when your baby is sick is go to the store.

I hope you found this guide helpful. If you have any questions please leave them in the comments section below!
Live votre rêve!