Time to stock up on a few of my tried and true products that I buy time and time again. I'm sure you have heard by now that Sephora's Beauty Insider event has started and you can save on your favorite products! When Sephora has their sales (which only happens twice a year!) I like to stock up on the more expensive products that I use regularly. I also use this time to try a new product that I felt was too expensive. Below you can see my favorite products that I keep going back to. If you want to see new products I'm interested in trying, check out this blog post from the spring Sephora sale.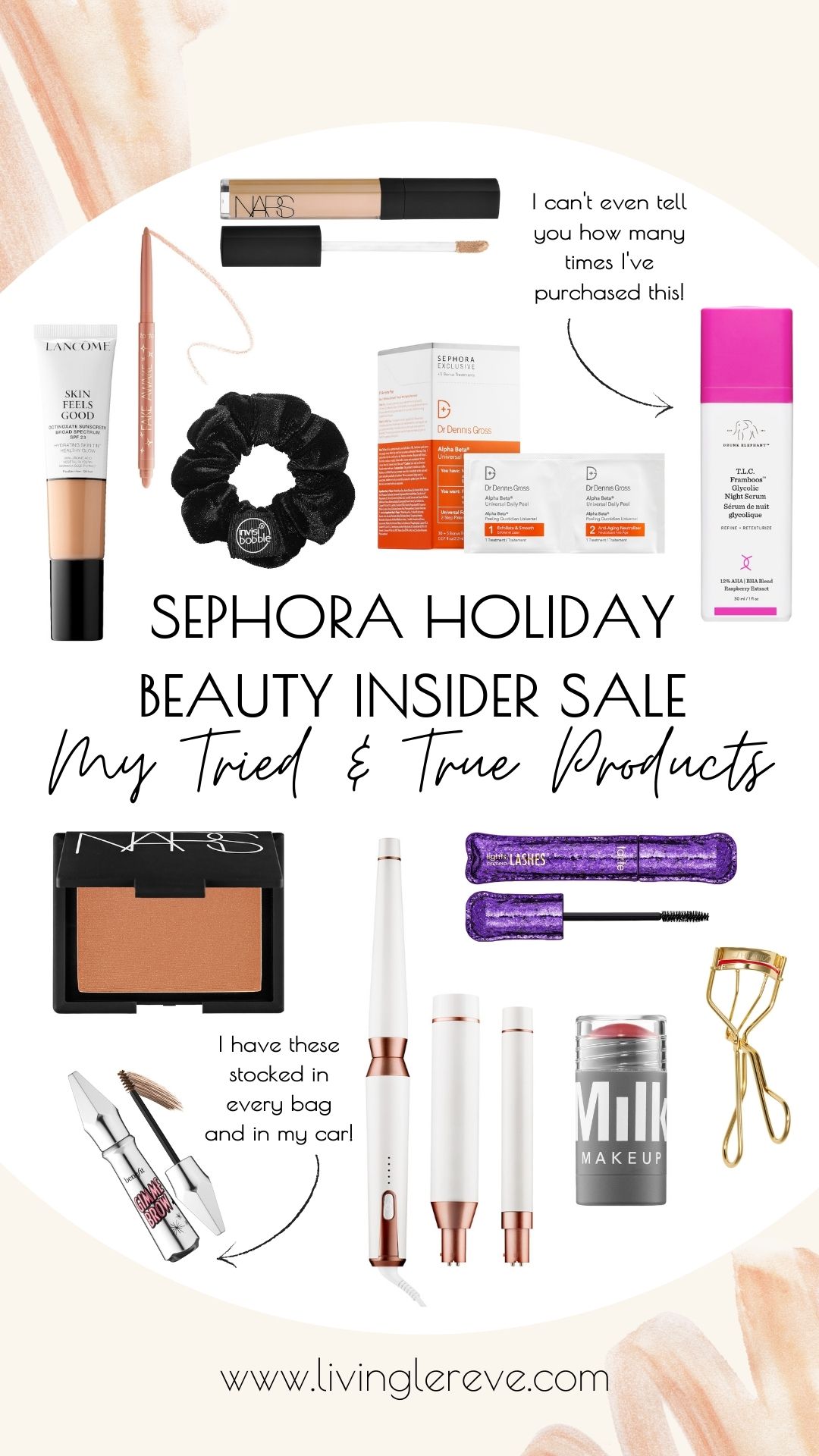 Lancome Skin Feels Good || This has the best scent and I'm not into smelly products because they make me sneeze. I also love the amount of coverage that this provides, it's very light. Days that I want even less coverage I mix it with my moisturizer. In the summer I use shade 04N Golden Sand and the next shade lighter I use is 035W Almond.
Tarte Fake Awake Eyeliner || If you aren't sleeping well and wake up daily with red-rimmed eyes you need this! Right after I had my third baby this summer I went right to Sephora to buy this!
Nars Radiant Creamy Concealer || Feels good to find a product that really works for your skin. I love the coverage of this concealer and that it comes in a mini size which is great to keep in your bag and for travel.
Invisi Bobble Sprunchie Scrunchie || This scrunchi got me at checkout one day and I'm glad it did. It really is the perfect hair tie to use while washing your face and to wear your hair up in at night. It has yet to leave a crease in my hair.
Dr. Dennis Gross Alpha Beta Universal Daily Peel || I got a sample of these and recently used it and really want to use it more. I ordered the 30 pack and hope to see my dark spots lighten.
Drunk Elephant Glycolic Night Serum || This might be my 5th time purchasing this product. It's a great night serum, I know when to apply it, I know it's good for my skin and easy for me to use. It is a bit pricey which is why I highly suggest buying this now during the sale!
Nars Blush in Luster || Most everyone has Nars blush in orgasm and I also have had it. I wanted something different that was warm soft. The woman who sold this to me has much darker skin than I do and she was wearing it. This is a pretty universal shade with the perfect amount of shimmer.
Benefit Gimme Brow || I have so many of these that even I'm tired of seeing them around but I can't go a day without applying this to my brows. My eyebrows are pretty long and this brushes them nicely while giving them a slight tint.
T3 Whirl Trio Interchangeable Styling Wand Set || I'm always amazed by how different my curls look by using a different size or shaped wand. This trio is a great set that covers you for all the styles.
Tarte Lights Camera Lashes || I've only used one tube of this but I'll definitely be buying it again. I used to be a dedicated fan of the Marc Jacobs mascara but felt like it started to make my lashes clump. This Tarte mascara lengthens and lifts my lashes making my eyes look more awake.
Milk Makeup Lip + Cheek || I'm sure a lot of you have this because it was included in Sephora's birthday gift this year. I added this to my cart since my small sample size is almost out! This product will be especially great during the dry months to achieve that dewy look. It's the perfect amount of shine on your lips and easily blends on your cheeks!
Shiseido Eyelash Curler || Can you tell I'm all about the eyes these days. With wearing a mask everywhere we go and only our eyes showing our expressions I have been giving my eyes a little more attention. I took a break from curling my lashes but have started again and love the lift.
Use code HOLIDAYFUN for these markdowns:
+ 10/30-11/9: 20% OFF for Rouge
+ 11/3-11/9: 15% OFF for VIB
+ 11/5-11/9: 10% OFF for INSIDERS