Today we are celebrating our 5th wedding anniversary. Each year we watch our wedding video and relive the magical day. We watch it with our kids now and Myles has become quite a fan of the video! I haven't shared too much about our wedding but now that 5 years has passed I thought it was time to share more. I answered all the questions you asked and I'm also sharing a little 6 minute video. I hope you enjoy!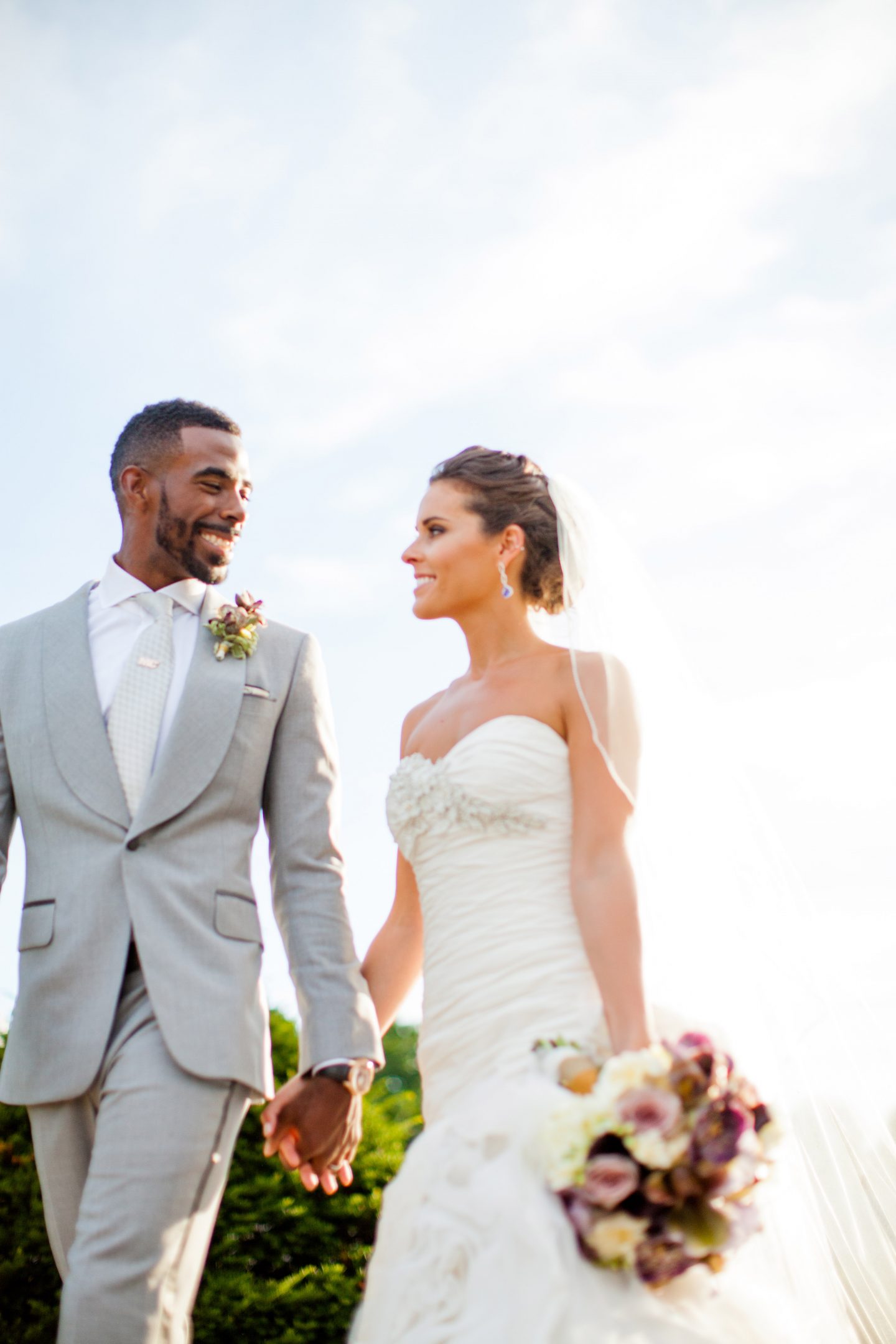 How long did you and Mike date before getting married?
We started seriously dating towards the end of my senior year of college in 2010 so that would be 4 years. We had become good friends 3 years before that so we knew each other for 7 years before getting married.
How long did it take to plan the wedding?
We got engaged on NYE and we knew we wanted a summer wedding. Six months of wedding planning seemed like it would be stressful so we both agreed to have our wedding the following summer which left a lot of time to plan. I would say there was 10-12 months of planning. The planning process was really relaxed and there was no pressure or rush.
Where did you get married?
We got married at Franklin Park Conservatory in Columbus, Ohio.
Did you have something old, something new, something blue and something borrowed?
I did! Something old was my grandfather's air force pilot wings that I had on my bouquet. Something new was my dress. Something blue were my earrings which also happened to be borrowed (and later turned into a gift!).
How do you keep your cool on your wedding day?
I am a very emotional person. I couldn't even get down the aisle during the rehearsal without crying. I spent most of that evening worrying and crying about crying too much on the actual wedding day! On my wedding day I didn't want to ruin my makeup so I did everything to not cry. When I saw my parents before they walked me down the aisle was really hard, I couldn't make eye contact with them or I would cry. Then we had to walk down quite a few steps to get down the aisle so we focused on that instead of crying! When I saw Michael was another story. I was just so happy and I am one to happy cry, more like happy sob. My brother was behind him and I looked at him once did a little smile and quickly had to look away. Anytime I thought my eyes were going to well up I would look at the flowers and concentrate on them. I remember thinking how pretty they were and that the florist did a beautiful job.
Where did you get your dress?
I got my dress at White of Dublin. It was the second store I went to. My mom, sister, cousin and a friend were all with me. The lady helping me was saving the best for last and it ended up being the one! Once I knew what dress I was wearing I could start planning the wedding. I let the style of the dress influence the style of the wedding.
What was the funniest part of the wedding?
Good question. I think our guests may have thought me doing the Nae Nae to be the funniest. If know me, you know I do not enjoy dancing but I wanted to make my groom laugh so when we were announced we came out to one song and then switched to the Nae Nae when we got to the center of the dance floor.
What was the most expensive part of the wedding?
It all adds up so quickly! Probably food and alcohol. The florals were getting up there but I kept my eye on that budget.
Did you plan the honeymoon together?
We did plan our honeymoon together. We knew we wanted to go somewhere we would never go again so we chose Bora Bora. That place is so far away! We missed our flight on the way there and spent a few days in LA which turned out to be a lot of fun. I also did not shed one tear that we missed our flight. I was surprisingly calm during that situation.
If I could do it all over again what would I change?
I wish there was a way to slow down time. It went by so fast I wasn't able talk to everyone on my side of the wedding let alone Michael's side. I hate that I wasn't able to say hello to all of our guests. I also would have danced more with my new husband, but again time got in the way. And ushers. We had no guests in the front rows because they were reserved for family but I didn't have ushers to tell them that so they were left empty.
Live votre rêve!