---
The holidays are over and it's still cold, it snows almost every day and I can't keep my mind off of a tropical vacation. I keep debating about taking the boys down south to Arizona for a weekend but our schedule isn't allowing it. Valentine's Day is coming up but what I have my mind really is All-Star Break. All-Star Break is our version of Spring Break. The All-Star game happens during the weekend and there are a few days after to relax and if you aren't participating in All-Star Weekend (skills challenge, 3-point contest, the game) than you get a few more days with your family.
When I say relax, what I really mean is to not have practice. These poor guys don't actually get time off. Michael may take 1-2 days off but no matter where he is, he will find time to workout and condition.
This year we are headed to Cabo without the kids! Last year for All-Star Break Michael participated in the skills contest then we headed to Miami. We brought a babysitter to help so Michael and I could actually relax and go out to eat but it was still exhausting. When we are present our kids want us so even though we had the sitter I was still putting the kids to bed. We also could hear them get up in the middle of the night and they would want us. So this year they are going to the grandparents house and will have a ball and so will we!
I realized all my spring/summer clothes are in Ohio. I brought them home over the summer from Memphis and didn't pack them for Utah. I hate buying things that I don't need but this time I really do need things because I don't have any here! Below you can see What I Want for break this year.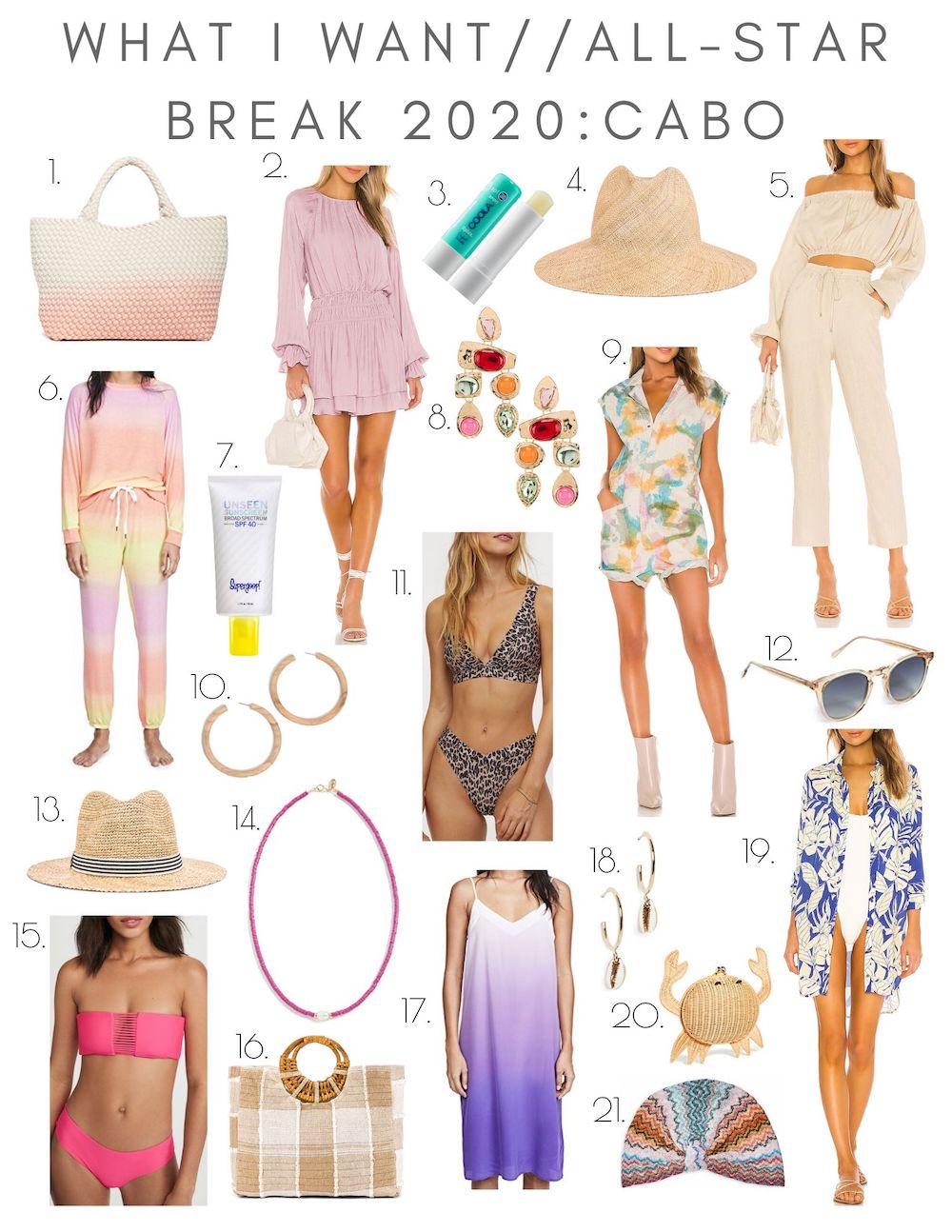 1 | 2 | 3 | 4 | 5 | 6 | 7 | 8 | 9 | 10 | 11
12 | 13 | 14 | 15 | 16 | 17 | 18 | 19 | 20 | 21
At the end of the NBA season last year we went to to Cabo  and it was my first time there. We loved it so much we are going back.
I am all about the brights, florals and pastels for vacation. Even this animal print bathing suit is calling name (link for top and bottoms). The crab clutch is a splurge so I'm not sure if I'll get it but its sooooo cute and I am a Cancer after all! The other bag options are perfect beach bags and also perfect as an everyday tote for the spring and summer. I love the print of this one and I love that the material on the ombre one is neoprene. Loose fitting casual dresses are my go-to for beach vacations, this ombre purple dress just looks so comfortable and this floral button up doubles as a dress and bathing suit coverup! I love all things ombre and this matching set will be the perfect travel outfit. I have had my eye on this Missoni turban for a very long time and it's now 65% off!! I'm getting so excited!
Live votre rêve!