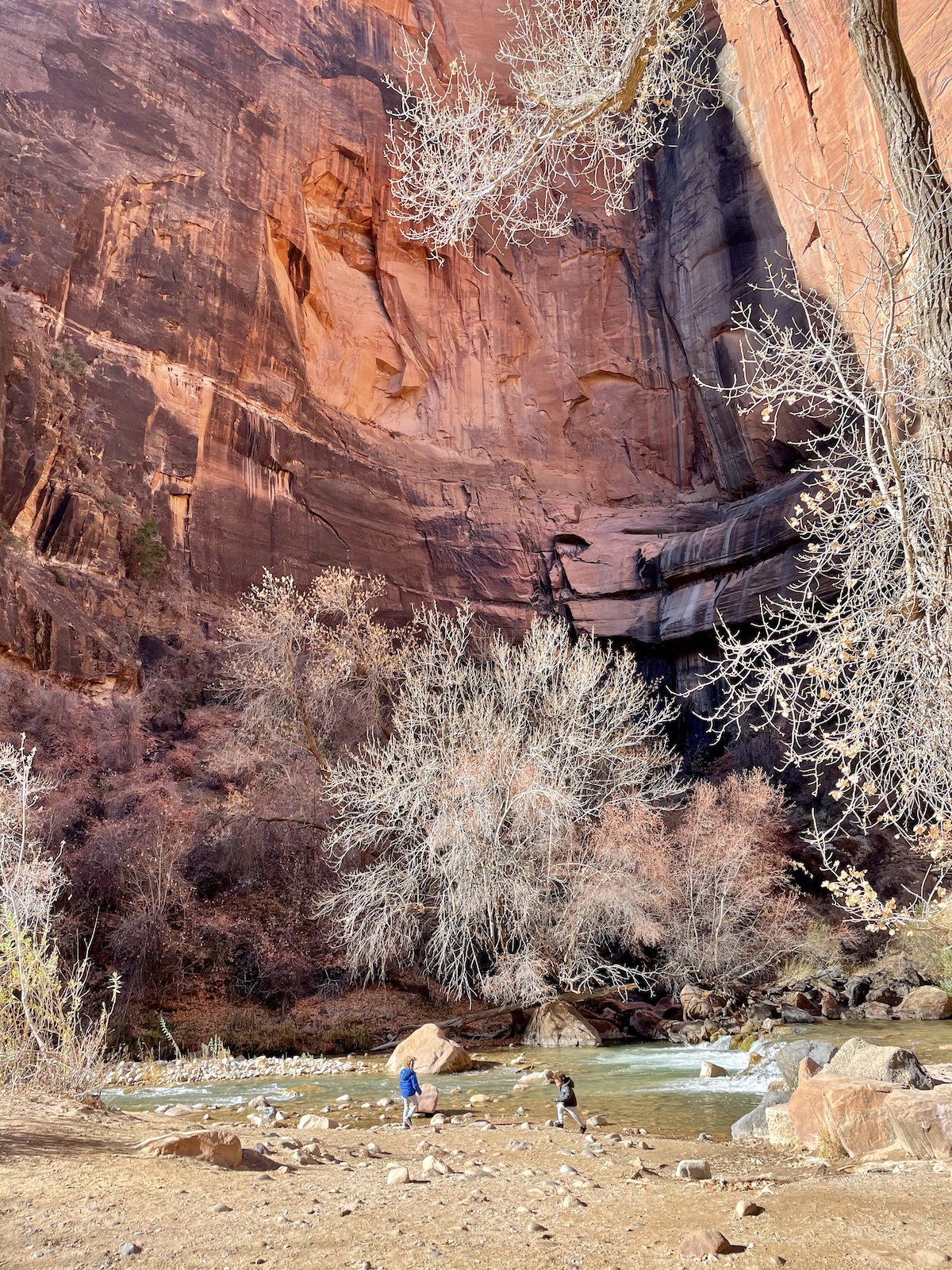 My first trip of 2021 was to southern Utah with my mom and three little boys. I had been wanting to visit southern Utah and the National Parks since I moved to Utah and this was a perfect time. We started at Bryce Canyon then drove to Zion for a day before heading back to Salt Lake City.
As with Bryce Canyon, I was on the hunt for what hikes would be toddler-friendly, what to eat, and where to stay. My 4-year-old can do just about everything, my 2 1/2 year old I needed to really think of and I also had my 4-month-old with me that would be in a stroller or I'd be carrying in a carrier. All the things to consider and I got so much great feedback from you guys on where to hike. I also learned a little something that I want to make sure I share!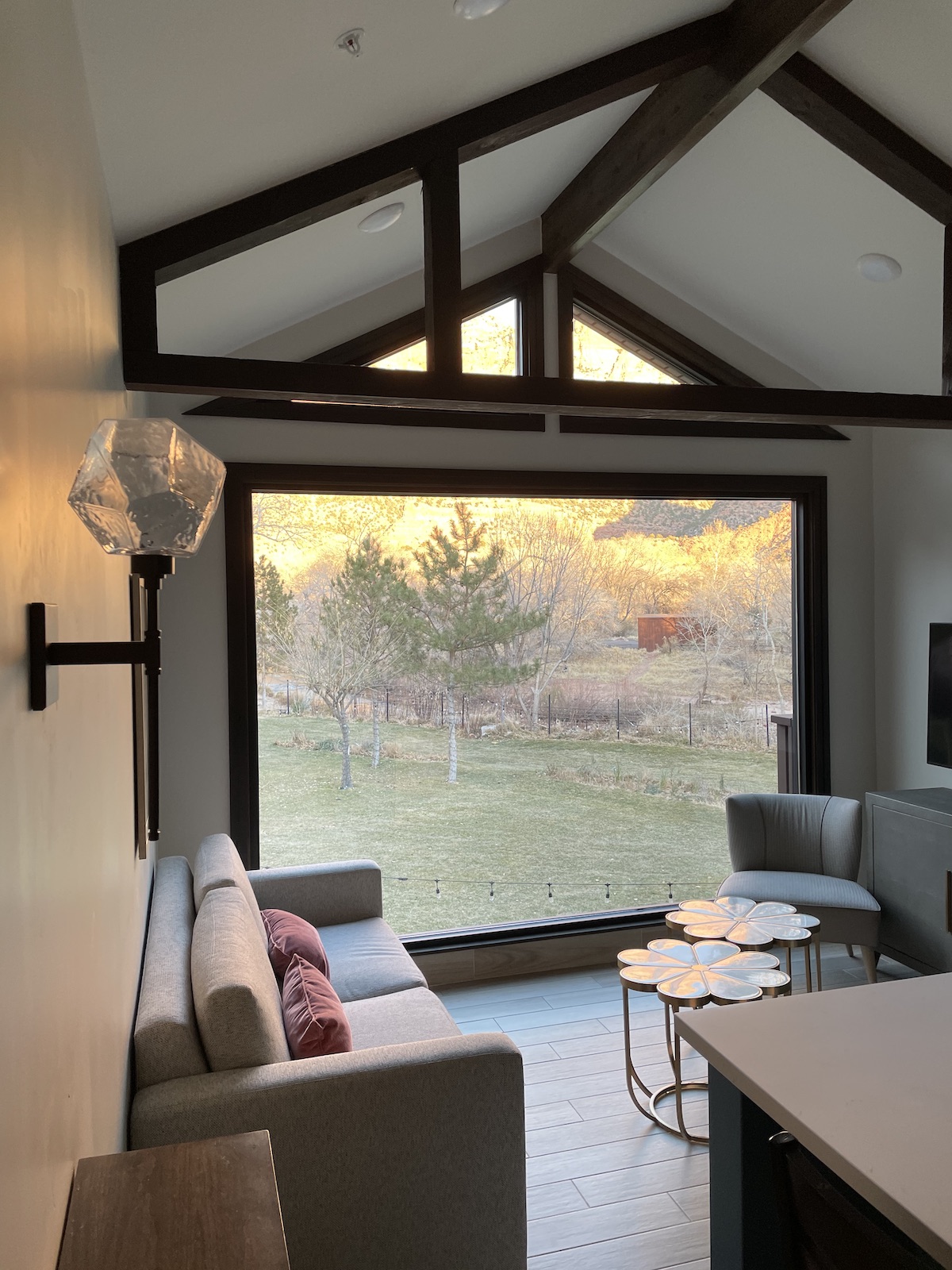 There were two hotels I was debating between when booking our stay, Springhill Suites by Marriott and Cliffrose Springdale, Curio Collection by Hilton. I chose the Cliffrose because when it came down to it, I just liked the way the interior decor was! The Cliffrose was perfect for us. Our room was right outside one of their heated pool and hot tub. We checked in to our room and immediately went swimming. My mom swam with the boys while Eli and I watched and ordered our dinner.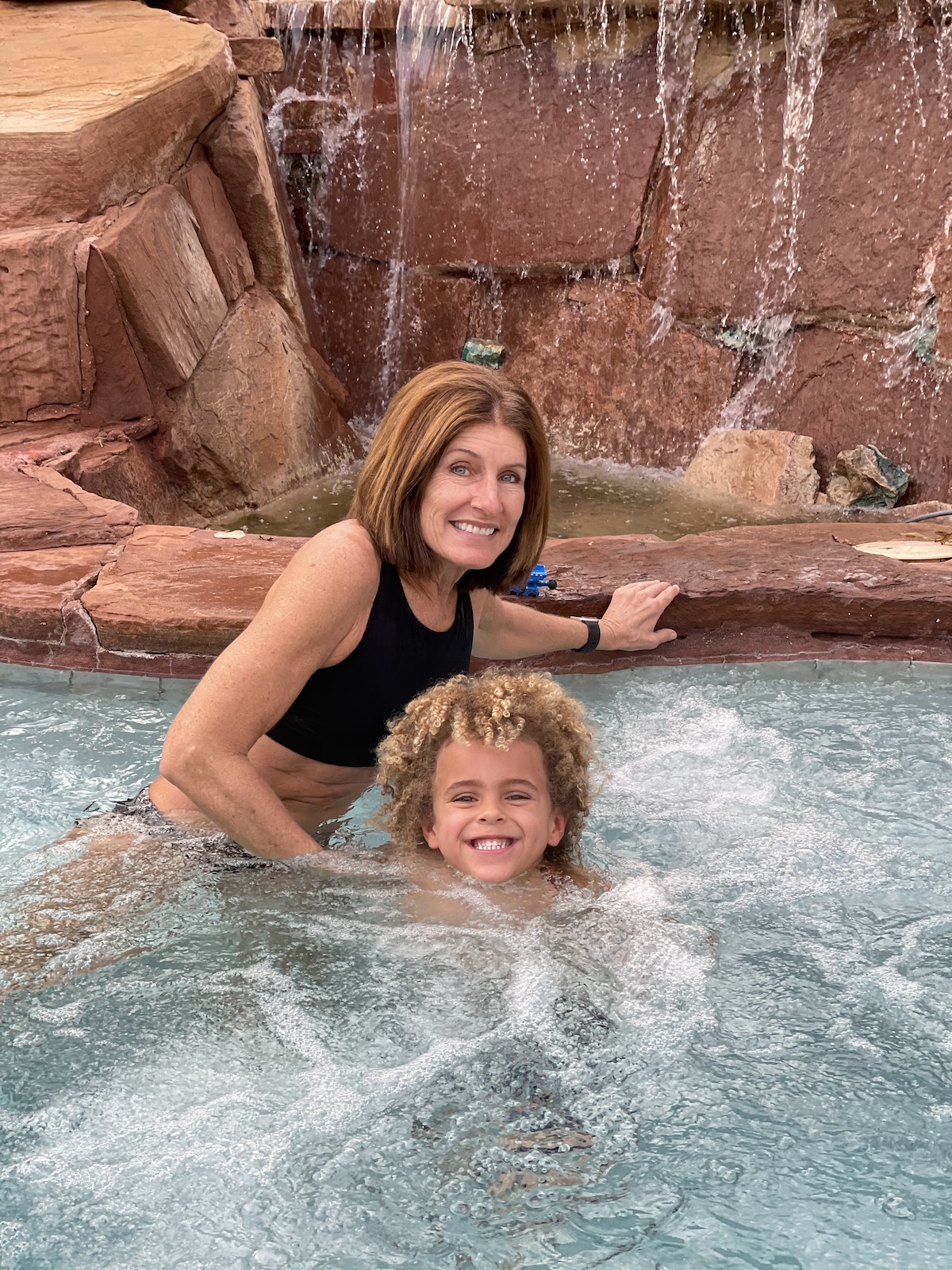 The next morning we ordered breakfast and I walked across the street to pick up a latte and a bag of beans from Feel Love Coffee. We ate and packed up our room to head off on our adventures before heading back home.

We chose to do the Riverside Walk which is a flat 2-mile trail that runs right along the river. This pathway is paved and I actually pushed Eli in his stroller on this walk in his Doona and we had no issues. The cool thing about Riverside Walk was that we didn't have to stay on the paved trail, the kids were able to run off on these sandy side trails that went down to the water and throw rocks.
Most of this trail is shady since it is in a deep canyon and I'm glad we took our coats. We came across a couple of sunny spots, one of them we stopped for a lunch break and I was able to feed Eli before heading back to the car. There were also some deer eating and resting which was fun to watch. The boys were able to eat, throw rocks, and watch the deer all from the same spot.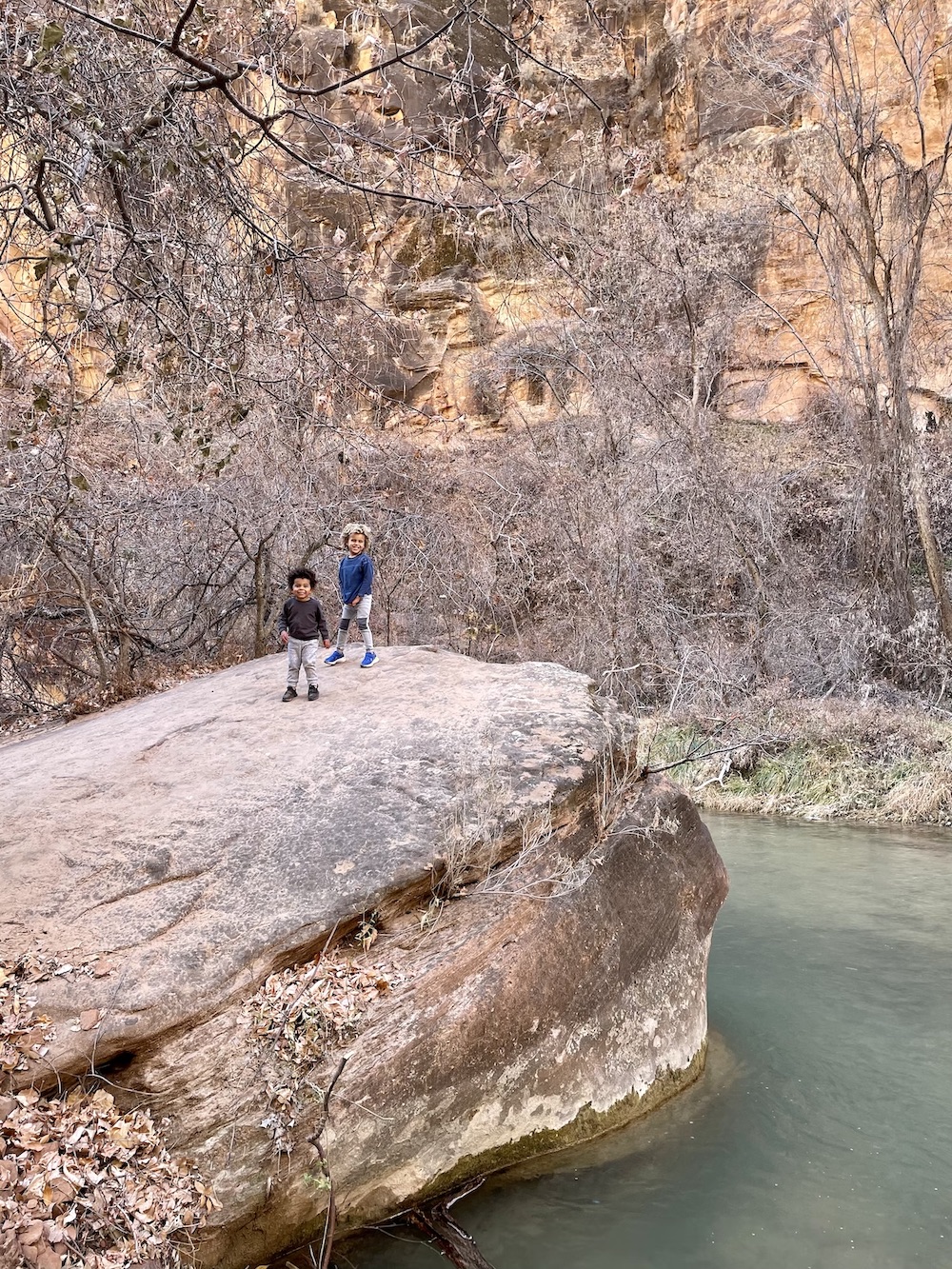 The boys were starting to get tired and my plan was to drive home during naps so that at least 2 of the 5 hours they'd be sleeping. I still wanted to hike the Lower Emerald Pool Trail since so many people recommended it. By the time we go there, which was only a few minutes, Myles was worn out and did not want to go and there was no parking. I was very close to just driving home but we had come all this ways, so my mom drove around with Myles and Eli, trying to keep them awake, while Noah and I walked to the Lower Emerald Pool.
I hate to say this but the Lower Emerald Pool was not what I expected it to be. The water isn't close to green and there was a tiny waterfall just sort of spitting water down. Noah did think it was cool that it was "raining" on us. It wasn't too far to get to, from the parking lot it was 0.3 miles there and 0.3 miles back. I ended up giving Noah a piggyback ride all the way back because he was very sleepy.

There are so many really cool hikes that I wish I could have done and maybe someday I will go back. If you are planning a super short trip like I did I would suggest doing the Emerald Pool hike first since it is smaller and then do the Riverside Walk. We spent too much time and had so much fun at Riverside Walk that we weren't all able to do the Lower Emerald Pool as a group.
Looking forward to exploring more in Utah!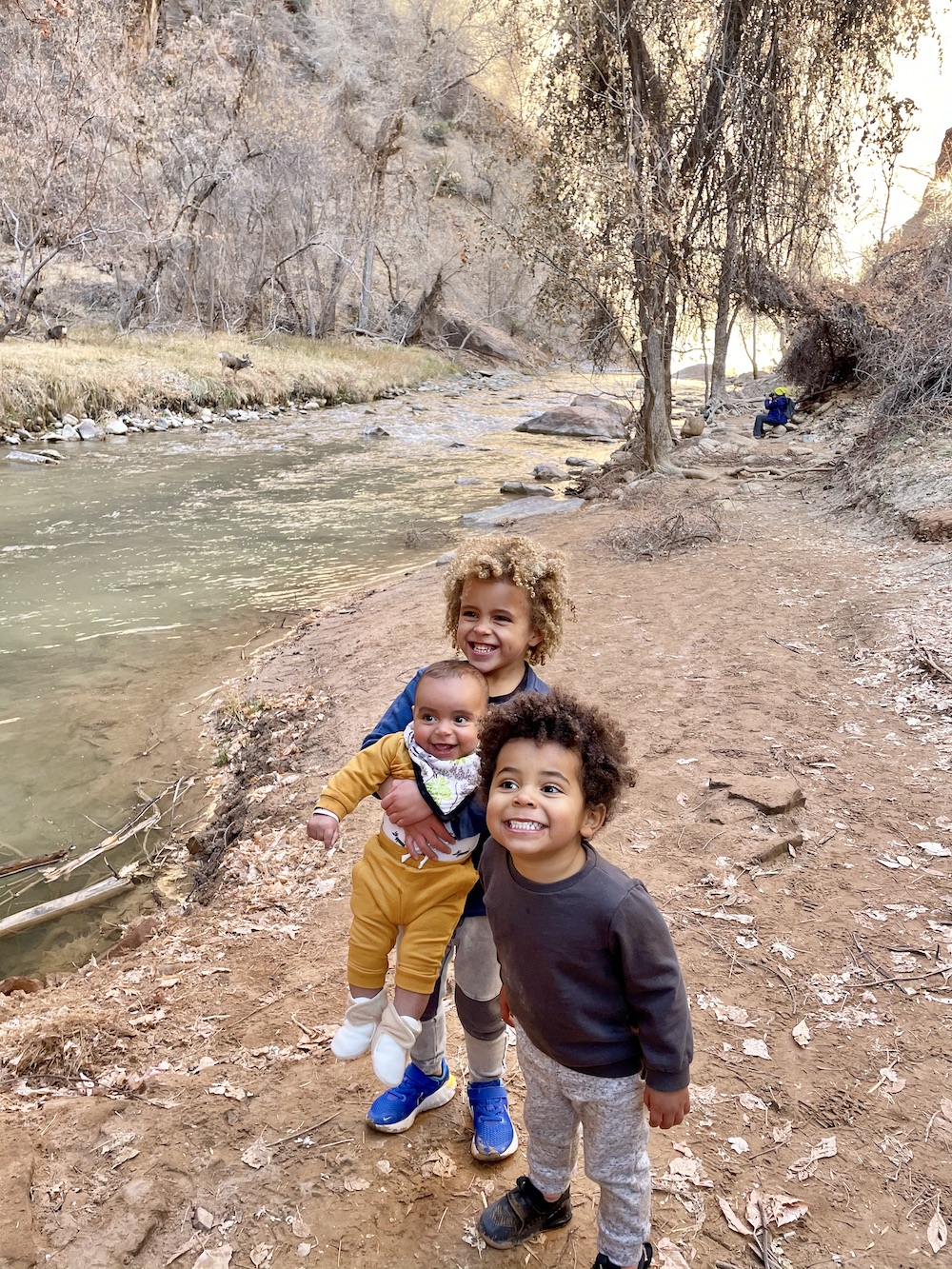 Live votre rêve!